The DJI Mavic 3, is the company's flagship folding camera drone. It is the first to feature a dual camera system with Hasselblad four-thirds sensor camera and a 28x hybrid zoom camera on the same gimbal. Announced November 5th 2021, it has a starting price of $2,199 / £1,879. This climbs to $4,999 / £4,279 for the Cine version which boasts 1TB SSD storage and ProRes 422 HQ capability. See latest pricing below.
The Mavic 2 – both Zoom and Pro models – have started to look a bit behind the times, not least because of company's own Air 2S. Arriving in April 2021, it handed that Mavic 2 Pro's most noted feature, a 1-inch sensor, to what was – at least in theory – the Mavic range's middleweight model. Given the many other incremental improvements which had come along; the controller range, the collision sensor and obstacle avoidance and so on, it was difficult to understand why someone would put their hand in their pocket for the Mavic 2 Pro.
The only real advantage retained by the Mavic 2 Pro was an adjustable aperture, not really enough to hold onto flagship status but very desirable for serious users. The Mavic 2 Zoom had a somewhat stingy 12 -egapixel sensor but the only optical zoom DJI offered under $6,000 (an Inspire 2, an X5S camera and a Lumix 14-42mm pancake zoom).
For filmmakers needing the flexibility of ProRes 422 it was also necessary to look up the range to the Inspire 2; an enormous drone compared to the Mavic series; this too was clearly weighing on the firm's strategy since demand for the editor-friendly (albeit enormous) files is on the rise and the Inspire is simply impractical in many situations. Even then, a more expensive Inspire 2 was needed with slots for SSD storage cards and the ProRes licence, beyond $7,000.
The Mavic 3 ditches the two-mechanism strategy when it comes to the camera, which was never popular. Instead, the price differential is for the ProRes capture, storage and transfer capabilities. Since this is already established by the Inspire series, it is tolerable, and this time the ProRes-capable "Cine" edition also includes 1TB of internal storage and a 10Gbps transfer, and ships with the pro controller with a built-in screen. The $4,999 asking price seems quite palatable in this context.
DJI Mavic 3 Cameras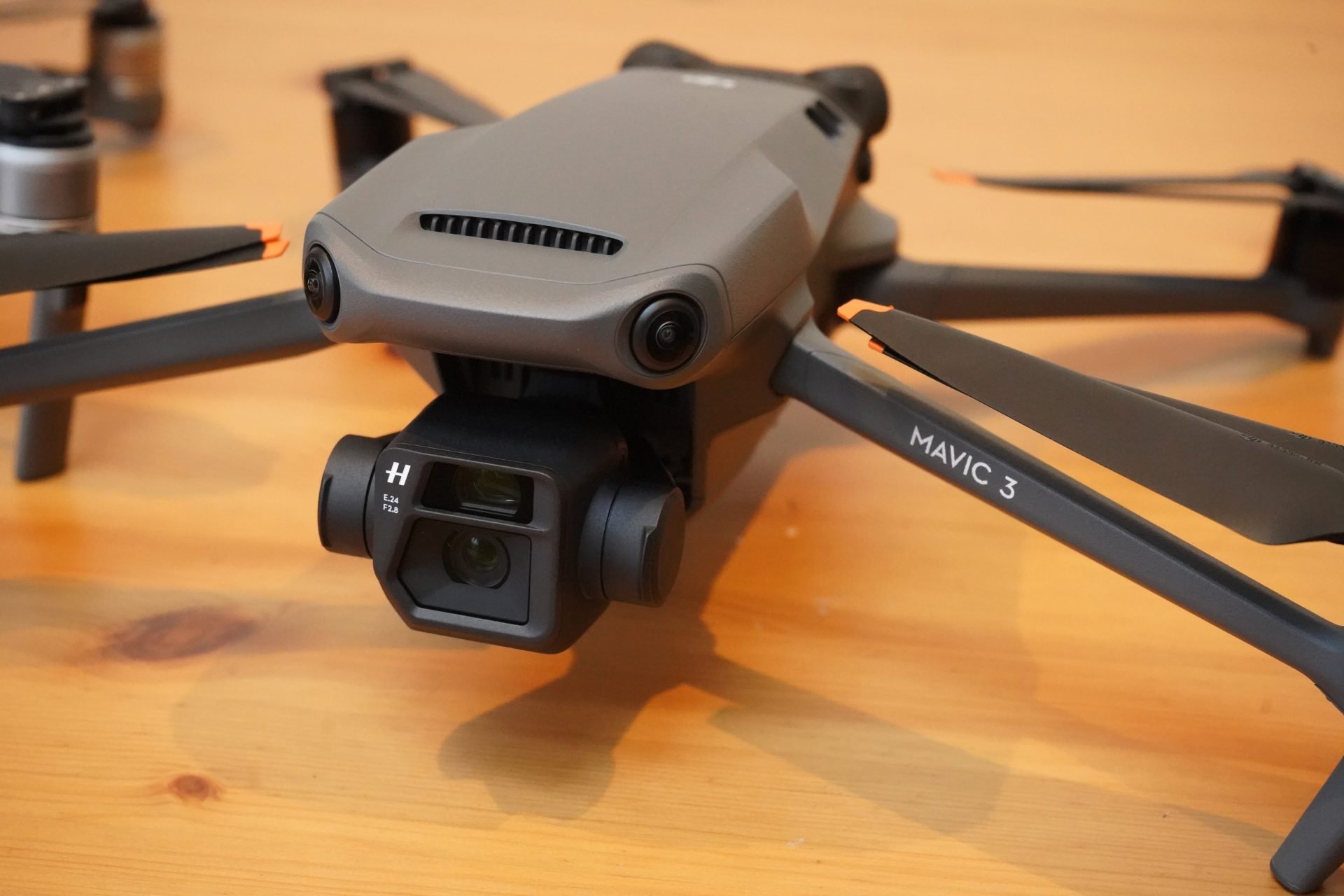 More than ever, the Mavic 3's camera mechanism is what sets it apart. It would make headlines for having a dual camera system or for topping its predecessor with a 4/3rds image sensor, but DJI have managed both. That means that before diving into quality and specs, I'll answer what should be everyone's first question: "How do you use them?"
That matters for technical reasons ('How smoothly can I zoom if the system needs to switch cameras?') but also because the camera and live view is also a key part in the way most people fly, so changing cameras and zoom lengths poses potential risks.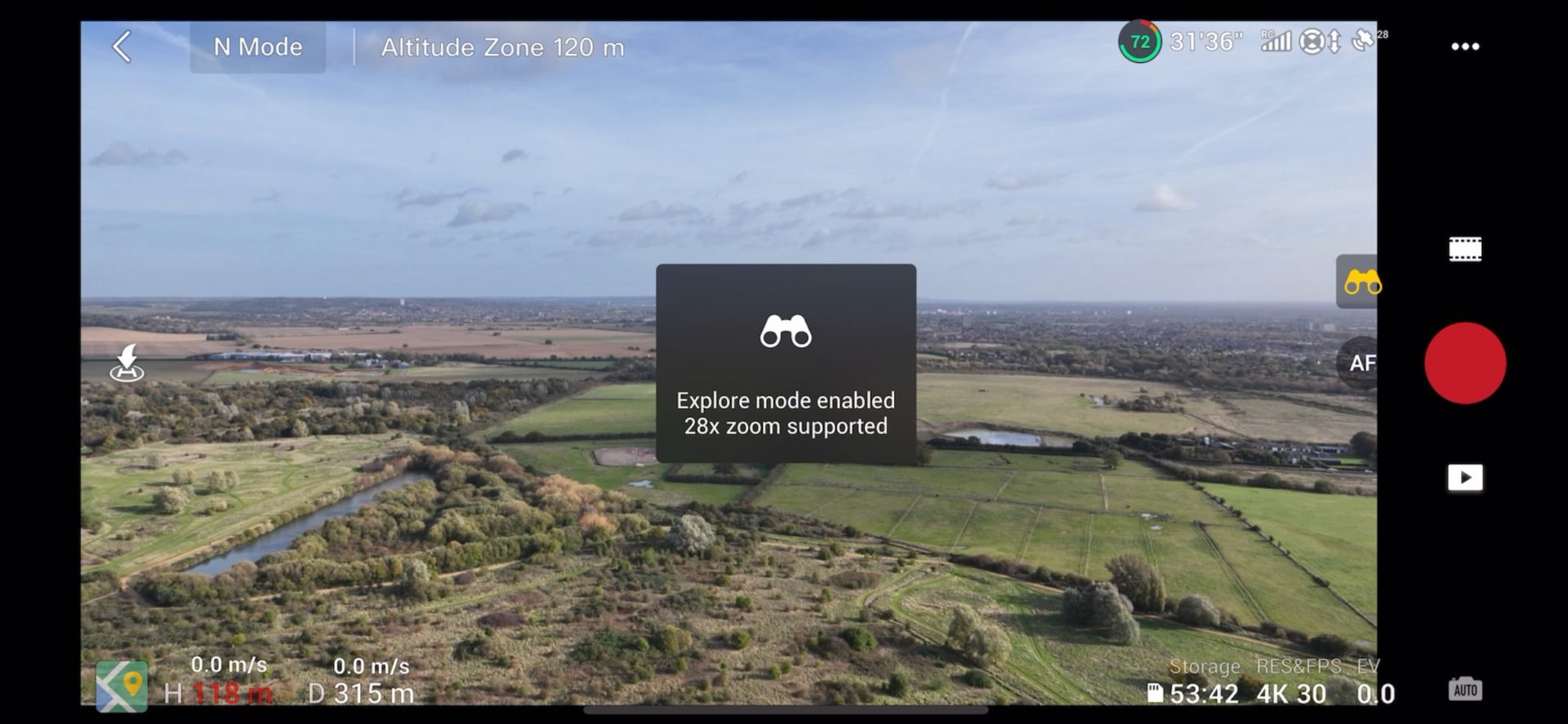 DJI's solution seems a blunt acknowledgement of the fact both cameras have very different levels of technical prowess; in flight the main camera is the one you see and shoot through by default, you need to tap on a pair of yellow binoculars to enter 'Explorer Mode' to invoke zoom. As soon as you do, both camera settings and flight characteristics change. Anyway, we'll get to that.
Starting with the big one, the main camera captures video at a maximum of 5120 x 2700 (5.1K) at 50fps, and has available to it adjustable aperture, ISO, shutter and white balance. The four-thirds sensor doubles the surface area against the Air 2S, or the Mavic 2, and the reduced need to land and change ND filters if you're making creative choices is appreciated.
I found that DJI's auto mode to make reasonable choices, and the arrangement of the app (DJI Fly) adopts the familiar approach of offering third-stop EV alterations or all-out 'Pro' mode control. Most of the time it's perfectly possible to compose a shot, tap on the lock button to ensure the auto exposure keeps out of the way, and shoot away from there.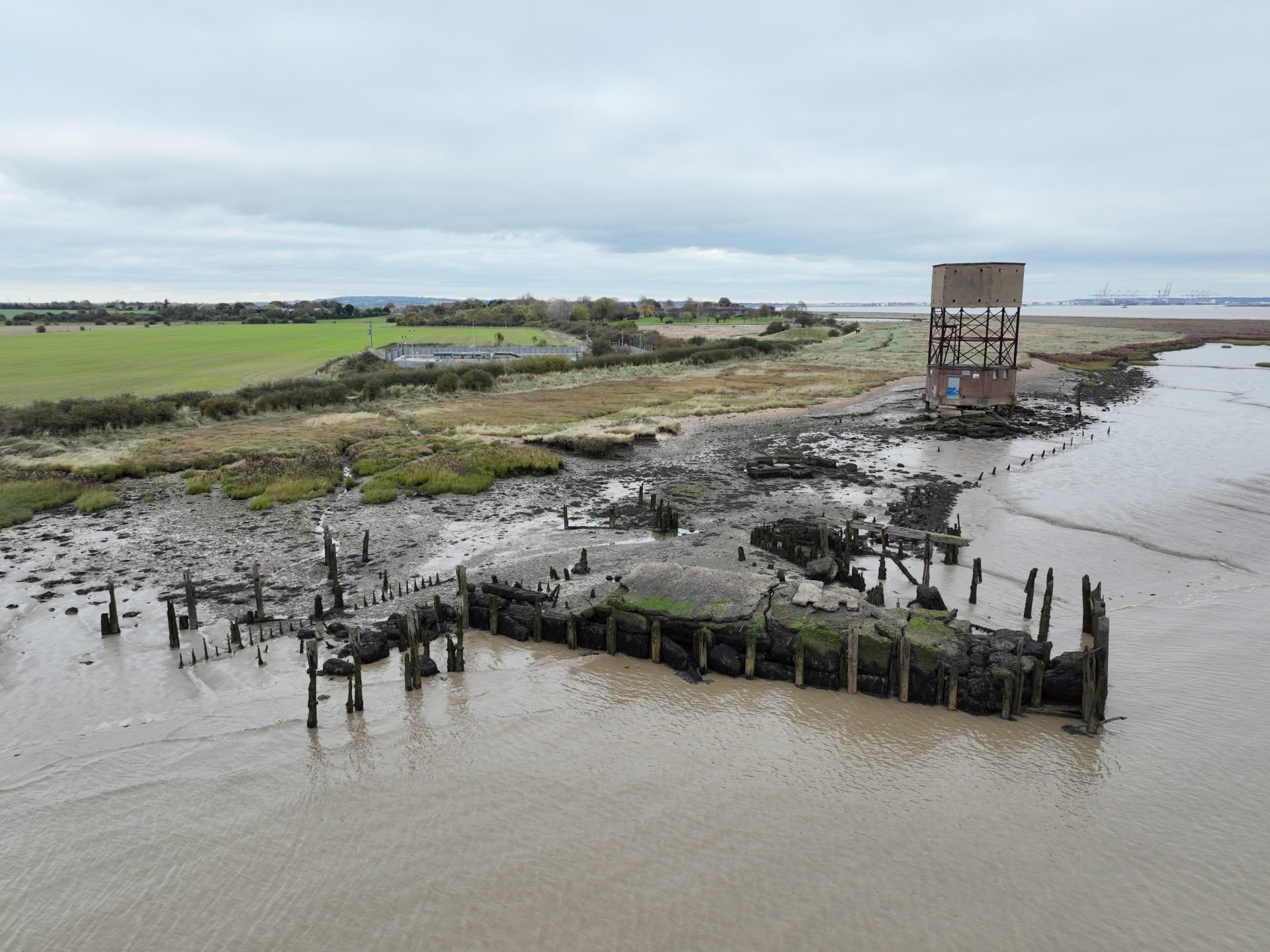 Indeed the Hasselblad Natural Color Solution (HNCS), introduced with Mavic 2, is available here and it has to be said that the imaging in standard 8-bit modes and JPEGs does an excellent job of capturing believable tones. What isn't on offer is the range of white balance presets that the old DJI Go 4 app offered (Sunny, Cloudy etc.); Color Temperature can be changed via settings in the newer DJI Fly app, but DJI seem to take the view that anyone wanting that level of control will prefer to shoot in 12-bit Raw. They're probably right.
I find it a lot of fun to play with the Camera Raw features with aerial photography at this kind of resolution, while the settings menu also offers D-log for capturing video in 10-bit near-flat profile for later post-processing.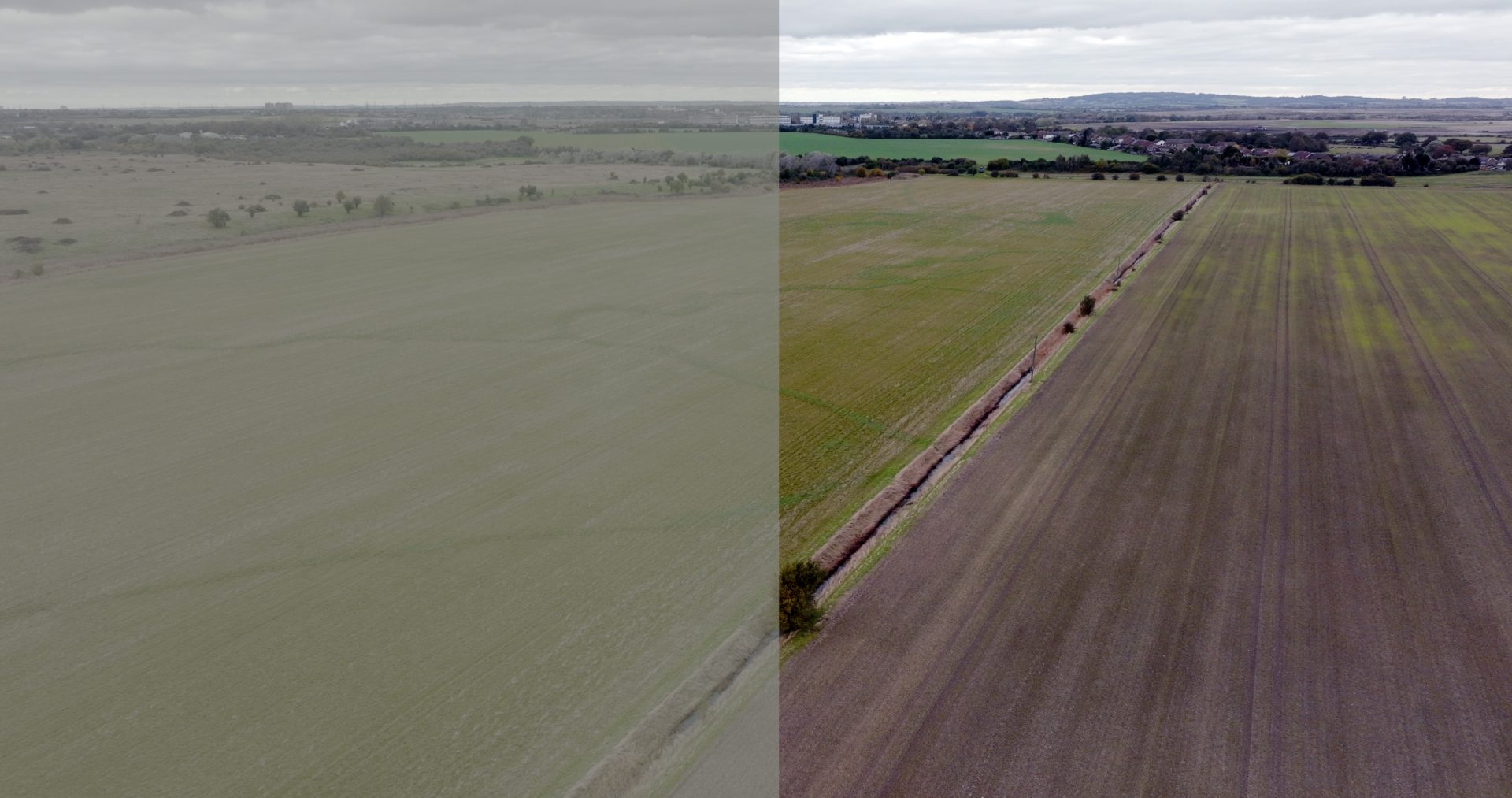 For some filmmakers this might be enough; if you were content with working from a Mavic 2 Pro's D-log, for example, then this could save you the price of the Cine pack. At that point, however, you have to start to ask yourself, is a bigger sensor, the hybrid zoom, and a few more minutes in the air worth the upgrade at all, especially if you've already got a few spare batteries. To be honest, I'm on the fence here – if I was mostly shooting stills in normal light, and had never felt the Mavic 2 didn't get close enough, I wouldn't be in a hurry to empty my wallet for no resolution or control gain.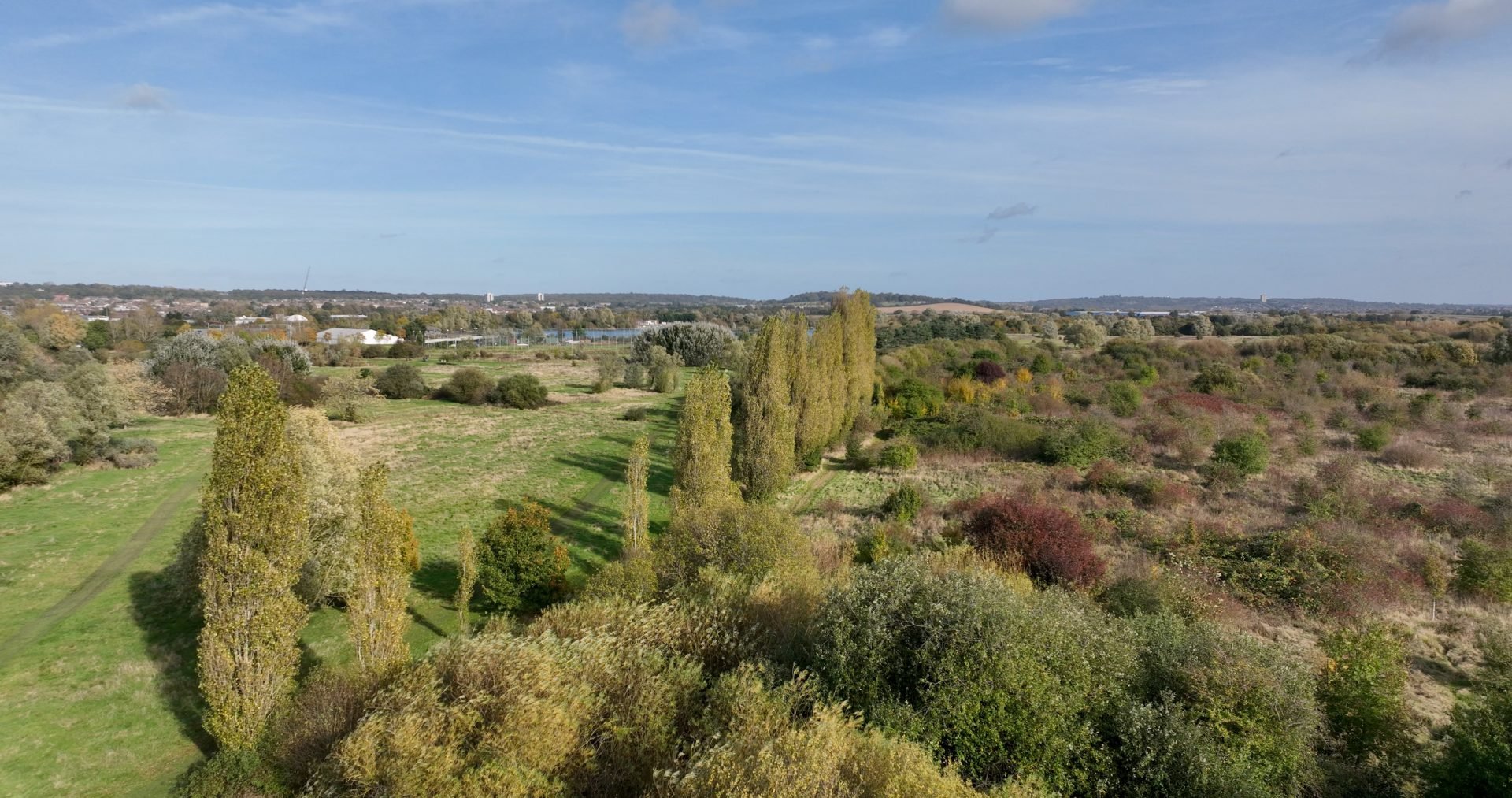 In fairness there is more to it than that. The Mavic 3, despite testing on pre-release software, already seems to produce better looking video. The up-to-200Mbps bit rate is presumably a factor there (double what the Mavic 2 could handle), and the ability to capture 5.1K at 50fps is definitely an appealing prospect for filmmakers.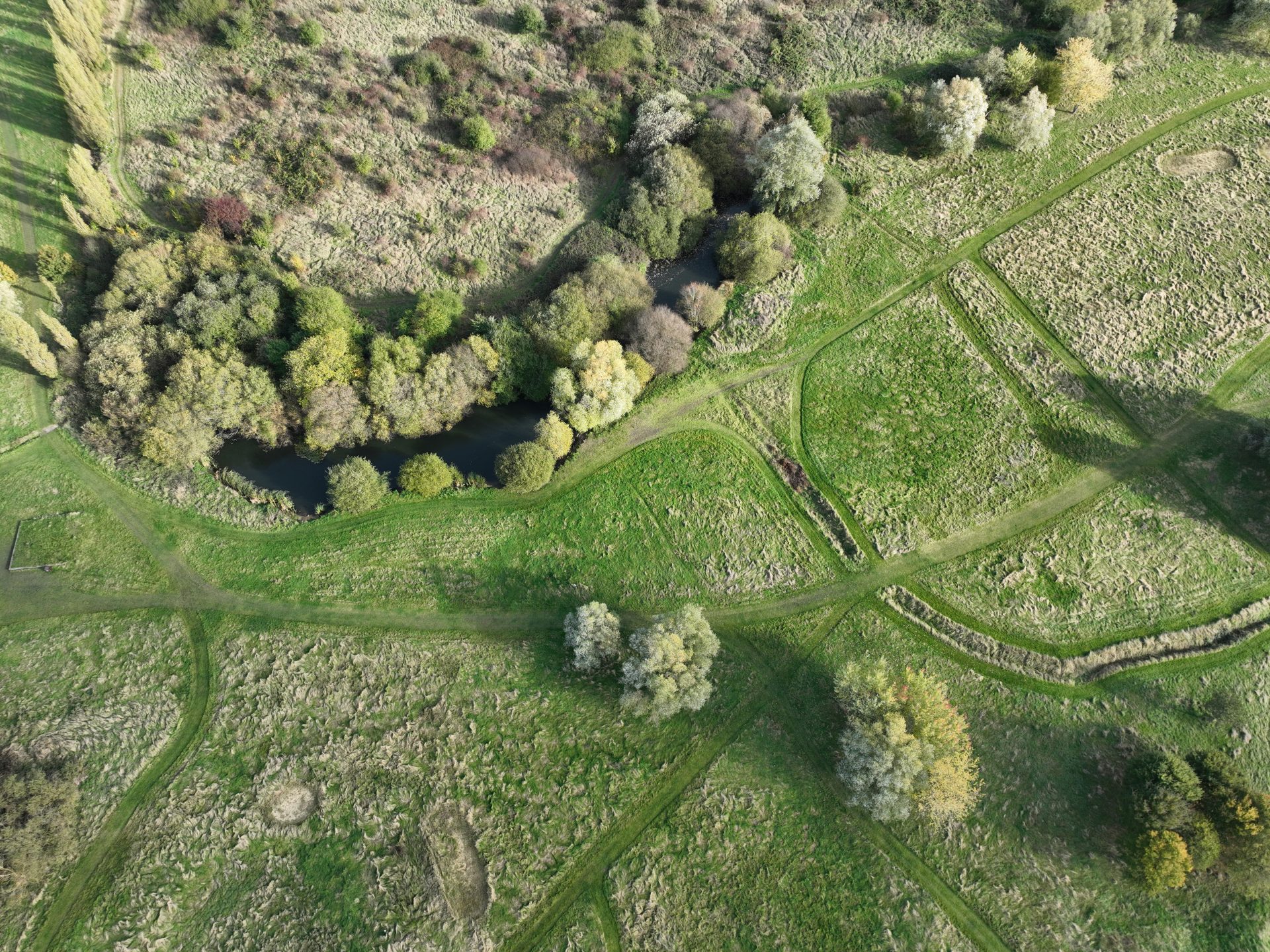 Mavic 3 Hybrid Zoom
It should be noted that this review was written based on pre-release software, but at the time of writing using the zoom feels a bit strange. For a surveyor – or someone looking to test the limits of privacy law – hovering and using the zoom as is pose no issues. But for someone keen to stick with specific settings things are a little frustrating. In video mode, the zoom switches straight to 4K30 when selected, while photos saved from Explorer Mode aren't even the same size: 4000 x 3000 px JPEGS against 5280 x 3956 px. No Raw files are offered either, for whatever reason, even if you were previously in Pro mode with Raw turned on.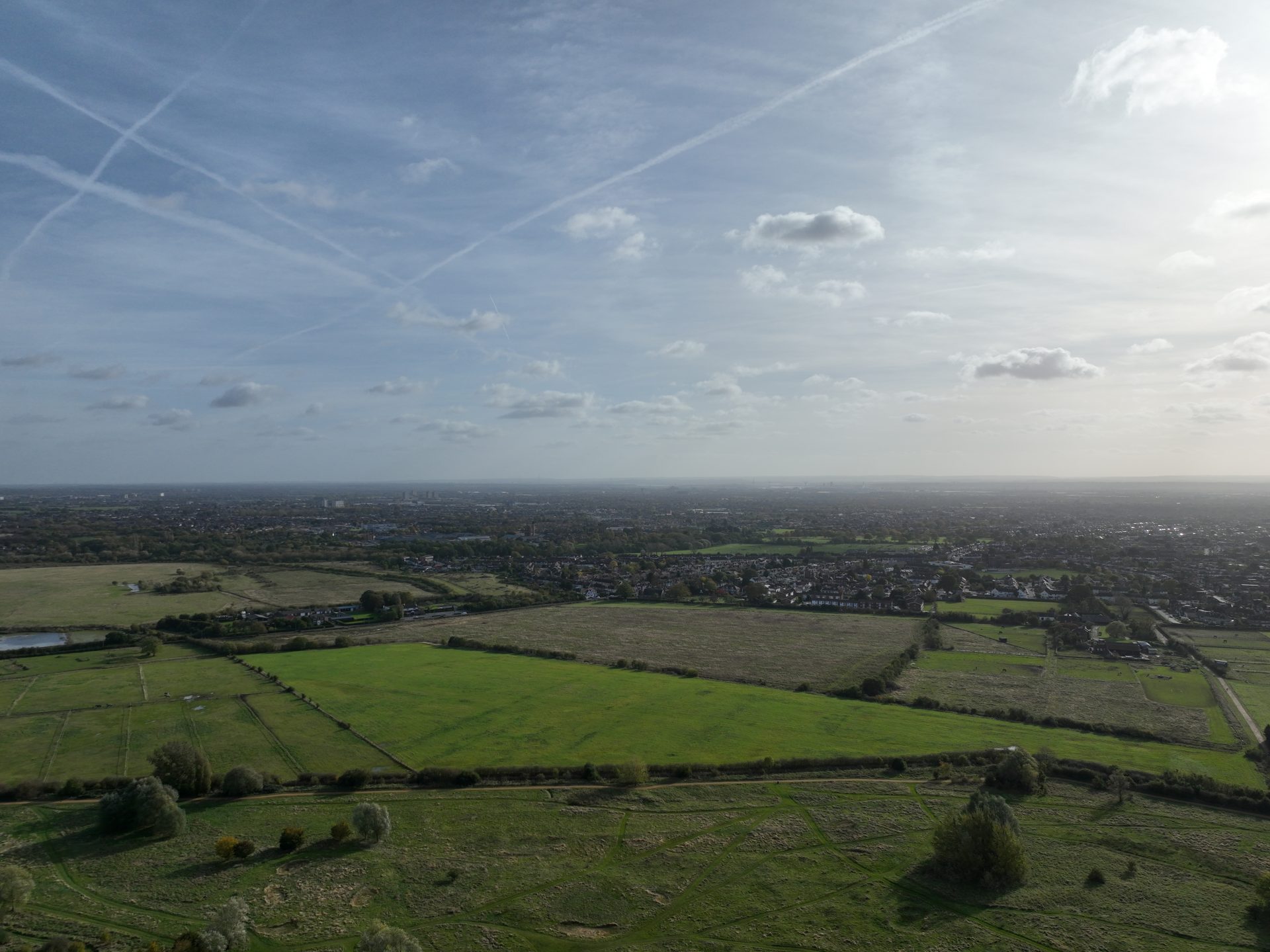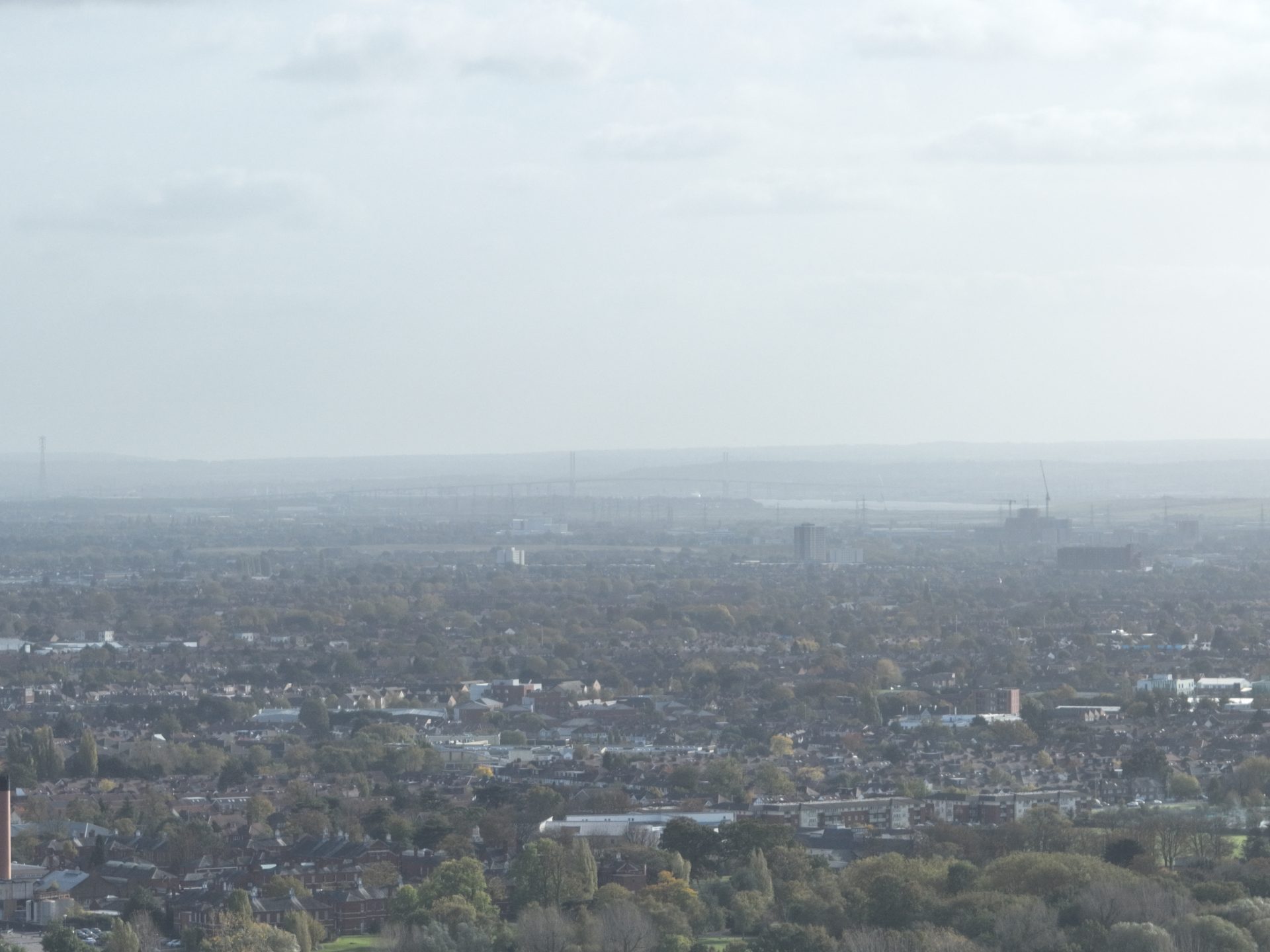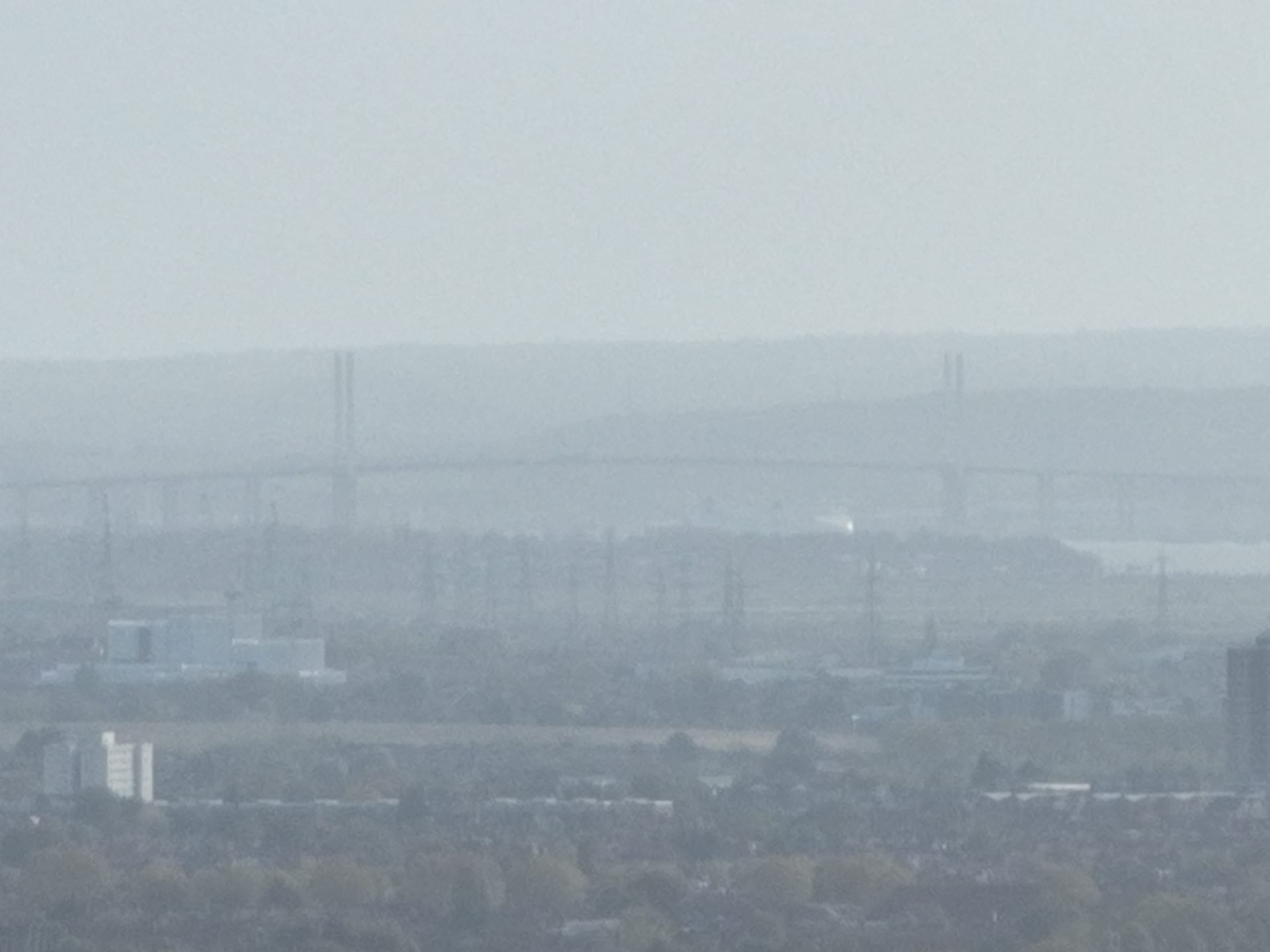 The bridge in the pictures here is 18 km (11.2 miles) from the camera, and barely appears in the 24mm shot. The light isn't ideal, but the zoom clearly has a positive effect beyond that a digital zoom from the 24mm lens could achieve (that, in Photoshop, creates an image with 88 pixels between the bridge pillars).
Mavic 3 Design
The Mavic 3 is a pretty familiar design if you're used to DJI's line of folding drones; it has the wider-looking 'eyes' (vision sensors) and top vent of the more recent Air 2S styling, while retaining a similar size to the Mavic 2. When open it is has a slightly larger span (380 v 354 mm), and is a little taller (helping keep the lens away from grass or gravel).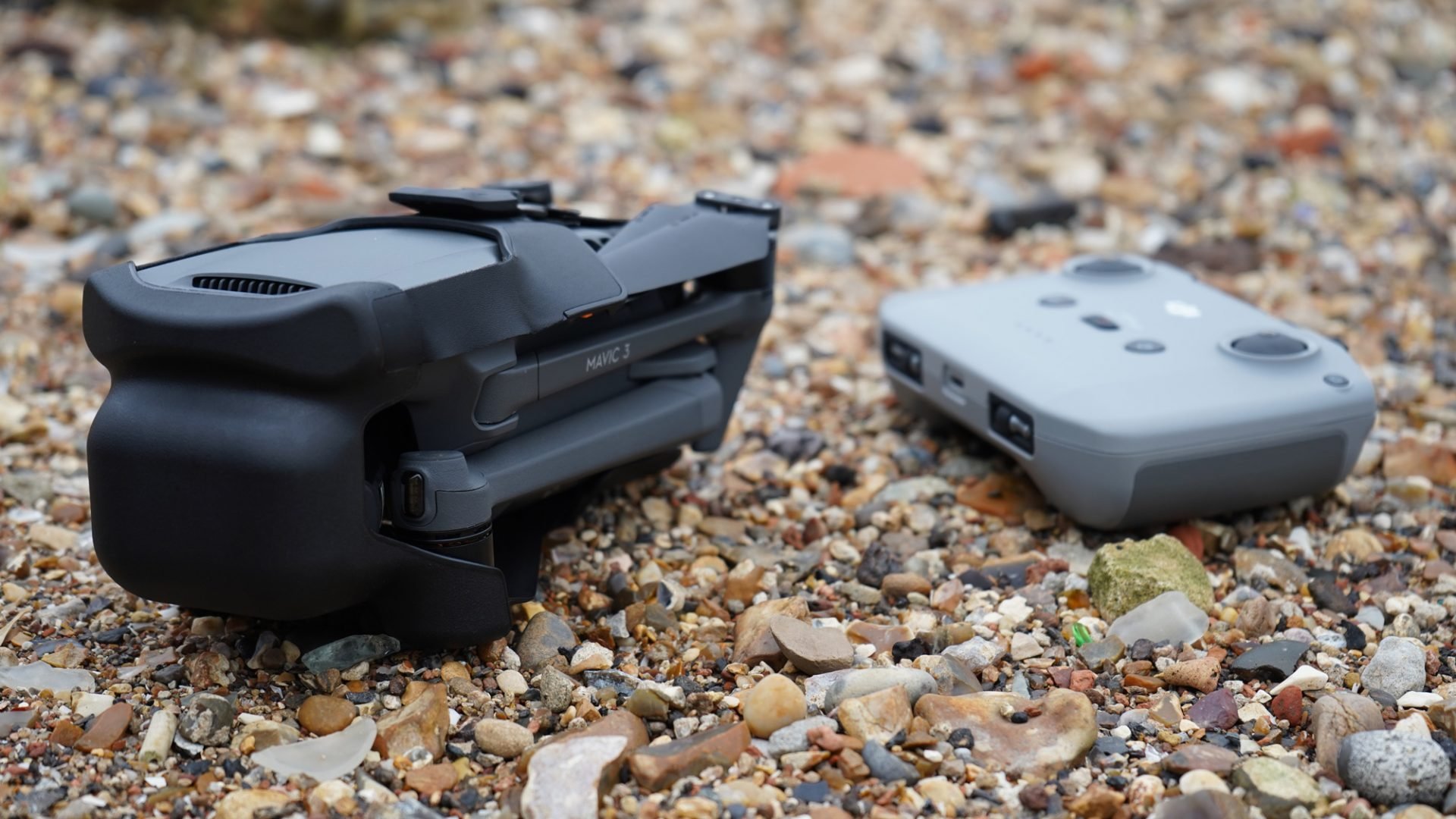 The other change from previous Mavics is the battery now slides in and out of the back, rather than being the whole shell of the airframe. The new 5,000mAh batteries are, of course, a different shape to previous machines, but the claimed 46-minute maximum flight time we found to be more-or-less accurate. This beats not only the previous Mavic but the Autel Evo II's 40 (at the time a big selling point). The proportion of battery time lost taking off and positioning is reduced enormously, and you truly feel the benefit.
Style-wise, the fish-eye sensors mentioned above and vents look a little more aggressive than the previous Mavic, but the thinner legs seem to counter that.
Control
If you've flown a DJI drone before, there will be few surprises here; you can be in the air in just a few seconds (though the DJI Fly app is keen that you tap through a tutorial, which isn't a bad move given the new features).
The only loss, in comparison to the Mavic 2, is the ability to pan the gimbal from left to right by dragging on-screen; this is now only possible by a few degrees – but many operators have never done it at all since it nearly always makes more sense (or is easier) to rotate the drone.
n terms of speed, the drone can reach 21 m/s (47mph), nothing to be sniffed at though not a significant jump on its predecessor. Ascent and descent speeds have all jumped though, offering more flexibility for shots involving climbing or descent. This presumably stems from quicker response by the motors and speed controllers; in any case controlled descent (a true measure of a drone's control) has jumped from 3 m/s to 6 m/s.
As is now expected from DJI, you can switch between Cine (slow), Normal and Sport modes, the later at which the safety features are not all available. Cine is useful for discouraging over-enthusiasm while trying to capture tracking shots and having a physical switch on the controller to get in and out of it easily is great.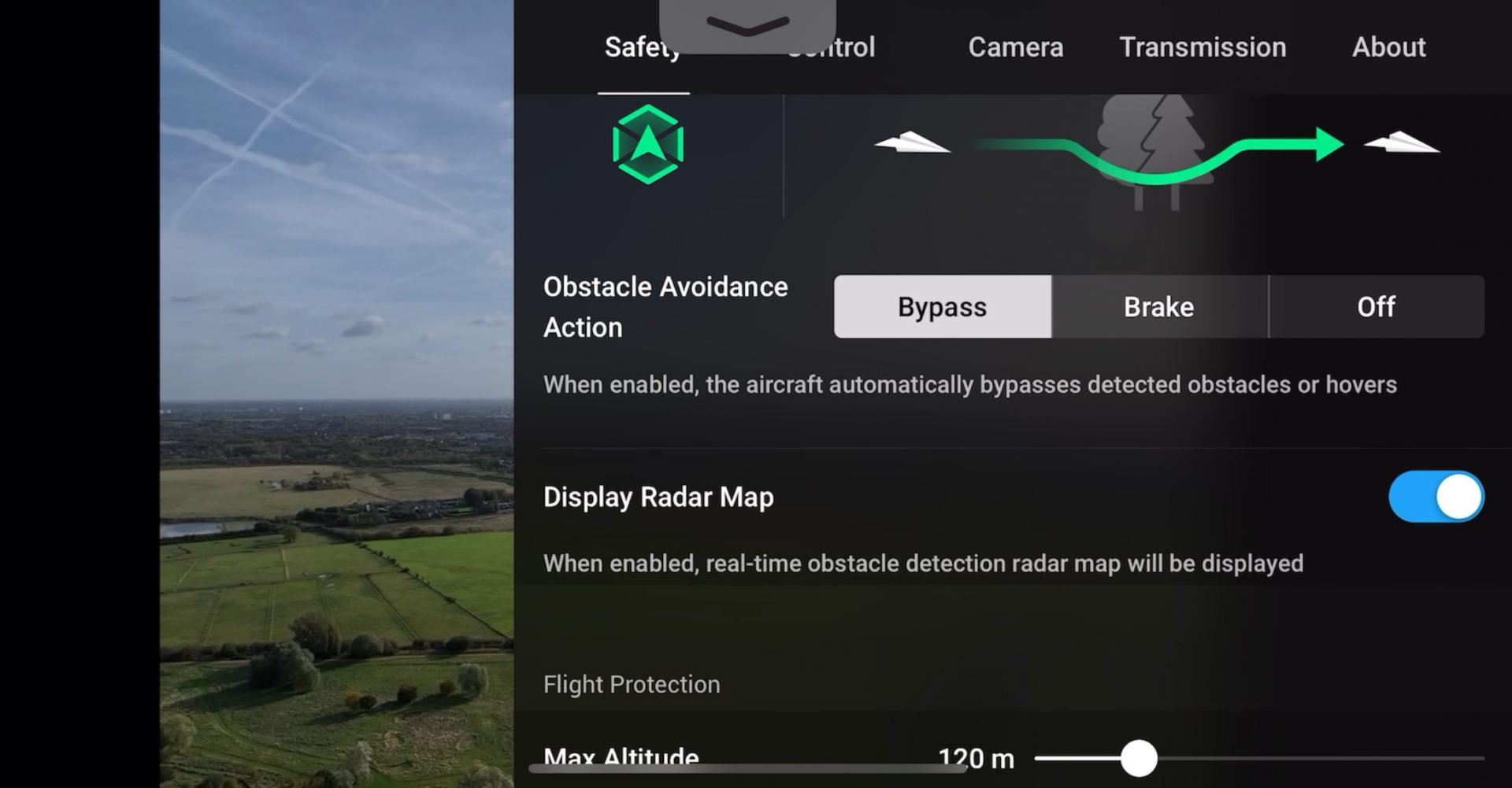 The forward vision system which achieves this has a measurement range of 20m (as the predecessor) but a much longer detection range of 200m (it was 40m on the Mavic 2) which is also used by the drone to plot more efficient return to home routes. It's not easy in a few days with a drone (especially one for which software improvements are due) to be certain, but it seems clear that the Mavic 3's vision sensor's are more capable than the predecessor. The only quirk we noticed, and only on one flight, was an occasional warning that there was dirt on the sensor which simply wasn't true – could it have been catching the light?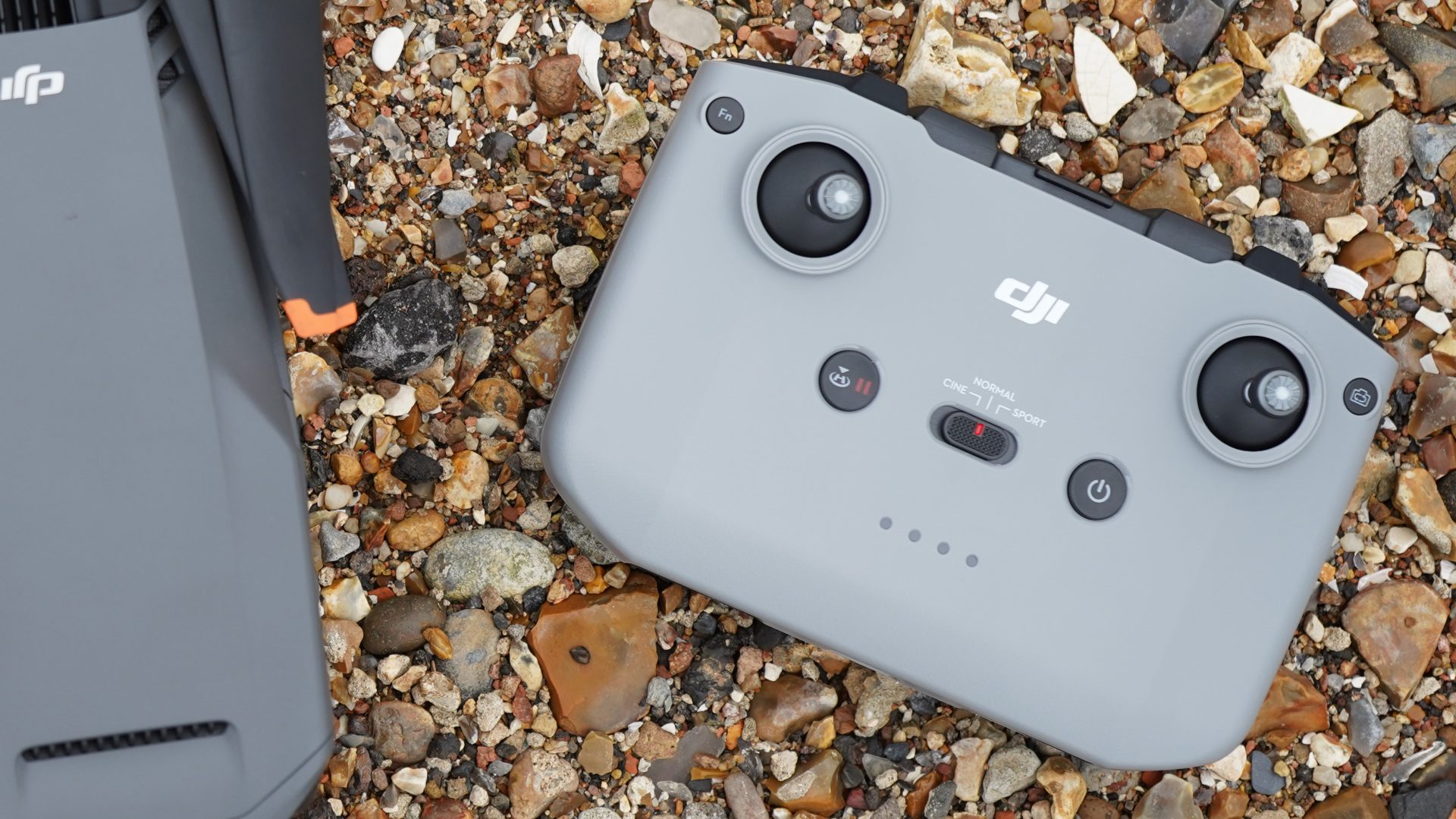 The 'standard' RC-N1 controller is a design familiar with from recent DJI launches and there are no complaints. It packs reasonably flat and stores enough power to much more than outlast the three batteries in the Fly More package; 6 hours in fact (or four if its topping up your phone battery as it goes). I like it because my iPhone 13 Pro Max fits, in its case, in the top with no problems. The linking cable tucks under the slide out antenna, and the screw-out sticks seem safe in the rubberised grips below. (Devices up to 180×86×10 mm should fit, and Lightning, USB-C and Micro-USB connectors are supplied).
Were I to offer a complaint, it would be this – on the top there is a wheel-like control for the left index finger which, by default, tilts the gimbal. On the right is the shutter or start/stop key but on the admittedly rather larger Inspire 2 controller there was also a wheel for the right index finger which could even be set to control an optical zoom if fitted.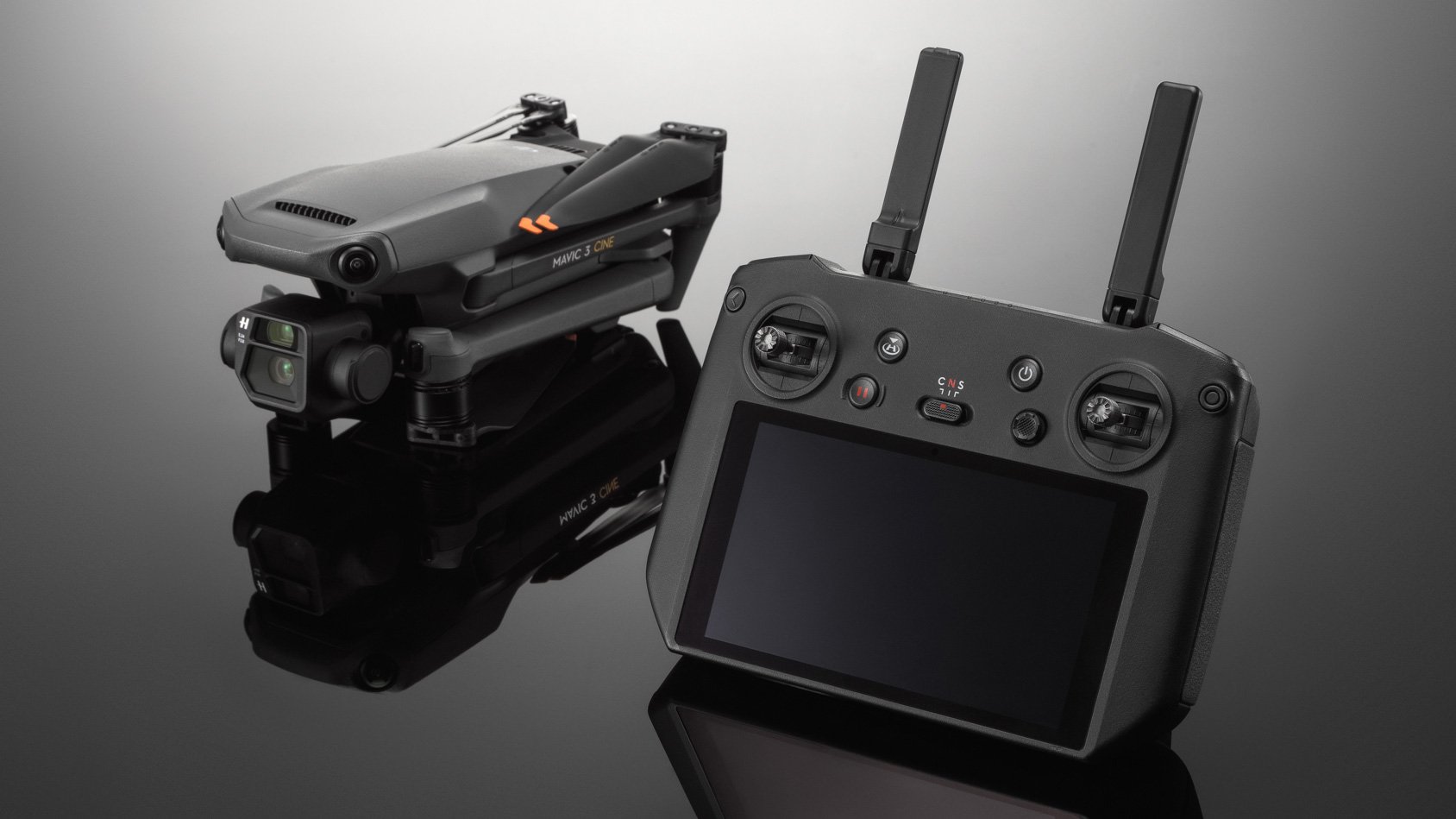 DJI do have a solution, and if you're buying the Cine version, you'll already have it; their RC Pro controller, which is a slightly larger version of the SmartController. The principle benefit of the device is not having to plug your phone in (a 15 second task if you fumble a bit).
Coming Soon
At the time of launch, DJI have kept a number of firmware features for a planned January launch, so I've not been able to test them. Specifically technologies we've seen before – ActiveTrack and MasterShots – have temporarily disappeared from the roster. ActiveTrack 4.0 came with the Air 2S and, within its parameters, did a decent job of following the subject while the MasterShots can be much more helpful than most videographers would care to admit. We can hope that ActiveTrack 5.0 – which promises to be able to follow a bicycle through a forest automatically without hitting a tree – lives up to that, but can't be sure until 2022.
Accessories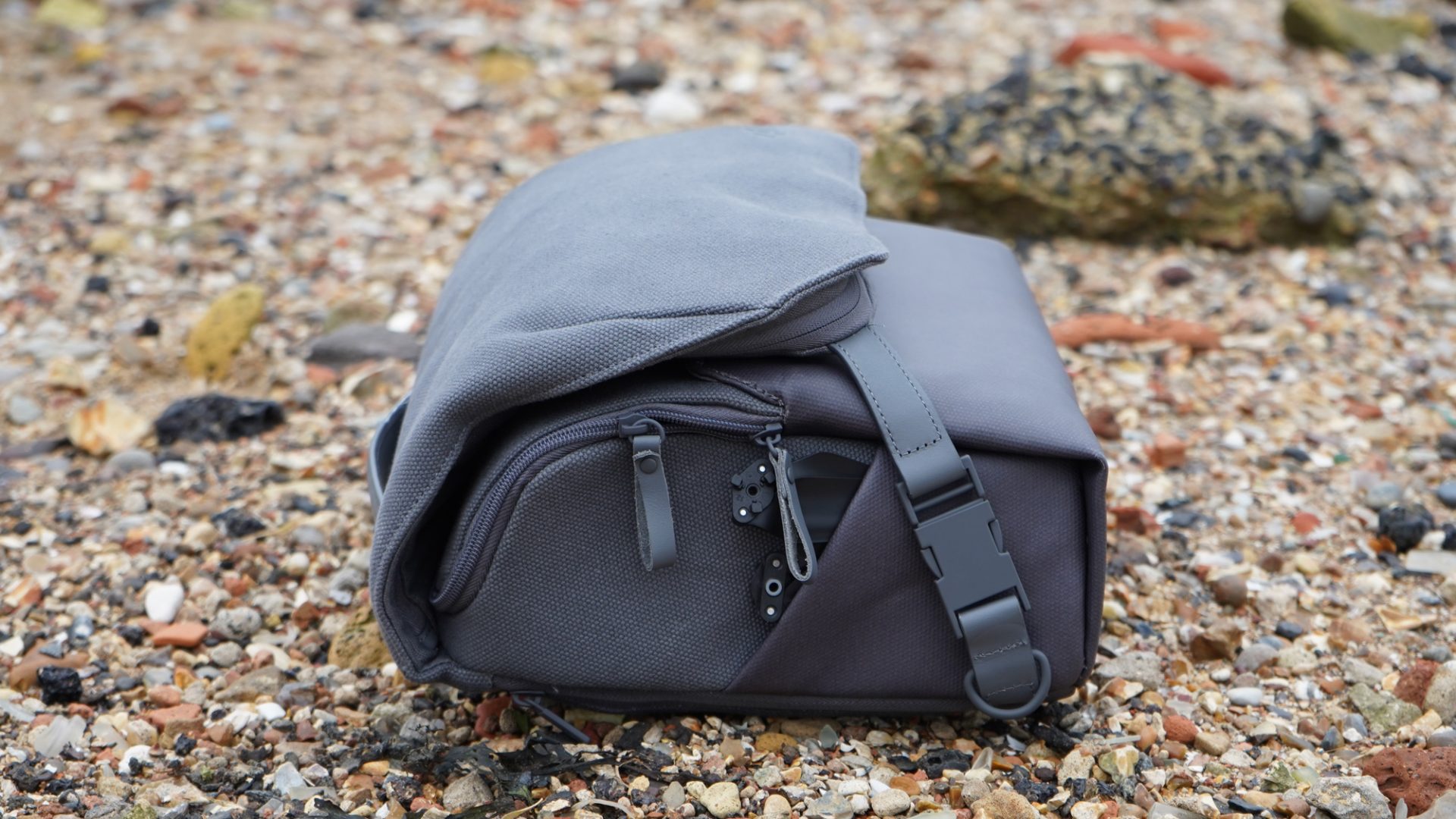 This review is based on the Mavic 3 Fly More pack, which comes with drone and controller, two full sets of spare propellors, four ND filters (4, 8, 16, 32), a three-battery charging hub and carry-bag which opens into a full-size back pack. Everything fits in the bag, and the back straps zip away into the front flap (hence the slight lump in this photo). Unlike other novelty accessories thrown in by some manufacturers, this exhibits all the quality you'd expect of a brand-name bag. I found it useful treking out to places I could safely fly from in back-pack mode, though I suspect I didn't quite fold the straps in as well as I could have.
Coming soon (outside the UK, USA, and EU) is a cellular dongle, too. This device is all about maintaining connections in congested areas where many of us aren't allowed to fly altogether, but it might indicate at the kind of technology likely to come in future enterprise editions, or simply what is possible in less tightly regulated airspace.
DJI Mavic 3 Verdict
The Mavic 3 is, undoubtedly, the best drone in its class. That wasn't really in question; the Autel Evo II has gone some time without an update while it would have been quite a surprise if DJI had gone backward from the airframe improvements already seen in the Air 2S or the Mavic 2 Pro's 10-bit video. That said, the loss of the optical zoom as an option is a bit of a shame (how a circular polarizer will fit on the lenses is anyone's guess) and the insistence on 4k30 from the otherwise potentially useful secondary lens is frustrating.
In other words, there is a lot of room for improvement here, and much of that is possible in the software. Since better software is already en route, some of this might be forthcoming, but the only promised improvements are ActiveTrack 5.0 and the MasterShots features, essentially refinements of features which exist on the Air 2S. That won't stop DJI reaping the pent-up demand for a new top Mavic but customers must be more prepared to see themselves as buying two cameras – high-end 24mm and a more average zoom.
Videographers who regularly take an Inspire 2 or similar on location might have the most to gain here; the Mavic 3's long flight time, relative portability and more modern all-round features make the Cine edition surprisingly cost effective if ProRes is part of your workflow (if it isn't, a word of warning: spending the extra for bragging rights is the beginning of a dark path – you'll need a lot of pricey high-speed storage!)
Summary
The long awaited DJI Mavic 3 is the firm's top-of-the-range folding drone, targeting high end consumers and video professionals with the 'Cine' edition. It's unquestionably a premium product, with all Mavic 3 models having dual cameras: a zoom and an even larger Hasselblad 20-megapixel 4/3rds sensor main camera. The new airframe is much more powerful too, taking the crown for longest flight time, and handles wind and obstacles with ease. This combined unit has its quirks, but still offers more flexibility than most, which makes it hard to compare prices; that hasn't stopped DJI setting them high though! From a value perspective, there seems to be a greater leap for videographers, Cine or not, but it's still a difficult device to resist.