DJI Mavic 2 Pro / Zoom review
The DJI Mavic 2 splits the 'Pro' line into two. Or, three, really, since the Mavic name is also applied to the Mavic Air, launched earlier this year with a more distinct airframe and a little less by way of features. After some embarrassing false starts, the Mavic 2 is now on sale and retains 'Pro' for the pricier model which gets a 28mm EFL fixed camera with a 1in sensor and Hasselblad branding, while the Zoom model has a 2x optical (and another 2x digital) lens coupled with a smaller 1/2.3″ sensor. The Pro model carries a slightly higher price tag, check current pricing below.
Buy the DJI Mavic 2 Zoom at Amazon, B&H, Adorama, or Wex. Buy the DJI Mavic 2 Pro at Amazon, B&H, Adorama, or Wex. Alternatively get yourself a copy of my In Camera book or treat me to a coffee! Thanks!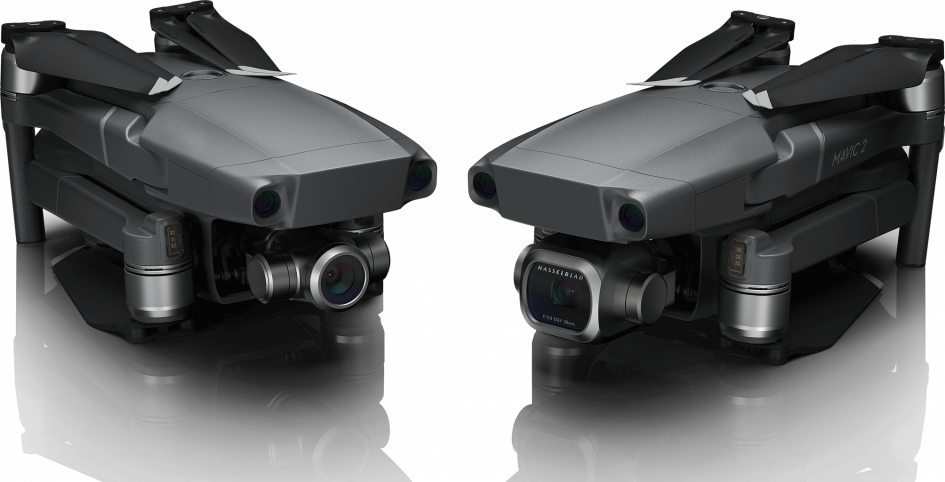 Understanding the choice
At least, now, the Mavic line-up is logical (leaving aside the '2') we have 'Air', 'Zoom' & 'Pro'—cheap & portable, prosumer functionality & professional quality respectively. Customers have a real choice facing them, even if they discount other manufactures (quite possibly how DJI would like people to view the world). In practice the potential drone customer must also consider the Parrot Anafi — cheaper than the air, but headed toward the Zoom on functional grounds.
The Mavic 2 Zoom, though, does give people more for that extra payment over the Air or Anafi. Nice features include a 48MP Super Resolution Photo; line up your shot in a wide angle view and let the drone zoom in and take all the necessary shots and stitch them to create a much higher resolution image than the 12-megapixel sensor (4000×3000) allows. There is also a very nice dolly zoom effect (alongside all the other cool instagram-friendly smart capture ideas in the Mavic Air).
The Mavic 2 Zoom in flight – the 3-axis gimbal seems a great deal more convincing (and a lot easier to get in and out of the travel protector) than its predecessor.
The Mavic 2 Pro's Hasselblad camera does not feature an optical zoom, but has a larger 1″ CMOS sensor putting it more on a par with the Phantom 4 Pro in terms of image quality. Possibly better, in fact, since the Mavic 2 Pro's camera (5472×3648 pix) has access to Hasselblad's processing, and can offer moviemakers 10-bit Dlog-M and 10-bit HDR video (the Zoom remains 8-bit D-Cinelike—didn't the Anafi have HDR video?).
Both drones also feature a hyperlapse tool for creating fast moving video from slow dolly-like shots, all computed automatically. DJI are clearly concerned that aerial photos just don't cut it anymore when trying to impress the general public, and said as much in their delayed launch presentation. In other words, if people don't want to spend a four-figure sum on having better Instagram clips, DJI are in trouble. On the plus side, all-round collision detection mean DJI aren't actively hoping you'll . The drone is also able to use its two front collision cameras to track your subject for a stable shot, even predicting its movement during momentary disappearances behind obstacles, which did seem to work for me in testing.
Some will be slightly disappointed that 4K recording is limited to 30fps (the Phantom will do 60) and the internal memory is only 8Gb, but on the plus side H.265 encoding is on offer. Range enthusiasts may be impressed to know DJI have calculated that, at a steady 50kph / 31mph, the drone can fly 18km / 11.2miles on a single mission, or keep aloft its 905g or 907g for a very pleasing 29-31 minutes (hover or in flight measurements).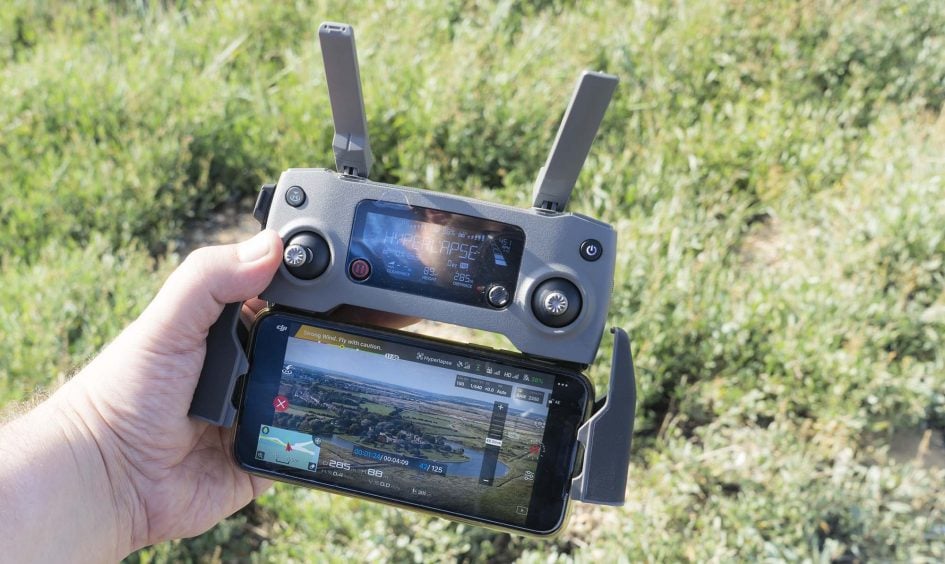 Getting started
The Mavic 2 is unquestionably well presented – it is packed with Apple-like love and attention to detail and unpacking the thing is a pleasure in itself. The only slight drawback is that you really, really need to both charge up your battery, then half exhaust it on a software update, before doing so again. Then, and only then, can you head outdoors (or – and trust me on this – you'll spend half an hour in a field learning the definition of tedious as your aircraft, phone and controller's battery steadily tick down downloading the software then performing said update. At least you don't need a cable or a laptop any more – that, in all fairness, is a huge plus. Steadily it seems DJI are, if not eliminating, then at least smoothing out some of the irritations of… wait for it… dronership. (sorry).
Instead, as with all recent DJI aircraft (save for those with their own screen like the Phantom 4 Pro Plus), you must install the app DJI Go 4 on your Phone. Before you get going the app will take you through a number of legal questions and download a map of no-fly-zones, as well as setting the altitude and range limits to match local legislation. It's hard to argue with this, and indeed the limits can be adjusted in software, but it feels weird that a drone with a 8000m range (claimed) defaults to 480m (in the UK). Presumably this is how the registration
I tested using an iPhone, which DJI devices have historically been slightly more friendly to, so I can't speak to any bugs with any or all Android devices – so far though I've not encountered any issues. A subtle reminder of the slight iPhone preference is the fact that of the supplied controller cables, it is the Lightening one and not the Micro USB one that is connected in the box. In any case, it's great that – like the original Mavic and the Mavic Air – a discrete replacement for the dangling cable is provided in the box. I still find getting my phone into the two arms a little fiddly, not because they are unable to grip an iPhone X but because I want to leave it in its case. The clip mechanism is no friend of the swipe-from-the-bottom (which is, once in the folding grips, now the left) that iOS requires, so ideally you want to be logged in and not leave the phone long enough for it to require security again.
Grumbles aside, it's actually a small price to pay for such a compact controller, and while some had doubted that it would, it's also nice to see the retention of the backlit LCD display which give you critical information like remaining battery in a way you can read even when (as is often the case) the sunlight makes it hard to clearly see the phone's screen. There is also a market in somewhat inelegant sun-shades to place over your phone but remember you need to use that touch screen!
Flight characteristics
The new Mavic 2 is notably chunkier than its predecessor, at 905/907g thats a good bit more than 743g for the Mavic Pro & Platinum. You can feel that in the hand (if you've ever handled the original Mavic Pro), but in truth the machine isn't very different. The folding mechanism is the same, though the whole machine is slightly bigger. Despite a very minimal increase in battery size (3830 up to 3850 mAh), the max flight time rises from 27 to 31 minutes; that's a very useful bonus. When shooting, most of the time you lose is the time getting to and getting back from position(s), which is why the main disappointment with the Mavic Air was the 21 minute battery life.
The drone's updated motors & electronic speed controllers (ESCs) translate that power to a maximum speed of 44.7 mph / 72 km/h (up from 40/65), which is very impressive. On my second day testing I took the drone out in very windy conditions and (despite frequent and irritating warnings) I was able to fly against the wind with no problem. In normal flight (which doesn't reach those speeds) you can remain confident that there is plenty of extra power to combat the gusts.
The zoom does bring a few technical challenges. The extra heft of more lens elements is countered by the new airframe (also able to handle the weight of the larger Hasselblad-branded 1-inch sensor on the Pro model). It also affects flying via the screen; if you're using the monitor (now in glorious 1080) for any kind of first person view (FPV) – rather than physically watching the aircraft, then its much easier to get confused if you're changing the field of view all the time – you wouldn't drive a car through binoculars. The other issue is that at full zoom vibrations and sharp turns are exaggerated. More movement is needed by the gimbal to dampen the effect and, at times, it simply can't handle it so if you're turning fast you might see the view jump a little. This happened when I tested in wind, but in all fairness I had been warned.
Finally on the subject of warnings the all-round (omnidirectional) collision sensors (not just 360-degree but a and down too) did seem to do a decent job of alerting me and stopping the drone when I tried it. I did find it irksome, however, to be told on screen that they were disabled when I hit about 40 m altitude while I was flying back as fast as possible. At the same time I was getting the piercing battery alarm and the on-screen messages were stacking up like windows, which isn't ideal. Thankfully, though, the underside sensors make landing a breeze – just pick your spot and push down on the sticks, or press the 'land' button.
Video
Arguably the 24mm to 48mm EFL Zoom is the obvious choice for those that put moviemaking at the top of their priorities. As noted in the recent review of the Parrot Anafi, the first accessibly priced drone with a zoom feature, the ability to adjust focal length can have even more dramatic effects on orbital or dolly-style shots than it does in the world of stills. An optical zoom rather than a digital one is preferable, and certainly the quality is apparent.
Shooting at 4k in the default 30fps the footage is crisp – if you start recording before you take off on a beach you can see every grain of sand blown up. The colour is good, with a pleasing if not perfect range. I shot in challenging light and conditions and although, if I were stretching a point, the Zoom's D-Cinelike video looked a tiny bit colder than it might (an easy fix in post) there was detail in shadows and although video certainly did blow out in highlights it didn't spill into nearby darker objects. Dlog-M and HDR (10-bit) video are the preserve of the Mavic 2 Pro, so if you are happy with a fixed focal length of 28mm elf (and the extra cost) then this is where the higher cost is justified.
One of the biggest disappointments for slow-mo fans is that 60fps 4k has been left to the Phantom 4 Pro and above in the DJI line – this is something of a surprise to me, to be honest – perhaps there is some technical reason but it feels more likely that the Phantom still needs to justify its position in the range and otherwise the 1-inch sensor on the Mavic 2 Pro would actually seem a better option (especially for Hasselblad fans, though since DJI acquired a majority stake in the company in 2017 this kind of branding exercise was only a matter of time). The weightier Phantom does still offer more stability, which is worth bearing in mind for more professional work, and a mechanical shutter; the Mavic 2 both have electronic shutters.
2.7k (2677 x 1512) is available at 24/25/30/48/50/60fps, and at 1080p that can be stretched to 120fps. In both cases 100Mbps video is recorded, and the H.265 option (H.264 is still there) does show detectable improvement. The Zoom captures,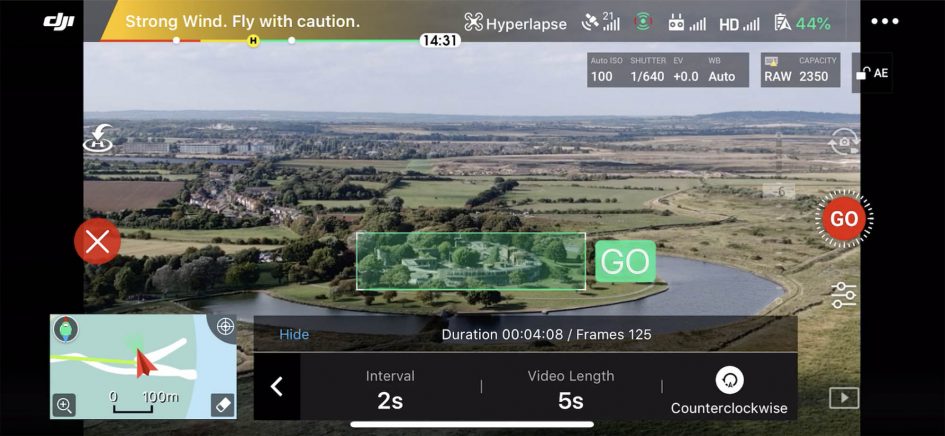 The Hyperlapse feature integrates well into the DJI app. One thing that's difficult to believe is that, once the stills have been captured according to your chosen interval and total clip length, they are processed on board, rather then leaving you to assembling them later.  Slightly disappointingly it didn't appear alongside the other preview videos in the app (from which one can review the whole day's shooting at 1080, and automatically generate trailer-like reviews of your day). It was there, however, when I plugged my laptop into the Mavic 2's USB-C socket and downloaded the day's original files. On viewing though, for all fun of the fast cloud movement in my one test, the video quality did leave something to be desired, with dark areas much darker than they were in normal video captured at the time.
Personally when I tried the other much hyped new feature: the Dolly Zoom. The result I got (Adam Juniper Dolly Zoom sample) was more than good enough for Instagram, but I did think there was some evidence of a little uncertainty in the camera's movement – given the other samples I've seem, perhaps the high wind was an issue.
Stills
The Mavic 2 Zoom's imaging sensor is 12 megapixels, no different to the Mavic Pro from 2016. To my eye the images actually seem perhaps imperceptibly little less sharp at full zoom, perhaps, but nothing to be sniffed at, and as I mentioned the wind was pretty high.
The main addition to the array of stills features already offered by the DJI Go 4 app is the Super Resolution feature on the Zoom.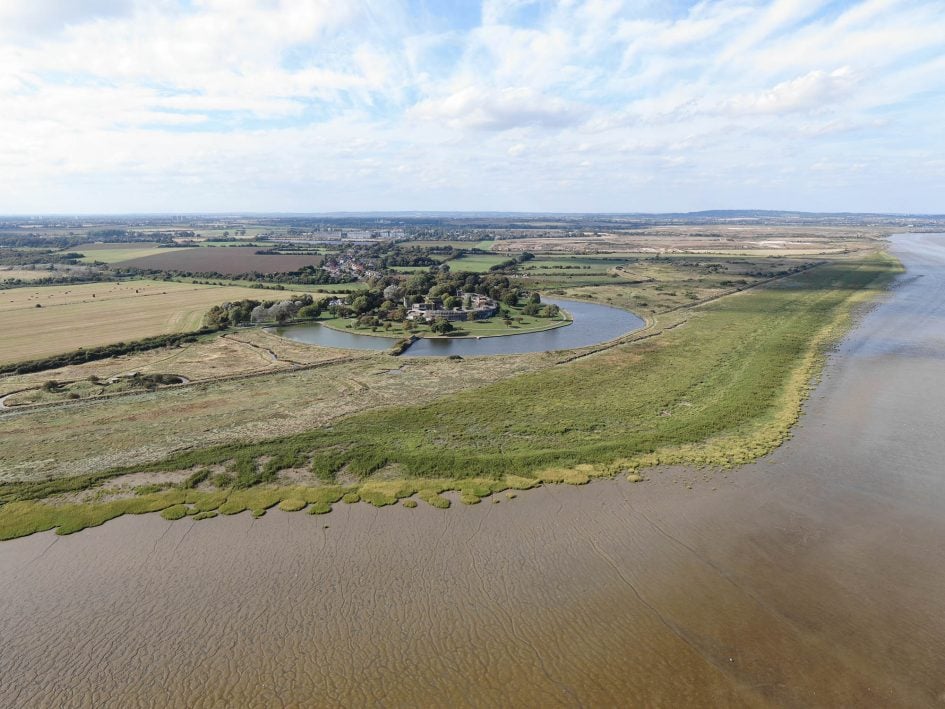 This 8000 x 6000 image was created using the using the Super Resolution feature; position the camera (zoomed out) and the drone will zoom in and capture enough images at 48mm to automatically stitch a 48 megapixel image.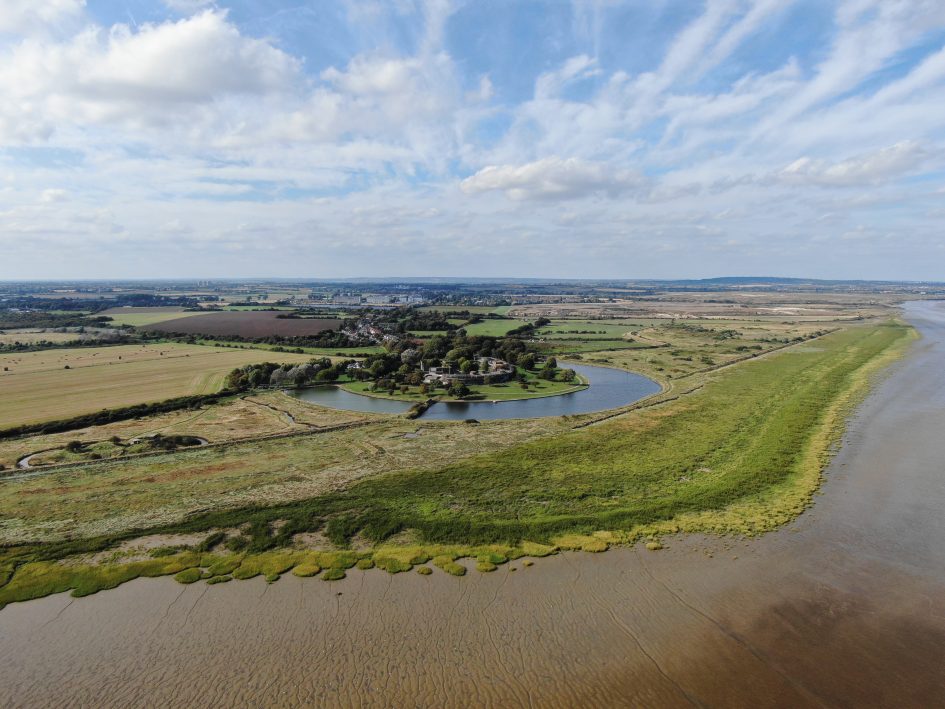 The same view at normal 12 megapixels, but with the HDR mode on.
The Mavic 2 Pro does offer more for stills photographers, with up to 12,800 ISO rather than the 3,200 limit of the Zoom's 1/2.3″ CMOS. There is also an adjustable aperture (ƒ/2.8 to ƒ/11) It also offers Hasselblad Natural Colour Solution (HNCS) technology, which is, of course, really just a matter of taste. Pro images are 5472 x 3648 to the zoom's 4000 x 3000 pixels.
As soon as you're in the air you'll see how much sharper 1080p live video looks than the 720p in most other DJI and competing drones. When tapping to focus you can feel that bit more confident. Ponderous photographers (i.e. most photographers) will also find that the relatively long battery life a little less stressful when working through the options, and it's good to have RAW images, burst mode (up to 5 shots on the Pro or 7 on the Zoom), bracketing, interval shooting.
Summary
The Mavic is now a very personal choice, forcing you to ask what kind of photography or videography you want (or encouraging busy pros to buy both, perhaps). For me the Zoom is an amazingly practical tool that you can take anywhere and get stunning imagery with few problems. The cinematic orbiting shots are worth the money alone. The controller is good, the range is spectacular and DJI Go 4's management features make sharing easy in the field. Build quality is more convincing than the appearance suggests, and omnidirectional sensing lives up to what was promised. Not cheap, but quite possibly the best value drone on the market.
DJI expands service offering
Interestingly DJI have also promised a future scheme that will allow people to get the camera component swapped (confirming that it can't be done by the user as on the Inspire), as well as an upgrade programme in the US & China. For those watching DJI's moves of late, apparently the delay was to ensure stock was available to ship at launch. Check back soon for my full review!

The drone is also compatible with DJI's Goggles and Goggles RE (indeed there are bundles that include the latter).

Buy the DJI Mavic 2 Zoom at Amazon, B&H, Adorama, or Wex. Buy the DJI Mavic 2 Pro at Amazon, B&H, Adorama, or Wex. Alternatively get yourself a copy of my In Camera book or treat me to a coffee! Thanks!