DJI Mavic 2 Pro / Zoom review
The DJI Mavic 2 splits the 'Pro' line into two. Or, three, really, since the Mavic name is also applied to the Mavic Air, launched earlier this year with a fresh new compact airframe, smaller battery and more 'selfie' modes than the original Mavic. After some embarrassing false starts, the Mavic 2 is now on sale too. It retains the 'Pro' moniker for the pricier model – which gets a 28mm EFL fixed camera with a 1-inch sensor and Hasselblad branding – while a Zoom model has a 2x optical zoom lens coupled to a smaller 1/2.3-inch sensor. The Pro model carries a slightly higher price tag, check current pricing below.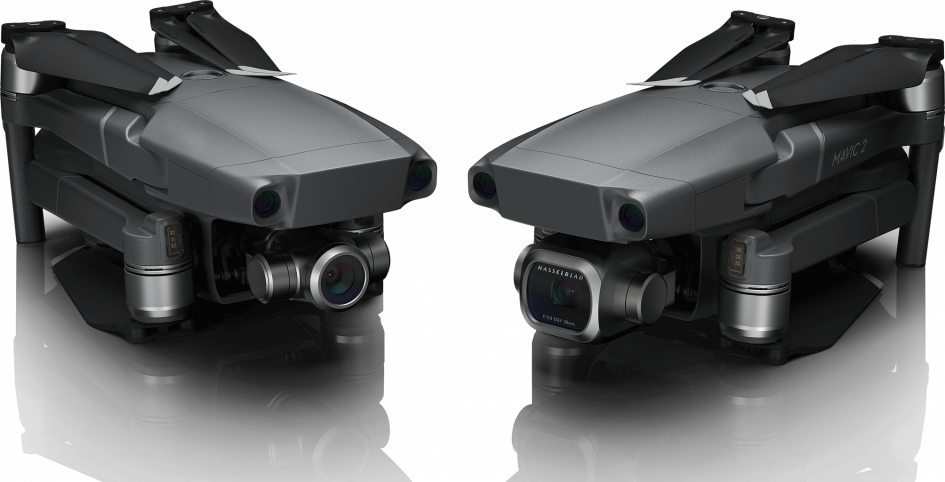 Understanding the choice
At least, now, the Mavic line-up is logical: We have 'Air', 'Zoom' & 'Pro'—cheap & portable, prosumer functionality & professional quality respectively. Customers have a real choice facing them, even if they discount other manufacturers from their consideration (which is quite possibly what DJI had in mind). In practice there isn't a lot else out there offering this level of quality and portability; you should also consider the Parrot Anafi — cheaper than the Air, but with zoom and a clever gimbal — but that's about it.
The Mavic 2s, though, undoubtedly do offer more for that significantly higher price than either the Air or Anafi.  or the 20-megapixel camera with 1-inch sensor which is undoubtedly in a class above other drones of this size. Both Mavic 2s feature a 3-axis gimbal and fold to just 91mm wide, 84mm tall and 214mm long with a battery and props fitted, so are nearly as portable as the Air (or Anafi) and far more so than DJI's next step up, the Phantom, which does not fold.
Both models also add all-round collision detection, so at least DJI aren't actively hoping you'll be keeping them in business by replacing the same model over and over! The drone is also able to use its two front collision cameras to assist its improved object tracking function, keeping your subject in shot, in focus and even predicting its movement during momentary disappearances behind obstacles. Naturally I was keen to test this, and was impressed to see it managed to work every occasion I tested it.
Some will be slightly disappointed that 4K recording is limited to 30fps (the Phantom will do 60) and the internal memory is only 8Gb but, on the plus side, more efficient H.265 encoding is on offer at 100Mbps which produces excellent results. Range enthusiasts will be impressed to know DJI have calculated that, at a steady 50kph / 31mph, the drone can fly 18km / 11.2miles on a single mission, or keep aloft its 905g or 907g for a very pleasing 29-31 minutes (hover or in-flight measurements).
In general DJI's product philosophy clearly owes as much to software as hardware. The company is clearly concerned that aerial photos just don't cut it anymore when trying to impress the general public, and said as much in their delayed launch presentation. In other words, if people don't want to spend a four-figure sum on having better Instagram clips, DJI is in trouble. That means that every new drone brings with it at least one interesting new software trick, and the Mavic is no exception. Hyperlapse is a notable example (more of which later) available on both Mavic 2s and which really does wow. Others include a 48MP Super Resolution Photo (Zoom model only), the Dolly Zoom QuickShot (Zoom model only).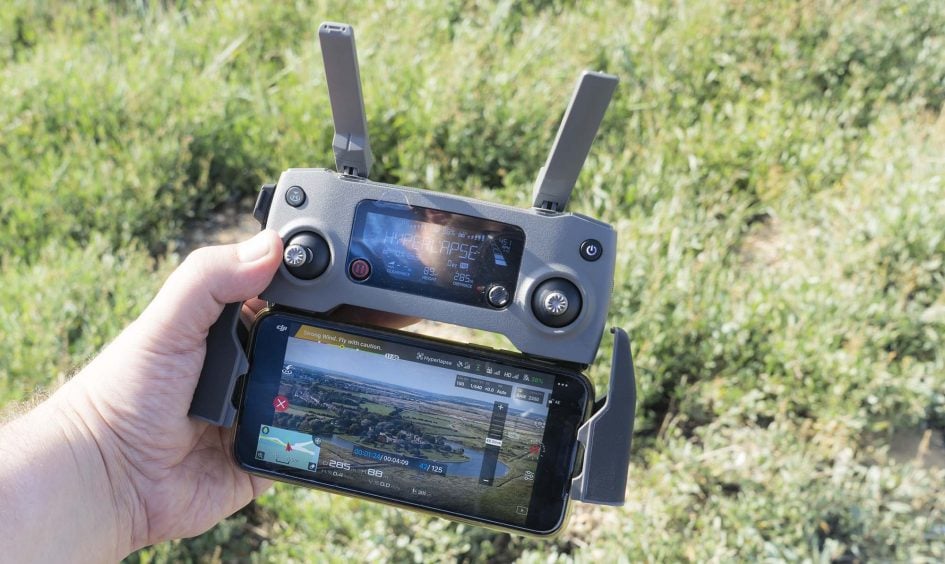 Getting started
The Mavic 2 is unquestionably well presented – it is packed with Apple-like love and attention to detail and unpacking the thing is a pleasure in itself. The only slight drawback is that you really, really need to both charge up your battery, then half exhaust it on a software update, before doing so again. Then, and only then, can you head outdoors (or – and trust me on this – you'll spend half an hour in a field learning the definition of tedious as your aircraft, phone and controller's batteries all steadily tick down while downloading and then performing said updates). At least you don't need a cable or a laptop to do so any more – that, in all fairness, is a huge plus over older drones. Steadily it seems DJI are, if not eliminating, then at least smoothing out some of the irritations of… wait for it… dronership. (sorry).
Instead, as with all recent DJI aircraft (save for those with their own screen like the Phantom 4 Pro Plus), you must install the free app "DJI Go 4" on your Phone (iPhone or Android). Before you get going the app will take you through a number of legal questions and download a map of no-fly-zones, as well as automatically setting the altitude and range limits to match local legislation. It's hard to argue with this, and indeed the limits can be adjusted in software, but it feels weird that a drone with an 8000m range (claimed) defaults to 480m (in the UK). Presumably this in-app method is how the coming registration requirement will be implemented too. The quality of the live preview has also been boosted, to 1080 rather than 720, which you do notice when using tap-to-focus (and presumably looks glorious with the optional goggles – will update this when I've tried them).
I tested using an iPhone, which DJI devices have historically been slightly more friendly to (so I can't speak to any bugs with any or all Android devices). So far the only issue I encountered was a single unsuccessfully stitched panorama, but that is an in-drone bit of maths. A subtle reminder of the minor iPhone preference is that, of the supplied controller cables, it is the Lightening one and not the Micro USB one that is already connected in the box (though they're easily swapped) . In any case, it's great that – like the original Mavic and the Mavic Air – a discrete replacement for the dangling cables seen on other drones is provided in the box. I still find getting my phone into the two arms a little fiddly, not because they are unable to grip an iPhone X but because I want to leave it in its case. The clip mechanism is no friend of the swipe-from-the-bottom (which is, once in the folding grips, now the left) that iOS requires, so ideally you want to be logged in and not leave the phone long enough for it to require security again.
Grumbles aside, it's actually a small price to pay for such a compact controller, and while some had doubted that it would, it's also nice to see the retention of the backlit LCD display which gives critical information like remaining battery in a way you can read even when (as is often the case) the sunlight makes it hard to clearly see the phone's screen. Oddly though it retains a Micro-USB connector for charging when the drone's own USB connector is the more modern USB-C. The drone is also compatible with DJI's Goggles and Goggles RE (indeed there are bundles that include the latter), another way to fly or a way to share with friends or clients.
Flight characteristics
If you compare both side-by-side, the new Mavic 2 is notably chunkier than its predecessor, and at 905/907g that's a good bit more than 743g for the Mavic Pro & Platinum. In truth, though, the machine isn't very different and without both to hand you could easily mistake the one for the other, especially if you weren't looking at the camera mount. The folding mechanism and shape is the same, though the whole machine is slightly bigger. (The extra height, by the way, is not enough to avoid clipping most grass). Despite a very minimal increase in battery size (3830 up to 3850 mAh), the max flight time rises from 27 to 31 minutes; that's a very useful bonus. When shooting, most of the time you lose is the time getting to and getting back from position(s), and hovering while changing camera settings, which is why the main disappointment with the Mavic Air was the 21-minute battery life.
The Mavic 2's updated motors & electronic speed controllers (ESCs) translate that power to a maximum speed of 44.7 mph / 72 km/h (up from 40/65), which is very impressive. On my second day testing I took the drone out in very windy conditions and (despite frequent and irritating on-screen warnings) I was able to fly against the wind with no problem. In normal flight (which doesn't reach those speeds) you can remain confident that there is plenty of extra power to combat the gusts.
The new cameras do bring a few technical challenges. The extra heft of more or bigger lens elements is countered by the new airframe. The zoom additionally affects flying via the screen; if you're using the monitor for first-person view (FPV) flight – rather than physically watching the aircraft – then its much easier to get confused if you're changing the field of view all the time. You wouldn't drive a car through binoculars. The other issue is that, when at full zoom, vibrations and sharp turns are exaggerated. More movement is needed by the gimbal to dampen the effect and, at times, it simply can't handle it. On several occasions, I found that a sharp turn resulted in the view jumping. This happened especially when I tested in wind, and the turns were too sharp to be part of useable footage anyway, so the point is moot.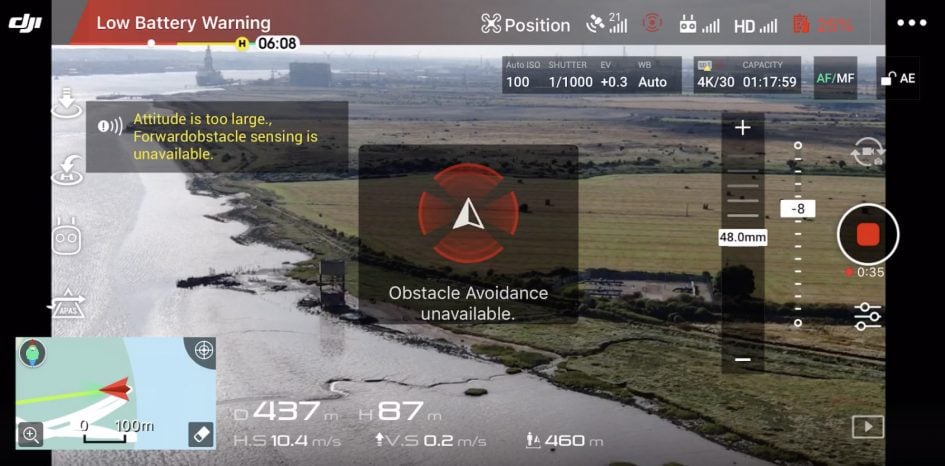 Finally, on the subject of warnings, the omnidirectional collision sensors (not just 360-degree but up and down too) did seem to do a decent job of alerting me and stopping the drone when I tried it. I did find it irksome, however, to be told by an on-screen pop-up that they were disabled while I was flying back as fast as possible. At the same moment I was getting the piercing battery alarm and then even more on-screen messages were stacking up like windows, which isn't ideal. Thankfully, though, the underside sensors make landing a breeze – just pick your spot and push down on the stick, or press the 'land' button. It's fair to say, too, that when the return to home warning pops up it gives you a few seconds before automatically taking over and bringing your drone back to the point it took off from – a useful feature and also one worthy of your attention before it kicks in.
One more note on the subject of on-screen displays; photographers & videographers alike may not know that buried in the settings screen are a live histogram, highlight alert (the blinks) and different on-screen grids to assist with exposure which you can turn on and off.
Mavic 2 Zoom Camera
Arguably the 24mm to 48mm EFL Zoom is the obvious choice for those that put moviemaking at the top of their priorities. As noted in the recent review of the Parrot Anafi – the first accessibly priced drone with a zoom feature – the ability to adjust focal length can have even more dramatic effect in the world of video than for stills. Longer focal lengths exaggerate motion, making for more cinematic shots orbiting a subject. If you're going to have a zoom, an optical rather than a digital one is always preferable, and certainly the quality is apparent in the video. At its widest 24mm it is comparable with the Anafi or the original Mavic on quality grounds and almost as sharp at 48mm. Presumably being at the tele end is exposes the limits of the gimbal but there was little to complain about. The overall quality was such that, at take off, every grain of sand blown up by the props was perceptible.
The Mavic 2 Zoom shoots 4k video at 100Mbps at 24/25/30fps (not, sadly 60fps – a notable omission). You can get 24/25/30/48/50/60fps at a 2677 x 1512, or 2.7k, resolution and at 1080p that can be stretched to 120fps, so you can get a bit more detail than dropping down to 1080p (as the Anafi requires) in slow-mo. Perhaps a brief clip will edit into a 4K project acceptable for a bit of captivating action – it does still look good – but you wouldn't want to rely upon it. Unlike the first Mavic Pro, switching resolutions doesn't seem to come with a quality penalty.
Colour-wise the Zoom model's camera is recording 8-bit video, which has long been good enough for most, but it does make it important to get the exposure right in shot. The auto mode generally handles this well and to be honest I didn't feel much need to move from it, though to my eye the D-Cinelike video was a tiny bit cold by default. The EV adjustment (in 1/3-stops) is there too, though on the Zoom this isn't quite as easy to access as on the Pro since – by default anyway – the zoom co-opts the right shoulder wheel on the controller.
There is one video software trick that is only available on the Zoom model, the "Dolly Zoom," in the QuickShots menu. The result I got (see below) was more than good enough for Instagram, but I did think there was some evidence of a little uncertainty in the camera's movement – given the other samples I've seen, perhaps the high wind was an issue. There is manual control of camera settings and ISO 100 to 3,200 range.
For stills, the 12-Megapixel 1/2.3″ CMOS camera produces stills at around 4.8Mb for JPEGs, with the option for RAW, JPEG+RAW or HDR as an alternative. A new feature that I didn't get much chance to test is a low-light mode which seems to be a software solution to the flare around lights in a city-scape, the utility of which might be questioned in those countries where flying over 30 minutes after sunset (UK, USA) is forbidden.
12 Megapixel images are more than adequate for most situations, and the HDR option (JPEG only) produces immediately compelling images. You can also find exposure bracketing and other photography features you'd expect, but one interesting software  addition just for the Zoom is 'Super Resolution,' found in the Panoramas. This works if you begin with the camera at its widest (24mm effective) to line up your shot. When you shoot, the camera automatically zooms in and turns to capture 9-images, before stitching them to produce a 48-Megapixel still. The processing time, given it happens on the drone, is surprisingly swift and the results impressive – if you're only looking at relatively still scenes this seems a real alternative to the Pro camera.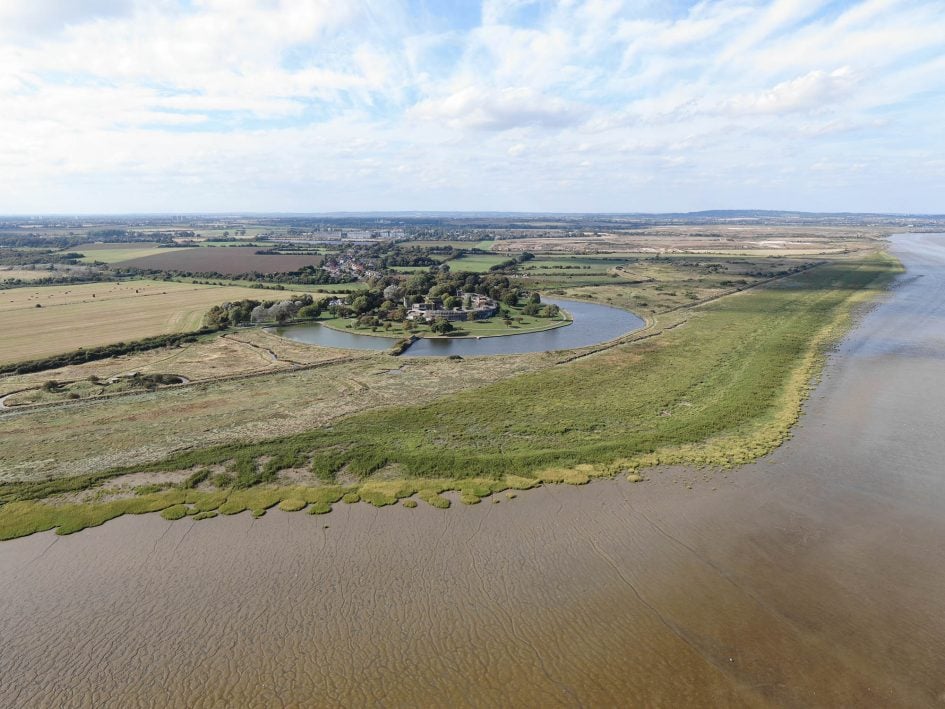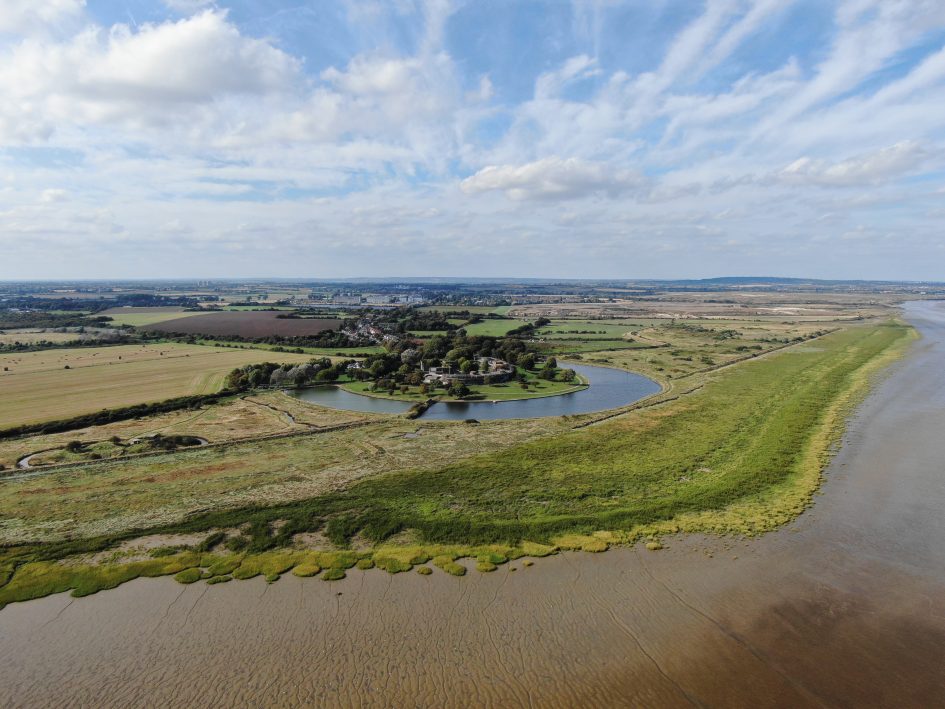 Mavic 2 Pro 2 Camera

The 1-inch image sensor was, for many, what the whole Mavic 2 launch was about, and its significance is indicated by the higher pricing if nothing else. One might also look at the branding, but that's really an inside job; DJI owns a majority shareholding of Hasselblad. In the drone world at least, the more relevant comparison is with the Phantom 4 Pro, which also has a fixed lens and a 20-Megapixel 1-inch sensor. Sadly, though, the Phantom's also boasts 60fps at 4K and a mechanical shutter while the Mavic 2 Pro's "Hasselblad" does not. The Mavic 2 Pro also appears to use line skipping to avoid the sensor overheating; this doesn't really present a serious issue (certainly not as serious as some attention-seekers on YouTube would have you believe) but does mean not every pixel is in use when shooting 4K video.
The 28mm EFL camera is still an excellent choice for video nonetheless, featuring as it does 10-bit recording in H.264 or H.265 (the difference is clear, but H.265 support is less common). In terms of stills, the specs really start to feel good to camera-buyers. There is an ISO adjustable up to 12,800 and an adjustable aperture (ƒ/2.8 to ƒ/11). It also offers Hasselblad Natural Colour Solution (HNCS) technology, which is, of course, really just a matter of taste; it seems to like images a little warmer and generally they do look good. Pro images are 5472 x 3648 to the Zoom's 4000 x 3000 pixels.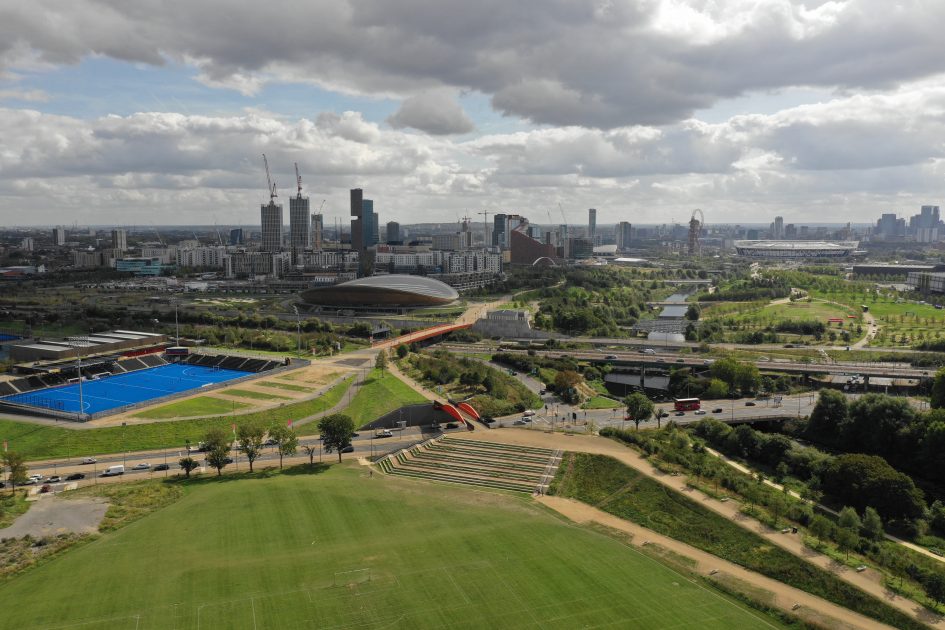 Shooting at 20-Megapixels will highlight any mistakes, so it's important to remember to check focus on your shots, especially if you've disabled the continuous autofocus. You can set focus and exposure with a tap on the screen, and focus peaking is available for both models too. I wasn't completely convinced of the need for manual settings of aperture/shutter most of the time, perhaps because it feels like it's possible to be lured into too long an exposure when you forget your camera is hovering. In general the camera makes good decisions – but they are there for specific circumstances and you can push the shutter speed or open the aperture and as you choose. Great for creative work in low light.
Depending upon your workflow you can either shoot video in the D-log profile preferred by editors (if you think your video looks flat, you've probably accidentally set to this), or TV-ready HDR (HLG in the menu), and this does look good if you've got the right TV or computer setup. 'Normal' colour produces the regular ready-to-use video, great for most cases. In either case, you'll find rich shadow detail that beats the Zoom and gives the Inspire a run for its money. For the first time the camera on a drone really does seem to compete with a decent compact. The RX-100 of the skies?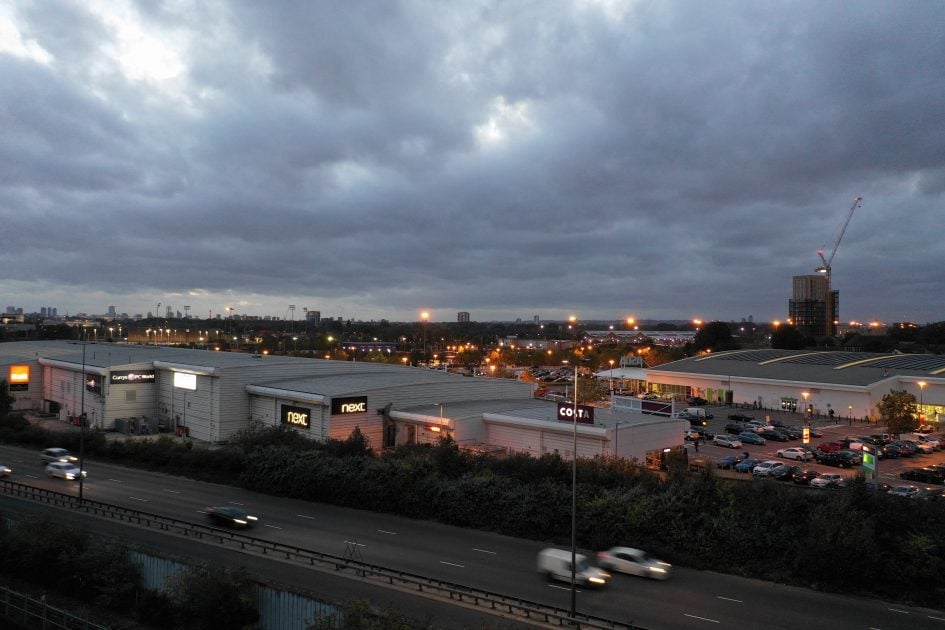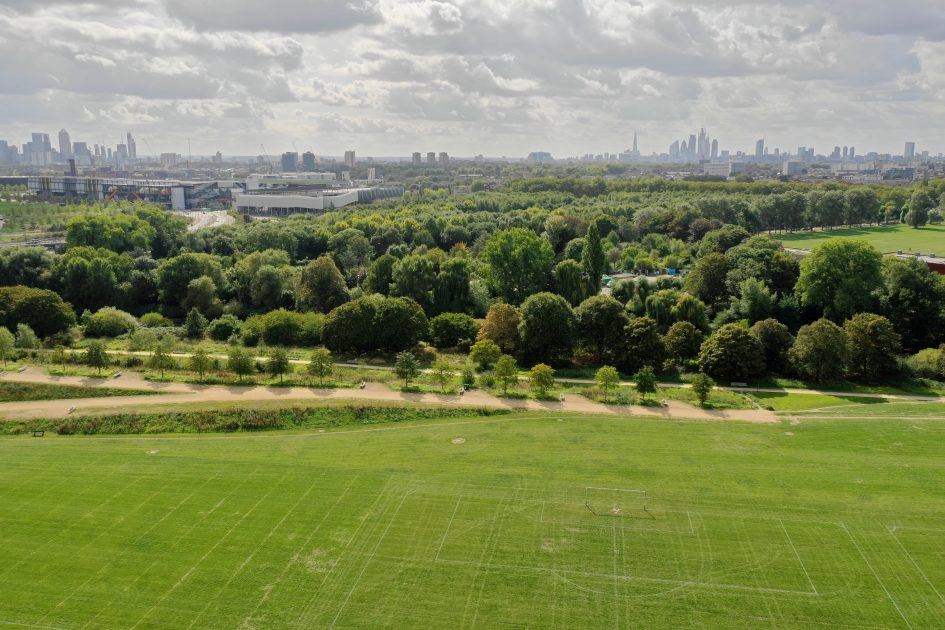 Software features
Some of the features – Dolly Zoom and Super Shot – exist only on the Zoom, but both Mavic 2's bring a full range of DJI's QuickShots which give you some great standard 'selfie' style shots. There's not much to say about these except they work and that they do seem to be good for Instagram likes.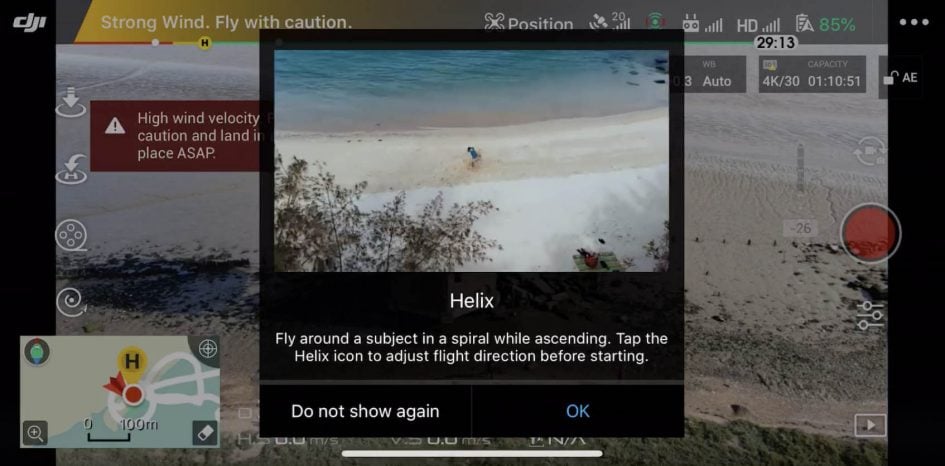 DJI has also clearly been succeeding in their efforts to improve the slightly more professionally-focused ActiveTrack tool, which can identify potential subjects (or allow you to by touching and dragging) then follows or orbits them as they move. The ability to keep track as subjects as they briefly disappear behind obstacles new does seem to work well in my tests, as did the collision detection while following.
At times access to this wealth of features via options on the left of the screen (which vary depending on your flight mode), can be a little confusing but in truth any device with a number of features requires you to take some time to take it all in. The long battery time really helps too, reducing the pressure to be done before the alarm goes and the drone heads home (which it will, avoiding obstacles).
The headline addition to both Mavic 2s is Hyperlapse, which is very well implemented. Essentially this is a timelapse recording, but one able to take control of the camera's position. Either control manually – I wouldn't recommend this – or use an autopilot feature like orbiting a subject you select on screen by dragging and it captures every frame (tidily, in a separate folder) on your memory card but it also processes them there and then straight after capture so they're immediately available. Sure you might lose about 30 seconds flight time processing (though you can use this time to be travelling back). Timelapse videos look great, and it's brilliant to have the software that is both patient enough to control the aircraft steadily from shot to shot and impatient enough to give you the file so you can Instagram it in moments. That said it didn't always appear in the app for me (a bug?) but was there when I connected to my MacBook via the USB-C socket. The contrast of the dark clouds passing in one test did seem a little exaggerated compared to normal video, but this does suit the medium.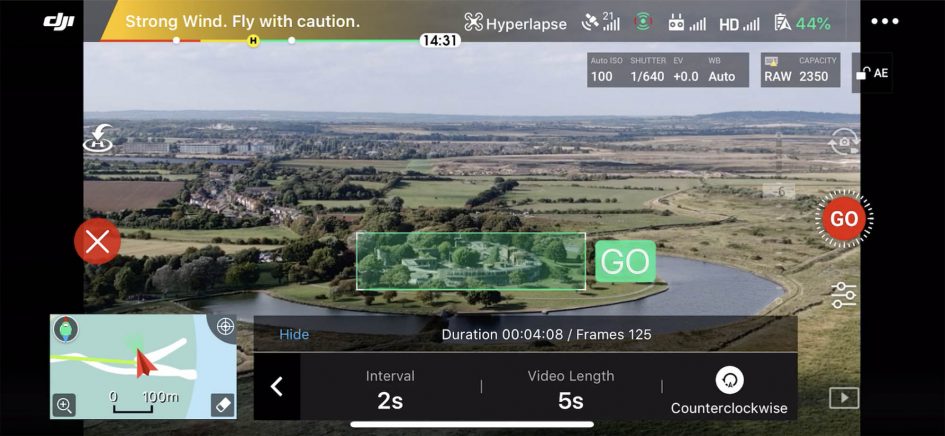 The Hyperlapse feature integrates well into the DJI app. The example below is shot by hand control – better to use the auto tracking as seen above.
https://www.instagram.com/p/BnwAB8cl6EE/?utm_source=ig_web_button_share_sheet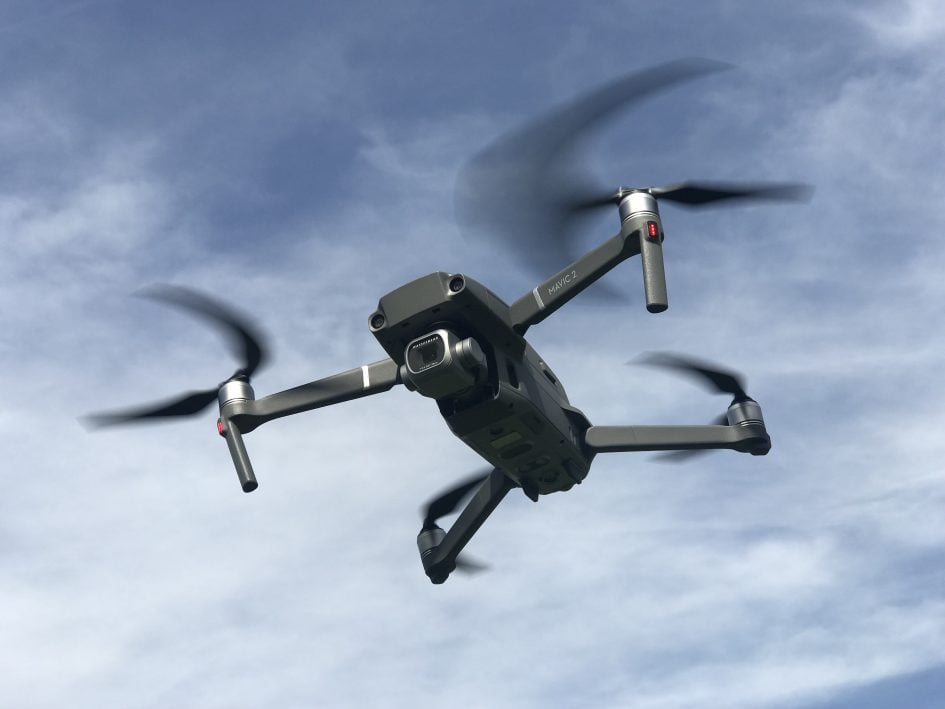 DJI Mavic 2 Verdict
The Mavic 2 is now a very personal choice, forcing you to ask what kind of photography or videography you desire, or encouraging busy pros to buy both. Actually, given that there is no digital zoom option on the Pro but there is in the Zoom (to take the range from 2x to 4x) it seems fair to assume that is exactly DJI's plan! Even then, however, that would still be less money – and more portable – than a DJI Inspire series drone with a 1-inch sensor and a Micro-Four-Thirds camera and zoom lens). Looked at that way the pricing of the Mavic 2 series is not horrifying either, though they're certainly not modest.
Interestingly DJI have also promised a future scheme that will allow people to get the camera component swapped (it can't be done by the user as on the Inspire), as well as an upgrade programme in the US & China.
For me – and generally I'm more excited by aerial video – the Zoom is an amazingly practical tool that you can take anywhere and get still-stunning imagery with few problems.  The cinematic orbiting shots are worth the admission alone. Nevertheless, as I come to write this, and look at the pictures I do find myself longing for the quality of the 20-Megapixel 1-inch camera. Clearly, this will set the standard for many. Sunsets do look better, and the dynamic range is palpable in mixed light too.
Whichever way you lean, It makes it harder to see the Phantom 4 as a consumer drone. Unless you specifically wanted the 60fps and the slight stability boost of the form factor, why wouldn't you want the portability of the Mavic 2 Pro?
The controller is good, the range is spectacular and DJI Go 4's management features make sharing easy in the field. Build quality is more convincing than the appearance suggests, and omnidirectional sensing (nearly) lives up to expectations (seem a bit blind on the sides). Not cheap, but quite possibly the best value drone on the market.
Final Verdict
The DJI Mavic 2 is now the product to beat in the drone market. The cameras in both the Zoom and Pro versions are impressive, the 1-inch sensor on the Pro is everything a photographer could hope for while the Zoom offers excellent 4K video in most situations and the ability to get some dramatic shots which were simply out of reach for most before. Build quality is convincing if not perfect, and flight times, range, and manoeuvrability are all excellent. Finally DJI's on-board software completes the package with considered, well implemented and appealing features. If you were thinking of buying the Air, spend the extra and get the Zoom. If you were looking at the Phantom 4 Pro, the Mavic 2 Pro is a very serious alternative in a smaller package. Very highly recommended.