Canon PowerShot G7 vs Canon EOS 400D / Rebel XTi
Canon PowerShot G7 results continued…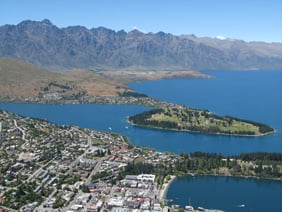 Outdoor / Resolution / Noise / Noise 2 / Corner sharpness / Fringe & macro / Geometry / Vignetting
To compare real-life performance we shot the same scene with the Canon PowerShot G7 and Canon EOS 400D / XTi within a few moments of each other using their best quality JPEG and lowest ISO settings. The EOS 400D / XTi was fitted with the 18-55mm kit lens. Each camera was tested at every aperture setting and the best result selected for this page.

The EOS 400D / XTi captured a wider 3:2 frame, but the focal length of each camera was adjusted to deliver the same vertical field of view. Since the 400D / XTi crops below are taken from the same 4:3 area as the G7, it's effectively being treated here as an 8.9 Megapixel 4:3 camera.
The image above was taken with the Canon PowerShot G7 at 9mm f4 and with a sensitivity of 100 ISO; the original JPEG measured 5.23MB. The original image used for the EOS 400D / XTi crops was taken at 24mm f8 with a sensitivity of 100 ISO and measured 4.41MB. The apertures selected were the sharpest for each lens. The crops are taken from the upper left, center and lower right portions of the originals and presented here at 100%.
Viewed at 100%, there's greater noise on the PowerShot G7's crops even at 100 ISO, apparent as a textured effect across the first crop and in the water on the second. The 400D / XTi's samples at first appear softer, but upon closer inspection contain a similar level of detail with the smoothness coming from lower noise.
In the G7's favour though, the trees in the third crop appear much more detailed than those in the 400D / XTi sample. This is down to the 400D / XTi's kit lens which can become quite soft in the corners. In contrast, the G7's lens remains pretty sharp across its frame, and so long as sensitivities are kept relatively low, its sensor can do the optics justice. Certainly while the 400D / XTi result is undoubtedly smoother, it doesn't actually contain any more detail.
| | | |
| --- | --- | --- |
| Canon PowerShot G7 | | Canon EOS 400D / Rebel XTi |
| | | |
| 1/800, f4, 100 ISO | | 1/200, f8, 100 ISO |
| | | |
| | | |
| 1/800, f4, 100 ISO | | 1/200, f8, 100 ISO |
| | | |
| | | |
| 1/800, f4, 100 ISO | | 1/200, f8, 100 ISO |