Canon PowerShot SX700 HS review - Verdict
Verdict
The Canon PowerShot SX700 HS is Canon's flagship compact super-zoom, going head to head in a competitive market with models from Panasonic and Sony – the Lumix TZ60 / ZS40 and Cyber-shot HX50V / HX60V. The Canon has a 30x zoom with a 25-750mm equivalent range, a 3 inch 920k dot LCD screen, built-in Wifi with NFC and the usual wealth of Canon feature modes, although still no in-camera panorama stitching!
The PowerShot SX700 HS's 16 Megapixel sensor produces excellent image quality on a par with, and in some cases better than the competition. It offers PASM control along with point-and-shoot modes and the new Creative shot mode adds to wealth of existing fun and friendly features.
There are ommissions if you look for them: you can find built-in GPS, more video modes, faster continuous shooting, a wider variety of physical controls and even a built-in viewfinder among the competition, but you'll pay more for having them. The PowerShot SX700 HS provides a great balance between compactness, features and price – not an uncommon combination, but rare in the world of compact super-zooms.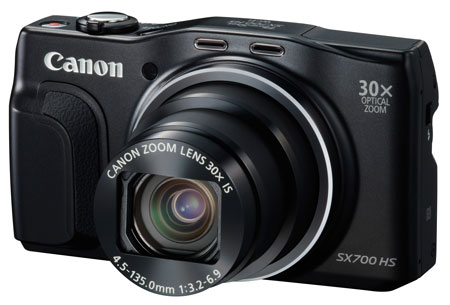 Compared to Panasonic Lumix TZ60 / ZS40

The Panasonic Lumix TX60 / ZS40 is a major competitor to the Canon PowerShot SX700 HS and on the surface the two models share a lot of similarities. Both have a 30x zoom lens with slightly different ranges, and they both have 3 inch screens with similar resolution, neither of which is touch-sensitive, Panasonic having dropped that feature from its latest flagship travel zoom. They are almost identically sized, though the SX700 HS is a little bigger and heavier, and both come with built-in Wifi and NFC. The Lumix TZ60 / ZS40 also has a built-in GPS, though you can use your smartphone to tag images on the SX700 HS with geopositional data. It's also worth noting that the Panasonic app is more fully featured than the Canon one and offers more sophisticated remote shooting and image transfer options.
One of the most significant differences is sensor resolution, the Lumix TZ60 / ZS40 has an 18.1 megapixel CMOS sensor compared with a 16 Megapixel CMOS sensor in the SX700 HS. Despite the difference, both these models are fairly evenly matched for noise and image quality, so that's not a factor that should influence you too much. I should also mention the TZ60 / ZS40 can shoot RAW, providing the opportunity to squeeze better quality from the sensor, or at least easier adjustments on things like white balance, sharpening and compression at a later point.
There's one other big difference between these two models, though. I've already mentioned that the screens are similar, but the Lumix TZ60 / ZS40 is also equipped with a small electronic viewfinder. It may be small and fairly coarse in terms of detail, but it's a useful alternative to the screen not just on Sunny days, but also for holding the camera at your face for an additional point of contact for extra stability – handy when shooting or filming at the maximum focal length. The Lumix TZ60 / ZS40 also has a control ring on the lens, which combined with the viewfinder and RAW files makes for a feature-set that will appeal more to enthusiasts.
Both offer 1080p60 HD video but the TZ60 / ZS40 provides better slow motion video modes with 720p at 100 fps and VGA at 200 fps compared with VGA at 120fps or QVGA at 240 FPS on the PowerShot SX700 HS. In its favour the SX700 HS offers movie hybrid mode which compiles a movie of your day's shooting for you. And for action shooters the Lumix TZ60 / ZS40's offers faster longer bursts of full resolution continuous shooting – 10fps for 6 frames compared with 8.5fps for 4 frames on the SX700 HS. It also has a panorama mode that's lacking on the Canon.
So the Lumix is better-featured overall, but there's the not insignificant detail of price. In most regions the Lumix TZ60 / ZS40 is around 20 percent more expensive than the PowerShot SX700 HS. As usual, you need to ask yourself if what if offers over and above the PowerShot SX700 HS is worth the extra. Enthusiasts will almost certainly prefer the Panasonic, but anyone simply wanting a decent 30x pocket super-zoom will find the Canon offers most of what they desire.
See my upcoming Panasonic Lumix TZ60 / ZS40 review for more details.
Compared to Sony Cyber-shot HX50V / HX60V

Sony's flagship pocket super-zoom camera is the HX50V in North America, and the HX60V everywhere else. The HX60V is an updated version which takes the body, lens and sensor of the HX50V and adds enhanced five-axis stabilisation, improvements to the user interface, NFC to aid Wifi negotiation, the chance to install apps to expand the functionality, and the quicker BIONZ X image processor which supports faster burst shooting. Strangely the HX60V is not part of Sony's 2014 lineup in North America, and instead the HX50V remains the company's compact super-zoom.
Confused? You might be, but if it makes it easier, the HX50V continues to be the flagship model for North America, while everyone else has the choice of last year's HX50V or the updated HX60V. Either way, all are key rivals to the Canon SX700 HS, so let's see how the features compare. I'll refer to the Sony now on as the HX50V / HX60V and mention any differences where relevant.
Like the Lumix TZ60 / ZS40, the Sony HX50 / HX60V's zoom range is 24-720mm, so it has a slightly wider wide angle and falls 30mm short of the PowerShot SX700 HS's 750mm telephoto zoom. Physically it's thicker, but it weighs about the same. Both models have the same physical size 1/2.3 inch sensor, but the Sony packs in 20.4 megapixels, compared with the 16 Megapixel sensor in the SX700 HS. My quality tests show the wisdom of Canon's approach, the SX700 HS pips the Sony on quality and noise results, though, at the base ISO settings, the gap isn't as big as you might expect.
The next headline feature for both of these models is GPS and Wifi connectivity. Remember, if you're outside North America, the non-GPS HX50 may also be available. Otherwise, the HX50V / HX60V does have GPS and therefore trumps the PowerShot SX700 HS in this regard, which intsead relies on your smartphone to add co-ordinates to photos.
It's early days for Wifi equipped compacts, and the ones that provide easy setup and accessible features are rare, but the HX50V / HX60V comes near the back of the pack, the SX700 HS is a better choice for Wifi connectivity and the Lumix TZ60 / ZS40 is better still. The latest HX60V has a clever trick up its sleeve though, allowing installation of Sony apps to extend it features.
Both the Canon and Sony provide a good range of movie choices, with a 1080p 50/60 best quality HD mode, both offer enhanced stabilisation (particularly so with the newer HX60V) and both allow you to shoot movies with filter effects. The Canon also offers a couple of low resolution slow motion modes, and the often overlooked but excellent hybrid mode which compiles a movie of your day's shooting for you.
Lastly, though Sony has resisted the temptation to fit the HX50V / HX60V with a viewfinder (you can plug one in to the accessory port), it does have a couple of physical features that may endear it more to enthusiast photographers – a separate exposure compensation dial and a hot shoe / accessory port. It also has a panorama mode that's lacking on the Canon.
At launch the latest HX60V was around 30 percent more expensive than the PowerShot SX700 HS, however if you're keen on the HX60V but not on the price, last year's HX50V remains a good bargain while stocks last – and as mentioned earlier, it's still the current model for North America.
See my upcoming Sony HX60V review for more details, or if you're interested in the earlier version, check out my Sony HX50 review.
Canon PowerShot SX700 HS final verdict
At the top of Canon's 2014 compact super-zoom line-up, the PowerShot SX700 HS provides a big 30x zoom range in a compact body. Different people will want different things from a travel zoom and the competition in this market segment is intense. Canon's approach is simple – provide the longest zoom in the most compact possible body at a price that undercuts the competition. Of course there are less expensive second tier models available from Sony and Panasonic, not to mention Canon itself, but Sony's HX50 lacks GPS and often costs more, and although the Lumix TZ55 / ZS35 is cheaper, it 'only' has a 20x zoom.
Sure, there are things you wish the PowerShot SX700 HS could do better; a panorama mode wouldn't go amiss, and it's time Canon updated its slow motion video offerings. The battery life is below par and remote shooting via Wifi is quite basic. All fairly minor annoyances though, and ones that didn't get in the way of my enjoyment of the SX700 HS nor prevent me getting some great shots with it. If that's not a cue for a Highly Recommended award at this price I don't know what is!
Good points
30x optical zoom.
Excellent stabilisation.
Built-in Wifi with NFC.
Manual focus with peaking.
1080p/60 HD video.
Bad points
Poor Battery life.
Limit remote shooting features.
No HD High speed movie mode.
Inaccurate zoom magnification scale.