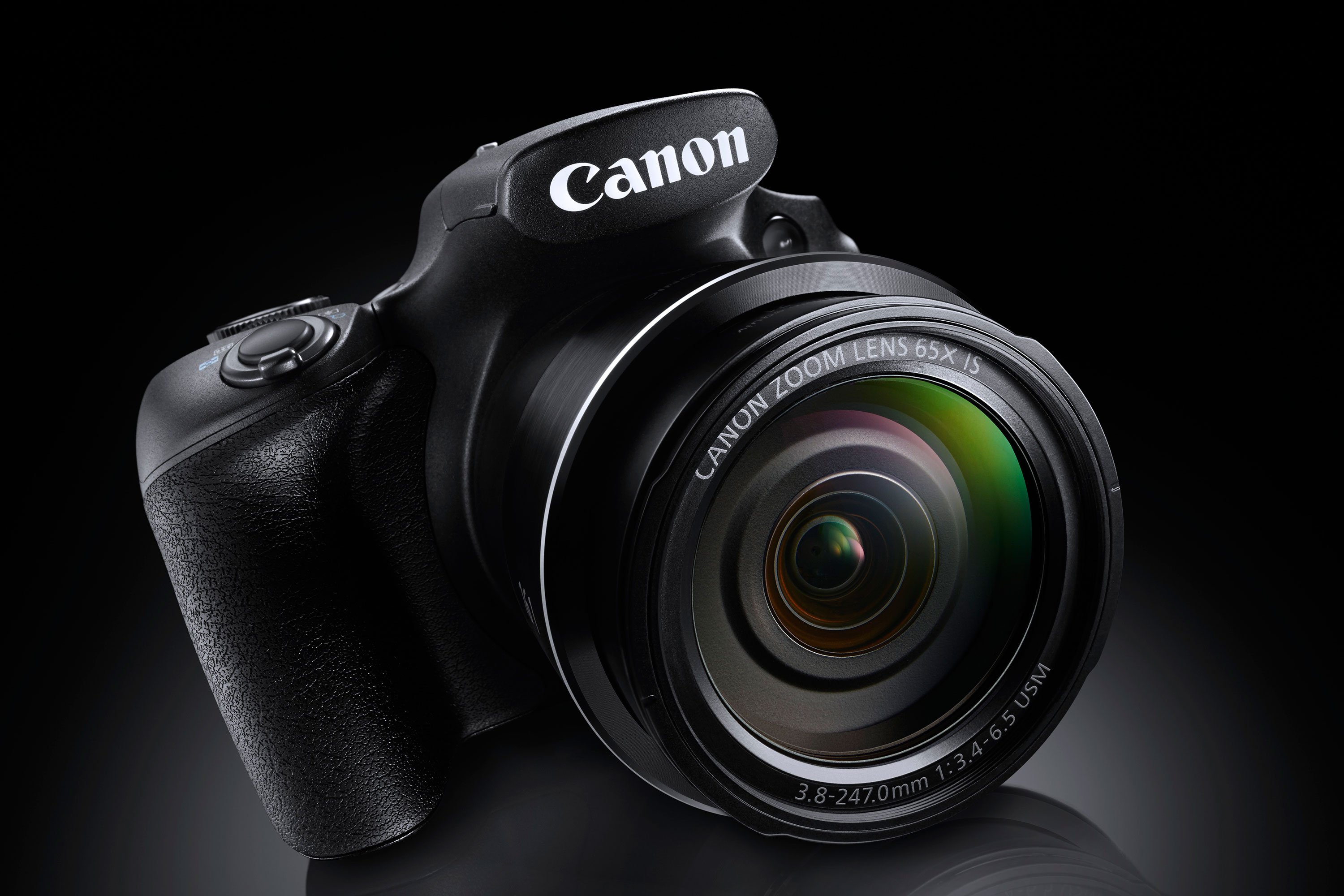 Canon SX60 HS review - Verdict
Verdict
The Canon PowerShot SX60 HS is the company's latest DSLR-styled super-zoom. Two years on from the incredibly popular SX50 HS which it replaces, the SX60 HS extends the 50x zoom range to a whopping 65x – longer than any other bridge super zoom currently available, and matched only by the Kodak AZ651.
The zoom isn't the only upgrade. The SX60 HS gets a new high resolution 922k dot EVF and a bigger more detailed 3 inch LCD screen also with 922k dots. At its heart is Canon's 16 Megapixel CMOS sensor paired with Canon's latest Digic 6 processor. Between them, they deliver excellent quality still images with the option of RAW in adition to JPEG and 1080p60 video including manual control over exposure. There's also two low resolution slow motion modes, Hybrid auto mode for compiling a movie digest of the day's shooting plus the Edit-friendly iFrame format. Continuous shooting gets a big boost with full resolution indefinite bursts at 6.4fps.
Built-in Wifi with NFC, new Seek Assist auto modes, and focus peaking add up to an exciting and substantial upgrade of one the most popular bridge models of the past few years. It'll be hard to ignore not just for improvers, but also existing SX50 HS owners looking enviously at what the next generation has to offer.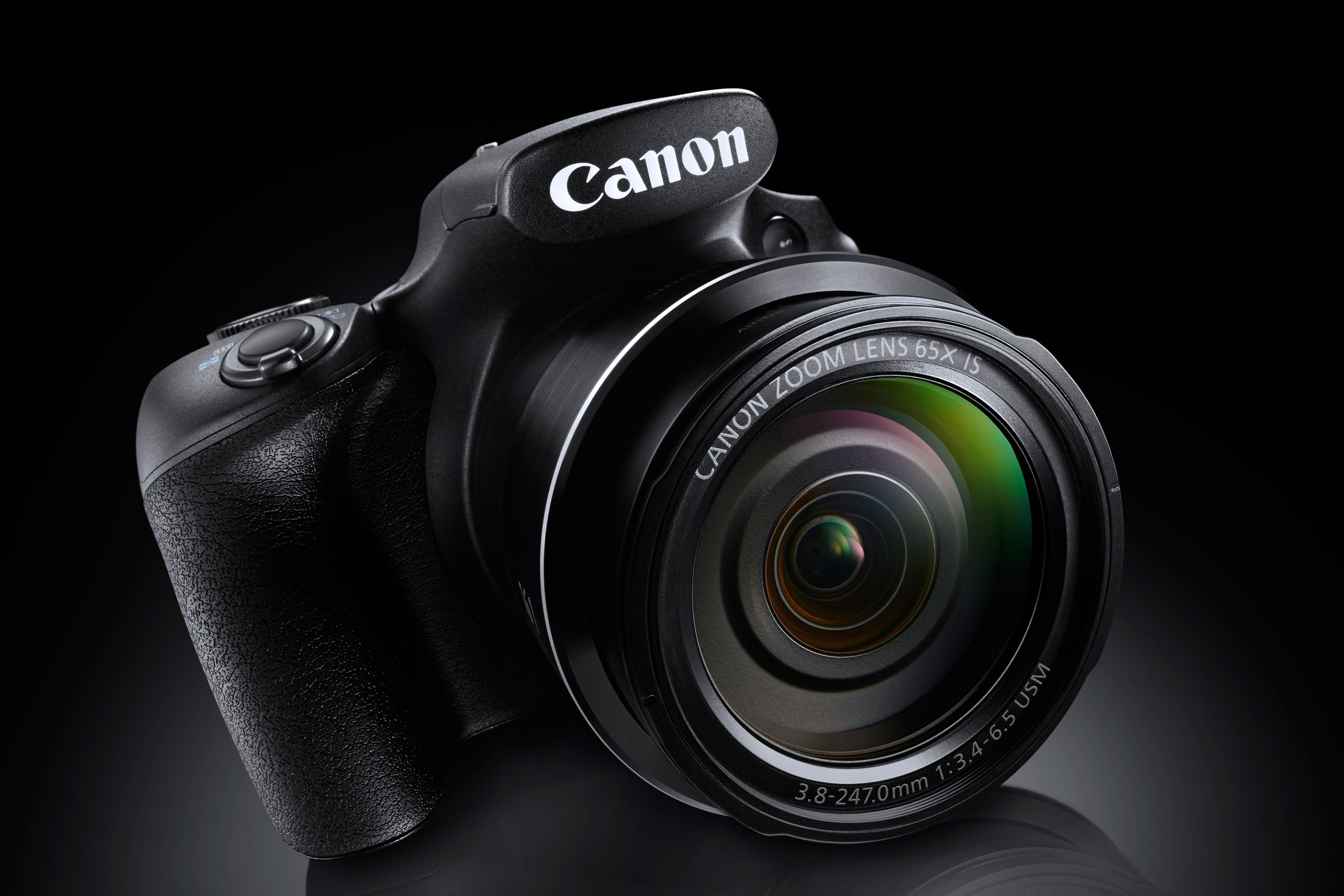 Compared to Lumix FZ72 / FZ70
The Lumix FZ72 / FZ70 was more than a year old when the SX60 HS was launched, but it's growing old gracefully and remains a very serious competitor. It's interesting that most people will probably look at the relative zoom ranges before making other comparisons, but this is the least of the differences between the two. The Lumix FZ72 / FZ70's 60x range is massive; a tad wider than the SX60 HS and only marginally shorter, take a look at my comparisons and ask yourself how much of a difference that's really going to make. Of more consequence is the FZ72 / FZ70's brighter f2.8 aperture, which will allow faster shutter speeds or lower ISO settings in similar lighting at the wide angle setting, though it loses that advantage as you zoom in.
Both models have 16 Megapixel CMOS sensors and perform similarly in terms of image quality and noise performance. Beyond that there are some major differences in the physical specifications. Let's look at the screens first. The SX60 HS has a 922k dot screen that's hinged at the side and can be angled in any direction, including forward facing. The FZ72 / FZ70's screen also measures 3 inches, but it's a lower resolution 460k dot panel with 3:2 proportions and, more importantly, it's fixed in position. Both models have electronic viewfinders but the FZ72 / FZ70's is an ageing 202k dot model which looks coarse compared with the SX60 HS's higher resolution 922k dot EVF.
Sticking with the physical specifications, both models have have a built-in flash and hotshoe and both are well equipped in terms of controls. The FZ72 / FZ70 has more dedicated programmable function buttons, but the SX60 HS movie and Framing assist lock button can be assigned to other functions plus it has two custom positions on its mode dial compared to one on the FZ72 / FZ70, so they're pretty evenly matched for customisation.
The SX60 HS has a best quality 1080p60 mode compared with 1080i60 or 1080p30 on the FZ72 / FZ70. You can set exposure for movies manually on both, but the SX60 HS provides two slow motion modes, they may not be HD, but they're better than nothing which is what you get on the FZ72 / FZ70. And the SX60 HS offers much better continous shooting, the difference being unlimited full resolution continuous shooting at 6.4fps on the SX60 HS compared with three-frame 9 or 5fps bursts on the FZ72 / FZ70.
Finally, the Lumix FZ72 / FZ70 lacks the built-in Wifi and NFC connectivity of the PowerShot SX60 HS which is the one thing that dates it more than anything else. Essentially, the Powershot SX60 HS is a better equipped more capable camera with better handling. It's also only just launched though and is at its most expensive whereas the Lumix FZ72 / FZ70 is nearing the end of its product life and is being heavily discounted by some retailers. So if you're prepared to live without some of those features it could prove a real bargain.
See my Lumix FZ72 / FZ70 review for more details.
Compared to Nikon P600
Like the Lumix FZ72 / FZ70, the COOLPIX P600 has a 60x zoom range. It starts at 24mm wide angle, narrower than the 21mm of the SX60 HS and outreaches it with a 1440mm telephoto. As you'll see from my comparisons, though, the difference isn't as big as the numbers might suggest.
The COOLPIX P600 shares the same 16 Megapixel resolution as the SX60 HS, and its image quality and noise performance are similar. The P600 lacks the SX60 HS's stacking hand held NightScene mode, though it does offer a maximum 6400 ISO compared with 3200 on the SX60 HS. More importantly the COOLPIX P600 lacks the ability to save RAW files, so you're limited to JPEGs.
Like the PowerShot SX60 HS, the COOLPIX P600 has a 3 inch screen with 921k dot resolution and both are articulated with a side hinge. In fact there's very little to choose between them in this respect. The electronic viewfinder's a different matter though and the PowerShot SX60 HS's 922k dot EVF is not only more detailed, it's bigger and brighter than the COOLPIX P600's.
Both models offer the full range of PASM exposure modes in addition to scene detect auto and both offer a range of effects modes. The SX60 HS is better equipped for effects with a miniature mode and other filters that can be used for movies plus the Creative shot mode which does it all for you. But the COOLPIX P600 offers 180 and 360 degree panorama modes.
Though it has a wider range of video modes, the COOLPIX P600 can't match the PowerShot SX60 HS's 1080p60 HD mode, like the Lumix FZ72 / FZ70 it's 1080i60 or 1080p30. But it does have a better range of slow motion modes including a 720p half speed option. Of course if you're prepared to do the editing you can get half speed 1080p30 footage from the SX60 HS 1080p60 mode. There's no movie position on the COOLPIX P600's mode dial and exposure is determined automatically where the SX60 HS provides full manual control over exposure.
The SX60 HS has much better full resolution continuous shooting, unlimited frames at 6.4fps compared with a one second burst at 7fps on the COOLPIX P600, but the P600 does have a good spread of reduced resolution burst features. And both models are equipped with built in Wifi, though the SX60 HS also has NFC for quick connections with suitably equipped smartphones. Both offer basic remote shooting options and the ability to transfer images to a smartphone as well as upload to sharing sites. But you can't transfer full-sized photos to your phone from the COOLPIX P600.
Depending on when and where you shop, the COOLPIX P600 is around 30 percent cheaper than the SX60 HS. So while it lacks a great viewfinder, has no hotshoe, can't shoot RAW and lacks some of the SX60 HS's other refinements it's nonetheless very capable all round and more affordable.
See my Nikon COOLPIX P600 review for more details.
Canon PowerShot SX60 HS final verdict
The PowerShot SX60 HS is the latest in a long line of very popular and successful DSLR-styled super-zooms from Canon – and that success isn't going to stop anytime soon. After a two year wait, Canon has surpassed expectations (unless you were taken in by the nonsense 100x rumours) with a 65x zoom range that beats all comers, for now at least.
Canon also recognises that it's about more than the zoom and the new model makes improvements in all the key areas with a better viewfinder and screen, built-in Wifi, better video, much improved continuous shooting and a new front dial. The new Seek assist auto mode which helps you keep track of moving subjects when zoomed in is an innovation of the sort that Canon used to magic out of the hat frequently, but has been absent in its compact releases lately. It's good to see a return to this kind of form.
This is the bit where I'd usually mention some of the less positive aspects of a new model, but in the case of the SX60 HS it's hard to think of anything other than minor complaints. It would be nice to have an eye sensor on the viewfinder, or at least a dedicated button to toggle the display. And I can't let another Canon compact review pass without bemoaning the absence of a touch screen, particularly on a camera that supports manual foucus and has Wifi, but where it matters most the SX60 HS really delivers. Canon's range may have room for a super-zoom with a larger sensor (like the Lumix FZ1000 or Sony RX10), but for those who prioritise lens range, the SX60 HS is hard to beat. It's another outstanding super-zoom from Canon and well worthy of a Cameralabs Highly recommended award.
Good points
65x optical zoom lens.
922k dot electronic viewfinder.
Second control dial.
Seek Assist auto feature.
Focus peaking.
Manual exposure in movie mode.
Built-in Wifi with NFC.
Bad points
No screen / EFV toggle button or sensor.
No in-camera HD slomo modes.
No touch screen.