Canon PowerShot SX600 HS review - Verdict
Verdict
The Canon PowerShot SX600 HS is a 16 Megapixel compact super-zoom with an 18x optical zoom range starting at a 25mm equivalent wide angle and extending to 450mm at the telephoto end. It sits more or less in the middle of Canon's 2014 SX super-zoom range above the budget SX170 HS with the slightly bigger, more expensive and more powerful SX280 HS and SX700 HS above it.
The SX600 HS isn't one of those models that's out on the edge; it doesn't have the biggest, longest or widest zoom either within or outside of the Canon product line. There are no ground breaking new features and it's not an especially quick or versatile performer. But it does offer a great range of features in a very compact lightweight package that's friendly, fun to use and very stylish with it.
Most of the things the SX600 HS lacks – a longer zoom, more video modes, faster continuous shooting, manual exposure control, are available elsewhere in the range (or outside it) if that's what you want. But if you're looking for a point-and-shoot compact with a very capable zoom range in small stylish package it has plenty to offer including extended battery life in Eco mode, a Creative Shot mode that takes filter effects in a new direction, and Wifi and NFC connectivity.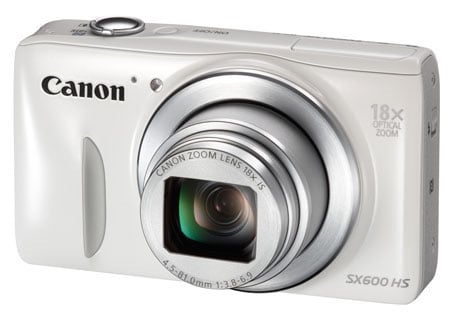 Compared to Panasonic Lumix TZ55 / ZS35

Panasonic virtually invented the travel zoom and has maintained a firm hold on this sector of the market ever since. The TZ55 / ZS35 is designed to be a more affordable version of the Flagship TZ60 / ZS40 and is the model the SX600 goes head to head with. The headline feature for a compact super-zoom is obviously the lens, so let's start there.
The Lumix TZ55 / ZS35 has a 20x optical zoom with an equivalent range of 24-480mm and a maximum aperture of f3.3-6.4. That gives it a slightly wider angle of view than the PowerShot SX600 HS as well as a longer telephoto, a small but significant advantage. The Lumix lens is also slightly brighter and, though it's only a fraction of a stop, every little helps when you're attempting to get good quality shots in low light. In its favour, the PowerShot SX600 HS has really excellent optical stabilisation, but then the Power O.I.S system on the Lumix compacts also has a proven track record.
Both models have a 16 Megapixel sensor which is the same physical size. In tests, the PowerShot SX600 HS looked to be quite noisy, especially at higher ISO sensitivities; we'll have to wait until we test the Lumix TZ55 / ZS35 before we can make any comparisons.
The TZ55 / ZS35 is bigger and heavier than the SX600 HS and won't slide into your jeans pocket quite so easily. Part of the reason for that is the former's screen which is hinged at the top and can be tilted upwards 180 degrees. This is a big help when shooting from low angles or if you just prefer shooting from the waist. Aside from that, both screens are similar 3 inch models with 460k dot resolution.
The TZ55 / ZS35 has a wider range of shooting modes, offering full PASM control as well as a range of scene modes including panoramas and filter effects. The SX600 HS is point-and-shoot operation only and, like all Canon compacts, lacks a panorama mode, but it does have a new Creative Shot mode which puts its filter effects to novel use. The TZ55 / ZS35 wins out on continuous shooting with a 10fps full resolution burst mode compared with 3.9fps on the SX600 HS.
Both models have broadly similar video features, the SX600 HS has 1080p30 HD compared with 1080p25 on the TZ55 / ZS35. Neither provides slow motion movie modes but the SX600 HS has Hybrid Auto, which takes a short video clip before each frame you shoot and compiles them into a movie.
Lastly, both models score highly for connectivity with built-in Wifi that allows wireless transfer and remote shooting. Panasonic's app is more fully featured than Canon's and provides more control for remote shooting. In it's favour, the SX600 HS is equipped with NFC, a factor that may influence NFC-equipped Android smartphone owners.
As always you'll need to consider what kind of photography you want to do when sizing up these two models. Though It's fairly clear from the above comparison, that the SX600 HS is aimed more at the novice photographer with the Lumix TZ55 / ZS35 offering more advanced features.
See my upcoming Panasonic Lumix TZ55 / ZS35 review for more details.
Canon PowerShot SX600 HS final verdict
The Canon PowerShot SX600HS is a capable compact super-zoom with an excellent range of features packed into a very compact and portable package. It's simple and enjoyable to use and produces excellent results, though noise may be a factor if you're planning to make big prints.
The SX600 HS is a point and shoot model so, rather than advanced features like manual exposure control, Canon has gone all out to pack it with features that will appeal more to those who want to take and share photos quickly and easily, but who also want the scope that a big zoom provides. To that end it's great to see built-in Wifi and NFC and the Creative Shot mode makes it easier to get good results from filter effects with little or no extra effort. But the lack of a panorama mode, especially on a camera that's very likely to be taken on travels to the World's scenic spots, continues to be a frustrating ommission on Canon compacts. It's great to have the option to remotely control the SX600 HS using a smartphone via Wifi though, and it would be nice to see the feature set in the app extended beyond the minimum functionality currently available.
Those little gripes aside, if you're looking for an uncomplicated super-zoom with an excellent range of novice-friendly features at an affordable price, the PowerShot SX600HS will do the job very nicely and comes with a Cameralab's Recommended award.
Good points
18x stabilized optical zoom.
Built-in Wifi with NFC.
490-shot Eco mode.
Creative Shot mode.
Excellent optical stabilisation.
Bad points
Poor High ISO noise performance.
Lacks manual exposure control.
No panorama mode.
Limited functionality in remote shooting.