Canon PowerShot SX520 HS review
Verdict
The PowerShot SX520 HS is numerically the model ahead of last year's SX510 HS, but Canon's made a number of decisions that make it feel quite different overall. One of the SX510's big selling points was its compactness, which Canon has sacrificed to a degree in order to accommodate a longer 42x zoom, up from the 30x of the earlier model. The SX520 HS is nonetheless still a very compact bridge super-zoom.
Other changes include a bump in sensor resolution, with a 16 Megapixel CMOS sensor replacing the 12 Megapixel sensor of the SX510 HS. Interestingly, the 510 HS marked a drop in resolution from the 2012 SX500 HS, as that model had a 16 Megapixel CCD sensor.
Aside from the lens, sensor and bulkier body, the SX520 HS is more notable for its omissions. In a bizarre move, Canon's dispensed with Wifi on the SX520 HS even though it was present on the older model. The main movie mode may still deliver 1080p (albeit now at 30p rather than 24p), but the two lower resolution Super Slow motion modes of the earlier SX510 HS are no more. Another casualty is continuous shooting; the full resolution speed is down from 3.8fps to 1.6 fps.
It's not all bad news though. The SX520 HS benefits from the addition of Creative shot mode and there's a new button on the lens barrel that activates additional stabilisation for shooting at long focal lengths. It's also worth pointing out that despite what seems like a series of retrograde moves, the SX520 HS still holds up well with the competition. Below you can read my comparisons with the Sony Cyber-shot H400 and Nikon COOLPIX P520 before my Final verdict.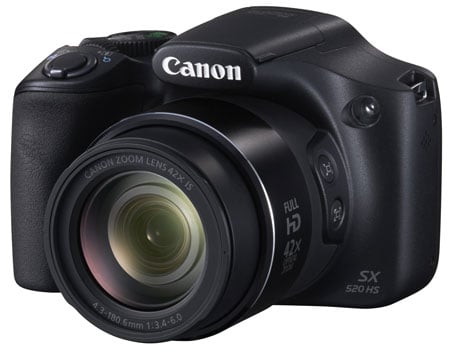 Compared to Sony H400

The Sony Cyber-shot H400 is, like the SX520 HS, a bridge super-zoom, but it goes all out for zoom range with little regard for the size implications. Consequently, it's bigger and bulkier than the SX520 HS and closer in size and weight to a DSLR. That's the cost, the benefit is a whacking 63.3x zoom which starts at 24.5mm and takes you all the way to an equivalent focal length of 1550mm compared with 1008mm on the SX520 HS.
The other payback for that extra bulk is a built in electronic viewfinder. The H400's viewfinder isn't what you'd call state of the art, but it's good enough and it's an invaluable composition aid when you're shooting at longer focal lengths. But while the SX520 HS lacks a viewfinder it does offer the Framing Assist button to help locate subjects when zoomed in.
The other major physical difference is the sensor resolution with the Sony H400 boasting a 20 Megapixel sensor compared with 16 Megapixels on the SX520 HS. In practical terms this will make little difference to most people; the image quality is similar (though the H400 is noisier at higher ISO sensitivities), the additional pixels on the H400 would allow you to make a larger print or crop to further extend the advantage of the longer zoom.
Both models have 3 inch LCD screens with a resolution of 460k dots. The SX520 HS screen is, in my view, superior to the H400's with a brighter, more contrasty image and a wider viewing angle. It needs to be, given that, as I've already mentioned, the SX520 HS lacks a viewfinder, so it's the only way to compose shots.
Both models of course support PASM exposure modes and both have excellent auto exposure modes with scene detection. The second dial on the SX520 HS provides it with a handling advantage in manual modes over the four-way controller on the H400. The SX520 also offers Live View control for accessible picture adjustment as well as a wider range of effects filters plus Creative shot mode. Against all of that the H400 has the excellent Sweep panorama mode which might not seem to add up to as much but if, like me you're a panorama fan it's worth all the SX520 HS's filters and more. Like so many features, it often boils down to a personal preference.
Both models offer similarly mediocre continuous shooting performance but the H400 wins the wooden spoon with a truly awful 0.7fps. The SX520 HS does a little better at 1.6fps and also has a reduced resolution 4 Megapixel 10fps mode. It also shoots better quality video with a 1080p30 mode compared to 720p30 on the H400. One other important thing to consider is the H400's CCD sensor, which isn't well suited to shooting scenes with bright highlights which can result in streaking.
The Sony H400 is currently around 25 percent less expensive than the more recent SX520 HS, but the prices will probably converge over time. As always, you need to think about what you really want from a budget bridge super-zoom in order to decide. Fundamentally, the H400 offers a bigger zoom, a viewfinder and a higher resolution sensor at a price that, for now at least, undercuts the SX520 HS.
See my upcoming Sony H400 review for more details.
Compared to Nikon P530

In many ways the Nikon COOLPIX P530 is a much closer match for the Canon SX520 HS than the Sony H400. For one thing, they look similar. Styling differences aside they're roughtly the same size and weight (the COOLPIX P530 is a little bigger and heavier). They share a roughly equivalent 42x zoom range and both are fitted with a 16 Megapixel CMOS sensor. The COOLPIX P530's lens is a little brighter at the wide angle end of the range at f3 compared with f3.4 on the SX520 HS.
The one obvious external difference is the COOLPIX P530's built-in electronic viewfinder. Like the one on the Sony H400, it's not exactly cutting edge, but it's perfectly adequate and makes a big difference to your ability to frame shots when zoomed in and when working outdoors in bright sunlight. In terms of their screens the two models are pretty evenly matched, both sporting 3 inch panels and, though the COOLPIX P530's screen resolution is higher, in practice the SX520 HS's screen produced a more easily viewable image – just as well as there's no viewfinder to fall back on.
Like the SX520 HS, the COOLPIX P530 supports the full range of PASM modes and also has a fully auto mode with scene detection. The P530 also has a second control dial, so for changing exposure settings in PASM modes it offers the same level of control as the SX520 HS. However, if you like to customize controls, the COOLPIX P530 offers a programmable function button as well as a user settings position on the mode dial versus nothing on the SX520 HS. The COOLPIX P530 lacks the SX520 HS's Accessible Live View control and has nothing to match the Creative Shot mode, but it does offer a wider range of effects filters and also has a panorama mode, something you won't find on any Canon.
The COOLPIX P530 is better equipped for shooting movies with a much wider range of modes than the SX520 HS. Its best quality 1080p30 mode matches the SX520 HS, but it also offers 1080i60, 720p30, iFrame modes and three high speed (slomo) shooting modes. You also get to choose between PAL and NTSC frame rates. Sadly, the SX520 HS no longer offers the Super Slow Motion modes of its predecessor the SX510 HS. The COOLPIX P530 also provides fast continuous shooting at up to 7fps, a raft of faster reduced resolution modes as well as a built-in interval timer. By comparison the SX520 HS offers a full resolution continuous mode at 1.6fps and a 4 Megapixel 10fps burst mode.
Once prices settle, I'd expect the COOLPIX P530 and PowerShot SX520 HS to be similarly priced, as always it pays to shop around.
See my upcoming Nikon COOLPIX P530 review for more details.
Canon PowerShot SX520 HS final verdict
The PowerShot SX520 HS updates its predecessor with a longer zoom and higher resolution sensor, but strangely loses its Wifi and slow motion video options, while also suffering from even slower continuous shooting speeds. Since the body of the new model is also noticeably larger than before, you'd be forgiven for wondering what Canon's up to. Certainly if you looked at the older SX510 HS and thought 'if only it had a longer zoom', then this could be the model you've been waiting for. But the larger body, slower shooting and lack of Wifi and slow motion video, both of which were available on the SX510 HS, should certainly make you consider the older one instead.
Having said that, neither of the SX520 HS's two most likely rivals offer Wifi (though they do both have an EVF, which is a big plus). Even so, it's hard to think of a scenario in which the SX520 HS comes out on top of anyone's shopping list. If the zoom is your number one priority, there are models from other manufacturers that can equal or better it and they have other things to offer besides.
Ultimately if you can live with a shorter 30x zoom range, the older SX510 HS with built-in Wifi, super slow motion video modes and faster full resolution continuous shooting makes a lot more sense to me. Better still, it's a lighter and more compact model that's currently selling for around half the price of the SX520 HS. Check out my Canon SX510 HS review for more details.
Good points
42x zoom lens.
2nd control dial.
Framing Assist buttons for zoom location and stabilization.
Bad points
No electronic viewfinder.
No built-in Wifi.
No super slow motion video.
Lacks customization options.