Canon PowerShot SX510 HS review
Intro
The Canon PowerShot SX510 HS is a 12 Megapixel super zoom camera with 30x stabilised optical range and a 3 inch LCD screen. Launched in August 2013 it replaces the one year old PowerShot SX500 IS which is retained in the PowerShot lineup. The SX510 HS is a step down in resolution from the 16 Megapixel CCD sensor in the earlier model, but the 12 Megapixel sensor in the SX510 is a back-illuminated CMOS type providing better low-light performance.
Other benefits of the new sensor are improved continuous shooting at 3.8fps and better video with a 1080p24 best quality mode in addition to Super Slow Motion and Movie digest options. The SX510 HS also has built in Wifi for uploading photos to computers, smartphones and other devices as well as sharing on social networks.
The earlier SX500 IS was announced as the World's smallest 30x optical zoom camera, and one year on with exactly the same dimensions it remains one of the most compact of the longer zoom compacts. In my review I've compared it with another camera that combines a big zoom with compact dimensions at an affordable price, Nikon's 30x COOLPIX L820. Read on to find out which will be best for you!
Canon PowerShot SX510 HS design and controls

Externally, the PowerShot SX510 HS looks very similar to its predecessor, though the body has been restyled and looks a little curvier with a more defined flash hump. The grip is the same size and shape but the dimple textured covering now extends around to the side which not only provides a more secure hold, but looks better too. It's a little bigger all round than the COOLPIX L820 which also weighs substantially more, largely on account of its 4 AA batteries.
Inevitably, a body this small doesn't fit snugly in your palm, but the grip is generous enough to accommodate your second and third fingers and with your index finger on the shutter and thumb on the thumb rest, one-handed operation feels secure and comfortable. Place your left hand under the lens and it feels just like a mini DSLR.
The control layout hasn't changed, so if you plan to upgrade there's little new to learn. The top panel layout, as before includes the on/off button, mode dial and shutter release on the right side of the body. The mode dial looks a little bit more substantial and gains a new position for Movie digest mode in addition to the PASM, Auto, SCN, Creative effects, Discrete, and Movie positions.
On the back panel, to the right of the fixed 3 inch screen are the familiar Canon control dial with ISO, flash, self-timer and MF/Macro at the four push points. That's flanked at the top by buttons for exposure compensation and playback and at the bottom Display and menu buttons. The dedicated movie record button is at the top right edge of the rear panel just to the right of the thumb pad.
The screen itself is the same 3 inch 461k dot TFT LCD as on the earlier SX500 IS. The 4:3 proportions of the screen are ideal for composing and playback of maximum resolution still images which fill the entire screen with information overlayed in white. For HD movie shooting the image is letter-boxed with black bands top and bottom. In general use the PowerShot SX510's screen displays a bright punchy image with a fair amount of detail. Like most screens it's difficult to use in bright sunny conditions and though the brightness is adjustable this doesn't really help much.
The built-in flash has a maximum range of 5 metres. Unlike most flash units, which automatically 'pop-up' in low light conditions, you have to manually pull the SX510 HS's flash up in order to activate it, even in Smart Auto mode with the flash set to automatic. For advanced photographers that won't be a bother, more often than not it's a nuisance when the flash pops up unexpectedly, but beginners may not fare so well with it. To be fair, a 'Raise the flash' message does appear on the screen to let you know that using the flash might be a good idea. As well as Auto mode, the flash can be forced on or off and there's also a slow synchro mode for fill in when shooting using the available light.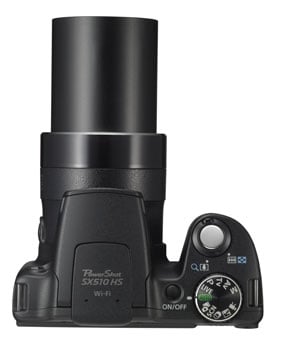 Under a flap on the right side of the body there are two ports, a mini HDMI port for connecting to an HD TV and Canon's combined USB / A/V port, primarily used to transfer photos to your computer. With the appropriate optional cable you can also use this port to connect to a TV using the yellow composite video port at standard PAL or NTSC definition.
The PowerShot SX510 HS takes a variant of the NB-6L battery used in its predecessor called an NB6LH. According to Canon the SX510 HS is compatible with the older NB-6L so if you're upgrading and have spares you'll be able to use them in the SX510 HS.
With a fully charged NB-6LH there's enough power for 250 shots, but the SX510 HS features the new ECO mode recently introduced on A Series compacts as well as the advanced PowerShot G16. Eco mode dims the screen after a couple of seconds inaction, then turns it off ten seconds later, and after a further three minutes turns the SX510 HS off altogether. With Eco mode activated you can still use the screen and extend the battery life to 330 shots. That's obviously an improvement, but with a set of NiMH rechargeables fitted, the COOLPIX L810 fares considerably better with 540 shots.
Canon PowerShot SX510 HS lens and stabilisation

As with its predecessor, the headline feature of the PowerShot SX510 IS is its optically stabilised 30x zoom lens. The Nikon COOLPIX L820 matches the 30x range with a slightly wider 22.5mm wide angle, but is a little bigger and heavier than the SX510 HS.
Compact super-zooms offer a more pocketable alternative, but at the expense of zoom range. Models like the Panasonic Lumix ZS25 / TZ35 and Canon's own PowerShot SX280 HS offer 20x zooms. However, in May 2013 Sony launched the HX50V and claimed the titled for the World's smallest and lightest compact camera with a 30x zoom range. So if your goal is to maximise zoom range in the smallest form possible, that's the obvious choice – see my Sony HX50V review for more details.
| | | |
| --- | --- | --- |
| Canon PowerShot SX510 HS coverage wide | | Canon PowerShot SX510 HS coverage tele |
| | | |
| 4.3-129mm at 4.3mm (24mm equiv) | | 4.3-129mm at 129mm (720mm equiv) |
The 30x range of the SX510 HS remains impressive though. It starts at a super-wide angle 24mm so it's good for panoramic landscapes and interiors as well as for getting close in to distant subjects. The maximum aperture is f3.4-5.8, not especially bright, but comparable with the f3.0-5.8 lens of the COOLPIX L820.
The lens has Canon's Intelligent IS optical stabilisation system which compensates for camera movement allowing hand-held exposures at slower shutter speeds than would ordinarily be possible. Intelligent IS has three positions, Off, Shoot only and Continuous and uses scene detection to determine the optimal stabilisation mode.
I tested the stabilisation on the SX510 HS by selecting Shutter priority mode, zooming the lens to its maximum 720mm equivalent telephoto and taking a series of shots at progressively slower shutter speeds, first with the stabilisation off and then in continuous mode. As you can see from the 100 percent crops below, you can hand-hold the SX510 HS at speeds down to 1/10th without camera shake, amounting to a hugely impressive performance around six stops of stabilisation.
Canon PowerShot SX510 HS Intelligent IS

100% crop, 4.3 – 129mm at 129mm, 100 ISO, 1/10th.

100% crop, 4.3 – 129mm at 129mm, 100 ISO, 1/10th.
Canon PowerShot SX510 HS shooting modes

With the same Digic 4 processor as the earlier SX500 IS, the PowerShot SX510 HS shares mostly the same shooting modes including of course the traditional PASM modes, (or P, Tv, Av and M as they're denoted on all Canon cameras) and Smart Auto with scene detection capable of identifying 32 scene types including moving subjects, backlighting, sunsets and close ups, as well as when you've got the camera on a tripod, and adjusting the exposure accordingly.
It's a little disappointing to see Canon Stick with the Digic 4 processor for the SX510 HS, as models with the HS suffix, denoting the back-illuminated CMOS chips with better low-light performance are more usually paired with the more capable Digic 5. That would not only have brought more sophisticated scene detection, but endowed the PowerShot SX510 HS with other features like Handheld NightScene and HDR stacking modes. Sadly they're missing here.
The Creative filters position provides a choice of six effects – Fish-eye, Miniature, Toy camera, Monochrome, Super-vivid and Poster – most of which offer several variants. The Miniature mode is one of the most versatile 'tilt shift' effect filters around and allows you to flexibly position the focus zone in the frame in either landscape or portrait orientation. Along with the Monochrome, Super-vivid and Poster Creative filters it can also be used for movie shooting.
Discrete mode disables the flash and turns off all sounds for shooting in places, for example museums and churches, where such things aren't appreciated. I think putting this on the mode dial is an excellent idea, it means you can be absolutely sure you're not going to embarrass yourself and annoy others. While other manufacturers often include a similar feature on a menu, the last thing you usually want to be doing in such circumstances is conspicuously fiddling with your camera.
The Live View control position on the mode dial provides a simple interface for novices to experiment with exposure compensation, saturation and white balance via three sliders labelled Dark/Light, Neutral/Vivid and Cool/Warm. It's a small step from here to switch to Program mode and use the exposure compensation button, or press the Func. button and alter the white balance setting from the Func. menu. Canon's Hints and Tips feature provides some explanation of these more advanced settings.
Canon PowerShot SX510 HS movie modes

The video features on the PowerShot SX510 HS have been improved and extended with the addition of a best quality 1080p24 HD mode – compared with 720p25 on the SX500 IS – and the introduction of Super slow motion and Movie digest modes. There's also a 720p30 HD mode as well as 640×480 also at 30fps. Movies are encoded using the efficient H.264 codec and saved as Quicktime files in the same folder as stills. Canon recommends a speed class 6 memory card for full HD recording.
You can start shooting video in any mode by pressing the red movie record button, but setting the mode dial to the movie position provides more options and allows you to frame up your shot in the correct 16:9 proportioned view which is displayed on the screen with black bars top and bottom. There's no manual control over exposure which is set automatically using 21 of the scene detection types. You can change the exposure compensation prior to shooting though, which gives you a little bit of scope. The movie mode also provides access from the Func menu to Super slow motion recording. There are two recording speeds, 640 x 480 at 120fps and 320 x 240 at 240fps, providing playback speeds of 1/4 and 1/8 real time speed respectively.
If you're a fan of Apple's edit-friendly iFrame movie format you'll be disappointed to see it dropped on the SX510 HS. It's also disappearing from other PowerShot models, most recently the advanced PowerShot G16, which suggests it was never the popular alternative that Canon envisaged when it introduced it.
The powered zoom can be used during movie recording and the SX510 HS now benefits from enhanced dynamic movie IS which is specially designed for ironing out wobbles when shooting hand-held movies. There are two modes, one for ordinary everyday shooting and a stronger mode 2 for smoothing walking and other exaggerated motion.
Lastly, the PowerShot SX510 HS has a new position on the mode dial for the often overlooked but really rather wonderful Movie digest mode. Movie digest shoots a short clip of just a few seconds duration before each shot you take, then compiles them all into a movie of the day's shooting. It's a great way to capture a movie of an event without even having to think about it and its inclusion on the SX510 HS is a real bonus. I'd urge anyone with a Canon compact featuring it to take full advantage of. Oddly though, Canon is still calling it Movie digest here, where on other recent models it's renamed Hybrid Auto mode.
Canon PowerShot SX510 HSsample video 1: outdoors, cloudy bright, handheld pan
This clip, like the others below was shot using the PowerShot SX510 HS in its best quality 1080p24 movie mode. The quality is good and the dynamic stabilisation, here in mode 1, does an excellent job particularly at the maximum 720mm zoom.
Canon PowerShot SX510 HSsample video 2: outdoors, sunny, tripod pan
The stabilisation was turned of for this tripod mounted panning clip. The AF does a good job of keeping everything in focus in quite demanding, slightly misty conditions, but the electronic Wind filter, on by default doesn't have much of an impact on the wind noise.
Canon PowerShot SX510 HSsample video 3: indoors, low-light, handheld pan
There's a worryingly high amount of noise visible in this indoor low light panning clip. On a more positive note, the stabilisation does a great job as does the auto exposure.
Canon PowerShot SX510 HSsample video 4: Miniature effect
Here's an example of the Miniature creative effect used with video, for 720p HD video you have to remember to set the photo aspect ratio to 16:9 before filming – then remember to turn it back to 4:3 afterwards for the best still photo quality.
Canon PowerShot SX510 HS

handling

In terms of general handling, the PowerShot SX510 HS performs almost identically to its predecessor, the SX500 IS, so I'm going to restrict myself to talking about the two major new enhancements and additions, namely continuous shooting and built-in Wifi. If you want to know more about the AF modes, menu system and how the SX510 HS performs when shooting with the lens fully zoomed in, check out my earlier Canon SX500 IS review.
First, lets talk about the Wifi. The PowerShot SX510 HS is the latest Canon compact to be equipped with built-in Wifi, which allows you to transfer photos to other devices, such as computers, smartphones, printers or other compatible cameras, or onto sharing services via the Internet, there's sadly no wireless remote control of the camera over Wifi.
All wireless transfers from the camera are triggered during playback by pushing the top button on the control dial. This presents a Wifi menu from which you can choose which device or service you'd like to connect to. These include your computer, smartphone, printer, the Web or another Wifi equipped Canon camera.
To wirelessly transfer images from the SX510 HS to a computer or smartphone you'll first need to install the supplied Camera Window software. There's no software supplied in the box, you need to download the Windows or MacOs software from Canon's website, or the iOS or Android app from the App Store or Play Store respectively. You can't make a peer-to-peer connection between a computer and the camera, both devices need to be connected to the same Wifi access point. But peer-to-peer connection between SX510 HS and a smartphone is an option.
You can then either push images to the phone from the camera, or browse photos on the camera's card via your phone, then select and download them. On my iPhone 4S I successfully transferred original JPEGs measuring around 3MB each in about three seconds.
It's also possible to send images direct from the camera to Facebook, Twitter, YouTube or to Canon's own iMAGE GATEWAY, again via a nearby Wifi access point. You'll first need to register for iMAGE GATEWAY using your computer, then install the Camera Window program. Then once you've connected the camera to your computer and registered it with iMAGE GATEWAY you can configure access to the social networks. Images are uploaded to Facebook into a Canon folder from where you can share them. Images sent to Twitter are uploaded to the Canon portal, then a link to it is Tweeted. This is all a bit convoluted and the sooner Canon opts for a direct approach, the better. In the meantime there's nothing to stop you transferring photos to your phone and sharing from there in the usual fashion via email, SMS, or direct to photo sharing and social networking sites.
The Camera window app is also able to use the GPS function of your phone to geotag images in the camera. The GPS function works very well once you taken the trouble to set it up. In practice you just start the Location Logging option in the smartphone app, then later simply use the option to transfer the data when the camera is connected over Wifi. But while it's good to have the option of a smartphone GPS connection, you can't beat the convenience of built-in GPS. That said, the COOLPIX L810 lacks built in Wifi or GPS features.
Continuous shooting on the SX510 HS gets a big boost, with speeds up to 3.8fps, not lightning fast, but a big improvement on the snail-like 0.8fps offered by its predecessor. To test continuous shooting on the PowerShot SX510 HS I fitted it with a freshly formatted 8MB Sandisk UHS-1 card rated at 45MB/s and set the Drive mode to continuous. I set the image quality to Large Superfine and selected a shutter speed of 1/500 in Shutter priority mode.
With the shutter held down the SX510 HS fired a hundred frames at a consistent rate and would have carried on until until the card was full had I kept the shutter release held down. I timed the 100 frame burst at 2.52fps which is well below the quoted speed. Switching to Fine compression and repeating the test resulted in the same timings. So a slightly disappointing continuous shooting performance from the SX510 HS. Sure, it's better than the dismal 0.8fps performance of its predecessor, but the quoted 3.8fps still isn't blistering and the actual performance falls well short of that.
Canon PowerShot SX510 HS

Sensor

The PowerShot SX510 HS has a 1 / 2.3in CMOS sensor with a resolution of 12.1 Megapixels producing images with a maximum size of 3000×4000 pixels. Files are JPEG compressed at one of two settings and the best quality Superfine JPEG files are between 3MB and 6MB in size; there's no RAW option. The sensitivity ranges from 80 to 3200 ISO and the shutter speed range is 15 seconds to 1/1600.
To see how the quality of the PowerShot SX510 HS measures-up in practice, take a look at my Canon SX510 HS quality and Canon SX510 HS noise results pages, browse my Canon SX510 HS sample images, or skip to the chase and head straight for my verdict.