Intro
The Canon PowerShot SX400 IS is a compact bridge super-zoom with a 30x optical range, 16 Megapixel CCD sensor and a 3 inch fixed LCD screen. It's a new model that sits below the SX520 HS in Canon's 2014 super-zoom line-up. The SX520 HS offers a longer 42x zoom, manual control and a 16 Megapixel CMOS sensor, whereas the SX400 IS is a point-and shoot offering simpler operation in a very compact body. Whilst not the smallest 30x super-zoom on the market the SX400 IS is the smallest SLR-styled super-zoom I've seen.
The SX400 IS has a basic specification and a low price tag. Its screen is fixed and its 230k dot resolution puts it firmly in the budget category. It doesn't have 1080 movie recording, its best quality video mode is 720p, and at 0.8fps its continuous shooting is nothing to get excited about. But it does include Canon's feature modes with Live view control, Face self-timer and Creative effects including Miniature which can be used on movies.
So, it has a long zoom, it's simple to operate and it's very compact; is that a compelling enough combination? Or is it worth sacrificing a little of that portability for, say, a slightly longer zoom, a flip out screen and a broader set of features? To find out I tested the PowerShot SX400 IS alongside Nikon's budget bridge model, the COOLPIX L830. Read my full review to discover which of these two budget super-zooms is the best choice for you.
Canon PowerShot SX400 IS design and controls
Cute, adorable and gorgeous aren't the usual words that spring to mind when you open the box and first set eyes on a compact camera, but the PowerShot SX400 IS has an undeniable charm about it. Maybe it was the red colour of the review model, not signal box red, but a beautifully understated Venetian red with a soft metallic sheen. The SX400 IS is also available in more traditional black.
Aside from colour, the other factor that contributes to the SX400 IS's allure is its diminutive proportions. The measurements don't really do it justice, but here they are anyway – 104x69x80mm. It's also very, very light at a mere 313g. Compared with those numbers, the Nikon COOLPIX L830 at 111x76x91mm and 508g, is huge, but only relatively speaking. The COOLPIX L830 is one of the smallest bridge super-zooms around, it's just that the SX400 IS is tiny by comparison.
Though small, the SX400 IS is a comfortable fit in the hand, providing you hold it right. My hands aren't large, but I found the best grip was obtained with the second and third fingers, allowing my little finger to hang off the bottom of the grip – it just isn't quite big enough to accommodate three fingers comfortably. That said, the black soft plastic grip, the only coating on the entire body, provides a firm purchase.
On the top panel the shutter release button is surrounded by a zoom collar in gun metal grey, the top panel then slopes down from a ridge with the flush mounted on/off button in the dip. It looks great and functions well. The ridge continues on to the back panel where it provides a space for your thumb. The raised portion on the shoulder is home to a movie record button and, below it, the shooting mode button.
Opposite the screen is the familiar four-way control pad with a playback button above it and Display and Menu buttons below. It's well layed out, clearly labelled and easy to get at. On the right of the camera body there's a soft plastic flap that covers the combined USB / A/V port. You can use this to connect the SX400 IS to a computer to download photos and video or to a TV with a composite video in connection. The only problem is there are no cables supplied in the box, but it's a standard Mini A type USB port, so there's a good chance you'll already have one.
The combined battery and card compartment is accessed via a door in the base. This is the only part of the SX400 IS's construction that feels less than robust or, to put it another way, flimsy. The battery is an NB-11H, the same as used in the IXUS 265 HS. It's a slim design which helps keep the SX400's size and weight down but the cost of that in terms of performance is a maximum of 190 shots from a full charge, pretty meagre by any standards. However, the SX400 IS features Canon's Eco mode, which stretches that to 290 shots, better, though still not outstanding. Eco mode dims the screen after a couple of seconds inaction, then turns it off ten seconds later, and after a further three minutes turns the camera off altogether.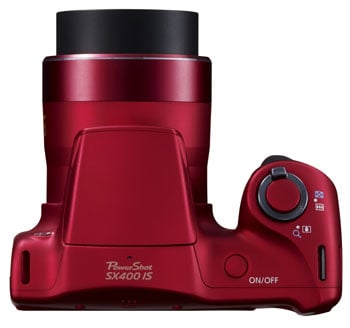 If you like to keep the camera switched on and ready for action you're going to have to invest in a second battery. The alternative if you're the kind of person who likes to take more than a handful of shots during a day out is to look to the COOLPIX L830 which can manage 680 shots with 4 AA NiMH batteries or a truly impressive 1180 shots with Lithium batteries. The only drawback being the larger bulk and weight, the batteries alone (if you're using NiMH) weigh around 120g, more than a third the total weight of the SX400 IS with its battery and a card inserted.
The SX400 IS has a built-in pop-up flash unit that you activate by raising it with your fingers. You can set one of four modes – Auto, on, slow synchro and off – using the right position on the rear pad. Then if you press the Menu button you can select from two red-eye prevention features, one which illuminates the AF light to close your subject's pupils and another that automatically applies software correction in-camera.
The flash has a quoted maximum distance at the wide angle lens setting of 5 metres which is plenty good enough for close subjects and fill-in; if you need more power the SX400 IS can be fitted with the optional HF-DC2 external flash.
The SX400 IS's 3 inch LCD screen has a resolution of 230k dots which is the minimum resolution you'll find on any budget compact screen. These days even budget models often stretch to a higher resolution 460k dot screen. But I don't think screen resolution is as important as brightness and contrast which determine how easy it is to see your subject when outdoors on a bright day. Judged by those criteria, the SX400 IS screen performs very well, though to be fair it isn't as detailed as the 961k dot screen on the COOLPIX L830. The other big advantage the COOLPIX L830 has it that its screen can be folded up or down. Not everyone is a fan of folding screens but personally I find the ability to angle the screen and shoot from the waist, from low and high angles, or just to keep the sun off the screen is a big plus.
Canon PowerShot SX400 IS lens and stabilisation
The PowerShot SX400 IS has a 30x optical zoom with a range of 24 to 720mm and an aperture of f3.4-5.8. That's a very respectable range in a camera of these proportions at this price point, which isn't to say there aren't longer ranges or smaller bodies. The 24mm wide angle isn't as ultra wide as on more sophisticated, more expensive super-zooms, and there are many models that outreach it at the long end, but generally they're bigger and cost more, so the SX400 IS's 30x optical zoom is a good compromise.
| | | |
| --- | --- | --- |
| Canon PowerShot SX400 IS wide | | Canon PowerShot SX400 IS tele |
| | | |
| 4.3-129mm at 4.3mm (24mm equiv) | | 4.3-129mm at 129mm (720mm equiv) |
The Nikon COOLPIX L830's 34x zoom starts a little wider and goes a little longer, with a 22.5 – 765mm equivalent range and a slightly larger (at least at the wide angle end of the range) f3-5.9 aperture. How much of a difference does this make in practice? Not a great deal. What does make a difference is that while both models have a digital zoom that upscales images resulting in a loss of quality, the PowerShot SX400 IS lets you turn it off, whereas on the COOLPIX L830 you're stuck with it, which means you need to keep an eye on the zoom scale when nearing the telephoto end of the range.
The 24mm wide angle is wide enough to fit in large groups and make light work of the smallest interiors and the 720mm equivalent telephoto will get you close enough to all but the smallest or most distant subjects. One thing people often overlook when choosing super-zooms is that long lenses require a steady hand in order to keep the subject in the frame. Canon's longer super-zooms, like the 65x SX60 HS provide seek assist features to help with this, those aren't necessary on the SX400 IS which, providing you have stabilisation turned on is manageable even at the telephoto end of its zoom range.
The SX400 IS is equipped with Intelligent IS optical image stabilisation which uses scene detection to decide how best to apply stabilisation. There are three modes, Off, Shoot only and Continuous. Image stabilisation needs power, something you have to keep an eye on with the SX400 IS, with it enabled you'll get fewer shots from a full charge. 'Shoot only' cleverly applies stabilisation just before you shoot, saving on battery power but, unlike earlier models, it isn't activated when you half-press the shutter, only at the instant of exposure. So if you want to see a steady image on the screen you need to set Continuous mode.
To test Intelligent IS on the PowerShot SX400 IS I took a series of shots in fading light at progressively slower shutter speeds first with IS turned off and then with it on in Continuous mode. As you can see from the 100 percent crops below, the SX400 IS is capable of producing sharp shots hand-held at shutter speeds down to 1/25. This represents a very impressive five stops slower than the photographer's 'one over the focal length' rule of thumb and coincidentally is exactly the same shutter speed that the COOLPIX L830 was capable of shooting at with stabilisation enabled.
Canon PowerShot SX400 IS Intelligent IS

100% crop, 4.3-129mm at 129mm, 100 ISO, 1/25th IS off.

100% crop, 4.3-129mm at 129mm, 100 ISO, 1/25th IS Continuous.
Canon PowerShot SX400 IS shooting modes
To select the shooting mode on the PowerShot SX400 IS you press the shooting mode button on the rear. This toggles between Smart Auto mode and the currently selected mode on the shooting mode menu. Smart Auto mode uses scene detection to determine the best exposure and the Digic 4+ chip in the SX400 IS is able to identify 32 scene types including moving subjects, backlighting, sunsets and close ups. With everything done for you, the four-way controller is largely redundant and only the bottom position for setting self-timer modes is active.
The shooting mode menu is part of the quick menu that's displayed down the left side of the screen when you press the Func. Set button in the middle of the four-way control pad. The Live View control option provides a simple interface for novices to experiment with exposure compensation, saturation and white balance via three sliders labelled Dark/Light, Neutral/Vivid and Cool/Warm. It's a small step from here to switch to Program mode and make use of the exposure compensation, Flash and Focus mode buttons on the four-way controller or press the Func. button and alter the white balance, ISO sensitivity and other settings from the Func. menu. Canon's Hints and Tips feature provides some explanation of these more advanced settings.
Other options on the Shooting mode menu include a choice of scene modes interspersed with the standard set of six effects that now appear on all Canon compacts – Fish-eye, Miniature, Toy camera, Monochrome, Super-vivid and Poster – most of which offer several variants. The Miniature mode is one of the most versatile 'tilt shift' effect filters around and allows you to flexibly position and size the focus zone in the frame in either landscape or portrait orientation. Along with the Monochrome, Super-vivid and Poster Creative filters it can also be used for movie shooting.
Although it offers a greater number of effects, 11 in all, most of the COOLPIX L830's effects aren't customisable like on the SX400 IS. For example the COOLPIX L830 has two toy camera effects but the SX400 IS single toy camera effect offers three tone settings – standard, warm and cool. And though both models let you use the effects on movies, only the PowerShot SX400 IS has a miniature (tilt-shift) effect which allows recording for movies at a choice of speeds.
One feature notable by its absence is Creative shot mode, an extension of the filter effects which automatically applies a selection of them to a shot to produce six variations. I would have thought the SX400 IS an ideal candidate for Creative shot mode, which is surely designed precisely for its target market – novice and casual photographers who want creative options without the added complexity of manual exposure modes.
Canon PowerShot SX400 IS movie modes
By comparison with other Canon compacts and the Nikon COOLPIX L830, the PowerShot SX400 IS offers quite basic video features. The best quality video mode is 720p25 (presumably 720p30 in NTSC regions) and there's only one other option which is standard definition 640 x 480 VGA at 30fps. I've already mentioned the miniature effect, which applies a faux tilt-shift effect to video with the choice of three speeds which play back at 5, 10 or 20x.
Movies are encoded using the H.264 codec at an average bit rate of around 9Mb/s mbps and saved as QuickTime files with a MOV extension in the same folder as photos. You'll fit a little over an hour of footage on a 4GB card though the maximum continuous recording time is a second short of 30 minutes
The SX400 IS has a mono microphone – you can see the hole for it just behind the pop-up flash head. You can use the optical zoom during recording and the digital one too if you want to, but unlike the COOLPIX L830, you can disable it, a good thing too. Exposure is determined automatically in Program mode but in Smart Auto mode the SX400 IS uses the Digic 4+'s scene detection algorithms to identify 21 scene types and adjust the exposure accordingly. Finally, you can also put the SX400 IS's Intelligent IS image stabilisation to good use for hand-held movie recording, examples of which you can see below, but it can be disabled, for example if the camera is mounted on a tripod.
It's disappointing not to see a 1080p full HD mode on the SX400 IS. If this is an attempt to put some space between the SX400 IS and the next model up in the range the SX520 HS, Canon may well find it backfiring – if you're on a tight budget the COOLPIX L830 looks a better bet in this regard. Canon's Hybrid Auto feature, which records a short movie clip prior to each still image you shoot and automatically assembles them into a movie, is another feature that you'd have thought was a sure bet on the SX400 IS, but alas is also absent.
Canon PowerShot SX400 IS sample video 1: outdoors, sunny, handheld pan
This clip and the others below were shot using the SX400 IS in 720p25 – the only available HD mode. The 9Mb/s video is quite highly compressed and the quality suffers a little – notice the text on the sign at the beginning of the clip. The stabilisation does a good job, but the noise of the zoom motor is very intrusive.
Canon PowerShot SX400 IS sample video 2: outdoors, overcast, tripod pan
For this tripod mounted panning shot I turned the stabilisation off. The AF wanders a little during the zoom but quickly pulls things back into focus. The zoom motor noise isn't as intrusive in this clip, but the wind noise is quite noticeable and the SX400 IS lacks the COOLPIX L830's wind noise filter.
Canon PowerShot SX400 IS sample video 3: indoors, low-light, handheld pan
This hand-held interior pan is nicely exposed and the colours are well saturated, but it's very noisy. The AF wanders a little, but as in the previous clip, the SX400 IS quickly pulls things back into focus.
Canon PowerShot SX400 IS sample video 4: indoors, low-light, Continuous AF
To test the continuous AF on the SX400 IS, I zoomed it in a little and panned from the coffee cup on the table up to the bar and back again a couple of times. The SX400 Is is a bit slow on the uptake and doesn't get the bar in focus first time around. It does a better job on the second circuit though.
Canon PowerShot SX400 IS sample video 5: Miniature mode
Finally here's an example of the SX400 IS in Miniature mode. You have to remember to set 16:9 still image proportions if you want to shoot 720p HD miniature movies, a long time quirk of Canon compacts.
Canon PowerShot SX400 IS handling
The SX400 IS startlingly quick out of the blocks and will fire off a shot less than a second and a half after you've pressed the on/off button. That's worth bearing in mind because the battery life isn't great and you don't have the luxury of walking around with it permanently switched on (unless you carry a spare or two), so a quick start is important. The zoom covers the focal range pretty swiftly, in a little over two seconds at the faster of the two speeds, but still provides a reasonably fine degree of control.
The are three AF area modes, Face AiAF, Centre and tracking. The SX400 IS is quick to spot faces in the frame provided the lighting is reasonably good and they're within a few metres. If there are no faces in the frame it defaults to nine-area AF which ,again, is reasonably quick and reliable, even in low light. The Centre AF mode doesn't allow you to move the area around the screen like on some canon compacts, and indeed the COOLPIX L830, but that's of limited use. Unless you have the camera on a tripod it's a simple matter to focus using the central area and recompose your shot while maintaining half-pressure on the shutter release.
The SX400 IS's continuous shooting performance is, there's no way to put a gloss on it, mediocre, at 0.8fps. Hold the shutter release down for five seconds and you'll get four frames of action. That's too slow for a golf swing, or come to that most things that you'd want to capture a sequence of or to give yourself a better chance of catching the right moment. In stark contrast, the COOLPIX L830 offers a 5-frame 6.7fps full resolution burst mode and has a wealth of reduced resolution fast continuous shooting modes.
The SX400 IS has a 16 Megapixel sensor paired with the Digic 4+ processor. It produces photos with a maximum size of 4608 x 3456 pixels at one of two compression / quality settings. Full resolution Superfine JPEGs are on average around 5 to 11MB in size. The shutter speed range is 15s to 1/1600 (1s to 1/1600 in Program auto) and the sensitivity range is 100 to 1600 ISO.
To see how the quality of the PowerShot SX400 IS measures-up in practice, take a look at my Canon SX400 IS quality and Canon SX400 IS noise results pages, browse my Canon SX400 IS sample images, or skip to the chase and head straight for my verdict.