Canon PowerShot SX210 IS verdict
The PowerShot SX210 IS is Canon's second attempt at a squeezing a super-zoom lens into a pocket camera, but rather than just tweak the original version, the latest model features a new sensor, lens, screen and body, not to mention a number of improvements under the hood. This is a classic Canon strategy, using its considerable resources to produce what looks like a new product when other manufacturers nip and tuck an existing one.
Another classic Canon strategy is, for better or worse, to trump the competition in the numbers game. So it's not surprising to find the PowerShot SX210 IS sporting the longest zoom range and joint highest resolution of its peer group with 14 Megapixels and a 14x optical zoom. Canon knows these are the numbers many people look at first when comparing cameras online or on the shelf, and doesn't want to lose sales by coming-up short.
Further differentiating the SX210 IS from its rivals is a widescreen display on the back, when most compacts employ traditional, squarer 4:3 aspect ratio screens. Completing the headline specifications are 720p HD video recording capabilities and a raft of shooting modes from fully automatic to fully manual. What the SX210 IS doesn't have though is the built-in GPS receiver of its arch rivals, the Panasonic Lumix TZ10 / ZS7 and Sony Cyber-shot HX5, but in terms of other specifications, the new Canon certainly looks strong. But how does it perform in practice?

Starting with the resolution, the PowerShot SX210 IS shares top-billing with Nikon's COOLPIX S8000. Both models boast effective resolutions of 14 Megapixels compared to 12 on the Panasonic Lumix TZ10 / ZS7 and 10 on the Sony Cyber-shot HX5. Note the use of effective though: the Lumix TZ10 / ZS7 actually has a 14.5 Megapixel sensor, but only uses 12 of them for its best quality JPEGs; the 'spare' pixels around the edges are used to maintain the angle-of-view and minimise cropping with a loss of pixels in the wider aspect ratios.
In terms of actual real-life detail, the numbers play-out as you'd expect, with the PowerShot SX210 IS resolving slightly finer detail than the Lumix TZ10 / ZS7, which in turn slightly out-resolves the Cyber-shot HX5; at the time of writing we'd not yet tested the COOLPIX 8000, so can't comment on that model. But as you can see in our results pages, the differences can be pretty subtle, even comparing the 14 Megapixels of the SX210 IS against the 10 of the HX5. The advantage is there if you're really looking, but it's far from the difference of night and day.
In terms of noise, pixel-peepers will spot subtle textures even at the lowest sensitivity of 80 ISO, which of course only gets worse as the sensitivity is increased. To be fair, Canon's taken a relatively hands-off approach to noise reduction, attempting to retain detail at the cost of leaving some visible speckles. In our High ISO Noise results page, you'll see the Sony Cyber-shot HX5 delivering much cleaner-looking samples in Program mode, albeit at the cost of some smearing. At 200 ISO though, the SX210 IS has already begun to lose some bite and saturation, and like most compacts, the jump to 400 ISO and beyond results in significant drops in quality.
Certainly the minor resolution benefits of the SX210 IS are only apparent at the lowest sensitivities and by 400 ISO, any advantage has gone, and indeed you may prefer the output from the lower resolution models. It's also worth noting Sony's HX5 features a couple of special low light modes which stack multiple images grabbed in quick succession to reduce noise or improve your chances against camera-shake. Again as you can see in our results pages, these give the HX5 an edge over the competition at higher sensitivities.
Moving onto the optical zoom, the SX210 IS certainly features the longest range of its rivals. It may not quite zoom as wide as the Panasonic TZ10 / ZS7 and Sony HX5, but 28mm coverage is still sufficiently wide for most people, and the simple fact is by the time it's finished zooming, you're at an equivalent of 392mm, which is almost one third longer than the Panasonic and Nikon, and more than 50% longer than the Sony.
These are of course just numbers and we'd encourage you to check out the coverage section of the main review to see what difference the wide and telephoto extremes make in practice, but the bottom line is none of the current pocket super-zooms will get as close to a distant subject as the SX210 IS. It really is very impressive to find such a powerful range in such a small package. We're also pleased to report the optical quality is pretty good across the frame, albeit with a little fringing and the usual reduction in contrast and bite at the long end of the range like all super-zooms. The stabilisation also does a great job at ironing out the wobbles at such high magnifications.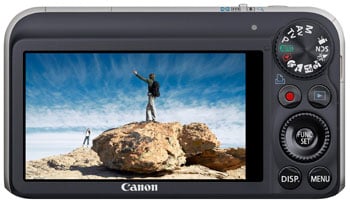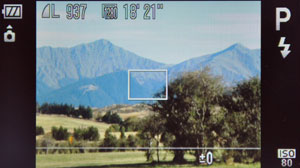 Next comes the widescreen display, an interesting choice for a camera which captures images with a native 4:3 aspect ratio. When composing or viewing images shot in the best quality mode, they'll only occupy a portion in the middle of the screen measuring 2.4in with thick black bars running down either side. Canon may fill these bars with various icons, but there's no getting away from the fact 4:3-shaped images look much smaller on the SX210 IS than on the 3in 4:3 screens of its rivals.
So why bother with a widescreen display? For widescreen content of course! Switch the SX210 IS to its HD movie mode (or indeed cropped 16:9 stills) and the image fills the screen, whereas on rivals it'll be sandwiched between black bars above and below. As we said in the main review, there'll always be a compromise involving the screen when a camera captures content in two such different shapes, but if you're likely to be shooting (and playing) lots of HD video, you'll love the widescreen display on the SX210 IS. If however you'll be mostly shooting 4:3-shaped stills, you'll prefer one of its more conventional rivals.
Speaking of the HD video, the SX210 IS delivers pretty much the same quality as its predecessor – the 720p files are a step-up from VGA modes, but a little soft and muted compared to the more vibrant output of much of the competition; we have samples you can download in our movie mode section. But while the quality has been inherited from the SX200 IS, Canon has at least improved much of the functionality. Along with the 16:9 screen, there's now stereo sound, a dedicated record button which lets you start filming in any mode, and perhaps most important of all, the ability to optically zoom the lens while filming. At long last, a Canon compact which can zoom when filming! You may be able to hear a faint whirring while doing so, but we've waited so long for this moment, we're not complaining.
The inability to zoom while filming was a key downside of the original SX200 IS, but of greater annoyance was its popup flash which did just that every time you turned the camera-on, even if it was disabled. The annoying aspect was that it often got in the way of your left finger.
Canon may have fixed the zooming while filming on the SX210 IS, but unfortunately the flash still raises every time you power-up. It's no good if you've disabled it, or switched to the movie mode where it can't even be used – it'll still be prodded open by the same mechanism which extends the lens.
To be fair, the SX210 IS does at least now let you push the flash back down again, but every time you snap it into the body, there's the feeling the mechanism might fail at some point in the future. We should mention the shorter height of the widescreen display has allowed Canon to accommodate a ridge above it, where you can comfortably rest your left index finger, keeping it out the way of the flash, but for some people the raising flash will still be a deal-breaker.
We also noticed some strange inconsistencies while using the SX210 IS. The control wheel may now feature stepped feedback (thanks Canon!) but the labelling of its rocker functions has gone. In its place the camera will display a guide on-screen as you gently lean on the rocker – for example, lean downwards and you'll discover a full press will fire-up the self-timer controls.
So far so good, but unfortunately this approach isn't replicated in playback. Press the play button and the guide appears briefly, then disappears with no amount of leaning bringing it back again – so if you weren't paying attention, you may not remember pushing down will bring you one step from permanently deleting an image. Of course the camera asks first if you'd like to delete the image, but it can still be a little alarming to see the message appear when there was no button labelled for trash or rubbish.
Speaking of the self-timer, Canon may have now supplemented the already fun face-timer of previous models with new options activated by a smile or wink, but where has it put them? In the self-timer menu with the normal two and ten second countdowns? No, of course not, the face, smile and wink self-timers are now inexplicably considered as Scene Presets, so you'll need to turn the mode dial to SCN and pick them from the other presets. Very odd.
Then there's the continuous shooting modes, which Canon seems to have completely lost interest in. After all, what other explanation can there be for a burst mode which is not rated in pictures per second, but seconds per picture. Yes, set the SX210 IS to its 'burst' mode and you can enjoy blisteringly quick speeds of one frame every 1.4 seconds, or one frame every two seconds with autofocus. The latter is academic, since most action subjects will have long gone in two seconds, rendering any tracking redundant unless you're shooting a tortoise race. The Low Light mode may boost the speed, but only to 2fps, and only at 3.5 Megapixels at high ISOs. Take it from us – the SX210 IS ain't a camera for those who like to shoot action.
And finally as mentioned at the top, there's also one big feature absent on the SX210 IS compared to its two main rivals from Panasonic and Sony: a built-in GPS receiver to pinpoint and record your location on images. Some may consider this a novelty, but it's a major feature present on the competition for much the same price and conspicuously absent here. So before our final verdict, how does the SX210 IS compare against its rivals?
Compared to Panasonic Lumix DMC-TZ10 / ZS7

Panasonic was the first to pack a super-zoom range into a pocket body and its enormously successful travel zoom range have become the models to beat. As such the latest Lumix TZ10 / ZS7 is arguably the biggest rival for the PowerShot SX210 IS and both cameras share a fair amount in common. Both feature super-zoom ranges, 720p HD video, HDMI ports, scene detection, full manual, SDXC compatibility and 3in screens packed-into pocketable bodies. Look a little closer though and some key differences emerge.
Most obviously are their respective zoom ranges. The TZ10 / ZS7 sticks with the same 12x range as its predecessor, while Canon has slightly boosted its range from 12x to 14x. Panasonic's still starts wider though with an equivalent range of 25-300mm, while Canon's starts at 28mm and ends at 392mm. So the TZ10 / ZS7 zooms wider, but the SX210 IS zooms comfortably closer. Which you'll prefer is entirely personal.
Both cameras sport 3in screens, but again with important differences. The SX210 IS features a wider 16:9 shaped screen which is a perfect match for its HD video, although the compromise is photos taken in the best quality mode will only occupy a smaller area with vertical stripes running down either side. It's also important to note the Panasonic screen is more detailed with 460k dots to the Canon's 230k, so if you're composing or playing 4:3-shaped images, they'll look noticeably bigger and more detailed on the TZ10 / ZS7's screen.
A key feature missing from the Canon compared to its rival super-zooms from Panasonic and Sony is built-in GPS. The TZ10 / ZS7 doesn't just record your location on images, but it'll also cross-reference them against an internal database to display the country, town and any nearby landmarks. Again this capability may not bother you personally, but it's revealing the SX210 IS's two main rivals have GPS for much the same price.
In terms of resolution, the Canon features 14.1 effective Megapixels to the Panasonic's 12.1, although this doesn't make a huge difference in terms of real-life recorded detail. It's also important to remember the Panasonic can maintain its angle of view and minimise pixel loss when shooting in wider aspect ratios, whereas the Canon simply crops. This is an important consideration when shooting 16:9 stills with the Canon to fill its screen, as they will be vertically cropped.
The Panasonic also features better continuous shooting options (albeit nowhere near as good as the Sony below) and its flash remains in the body at all times. As always it's a case of carefully weighing-up the features, but with wider coverage, a more detailed screen and built-in GPS, the Lumix TZ10 / ZS7 is a pretty compelling proposition for around the same price. See our Panasonic Lumix DMC-TZ10 / ZS7 review for more details.
Compared to Sony Cyber-shot DSC-HX5

Sony's Cyber-shot DSC-HX5 is the second major rival for the PowerShot SX210 IS, with both cameras again featuring super-zoom ranges, HD video, HDMI ports and 3in screens packed-into pocketable bodies. Look a little closer though and again some key differences emerge.
Most obviously are their respective zoom ranges. Sony's HX5 may feature a big zoom lens considering its size, but it's actually the shortest of the pocket models here with a 10x range equivalent to 25-250mm. Canon's SX210 IS may start a little less wide at 28mm, but its longer 14x range allows it to zoom around 50% closer with a maximum telephoto equivalent of 392mm.
Both cameras sport 3in screens with 230k resolution, but again there's important differences. The SX210 IS features a wider 16:9 shaped screen which is a perfect match for its HD video, although the compromise is photos taken in the best quality mode will only occupy a smaller area with vertical stripes running down either side. If you mostly shoot HD video, the Canon screen is great, but if you mostly shoot 4:3 stills, then the Sony (or ultimately the more detailed Panasonic) screen is preferred.
In terms of resolution, the Canon features 14.1 effective Megapixels to the Sony's 10, and while this does allow it to capture finer details, the difference may be subtler than you'd think – see our results pages for a full comparison.
In its favour, the HX5 boasts higher resolution movies in the 1080i format, considerably faster shooting at 10fps in the full resolution (albeit only for ten images), in-camera HDR (albeit with only two images), wireless sharing of photos with TransferJet, Sony's innovative sweep panorama which can automatically stitch together multiple images in-camera taken in a single pan, a pair of low light modes which grab a burst of six shots to generate one with lower noise or better protection against camera-shake, and built-in GPS capabilities which record your position on images.
It's these unique features which really set the Sony apart from the competition and if they appeal to you, it's the one to get. See our Sony Cyber-shot DSC-HX5 review for more details.
Also consider the Nikon COOLPIX S8000

– a slim pocketable super-zoom with a 10x optical range, 14 Megapixels, 720p HD movies, and a 3in screen with 920k / VGA resolution. Look out for our upcoming review.
Canon PowerShot SX210 IS final verdict

Canon's second-ever pocket super-zoom camera sports the longest zoom range and joint highest resolution of its peer group, along with a widescreen monitor, revamped body and an enhanced auto mode for foolproof shooting. The new SX210 IS also inherits the full manual control and 720p HD movies of its predecessor, and makes the latter more useful by unlocking the optical zoom while filming.
On the downside, the burst mode is pointlessly slow, the widescreen monitor an inappropriate shape if you mostly shoot 4:3 stills, and the flash still annoyingly pops-up every time you switch the camera on even if it's disabled or in a mode where it can't be used.
But by far the biggest issues facing the SX210 IS are its highly compelling rivals, most notably Panasonic's Lumix TZ10 / ZS7 and Sony's Cyber-shot HX5. Both models zoom wider, fill their screens with 4:3 shaped photos and feature built-in GPS receivers for pinpointing your location. As discussed in detail above, they also boast a number of other advantages which could seal-the-deal for you, such as a location database on the Panasonic, or the 1080i video and 10fps shooting on the Sony. Sure the SX210 IS may zoom longer than its rivals and fill its screen with HD video, but they'll only tip the balance for a handful of photographers.
In short, the SX210 IS is a good camera which makes several key improvements over its predecessor, but one that's up against very tough rivals which are arguably more compelling overall. As such we can Recommend it, but it falls short of the Highly Recommended rating awarded to the Panasonic TZ10 / ZS7 and Sony HX5.
See our Panasonic Lumix DMC-TZ10 / ZS7 review and Sony Cyber-shot DSC-HX5 review for more details.
---


Good points
14x optical zoom: longest range of rival models.
14 Megapixels: joint highest resolution of peers.
720p HD movies with matching 16:9 screen.
Great auto modes or full manual if you prefer.

Bad points
Flash always pops-up even when disabled.
Slow continuous shooting at full resolution.
Zoom motor is audible when filming video.
Widescreen monitor not ideal shape for 4:3 stills.


Scores
(relative to 2010 compacts)


Build quality:
Image quality:
Handling:
Specification:
Value:

Overall:



18 / 20
16 / 20
15 / 20
18 / 20
16 / 20

83%