Intro
Canon's PowerShot SX210 IS is the company's second pocket super-zoom camera. Announced in February 2010, exactly one year after the original SX200 IS, the new model boosts the resolution to 14 Megapixels and the zoom range to 14x, giving it the longest reach and joint highest resolution of all compact super-zooms.
The SX210 IS's zoom offers an equivalent range of 28-392mm, taking you from wide-angle to powerful telephoto coverage in a compact body that'll squeeze into most pockets. This allows you to capture expansive landscapes, cramped interiors or big group-shots at one moment, before zooming-in to grab distant detail in the next. It's a powerful and compelling range to have at your disposal in a pocketable camera.
Along with higher resolution and a longer zoom than the competition, the new Canon is also the only one in the group to feature a 16:9 widescreen monitor, which is the ideal shape for framing its 720p HD movie mode – and in an important upgrade to the original SX200 IS, you can now operate the zoom while filming. Like other recent Canon compacts, the SX210 IS features the company's latest Scene Detection Auto along with a couple of neat self-timer options which trigger the countdown with a smile or a wink – and like the SX200 IS before it, there's still full manual control for those who prefer a hands-on approach.

Having a higher resolution and longer zoom range than its rivals is a key marketing advantage for the new Canon, and an important one to differentiate it in an increasingly busy category. When the SX200 IS was launched in February 2009, its only real rival was the Panasonic Lumix TZ7 / ZS3, but one year on there's not only the latest Lumix TZ10 / ZS7, but brand new additions in the form of Sony's Cyber-shot DSC-HX5 and Nikon's COOLPIX S8000 to contend with.
While Canon's lens range and resolution gives it an impressive head-start in the numbers-game, its three rivals have compelling advantages of their own. Most notably, the Panasonic and Sony both sport wider zoom coverage along with built-in GPS receivers to pinpoint the location of your photos.
The Lumix TZ10 / ZS7 even tells you the name of the country and town along with cross-referencing a catalogue of half a million landmarks, while the HX5 boasts Full HD video, supremely quick continuous shooting and a series of innovative modes which can assemble a panorama with a sweep of the camera or minimise noise by stacking multiple images.
There's a great deal to weigh-up, and in our full review of the Canon PowerShot SX210 IS we'll closely examine its features and image quality to see how it compares against the competition. You'll also see how the video mode and new widescreen monitor measure-up in practice. So if you're in the market for a pocket super-zoom, you're in the right place! Read on to discover which model will be best for you.

Canon PowerShot SX210 IS design and build quality

Measuring 106x59x32mm and weighing 215g with battery and card, the PowerShot SX210 IS may be on the chunky side of today's compacts, and therefore better-suited to trouser or coat pockets, but it's important to remember it packs a 14x optical zoom lens into this body. And to its credit, while the SX210 IS is 3mm wider than its predecessor, Canon's managed to shave 2mm from the height, 6mm off the overall thickness and 30g from the operating weight.
Support this site by
shopping below

The vital statistics of the new model are roughly the same as its current rivals: Panasonic's TZ10 / ZS7 and Sony's HX5 measure 103x60x33mm and 103x58x29mm respectively, with operating weights of 218 and 200g. Nikon's COOLPIX S8000 is the slimmest and lightest of the group at 103x57x27mm and 183g with battery and card, but again all four models are roughly in the same ball-park and you're unlikely to choose one over the other on size or weight. The build quality is also similar on all four with each finishes to a high standard.
While Panasonic's latest TZ10 / ZS7 looks very similar to its predecessor from the outside, Canon's gone for a redesign on the SX210 IS. Most obviously apart from being visibly thinner, the SX210 IS has dispensed with the thickened right-hand end of its predecessor which acted as a grip. The front panel is now completely flat, apart from the protrusion for the lens housing, so for a grip your middle finger will need to rest on the textured Canon logo on the front, and your thumb push against the ridge of the mode dial on the back. A shallow dip running along the top surface and continuing down either side though acts as an effective rest for your index finger as it hovers above the shutter release, and the combination of these three points of contact allow you to hold the camera quite securely and comfortably.
The dip also falls naturally under your left index finger during two-handed operation, but beware of the popup flash as we'll discuss in more detail below. Better instead to rest your left index on the considerately positioned ridge just below and behind the flash, above the screen.
While the main dip is both functional and stylish, it's probably responsible for the unfortunate switch from the perfectly good rotary zoom rocker of the earlier SX200 IS (not to mention most of the competition) to a tiny lever which is prodded left or right like a joystick to adjust the lens. Ergonomically it may fall exactly where it should beneath your right index fingertip, but personally speaking it just didn't feel good in use, and it was often difficult to achieve precise or repeatable zoom increments.
As mentioned earlier, the main command dial has now been relocated from the top surface to the upper right corner on the rear – more on those modes later in the review. Below you'll find a new dedicated button to start recording video in any mode, but if you're happy to manually turn the dial to the actual Movie mode position, you can reconfigure the record button to offer a different function, such as setting the custom white balance or enabling the alignment grid.
Next to the record / custom function button is the play button which can power-up the camera with a press-and-hold. Like most cameras, a half-press of the shutter release will subsequently take you out of playback and into record mode, ready for shooting; the exception here is Panasonic which employs a physical switch for playback and record modes on most Lumix models. The trouble with Panasonic's approach is it's easy to switch the camera off after playing images and forget the switch is not in record mode. So when you next power-up to grab a spontaneous opportunity, the camera goes into playback instead of record. A flick of this switch will put the camera into record, but by that time, the opportunity may have passed. In our view, a simple half-press of the shutter release to switch from play to record is far quicker and more intuitive.
The SX210 IS still features one of Canon's flat control wheels on the rear surface, which is turned to adjust various settings or scroll through menus. We're pleased to report this wheel now features stepped feedback allowing you to know exactly how much you've turned it, as oppose to the earlier SX200 IS which was completely smooth; it's also now easier to grip.
The wheel also doubles-up as a four-way rocker control, but confusingly there's no labelling. Instead the camera indicates the function on-screen when you lean very lightly against the control. Press gently upwards for example and a graphic of the wheel appears on-screen with an exposure compensation icon highlighted, which can then be adjusted if you push the rocker more firmly. Pushing left, down and right adjust the focusing distance, self-timer and flash settings respectively.
In playback, the graphical wheel appears automatically, indicating left and right will cycle through your images, while pushing down will ask if you'd like to delete the file. This graphic disappears promptly though and doesn't return with a gentle press of the rocker. So if you weren't paying attention, you could find yourself clueless as what needs to be pressed to delete an image, or worse, being one step from a lost photo with a miss-press. It's an inconsistent approach which demands some time with the manual, and while reading-up is no bad thing, it can be infuriating for those who just want to pick up the camera and go.
One of the biggest bugbears of the original SX200 IS was its popup flash, which did just that every time you powered-up the camera, even when it had no intention of firing. While the extra height of the flash compared to those built-into the front surfaces of the competition gave the SX200 IS a small advantage in red-eye reduction, it could annoyingly get in the way of your left finger. And once raised, you couldn't pop it back down again, at least not without holding it down with your finger and risking damage to the mechanism.
Well there's good news and bad news for the SX210 IS: the bad news is the flash still pops-up when you power-on, even if the flash itself is disabled in a menu or the movie mode enabled. This is because it appears to be pushed open by the same process which extends the actual lens, so the two are inextricably linked. The good news is you can now at least push it straight back down again with a click which holds it in place, and there's also that lower ridge above the screen where you can rest your left finger without obstruction. If you decide you do need the flash having pushed it down though, you'll need to pull it back open again by hand – unfortunately the SX210 IS is unable to raise it again automatically without resetting the prodding mechanism by switching the camera off and on.
The ability to manually push the flash back into the body (not to mention the new finger ridge) is certainly an improvement over the original SX200 IS, but there's inevitably concerns over the physical longevity of such a mechanism, and the fact remains the flash will still always pop itself open every time you turn the camera on to take a picture – even when disabled or in modes, like the Movie, where it can't be used. Some couldn't care less, but for others it'll be a deal-breaker. If we're going to have a popup flash, could we inherit the one from the PowerShot S90 which discreetly raises when required, before lowering back down again all by itself? Or simply incorporate it into the body like everyone else.
Support this site by
shopping below
Moving onto connectivity, a flap on the upper right side of the body opens to reveal a combined USB / TV output and a Mini HDMI jack; USB and AV cables are supplied, but as usual you'll need to provide your own HDMI cable.
The battery and card slot are located in a shared compartment below the camera and alongside the almost centrally-located tripod thread. The SX210 IS is powered by the same NB-5L Lithium Ion pack employed by its predecessor, although the estimated life under CIPA conditions has fallen a little from 280 to 260 shots; Panasonic and Sony quote 300 and 310 shots from the batteries of the TZ10 / ZS7 and HX5 respectively, albeit not with their GPS receivers enabled.
In use, a single charge gave use 130 photos and just under six and a half minutes of HD video, along with lots of playback and framing. The optional ACK-DC30 adapter allows the SX210 IS to run from mains power and connects with a dummy battery pack.
In terms of memory, the SX210 IS unsurprisingly uses the SD format, and like most 2010 compacts, supports the latest SDXC standard for cards bigger than 32GB. Like other Canon compacts, there's no built-in memory, so you'll need to fit a card before you can take any photos or video. Canon recommends cards rated as Class 4 or faster to smoothly support the HD video, but at least that includes affordable models like SanDisk's Ultra II range; we verified Ultra II cards worked fine with the HD movie mode.
The SX210 IS is also compatible with Eye-Fi memory cards which sport built-in Wifi connectivity. With an Eye-Fi card inserted, the SX210 IS will indicate the transmission status with a series of on-screen icons.
Canon PowerShot SX210 IS lens and stabilisation

The headline feature of the PowerShot SX210 IS is of course its generous 14x optical zoom range, packed into a relatively compact body. The SX210 IS's zoom range is equivalent to 28-392mm (5-70mm actual), with a focal ratio of f3.1-5.9.
The SX210 IS's broad optical zoom range gives you enormous compositional flexibility in practice, taking you from wide-angle to powerful telephoto coverage. This allows you to be taking a broad landscape or big group shot at one moment, before zooming-into considerable telephoto seconds later for a closer look. The closest focusing distance is 5cm. You can see an example of the coverage below, and further examples of how you can use it in our Sample Images Gallery.
| | | |
| --- | --- | --- |
| Canon PowerShot SX210 IS coverage wide | | Canon PowerShot SX210 IS coverage tele |
| | | |
| 5-70mm at 5mm (28mm equivalent) | | 5-70mm at 70mm (392mm equivalent) |
The PowerShot SX210 IS may boast the longest zoom range of its peer group, but this doesn't necessarily make it the preferred choice for everyone. The Panasonic TZ10 / ZS7 and Sony HX5 both start wider at an equivalent of 25mm to the Canon's 28mm, leaving the Nikon S8000 the least wide at 30mm. But the flip-side of the coin is the 14x range of the SX210 IS means it zooms all the way into an equivalent of 392mm compared to 300mm on both the Panasonic and Nikon, and 250mm on the Sony. This means the Canon zooms almost one third longer than the Lumix TZ10 / ZS7 and COOLPIX S8000, and over 50% longer than the Cyber-shot HX5.
Quoting figures is all very well, but what do they actually mean in practice? To illustrate the differences in coverage we've taken images from the Panasonic TZ10 / ZS7 when zoomed all the way out and in, then overlaid red frames indicating the coverage of the SX210 IS at its extremes. The red frames were generated by actually overlaying the Canon images above onto our earlier coverage samples taken with the TZ10 / ZS7 (from the same location, but on a different day), and shrinking them until the details lined-up – so this really is what you'll get in practice. Note the actual coverage is indicated by the outer edges of the red frames. Also note the angle was slightly different with each camera, so for clarity we've centred the red frames below.
Panasonic Lumix DMC-TZ10 / ZS7 coverage (red frames indicate relative coverage of Canon SX210 IS)

4.1-49.2mm at 4.1mm (25mm equivalent)
4.1-49.2mm at 49.2mm (300mm equivalent)
You might think 3mm doesn't sound like a big difference at the wide-end, but as our first comparison image above left illustrates, 25mm coverage can capture a noticeably larger field-of-view than 28mm. This gives the Panasonic TZ10 / ZS7 and Sony HX5 an edge when faced with large subjects or in cramped conditions.
Conversely, a difference of 92mm at the telephoto end sounds enormous, but looking at the comparison above right, it may represent less than you were expecting. But that said, the SX210 IS definitely captures a comfortably tighter frame than the Panasonic (and Nikon S8000), and of course also packs more pixels into it, which (noise issues aside) additionally allows a little more latitude for cropping.
Ultimately it's not for us to judge one range as better than another here – it's entirely down to personal preference. If you always find yourself stepping back to squeeze a big view into the frame, then the Panasonic and Sony will have the edge over the others. Conversely if you can never get close enough to a distant subject, then the Canon will be your preferred choice. When looking at the samples here though, do bear in mind we're discussing extremes as all four pocket super-zooms offer decent wide angle to telephoto coverage which would cover most eventualities.
The SX210 IS's lens extends by 24mm on power-up, and is ready for action in just over one and a half seconds – a tad quicker than its rivals. As discussed above, a tiny lever operates the optical zoom, and we managed to coerce around 35 steps out of it with gentle prods. It's hard to get the pressure right, but there's two speeds with the slower taking around seven seconds from one end of the range to the other, and the faster doing it in about half the time. The slower (and quieter) of the two zoom speeds is available when filming videos, although it's still faintly audible – see movie section lower down this page. When fully extended, the barrel pokes out by a considerable 51mm from the housing; it's impressive to see it all fold back inside the body when powered-off.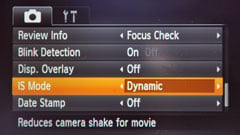 The IS in the camera's title stands for Image Stabilisation, which helps combat camera shake. Like other Canon lenses, it employs an optical system with the same four options for still photography as its predecessor: Off, Continuous (which operates all the time), Shoot Only (which only applies stabilisation as you take the photo), and Panning (which only stabilises in the vertical axis for when you're moving the camera horizontally as you take the photo) – for an example of using the latter, see the Blurring Action tutorial at our sister site, DSLR Tips.
In addition, there's a new option, Dynamic, although this is only applicable to movies – you will however see it listed in the normal menu since you could of course press the red button on the back of the camera to start filming at any point. If you set it to Dynamic and take a still photo though, the camera defaults to Continuous mode. If the mode dial is set to Movie, the Panning and Shoot Only options disappear, leaving Off, Continuous or Dynamic as your choices. Dynamic mode claims to offer greater compensation against shake when walking and filming – more about this in the movie section lower down this page, but for now let's see how the stabilisation performs for still photos.
Canon PowerShot SX210 IS Image Stabilisation off / on (Continuous)

100% crop, 5-70mm at 70mm, 1/25, 100 ISO, IS off

100% crop, 5-70mm at 70mm, 1/25, 100 ISO, IS on
Above are examples taken with and without the default Continuous stabilisation using the SX210 IS fully zoomed-into its maximum equivalent of 392mm, and at a shutter speed of 1/25. Traditional photographic advice would recommend a shutter speed of at least 1/400 to eliminate camera shake at this focal length, but the stabilised SX210 IS allowed us to capture sharp handheld shots at 1/25, which corresponds to four stops of compensation.
That said, under the same conditions, we actually required shutter speeds quicker than 1/400 for a sharp shot without stabilisation, meaning the stabilisation was actually good for more than four stops of compensation. This is a very impressive capability which matches the equally good Power OIS of its rival the Panasonic TZ10 / ZS7, while exceeding other models. Unfortunately we're unable to quote an equivalent figure for the Sony HX5, as its inability to manually switch off the stabilisation means we're unable to perform a direct before and after direct comparison.
Ultimately though, the SX210 IS's stabilisation makes handholding its powerful telephoto zoom a viable proposition even at relatively slow shutter speeds, although remember like all stabilisation systems it'll only iron-out wobbles, not freeze a subject in motion.
Canon PowerShot SX210 IS screen and menus

Like its rivals, the PowerShot SX210 IS is equipped with a 3in screen, but unlike those models, it's a widescreen display with a 16:9 aspect ratio. This is an interesting choice as while it's a perfect fit when filming (or playing) HD movies, normal photos at the best quality setting will occupy a smaller portion in the middle of the screen, with thick black bars running down either side.
Canon may not waste this space, using it to display shooting icons with less obstruction of the main image, but there's no getting away from the fact photos shot in the traditional 4:3 aspect ratio will only measure 2.4in on their diagonal, which looks a lot smaller than when filling the conventionally-shaped 3in screens of rival models.
The flip-side though is having HD movies filling the screen, whereas on normal displays you'll have black bars running above and below. As such, widescreen movies are displayed much larger on the Canon than they are on models with 4:3 shaped screens. You can also choose to take stills in a cropped 16:9 mode, which may have a lower vertical resolution, but will fill the screen, and of course this mode will also be the perfect fit for slideshows on widescreen TVs. As soon as you zoom-into an image during playback, it'll also fill the screen, regardless of its original shape.
Ultimately there'll always be a compromise with the screen when a camera can capture images and video with significantly different shapes – if you choose a screen which fits one type, then there'll be black bars with the other. If your priority is shooting HD video, you'll definitely prefer having a widescreen monitor (and its shorter height on the SX210 IS also accommodates the ridged support for your left index finger), but if you mostly shoot stills, you'll probably prefer a camera with a more conventionally-shaped 4:3 shaped screen, like one of its rivals.
As for the quality of the screen itself, it's bright and colourful, but susceptible to reflections from direct bright light – with the Sun behind you, it can become hard to see, but that's par for the course for most displays. As for detail, the SX210 IS's screen employs a fairly average 230k resolution, using a stretched 320×240 grid. This is the same resolution as the Sony HX5, although the Panasonic TZ10 / ZS7 features a 460k screen with 480×320 resolution, while the Nikon S8000 trumps them all with a 920k screen sporting 640×480 pixels. Higher resolution screens won't make a difference to the recorded quality, but their sharper details on-screen make images in composition and playback look much nicer, while also allowing smoother-looking menu fonts.
| | |
| --- | --- |
| | |
| | |
Speaking of menus, we'll now move onto the on-screen information. While shooting photos with the SX210 IS, there's just two display views: one with a clean image, and the other with shooting information. If you're shooting in a 4:3 mode, this second view will also show two thin bars indicating the 16:9 frame for video, allowing you to compose the shot before pressing the red button to start recording; once you start filming 16:9 video though, the camera sensibly switches to a full-screen view. A three-by-three grid can be enabled for both views in the menus, but sadly there's no live histogram, a feature you'll find on both the Panasonic TZ10 / ZS7 and Sony HX5.
Regardless of whether you're shooting 4:3 or 16:9 stills on the SX210 IS, a variety of shooting icons are displayed down the left and right sides of the screen; if shooting in 4:3, these occupy the black bars, and if shooting in 16:9, they're simply super-imposed over the image. On the left side the SX210 IS displays icons for the battery life, camera orientation (automatically adjusting settings for portrait aspects), white balance, My Colours, i-Contrast, drive mode, shake warning and metering mode. On the right side are icons for the shooting mode, flash setting, red-eye correction, flash compensation, and the ISO sensitivity. If you're using Manual exposure mode or Manual focus, you'll see an EV or distance scale in the lower right corner.
There's certainly potentially a lot of information running down either side of the screen, but 4:3-shaped images will still have some details super-imposed, including the image quality, shots and video time remaining, and exposure settings.
In terms of on-screen controls, the SX210 IS employs a similar superimposed Function menu to its predecessor and other recent Canon compacts. It's the latest design which upon pressing the FUNC / SET button presents a vertical list of options running down the left hand side of the screen. This list scrolls up and down with the available options popping-out to the right in another vertically scrolling list. As before, if 'Hints and Tips' are enabled in the main menus, you'll be given a brief message helpfully describing what it'll do, although you can turn this off altogether if preferred.
It's a nice touch, although some explanations could go further for beginners – for example switch the White Balance to Tungsten and the SX210 IS will say "For Shooting under Tungsten Lighting". Well, sure, that much is obvious, but perhaps giving an example like "For Shooting under Tungsten Lighting, such as indoor lamps" might be more useful. Likewise, choosing 1600 ISO will simply say "Set ISO to 1600" when it could elaborate and suggest it might be good for low light conditions.
The actual settings on offer vary according to the shooting mode, but in Program it lets you adjust the metering, My Colours options, White Balance, Sensitivity, Flash Compensation, Drive Mode, Video quality (after all, you can start filming in any mode with a press of the red button), Image resolution and Image compression.
| | |
| --- | --- |
| | |
| | |
The various menus and settings are navigated using a thumb wheel which also rocks in four directions to double-up as left, right, up and down buttons. As mentioned above, we're pleased to report the wheel on the SX210 IS now features stepped feedback allowing you to know exactly how much you've turned it, as oppose to the earlier SX200 IS which was completely smooth. It's also now easier to grip, although as discussed in the design section above, Canon's chosen not to label the up, down, left and right rocker functions. Instead a gentle lean in any of these directions during shooting mode displays an on-screen guide indicating what a full push will achieve. It's a nice solution which allows context-sensitive details, but sadly during playback, the guide only appears briefly before then leaving you in the dark as to which button will delete an image. No amount of gentle leaning during playback will bring the guide icons back again.
| | |
| --- | --- |
| | |
| | |
During playback, the DISP button cycles between a clean view and ones with basic or detailed shooting information, the latter including a brightness histogram. An additional page in playback shows a thumbnail of the image alongside an enlarged portion showing the active focus area.
If the photo was taken with Face Detection, then the enlargement will show the primary subject's face, allowing you to quickly check their expression and confirm the focus. You can also zoom-in further on the detail if desired, or switch between other focus points – it's a handy feature in practice. Turning the camera to the side will also rotate the image by 90 degrees to always remain upright – handy for maximising the screen area with a portrait aspect shot. Even the thumbnail view on the histogram page rotates as you turn the camera. Bizarrely this sensible feature isn't widely implemented by the competition, including Panasonic's TZ10 / ZS7.
The thumb wheel on the back can also be used to quickly scroll through thumbnails during playback, using a interface first seen on the PowerShot G11 and S90 which optionally varies the thumbnail size depending on the speed at which you turn the wheel. Turn it slowly and the thumbnails pass by one at a time, automatically expanding to fill the screen. Turn it quickly and you'll see a line of smaller thumbnails, and pressing Set will fill the screen with the one you settle-on. It's a fun way to navigate the images, although unlike those higher-end models we couldn't find an option to switch it off if preferred.
Pressing the Menu button while in playback presents a number of options for adjusting images including a red-eye correction mode. This uses face detection to frame the eyes of the subjects on your photos. You can then choose which frames to apply correction to and also whether you'd like the result to overwrite the original or create a new file.
Canon PowerShot SX210 IS exposure modes

The Canon PowerShot SX210 IS is equipped with exactly the same shooting modes as its predecessor, with everything from Automatic with Scene Detection to full Manual. The main difference is the mode dial itself has been moved from the top surface to the upper right corner of the rear panel, while under the hood, Scene Detection has been enhanced.
With the SX210 IS set to Auto, the camera attempts to identify the subject and configure itself appropriately. Like the SX200 IS before it, the SX210 IS doesn't just recognise people, landscape or close-up shots, but also the lighting conditions for each, differentiating between bright conditions, blue skies or night-time, and whether the subject is backlit or not. In each instance, the exposure and flash are adjusted accordingly, and the camera will even attempt to recognise a Sunset and boost the colours.
New to the SX210 IS is the ability to recognise people in motion, along with detecting whether the camera's mounted on a tripod. In the case of the latter (also supported by the Sony HX5), the camera will automatically unlock longer exposures which wouldn't normally be handheld successfully. The actual conditions or subject recognised by the camera is indicated by an icon in the top left corner, which you'll see adjust as you recompose. You'll need to check the manual to confirm what each icon means though, for example those taken under normal, blue or dark skies feature grey, blue or dark blue icons respectively, while backlit situations have a Sun in the corner.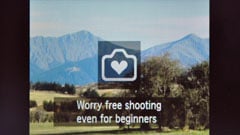 Or rather than learning the icons and second-guessing the camera, you could simply relax and trust the SX210 IS as it does a pretty good job of recognising the scene and choosing the best settings for it. In practice, the camera seamlessly switches between portrait mode with face detection when pointed at a person, or into macro mode when placed close to a subject. It's also interesting to watch the change of icons in the corner of the screen as the camera detects different lighting conditions, although Canon admits pointing it at a blue or orange wall can fool the camera into thinking it's either a glorious day or a spectacular sunset. That said, it's as good a system as any of the competition and one we'd be happy to trust for most day-to-day shots. And if you're a complete beginner, the alternative Easy mode locks out all but the most basic controls and options for worry-free operation – great when handing the camera over to a fellow tourist to take your photo while on holiday.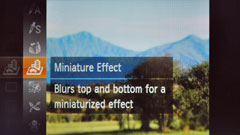 If you like scene presets, but prefer to choose them yourself, the SX210 IS offers direct access to five of the most common from the mode dial and a further four on-screen from the SCN position. The SCN option is where you'll also find Stitch Assist (making later assembly easier), Canon's Colour Swap and Colour Accent, the Low Light mode (operating at 3.5 Megapixels at up to 3200 ISO), and new to the SX210 IS, two special effects filters which simulate fish eye and tilt / shift lenses. Strangely the handy face-driven self-timer mode of earlier Canon models also now finds itself relocated to the SCN position, now with the added gadgetry of wink and smile options we'll cover later in the drive mode section. Why these aren't in the main self-timer menu though, we don't know.
For now though, here's two images taken from roughly the same position at the same focal length showing the new Fisheye and Miniature filter effects using their default settings; it's possible to vary the strength of the fisheye distortion along with adjusting the position of the band-of-focus in the Miniature mode.
| | | |
| --- | --- | --- |
| Canon PowerShot SX210 IS: Fisheye preset | | Canon PowerShot SX210 IS: Miniature preset |
| | | |
| Fisheye preset : 5-70mm at 7mm (40mm equiv) | | Miniature preset : 5-70mm at 7mm (40mm equiv) |
If you prefer to get your hands dirty, the SX210 IS, like its predecessor, offers separate Program, Aperture and Shutter Priority, and full Manual modes. You can manually choose shutter speeds in a range from 1/3200 to 15 seconds, along with no fewer than ten aperture settings from f3.1 to f8 when fully zoomed-out, or three from f5.9 to f8 when zoomed-in. Like the Panasonic TZ10 / ZS7, but unlike the Sony HX5, these aperture settings appear to be implemented with a physical iris rather than a neutral density filter, in turn allowing some control over depth-of-field and diffraction.
| | |
| --- | --- |
| | |
| | |
Like most compacts, there are caveats involving the usefulness of manual exposure control. Most notably, the inherently large depth-of-field in most models, including this one, means it's hard to achieve a blurred background on portraits even with the aperture wide open. Your best bet is to zoom all the way-in, position the subject close and the background as far away as possible, and you can see an example under these conditions in our Gallery. Macro shots allow a shallower depth-of-field, but neither these nor portraits will come close to the blurred background effect you can enjoy with a DSLR.
To illustrate the depth-of-field control of the SX210 IS in a macro environment, we photographed a still-life arrangement of three SLR lenses at different distances and focused on the one in the middle; this lens was positioned 30cm from the camera, with the lens set to 21mm (118mm equivalent). We photographed this in Aperture Priority at the widest and smallest available settings of f5 and f8. As you can see below, there's a visibly smaller depth-of-field on the sample taken at f5, indicating the presence of a physical iris and the ability to control the effect to some degree. Once again though, like most compacts, you won't be achieving anywhere near the blurring effect that's possible on a DSLR.
Canon PowerShot SX210 IS: Depth-of-field in Aperture Priority

Aperture Priority: f5, 5-70mm at 21mm (118mm equiv)
Aperture Priority: f8, 5-70mm at 21mm (118mm equiv)
On a more positive note though, Aperture Priority does allow you to select the optimum f-number to avoid diffraction, and as you'll see in our results pages, this can make a big difference to the quality. When zoomed-out and focused at infinity, we found the optimum sharpness (disregarding depth-of-field) was achieved just two notches in at either f3.5 or f4, while closing the aperture beyond f4 resulted in an increasingly soft image; again you can see results illustrating this in our results pages.
While it's obviously reassuring to manually dial-in these settings for the best results, we're pleased to report the SX210 IS already seemed to be aware of them, and tended to use f4 in Program and Auto modes when zoomed-out. This is in contrast to the Panasonic TZ10 / ZS7, which generally closed the aperture to between f5 and f5.6 in its auto modes when zoomed-out under similar conditions. By switching the TZ10 / ZS7 to Aperture Priority you could over-ride these settings for better results, but it's nice the Canon knew about its optimum f-numbers, ensuring the best results in Auto.
| | |
| --- | --- |
| | |
| | |
As for the other modes, Shutter Priority lets you choose deliberately slower-than-normal exposures to blur moving action, such as waterfalls or racing vehicles. You can find out how to achieve these effects in our Blurring Action and Photographing Water tutorials. Meanwhile, full Manual lets you choose combinations of aperture and shutter which go way beyond normal metering or compensation ranges, allowing you to achieve massive under or over-exposures. You can also choose long exposures with ease, although it's worth noting the Panasonic TZ10 / ZS7 offers a longest exposure of 60 seconds to the Canon's 15 seconds.
The SX210 IS also offers automatic dynamic range adjustments using its i-Contrast feature (disabled by default). i-Contrast automatically boosts shadow areas or faces darkened by strongly backlit scenes. To put it to the test we took two photos of a Church interior with and without i-Contrast set to its Auto option. This composition features dark shadow areas and strong window lighting which represents a challenge for any camera's exposure system.
Canon PowerShot SX210 IS i-Contrast: Off / Auto

0.4 secs, f3.5, 80 ISO

0.4 secs, f3.5, 80 ISO
The example above shows i-Contrast selecting the same exposure when set to its Auto mode, and while there's no detail retrieved in the saturated windows, the darker areas such as the roof, flooring and benches have certainly received a boost.
The histograms below each image give a better idea of what's going on, with a reduction in darker shadow areas and a boost in upper mid-tones, albeit still with clipping in the highlights. Like other systems which boost shadow areas, there's inevitably an increase in visible noise as a result, especially if you're using anything but the lowest sensitivity.
Finally, the SX210 IS's Date Stamp option allows the time, date or both to be permanently written in the corner of the image. Such digital mutilation may horrify many photographers, especially considering the date and time are always present in the EXIF data of the file itself, but we've heard from sufficient numbers of people who want the feature to know it's something of value.
So overall a strong selection of exposure modes, albeit with a fairly traditional bent. It's interesting to compare the SX210 IS against models like Sony's Cyber-shot DSC-HX5, which despite fudging Manual control with just two f-numbers implemented by a neutral density filter, does offer a variety of truly innovative shooting options. The HX5's super-fast burst shooting capabilities are cleverly exploited to stack multiple images to create a single image with lower noise or better protection against shake in dim conditions. Rather than digitally simulate HDR photography, the HX5 actually does it for real, again combining multiple exposures taken in a burst.
Then there's Sony's iSweep Panorama which automatically stitches together multiple shots as you swing it in an arc; seconds later you've got a finished panorama. This makes Canon's Stitch Assist mode, where you're forced to take each shot individually and assemble them in software later, look absolutely primitive. So while the SX210 IS offers a solid array of traditional shooting modes, the cleverness stops beyond scene recognition, leaving companies Sony to offer any significant innovation in this regard.
Canon PowerShot SX210 IS focusing and face detection

The Canon PowerShot SX210 IS is equipped with two main autofocus systems: 9-area AiAF and Face Detection. When the camera's set to any of its Auto modes, it'll seamlessly switch between them, selecting Face Detection if a human subject is spotted, otherwise defaulting to the main 9-area system.
| | |
| --- | --- |
| | |
| | |
Like other recent Canon compacts, this works well in practice and ensures you never have to worry about manually selecting Face Detection – but this only applies only if you're in one of the fully automatic, foolproof shooting modes. Turn the mode dial to Program, Manual, Aperture or Shutter Priority and the AF options become much more basic. The 9-area system is replaced by a single AF area locked in the middle of the screen. You can change it for a smaller area, but you can't move it, or choose the 9-area system employed in the Auto modes. There is the option of Face Detection, but you'll need to manually select it in the menus, which slightly spoils the spontaneity of some portraits. So by default in the PASM modes, the SX210 IS will only focus on the middle of the frame and not activate Face Detection unless told to in the menus.
We're all for greater control in the more 'hands-on' of the shooting modes, but it would have been nice to have the 'Face AiAF' option of some other models in the range, which gives you the automatic switching between Face Detection and a 9-area AF system. Or if that's not possible, at least offer the 9-area system instead of a single area locked in the middle. Instead it feels like a step-back in AF sophistication when you turn the dial from Auto to PASM.
When the competition (not to mention many other Canon compacts) offer multiple AF areas and automatic switching to face detection in all modes including Program, the SX210 IS looks a little basic in its more 'sophisticated' shooting modes.
On the upside, the autofocus is fairly quick (especially with Continuous AF enabled), while face detection is pretty good, quickly recognising human subjects and tracking them with ease even to almost complete profile. Like its predecessor there's also Blink Detection which can warn you when it believes a subject has blinked in a photo. Both systems are exploited in the numerous self-timer options we'll detail later in the review which can trigger the countdown with the presence of a new face or a wink from an existing one.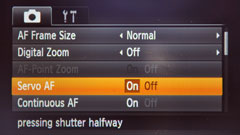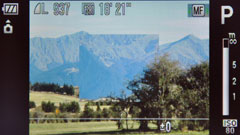 Like other DIGIC 4 models, the PowerShot SX210 IS also offers a Servo AF mode which tracks a subject while the shutter release is half-pressed. In use this proved effective when photographing the approaching Steamship in our Gallery section, although it didn't seem quite so good with smaller objects at close range; the Focus Tracking option on Panasonic's TZ10 / ZS7 felt more confident in this regard. Manual focusing is also available, with a magnified central area and a distance scale on the right that's adjusted using the thumb wheel.
So again while the basic centre-area is pretty quick and the face detection effective, the SX210 IS lacks the AF versatility of other models, including many in Canon's own range. It was a little strange to discover these restrictions on its predecessor, so doubly disappointing to find them essentially unchanged here on the new model a year down the line.
If you prefer to take control over the focusing yourself, the SX210 IS offers manual control with a distance scale on the right side of the screen and a temporary enlargement of the middle for a closer look. Since the depth of field is already so large on compacts like the SX210 IS and the screen relatively low resolution, this mode is most useful for locking the focus at a preset distance.
Canon PowerShot SX210 IS Movie Mode

The Canon PowerShot SX210 IS inherits the same Movie modes as its predecessor. You can film at 320×240, 640×480 or 1280×720 pixels, all at 30fps (29.97 actual), and you have the additional choice of applying Canon's Colour Swap or Colour Accent modes for special effects.
The best quality setting shoots 720p HD video, matching the capabilities of Panasonic's TZ10 / ZS7, although both models fall below the 1080i Full HD capture offered by Sony's HX5. Canon recommends using a Class 4 or faster card for its HD movie mode, which includes affordably priced SanDisk Ultra II models; we verified the HD movie mode worked fine with a 1GB Ultra II card, along with quicker Class 6 models.
Like most Canon models which employ DIGIC 4, the SX210 IS compresses its video using the modern H.264 format and encodes audio as Linear PCM at 16 bit / 44.1KHz, then stores the result in a QuickTime MOV wrapper. The maximum movie length is a second shy of 30 minutes in HD or one hour in the other formats, or when the file size reaches 4GB.
This is a bit of a catch-22 though, as since the HD mode consumes around 3 Megabytes per second, you're likely to reach the 4GB file limit shortly after 20 minutes worth of recording. Sony's HX5 is also limited to 29:59 clips, although Panasonic's AVCHD Lite mode will keep recording until you run out of memory – a key advantage for the Lumix TZ10 / ZS7, at least for non-European versions which don't suffer from the half-hour limit imposed by import tax regulations.
While the movie resolution and compression remains the same as the SX200 IS, the new model features a number of other enhancements. Most obviously there's the widescreen display, which is filled by HD video during filming and playback without any pesky black bars. This makes a big difference compared to filming with rival models which show a smaller 16:9 image with black bars above and below. Of course as discussed earlier, the compromise is a smaller image with black bars on either side when shooting stills (or video) in the 4:3 format, but for 16:9 HD video, it looks great.
Secondly, the SX210 IS now features a dedicated record button on the back which allows you to start filming in any mode. If you're currently taking photos in the 4:3 shape, thin white lines will indicate the 16:9 capture area so you'll be able to compose before filming; once you start recording, the 16:9 image will fill the entire screen.
Alternatively you can just turn the mode dial to the Movie mode and press the shutter release to start filming instead. This is in fact the preferred option since the video in HD mode will already be filling the screen, you'll also have access to the Colour Swap and Accent modes, and perhaps most importantly you avoid capturing the initial wobble incurred when pressing the button on the rear. But at least the button's there for spontaneous capture, and you can always edit-out any initial wobbles during playback later.
The third improvement is demonstrated in our handheld sample clip here: the SX210 IS can actually adjust its optical zoom while filming – hurrah! The ability to do this was sorely lacking on the earlier SX200 IS, and continues to be absent on almost every other Canon compact, including the high-end PowerShot G11 and S90.
One of the issues facing a camera which can zoom while filming though is maintaining a sharply focused image. The SX210 IS managed to keep the image in-focus throughout most zoom operations, but did drift a little more than the competition. The most noticeable drift is when you start zooming-out from the maximum telephoto and you can see several examples of this in our clip, although to be fair, the Sony HX5 was equally susceptible in this regard. That said, we'd rank the Panasonic TZ10 / ZS7 as the best at minimising AF drift while zooming, followed by the Sony HX5, leaving the Canon SX210 IS in a close third.
The second issue is the actual sound of the zoom motor being recorded. Like its rivals, the SX210 IS slows its motor down once you start filming to reduce noise, and subsequently takes around seven seconds to go from one end of the range to the other. But you can still faintly hear it on most clips (especially on the left channel as the microphone's just above the lens), and it has to be said both the Panasonic TZ10 / ZS7 and Sony HX5 were fractionally quieter zoomers. But you know what, after moaning about its absence on Canon compacts for so long, we're just relieved to find it here. You can decide for yourself if it's an issue on our sample clip here and as always, registered members of Vimeo can download the original file for evaluation on their own computers. The clip was filmed handheld with the default Continuous Image Stabilisation mode. We also have additional clips here, here and here, and a low light sample here.
Which brings us to the next enhancement over the earlier model: the SX210 IS offers an alternative Dynamic IS mode for filming, designed to reduce strong camera shake, such as when walking and filming. In our tests though we didn't notice any significant difference between filming with Dynamic and Continuous IS whether panning, wobbling or walking. What we can say though is the SX210 IS seemed to suffer more from a wobbling image (in either mode) when filming handheld with the lens fully zoomed-in than the Panasonic and Sony models – again something you can see on our sample clips. To be fair, this may just be the way the Canon handles our particular type of camera-shake, and you may never find it an issue, but we have to report it none-the-less.
As eluded-to earlier, Canon's also now equipped the SX210 IS with stereo sound, and the quality is fairly good, considering the small microphones, although beware of filming on windy days or even in a light breeze. The camera appears to employ an automatic wind-cut filter, which on breezy days can regularly switch itself on and off, resulting in noticeable variations of tone. One moment you'll clearly hear the wind, then the next it'll be cut-out, but with the result of everything else suddenly sounding very tinny; then moments later it could be back again to the wind. This may not affect your clips, but it proved quite distracting on ours filmed around breezy Queenstown, NZ.
We should also note it's possible to crop clips at either or both ends, which can be handy for eliminating the initial wobble caused by pressing the button on the back. The edited version can be recorded over the original or as a new file.
The various enhancements don't affect the video quality though, which remains essentially unchanged from the original SX200 IS. The 720p HD mode looks pretty good, although like its predecessor the image processing is a little laid-back resulting in a soft and muted appearance at times. Both Sony's HX5 and especially Panasonic's TZ10 / ZS7 adopt the opposite approach and deliver much punchier output, although the 720p output from the Panasonic shares much the same real-life detail. Like most compacts with CCD sensors, there's also the risk of vertical streaking lines in saturated areas, such as bright sunlight reflecting from ripples in water.
Canon PowerShot SX210 IS Drive Modes

Continuous shooting has never been a strong point of most Canon compacts, and sadly the SX210 IS sees no reason to break the mould.
As such, you have the choice of two main options delivering either 0.7fps with the focus and exposure locked, or 0.5fps with autofocus. Yes, that's right, at best you're looking at firing-off a frame every 1.4 seconds with locked focus, or every two seconds with AF. To add insult to injury, the screen also blacks-out between each frame, making it almost impossible to follow any action.
In short, the continuous shooting capabilities here are essentially pointless. As always we gave the camera the benefit of the doubt, taking it to shoot the jet boats on Queenstown's Shotover River, but in typical action sequences we were lucky to fire-off more than one frame before the subject was long-gone. Indeed as you hold the shutter release button down, urging the camera to take another shot during each agonising pause, you wonder if it's even set to 'burst' at all. Sadly it is.
Offering some consolation is the Low Light mode, which fired at just over 2fps in our tests – still pretty slow, but blisteringly quick in comparison to the main modes. The downside to the Low Light mode though is a significantly reduced resolution of 3.5 Megapixels. We've included an example taken with the Low Light mode at an airshow, and it was one of the few images we captured which actually had the intended subject in the frame.
At this point it's important to compare the SX210 IS against its two main rivals. Panasonic's TZ10 / ZS7 can shoot at its full resolution at 2.3fps, albeit for only three or five frames depending on the compression. But that's still much more useful than the SX210 IS. Like the Canon, there's also a quicker option if you're willing to drop the resolution – this time to 3 Megapixels – but at speeds of up to 10fps. So whether shooting at full or reduced resolution, the TZ10 / ZS7 is simply much faster.
Support this site by
shopping below
Sony's Cyber-shot HX5 is however in a completely different league, boasting nothing less than a top speed of 10fps at its full resolution. It may only be able to capture ten frames in a burst and then tie the camera-up for 10-20 seconds while it records them to the card, but during that brief second it's as quick as a pro sports DSLR. So if action photography is your priority, go for the Sony. The bottom line is if you're into any kind of continuous shooting, you will be disappointed by the Canon SX210 IS.
While the PowerShot SX210 IS is dismal at continuous shooting though, it is rather good at self-timer photos. Pushing the rocker downwards lets you choose from conventional ten and two second countdowns, along with a custom option which fires-off between one and ten shots after a delay of 0 to 30 seconds.
In addition, Canon offers a selection of self-timer options which exploit face detection, although bizarrely you won't find any of them in the self-timer section. Instead turn the mode dial to SCN and choose the Smart Shutter option. This gives you the choice of Smile, Wink and Face timers, which delay the countdown until they see the subject either smile or wink or until a new face enters the frame. These sound like a novelty, but they're actually both fun and useful in practice.
We just don't understand why you need to enter a scene preset to access them, when they really ought to be listed in the normal self-timer menu. After all, the 'face-timer' of previous Canon compacts was listed alongside the normal self-timer options, so why it's moved is a mystery. Sadly without reading the manual (or a detailed review), many owners may not even realise these options exist.
Canon PowerShot SX210 IS sensor

The PowerShot SX210 IS is equipped with a 14.1 Megapixel CCD sensor which measures 1/ 2.3in and delivers 4:3 shaped images with a maximum resolution of 4320×3240 pixels. This gives the SX210 IS the joint highest effective resolution of its rivals, with the Nikon S8000 matching the pixel count, leaving Panasonic's TZ10 / ZS7 and Sony's HX5 sounding less impressive with 12.1 and 10.2 Megapixels respectively.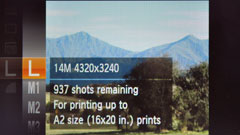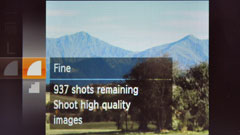 While this bigger number gives Canon and Nikon more to shout about in their marketing materials though, a higher resolution isn't necessarily preferable in practice. All four cameras share the same sized sensors, so packing more pixels into them runs the risk of increased noise and reduced dynamic range. Check out our results pages for a direct comparison between the Canon SX210 IS and the Sony HX5 to see the actual difference between 14.1 and 10.2 Megapixels in terms of real-life detail and noise levels. Note, Panasonic's TZ10 / ZS7 actually employs a 14.5 Megapixel sensor, but only uses 12.1 of them in its best-quality images; the 'spare' pixels around the edges are used to maintain the angle-of-view and minimise cropping in wider aspect ratios.
But back to the Canon SX210 IS which offers four lower resolutions and a cropped 16:9 option, along with the choice of Fine and Normal JPEG compression; unsurprisingly there's no RAW option on this, or the other pocket super-zooms, although we would welcome one if any product developers are listening. Best quality Large Fine JPEGs measure around 3.7MB each, and like all Canon compacts, there's no built-in memory to get you started so you'll need to provide your own card from day-one. As discussed above, the SX210 IS is compatible with SD, SDHC and the latest SDXC cards, with Class 4 or faster models required to support the HD movie mode.
The sensitivity ranges from 80 to 1600 ISO at the full resolution, with the Low Light Scene Preset operating between 400 and 3200 ISO, albeit at a greatly reduced resolution of 3.5 Megapixels. Unlike the Panasonic TZ10 / ZS7, there's no way to adjust the noise reduction.
To see how the quality of the PowerShot SX210 IS measures-up in practice, take a look at our real-life resolution and high ISO noise results pages, browse the sample images gallery, or skip to the chase and head straight for our verdict.