Canon PowerShot SX1 IS verdict
Canon's PowerShot SX1 IS has justifiably become one of the most talked-about super-zoom cameras on the market today. It takes the already capable PowerShot SX10 IS with its powerful 20x zoom and articulated screen, but swaps the sensor for a CMOS version which can deliver both HD video recording and fast continuous shooting. As such, the SX1 IS becomes the latest and arguably one of the best hybrid cameras to date, delivering 10 Megapixel stills at up to 4fps with a decent degree of manual control, along with Full HD video in the 1080p format.
The SX1 IS is more than just the SX10 IS with HD and fast continuous shooting though. Canon's also fitted an HDMI port to deliver quality output to an HDTV, supplied an infra red remote control to make those HD slideshows even more convenient, and swapped both the viewfinder and screen for wider 16:9 shaped models to better-suit the HD video mode. There's also a digital teleconverter option which can double the reach of the lens without any loss of quality when filming video, and models running firmware 2.0.0.0 or later also enjoy RAW recording facilities.

The headline features of HD video and 4fps continuous shooting may grab all the attention, but the core specifications inherited from the SX10 IS are equally compelling: the 20x optically stabilised lens with 28-560mm equivalent coverage, the fully articulated screen which allows easy composition at any angle, the flash hotshoe which can accommodate Canon's top-end Speedlites, full manual control over exposure, a dedicated record button which can start shooting video regardless of your mode, and finally, the convenience of AA battery power.
In terms of those new features, the HD video mode is truly impressive, delivering great quality footage under good light to rival typical HD camcorders; the stereo microphones, inherited from the SX10 IS and the S5 IS before it, also ensure this is the best sound you'll get from a movie mode on a stills camera. The ability to shoot full resolution stills at 4fps until you run out of memory takes the SX1 IS way beyond any compact to date, and even exceeds the rates offered by most budget DSLRs. Having HDMI output also allows you to enjoy both stills and video in high resolution on an HDTV, while the remote makes navigating a doddle.
But these new features don't make the SX1 IS a no-brainer over the SX10 IS. The switch in sensor technology from CCD to CMOS may equip the SX1 IS with HD video and fast continuous shooting, but pixel-peepers will notice slightly higher noise levels at every sensitivity – you can see this in our High ISO Noise results. We don't consider the difference to be a deal-breaker, but it's certainly there. Additionally, despite CMOS being a lower power technology, the SX1 IS eats through a set of rechargeables around 50% quicker than the SX10 IS.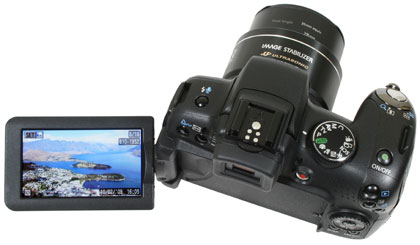 The HD movie mode may look great, but suffers from similar issues to the Canon EOS 5D Mark II: some footage can suffer from the wobbling 'jello' effect, the files consume memory at a rate of knots (well, at around 5 Megabytes per second anyway), and once you get them onto your computer you may experience issues with smooth playback and editing (although this equally affects AVCHD camcorders). Many will also find the ergonomics and operation of a dedicated camcorder more successful for video.
The 4fps continuous shooting is impressively quick, but like most compacts, the autofocus is fixed during a burst sequence. If you want the SX1 IS to refocus between every frame, you'll need to drop to a much slower 1.1fps option. To be fair, this may not be as big an issue as it sounds, as the SX1 IS normally has a sufficiently large depth-of-field to ensure many subjects remain sharp over short bursts, but it is important to note the limitation.
Then there's the new widescreen displays on the SX1 IS. These are of course a perfect fit when shooting 16:9 HD video, but if you switch the camera to 4:3 mode to exploit the maximum 10 Megapixel resolution for stills you'll have black bars running down each side of the frame. This isn't too bad on the screen, as you're still getting a reasonable 2.3in diagonal, but the already small viewfinder image becomes even smaller still, and the subsequent reduction in active dots makes for a coarse view which is hard to manually focus.
By inheriting the same lens as the SX10 IS, the SX1 IS also suffers from the same coloured fringing in high contrast areas. It's important to note most super-zoom lenses suffer from the same artefacts, but models like Panasonic's FZ28 digitally reduce it on in-camera JPEGs.
Finally, Canon's firmware update which brought RAW facilities to the SX1 IS was certainly a very welcome development, but in our tests we didn't measure any perceptible increase in real-life detail, nor the ability to retrieve lost information in saturated highlights. The supplied Digital Photo Professional software also sadly greyed-out any lens correction options previously offered to its DSLR RAW files. But on the upside, working with an SX1 IS RAW file does at least allow you to easily adjust the White Balance and Noise Reduction after the event, along with choosing your final export format and compression. Just don't expect a significant boost in quality over the in-camera JPEGs.
Now it's time to compare the SX1 IS to its main rivals.
Compared to Canon PowerShot SX10 IS

Canon's PowerShot SX10 IS is of course the closest model to the SX1 IS. Both were announced simultaneously (in the regions where the SX1 IS is available), and both share many aspects in common including the same lens, virtually the same body and controls, AA battery power, flash hotshoe and the same degree of articulation on the screen.
To this the PowerShot SX1 IS adds HD movie recording, much faster 4fps continuous shooting, an HDMI port, widescreen displays, an infra-red remote control and RAW recording facilities. Sounds like a slam-dunk for the SX1 IS, but look a little deeper, and there's reasons why you may actually prefer the SX10 IS beyond its lower price.
In its favour, the SX10 IS will fill its screen and viewfinder with 4:3 compositions without black bars running down the side, although it should be noted the SX1 IS screen is more vibrant. The image in the SX10 IS viewfinder though looks much larger and is considerably easier to manually focus if necessary. Despite its CCD sensor, the SX10 IS will take around 50% more photos per charge than the SX1 IS. Noise levels are also slightly lower at every sensitivity than the SX1 IS, although to be fair, the difference is subtle. More crucially though, the SX10 IS is comfortably cheaper than the SX1 IS.
Unless the relatively small viewfinder in the SX1 IS really bothers you though, the biggest deciding factor between the cameras is whether you want or need HD video and fast continuous shooting. If you do, then it's worth spending the extra on the SX1 IS, and with careful use, could eliminate the need for an HD camcorder. But if you're not bothered about HD video and 4fps shooting, then the PowerShot SX10 IS remains one of the most compelling super-zooms around and represents great value. See our Canon PowerShot SX10 IS review for more details.
Compared to Panasonic Lumix DMC-FZ28

Panasonic's Lumix DMC-FZ28 is one of the biggest rivals for the SX1 IS. Both cameras share 10 Megapixel resolution with RAW options, optically-stabilised super-zooms with wide angle coverage, full manual control and DSLR-styled bodies, but beyond these, there's pros and cons to each model.
Most obviously the FZ28 has a slightly shorter optical zoom range of 18x, although this doesn't make a significant difference in practice – and importantly, the FZ28 digitally reduces the coloured fringing on its JPEGs. The FZ28 also features automatic scene recognition, while some will prefer its rechargeable Lithium Ion battery pack to the AAs of the SX10 IS. The FZ28 is also smaller, considerably lighter, and comfortably cheaper than the SX1 IS.
In its favour, the SX1 IS has a slightly longer zoom range, a fully-articulated screen which allows comfortable composition at any angle, a flash hotshoe for mounting external Speedlites, 1080p movies which are noticeably cleaner and more detailed than the FZ28's 720p mode, better quality audio in movies (and in stereo too), continuous 4fps shooting at the full resolution, and an HDMI port which many will find more useful than the optional analogue component cable of the FZ28. The Canon may be larger and heavier, but many will prefer its heft, along with the convenience of picking up spare batteries almost anywhere. It's a small point, but unlike the FZ28, the SX1 IS's lens cap won't prevent the lens from extending, and its lens hood is more portable.
Ultimately the SX1 IS may out-feature the FZ28, but the Panasonic is comfortably cheaper, while offering a few compelling benefits of its own. If you don't need 1080p video or 4fps continuous shooting at the full resolution, it's one of the best super-zoom models around. See our Panasonic Lumix DMC FZ28 review for more details.
Compared to Canon HF100 camcorder

With its 1080p movie mode, many will be considering the PowerShot SX1 IS as a viable alternative to a dedicated HD camcorder, so it's worth weighing up the pros and cons of a typical model. Canon's own HF100 is an ideal example with much in common with the SX1 IS. Both record 1080p video onto SD memory cards, employ similar compression systems, have fully articulated widescreen displays, and HDMI ports for connecting to HDTVs.
The SX1 IS appears to take the lead from this point with a 20x zoom to the HF100's 12x, not to mention much wider-angle equivalent coverage of 28mm compared to 39mm. Still photo resolution is also much higher on the SX1 IS with 10 Megapixels compared to 3.3 on the HF100, there's faster continuous shooting, RAW recording, an EVF for alternative composition, and the sensor's a little larger on the SX1 IS too. But in its favour, the HF100 has an optically brighter lens, quieter zooming even at full-speed, a microphone input, while additionally being lighter, ergonomically more comfortable for shooting video, and responding better to typical consumer video use. Note: it's a personal choice whether the AA batteries of the SX1 IS are preferable to the rechargeable pack of the HF100.
Ultimately if you're only (or mostly) interested in video, then a dedicated camcorder will still suit you best, but if you're after a hybrid with HD video and decent photo capabilities, then the PowerShot SX1 IS is hard to resist.
Also consider

Nikon and Olympus also have new super-zoom models worth comparing: the CoolPix P90 and SP-590UZ boast nothing less than 24 and 26x optical zoom ranges respectively. See our Nikon CoolPix P90 review for more details on the former.
NEW: Since publishing this review, Sony has released a CMOS-based super-zoom with HD video and 10fps ultra-fast continuous shooting. See our Sony Cyber-shot DSC-HX1 review for full details and direct comparisons with the Canon SX1 IS!
Canon PowerShot SX1 IS final verdict

Canon's PowerShot SX1 IS is arguably one of the most technologically successful hybrid cameras to date, offering both 10 Megapixel stills and Full HD 1080p video recording in a compact body with a 20x zoom, fully articulated screen, fast continuous shooting, flash hotshoe and HDMI port. As described above, there's really very little this camera doesn't offer, and the initial absence of RAW has been fixed by a firmware update.
It's not perfect of course. The viewfinder is smaller and coarser than the SX10 IS – a situation that's exasperated if you're shooting in 4:3 to exploit the sensor's maximum resolution. Pixel-peepers will also spot slightly more noise than the SX10 IS, the new RAW files don't deliver any greater real-life detail, and there's the mystery of shorter battery life despite switching to a less power-hungry sensor technology. Like the SX10 IS, there's visible coloured fringing around high contrast subjects and like most compacts, the AF pauses during the fastest continuous shooting mode. Potential buyers should also be aware of new hybrid models converging from the camcorder side: Canon's HF S100 for example may 'only' have a 10x optical zoom with no true wide angle, but along with 1080p video, it'll capture 8 Megapixel stills.
But even with these issues, the SX1 IS remains a highly compelling camera, and the first stills model we've tested which really can act as a viable replacement for an HD camcorder. Once again if you mostly shoot video, a dedicated camcorder will be ergonomically and operationally better-suited to typical consumer filming. But the fact the SX1 IS combines decent still photos with roughly the same video quality as budget HD camcorders, along with a lens that's wider and longer, all for a similar or lower price tag – ultimately that's a proposition many will find hard to resist.
---


Good points
Massive 20x range with 28mm wide angle.
Full HD video in 1080p with stereo sound.
Fast continuous shooting at 4fps.
Fully articulated 2.8in screen.

Bad points
Fringing in corners with high contrast subjects.
Battery life shorter than SX10 IS.
Small viewfinder image, especially at 4:3.
Slightly noisier than the SX10 IS.


Scores
(relative to 2009 super-zooms)


Build quality:
Image quality:
Handling:
Specification:
Value:

Overall:



17 / 20
16 / 20
18 / 20
19 / 20
17 / 20

87%