Canon Digital IXUS 980 IS / PowerShot SD990 IS Digital ELPH
Intro
Canon's Digital IXUS 980 IS (or PowerShot SD990 IS Digital ELPH as it's known in North America) is a 14.7 Megapixel compact with a 3.7x optically-stabilised zoom, 2.5in screen and optical viewfinder. Announced in September 2008, it's the successor to the IXUS 960 IS / PowerShot SD950 IS and at the time of launch was the flagship of the IXUS / ELPH range. Note the IXUS 990 IS / SD970 IS is a different model.
The IXUS 980 IS / SD990 IS inherits a great deal from its predecessor including the same lens, same optical viewfinder and the same sized screen, albeit with a newer panel; the control layout is also essentially the same. New to the IXUS 980 IS / SD990 IS are two extra Megapixels of resolution, manual control over the aperture and shutter (a first for an IXUS / ELPH), a curvier body design and the latest DIGIC 4 processor which includes efficient H.264 encoding for movies, improved face detection and Servo AF for tracking moving subjects.
It's one of the most powerful specifications in the IXUS / ELPH range, and since launch has become one of Canon's best-sellers. In our review we'll take a close look at all the features in practice, along with its image quality to see if there's any compromise in packing such a high resolution into a compact body.

Measuring 97x62x28mm and weighing 185g with its rechargeable battery, the IXUS 980 IS / SD990 IS shares roughly the same vital statistics as its predecessor, and when viewed square-on from the rear, both models look essentially the same. It's a relatively chunky camera that's best suited to coat pockets or small bags; if you want a shirt-pocket model, consider the slimmer IXUS 100 IS / SD780 IS instead.
Canon has however gone for quite a unique curvy shape on the 'grip' side of the 980 IS / SD990 IS, which gently dips-in halfway up on both the front and rear sides – it almost resembles a squashed figure eight when viewed from the left side. These dipped regions guide your right middle finger to the cross-hatched Canon logo on the front, and your thumb between controls on the rear. The first time you pick the camera up, it looks and feels a little odd, but before long you get used to the shape with it proving to be both a comfortable and effective grip.
Like other higher-end Canon compacts the body is finished to a very high standard, feeling as good as it looks with no creaks or poor joins – and if you don't like the black finish pictured above, Canon also offers the IXUS 980 IS / SD990 IS in silver or red in selected regions. If you'd literally like to make a splash, Canon also offers an optional WP-DC27 waterproof housing that'll protect the camera to depths of 40m.
As before, most of the controls are on the rear to the right of the screen. At the top is the mode dial with five positions: Auto, Program / Manual, Quick Shot, Scene and Movie; we'll describe each in detail later on this page. Below this is the usual four-way rocker, pushing up to change the ISO, right to adjust the flash, down to set the drive mode (or delete in playback), and left to adjust the focus. In the centre is the FUNC / SET button which confirms options and fires-up the super-imposed menu system which again we'll describe later.
This rocker is surrounded by one of Canon's control wheels which can be used to scroll through menus, images in playback, or any on-screen options indicated by curved arrows. Canon's larger control wheels on its bigger cameras may be easier to handle, with more positive feedback as you turn them, but at least the wheel on the IXUS 980 IS / SD990 IS isn't a step-less model, so you're not left guessing how much you need to turn it for each increment.
The IXUS 980 IS / SD990 IS is powered by an NB-5L rechargeable Lithium Ion battery pack which Canon claims is good for 280 shots under CIPA conditions when composing with the screen, or a whopping 700 when shooting with the optical viewfinder – ideal for times when you're running low on power and need to make the battery stretch. The battery pack can also be switched for an optional ACK-DC30 AC adapter kit for mains operation. The battery compartment also houses an SD memory card slot, and alongside the door, just off-centre, is a metal tripod thread. Behind an egg-shaped flap in the upper right corner of the camera's rear are a combined USB and standard TV output, although sadly no HDMI port.
The optical zoom is identical to its predecessor: a 3.7x range equivalent to 36-133mm with a focal ratio of f2.8-5.8. The telephoto end has reasonable-reach, but considering its status as the flagship model it's disappointing not to find true 28mm wide angle coverage. Interestingly, this is one of several aspects where the IXUS 870 IS / SD880 IS (released at the same time) takes the lead, with its wider and ultimately more useful 28-112mm coverage.
Strangely Canon continues to reserve wide angle coverage for a small handful of its compact range, while rivals like Panasonic offer 28 or even 25mm coverage on equivalent models. Once again we request wider lenses across the entire IXUS and PowerShot ranges please, not just a handful of selected models! In the meantime, you can see an example of its coverage below, and further examples of how you can use it in our sample images Gallery.
Support this site by shopping at Amazon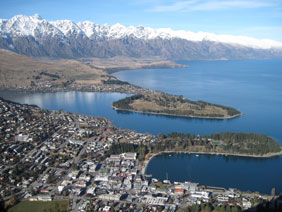 Canon IXUS 980 IS / PowerShot SD990 IS coverage

7.7-28.5mm at 7.7mm (36mm equivalent)

7.7-28.5mm at 28.5mm (133mm equivalent)
The lens extends quickly upon power-up with the camera ready for action in around 1.3 seconds. A rocker around the shutter release operates the zoom motor with the IXUS 980 IS / SD990 IS offering eight steps between wide and telephoto, with a little lurching between most of them. The closest focusing distance in macro mode when zoomed-out is 5cm.
The IS in the camera's title stands for Image Stabilisation, which helps combat camera shake. It's an optical system and Canon offers three modes: Continuous where the system operates all the time, Shoot Only which only applies stabilisation as you take the photo, and Panning which only stabilises in the vertical axis for when you're moving the camera horizontally as you take the photo – for an example of using the latter, see the Blurring Action tutorial at our sister site, DSLR Tips. You can also disable the system if preferred.
Canon IXUS 980 IS / PowerShot SD990 IS: IS off / continuous

100% crop, 7.7-28.5mm at 28.5mm, 1/10, 400 ISO, IS off

100% crop, 7.7-28.5mm at 28.5mm, 1/10, 400 ISO, IS on
Above are examples taken with and without Continuous stabilisation with the IXUS 980 IS / SD990 IS fully zoomed-into its maximum equivalent of 133mm. Traditional photographic advice would recommend a shutter speed of at least 1/133 to eliminate camera shake, so by achieving almost complete sharpness at 1/10 with stabilisation proves the system is good for between three and four stops of compensation; a valuable ally.
Round the back is the same sized 2.5in screen as its predecessor, again with 230k pixels – although it's now one of Canon's latest Pure Colour II panels, which delivers a bright, vibrant image with a wide viewing angle and decent visibility under direct sunlight.
Unusually in today's compact market, the IXUS 980 IS / SD990 IS also offers an optical viewfinder as an alternative means of composition. This gives a tiny view and like most (non-SLR) optical viewfinders, the coverage is far from the whole picture, but it's still handy when the Sun is making the screen harder to view, and you'll also save loads of battery life when using it – ideal for times when you're running out of juice but still anticipate many photo opportunities before a chance to recharge.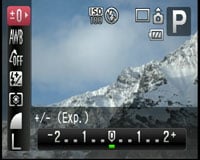 Returning to the screen, the IXUS 980 IS / SD990 IS employs a similar user interface to previous Canon compacts, based around a superimposed menu which runs vertically down the left side of the screen when you press the FUNC SET button. Pressing the up and down buttons will highlight each setting available in the current mode, with the options for each shown in a strip running along the bottom of the screen; you then simply press the left and right buttons or turn the control wheel to set the desired value. This system allows you to quickly and easily adjust aspects like the exposure compensation, image quality, sensitivity, white balance and metering. This is also how you adjust the aperture and shutter in the camera's Manual mode.
While shooting, the DISP button switches between three modes: a clean view of the image, one with shooting information and a live histogram, or off when you're using the optical viewfinder; it's nice to have the live histogram option as it's not offered on all of Canon's compacts. You can also enable a three-by-three grid or 3:2 guidelines in one of the menus.
During playback, the DISP button cycles between a clean view and ones with basic or detailed shooting information, the latter including a brightness histogram. An additional page in playback shows a thumbnail of the image alongside an enlarged portion showing the active focus area.
If the photo was taken with Face Detection, then the enlargement will show the primary subject's face, allowing you to quickly check their expression and confirm the focus. You can also zoom-in further on the detail if desired, or switch between other focus points – it's a handy feature in practice. Turning the camera to the side will rotate the image by 90 degrees to always remain upright – handy for filling the screen with a portrait aspect shot.
Support this site by
shopping below
The IXUS 980 IS / SD990 IS has access to shutter speeds from 1/1600 to 15 seconds, along with the choice of two aperture settings. In a first for an IXUS / ELPH, you can have manual control over both the shutter and aperture: set the mode dial to P / M, turn the control wheel to select Manual mode, then use the super-imposed FUNC / SET system to adjust them. The control dial is used to set the shutter speed, while pushing the rocker left and right adjusts the aperture, with a scale on the screen reporting under or over-exposure.
It's certainly quite liberating to find manual exposure control on an IXUS / ELPH, but it may not be as useful as you'd hope. Like most compacts, the depth-of-field is inherently so large that even choosing the smallest f-number is unlikely to blur a background on portrait shots – you can see an example in our Sample Images Gallery. Secondly, the IXUS 980 IS / SD990 IS is fairly limited in the aperture settings on offer: just two at any given focal length. When zoomed-out, you have the choice of 2.8 or f8, and when zoomed-in, between f5.8 and f16.
What the Manual mode does allow though is considerably greater adjustment over your exposure level than the +/-2EV of normal compensation, so if you really want to massively under or over-expose for a special effect, you'll be able to do so here.
While in Manual mode, the flash compensation control is also switched for flash power in the super-imposed FUNC / SET menu. The camera additionally offers manual focusing using a scale on the right of the screen and a magnified central area, along with a preset option for Infinity. Manual focusing is available in Program, the Scene presets and Movie mode.
Manual mode shares a position on the mode dial with Program AE which is fully automatic, but with access to numerous settings in the super-imposed FUNC / SET menu. Fully Automatic mode offers just that, locking-out the options available in Program mode to simply offer image quality adjustments. This mode does however predate the scene recognition of Canon's latest models, so it's unable to, say, automatically switch to macro mode at close range or landscape when pointed at distant mountains, although if a face enters the frame the camera will at least recognise and track it.
There are of course scene presets, but to access them you'll need to turn the mode dial to SCN, then use the control wheel to manually select the desired option. There's 11 'normal' scenes, along with digital macro, panoramic stitch-assistance, a 3200 ISO high sensitivity option and Canon's Colour Accent and Colour Swap modes.
Like other Canon compacts, the Colour modes allow you to select a colour and either change it to something different (such as turning a red London bus green) or make it the only colour in an otherwise black and white image (like the girl with the red balloon in Schindler's List). These modes are also available when shooting video.
An additional option on the mode dial is Quick Shot, which uses the viewfinder for composition and the screen for exposure information only. In the meantime, focusing is set to continuous and face detection enabled, which all allows the camera to respond more quickly than in normal shooting modes. Handy for spontaneous shots, although of course you'll need to remember to have the dial switched to Quick Shot.
The final option on the mode dial is Movie, and the capabilities are identical to those on IXUS 870 IS / SD880 IS. You can capture 640×480 VGA or 320×240 QVGA video at 30fps; sadly there's no HD option, and unforgivably you cannot operate the optical zoom once you start filming, with only an increasingly fuzzy digital zoom at your disposal.
The DIGIC 4 processor compresses the video using the H.264 format and encodes the audio as Linear PCM at 16 bit / 44.1KHz, then stores the result in a QuickTime MOV wrapper. Canon claims H.264 compression is more efficient than its previous video codec, and indeed the best quality VGA mode here typically consumes 1.2MB per second compared to the 1.9MB of its predecessor. The maximum movie length is around one hour or when the file size reaches 4GB.
Despite being restricted to VGA resolution and unable to optically zoom while filming, movies from the IXUS 980 IS / SD990 IS actually look pretty good when played back: smooth motion with lots of detail and few artefacts to mention. You can see an example here which includes a demonstration of the digital zoom towards the end, and registered members of Vimeo can download the file for evaluation on their own computers.
Windows users who are suffering from choppy playback in Apple's QuickTime player should consider using VLC Player as an alternative; we've found this much better at handling Canon's MOV files.
But it is important to point out much of the competition for the IXUS 980 IS / SD990 IS offer HD video recording, and most can also operate their optical zooms while filming – for example, the majority of Panasonic's current Lumix range along with many of its previous models. Canon's early 2009 compacts began to offer HD video options, although optical zooming was still off the menu. We hope this, along with proper wide-angle coverage is something to look forward to on future models.
Unlike many compacts though, Canon exploits the audio capabilities for other applications. The IXUS 980 IS / SD990 IS can record one minute long audio clips and attach them to images as notes, or alternatively work as a voice recorder, storing up to two hours per file at sampling rates of 11.025, 22.050 or 44.100 KHz – handy if you're taking longer spoken notes or conducting an interview. Both features can be found in the Playback menu.
Like other DIGIC 4 models, the IXUS 980 IS / SD990 IS offers a Servo AF mode which tracks a subject while the shutter release is half-pressed; this proved effective when photographing the approaching Steamship in our Gallery section.
Face detection has also been improved with faster response and better recognition of profiles – in our tests the IXUS 980 IS / SD990 IS stayed locked onto faces turning to profile longer than previous DIGIC 3 models. There's also a clever Face Self-Timer mode which waits until it sees another face enter the frame before pausing for two seconds then taking your choice of one to ten photos. Finally, DIGIC 4 offers i-Contrast options which can tweak the brightness of dark areas in the frame to improve their appearance, although in our tests it was subtle to say the least.
The IXUS 980 IS / SD990 IS offers a basic continuous shooting mode that may fire until you run out of memory, but at a relatively modest rate of around 1.3fps which isn't really appropriate for any kind of action photography. Using a fast Lexar Professional 8GB SDHC card, we fired-off 20 frames in a relatively pedestrian 16 seconds, working out at a rate of 1.25fps. It's a shame there's no faster option, either with a reduced number of frames or at a lower resolution.
Sticking with drive modes, the usual 10 and two second self timers along with the Face timer mentioned above, are complemented by a custom option which lets you set the countdown to as long as 30 seconds, and have the camera take one to ten shots at the end.
This is handy for maximising your chance of successful poses and expressions in timed group shots.
At the heart of the IXUS 980 IS / SD990 IS is the same 14.7 Megapixel / 1/ 1.7in CCD sensor as the higher-end PowerShot G10; this is physically a little larger than the 1/ 2.3in sensors in many compacts, but it's still a lot of pixels to pack into a relatively small area, and you can see how it performs across its sensitivity range in our High ISO Noise results.
The sensor delivers images with a maximum resolution of 4416×3312 pixels, which can be printed up to 14.7x11in at 300dpi. There's the choice of four lower resolutions (9, 5 and 2 Megapixels plus a VGA mode) along with a cropped 16:9 aspect ratio.
Images can be recorded in the choice of three JPEG compression settings of Normal, Fine and SuperFine, although unsurprisingly the additional RAW option of the G10 is absent here.
Set to 14.7 Megapixel resolution, these compression settings deliver files that typically measure 1.8, 3.7 or 6.3MB respectively. Like other Canon compacts, there's no built-in memory, but depending on your region Canon may supply a 32MB SD card to get you started – since this is only good for about seven Fine JPEGs though, you'll be wanting to fit a bigger card sooner rather than later.
The sensitivity ranges from 80 to 1600 ISO at full resolution, with a 3200 ISO Scene Preset operating at a greatly reduced resolution of 2 Megapixels. To see how the quality of the IXUS 980 IS / SD990 IS measures-up in practice, take a look at our real-life resolution and high ISO noise results pages, browse the sample images gallery, or skip to the chase and head straight for our verdict.