Canon IXUS 300 HS / PowerShot SD4000 IS
Verdict
The Canon IXUS 300 HS / PowerShot SD4000 IS combines the slick look and feel of the IXUS / ELPH range with a degree of control and low light capabilities normally reserved for higher-end models. As such it strikes a decent balance for those who want a good-looking camera with a great auto mode which also sports more control and better performance than an average point-and-shoot.
In terms of the headline features, the IXUS 300 HS / SD4000 IS is a classy-looking metal-bodied compact with a 3.8x optical range which includes wide-angle coverage, image stabilisation and a brighter than average focal ratio. This coupled with a sensible 10 Megapixel resolution is what's behind the superior low light claims. Rounding-off the package are Aperture and Shutter Priority modes in addition to the usual Auto options, a 3in widescreen display, fast continuous shooting and HD or slow motion video recording. So how does it all add-up in practice?
First the image quality: we compared the IXUS 300 HS / SD4000 IS side-by-side with a typical 14 Megapixel compact and found the latter unsurprisingly resolved a little more fine detail when both were set to their lowest sensitivities. But beyond 200 ISO and particularly at higher sensitivities, the lower resolution of the IXUS 300 HS / SD4000 IS gave it an advantage in noise levels. In our High ISO Noise tests, it was roughly one stop ahead of the 14 Megapixel model. So the noise levels on the IXUS 300 HS / SD4000 IS at, say, 800 ISO, were roughly similar to a 14 Megapixel model at 400 ISO. Put both cameras at 800 ISO, and the IXUS 300 HS / SD4000 HS looked noticeably better. So a welcome advantage in low light.
| | |
| --- | --- |
| | |
| | |
| | |
What really gives the IXUS 300 HS / SD4000 IS an advantage over most point-and-shoot models though is its brighter than average focal ratio of f2.0. This gathers twice as much light as a typical lens at f2.8, allowing you to either choose a shutter speed twice as quick to better avoid camera-shake, or a sensitivity of half the speed for better image quality. You only have to look at our High ISO Noise results again to see what difference that can make: under the same lighting conditions and with the same shutter speed, the IXUS 300 HS / SD4000 IS can operate at half the sensitivity of typical compacts, allowing it to use, say, 400 ISO instead of 800 ISO – and that makes a huge difference in image quality.
Of course there's a major caveat: the f2.0 setting is only available with the lens zoomed all the way out to its widest-angle, and as you zoom the lens in to longer focal lengths, the aperture values become less impressive. But if you are shooting with the lens fully zoomed-out, the f2.0 maximum aperture is a big advantage in low light. Exploit it with the sensor benefits described above and the IXUS 300 HS / SD4000 IS will enjoy a two-stop advantage over a typical compact in dim conditions.
Large apertures (small f-numbers) also allow shallow depth-of-field effects, and the IXUS 300 HS / SD4000 IS certainly makes it easy to manually adjust settings in its Aperture and Shutter Priority modes. Unfortunately the inherently large depth-of-field of most compacts, including this one, means you won't enjoy anywhere near the effects possible with a DSLR or EVIL camera, but as you'll see in our Gallery and main review pages, it is possible to reduce the depth-of-field. Shoot macro subjects at very close range with the lens zoomed-out and you can certainly blur the background, but again the effect becomes relatively minor on typical portraits with the lens zoomed-in.
Manual control over the aperture also allows you to set the IXUS 300 HS / SD4000 IS lens at its sweetspot for sharpness, which when zoomed-out was between f2.8 and f4 in our tests. Thankfully the auto modes seem well-aware of these optimum settings, and almost always work within that range under normal conditions. The lens itself was optically good, but not outstanding, with some softness towards the corners when zoomed-out. Viewed in isolation, you'd be unlikely to notice, but pixel-peepers will spot the difference when compared side-by-side with a superior model.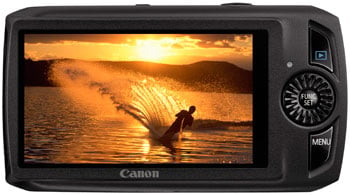 The fitting of a widescreen display is becoming a trend on Canon's premium IXUS / ELPH models and it comes with pros and cons. The major con is that it's the wrong shape for photos taken in the camera's best-quality 4:3 mode, during which there'll be thick black bars running down the left and right sides of the image. To be fair, Canon makes good use of the blank space, filling it with various shooting icons, but the fact is, if you're shooting in 4:3 modes, the active image will measure a modest 2.4in. Worse, the average 230k resolution is spread over the entire width of the 16:9 screen, leaving just 172k pixels devoted to images shot in the 4:3 aspect ratio. So they're relatively small and coarsely detailed compared to cameras with 4:3-shaped screens.
The upside comes when you're shooting stills or video in the 16:9 widescreen format, at which point the image fills the screen. You can do this by either choosing the cropped photo mode (losing some pixels vertically), or more sensibly when filming HD movies. This is when the screen really comes into its own, delivering a nice big image, compared to conventionally-shaped screens which have black bars above and below, and a small frame for the live action. As always there's going to be a compromise with a screen which has to display photos and video that are different shapes, so you should choose a model which best matches the image shape you most commonly shoot.
Moving onto the video, the IXUS 300 HS / SD4000 IS, like most higher-end Canon compacts, shoots in the 720p format. The video looks fine, but enjoys two benefits over most other models in the Canon range: first, it's one of the few which can optically zoom the lens while filming, and secondly, by employing a CMOS sensor it avoids the vertical streaking which plagues video on most CCD-based point-and-shoot models. Overall the 720p HD mode delivered good quality in decent light, but we found the focus could drift in lower light.
The IXUS 300 HS / SD4000 IS also boasts the very neat trick of slow motion video by shooting at 240fps and playing it back at 30fps, eight times slower than normal. The resolution in this mode may be a basic 320×240 pixels, but it's a lot of fun to analyse fast action slowed right down and you can see examples in the first page of this review.
The CMOS sensor in the IXUS 300 HS / SD4000 IS also has one other important benefit: fast continuous shooting. While many Canon compacts have struggled to shoot more than a frame or even half a frame a second, the IXUS 300 HS / SD4000 IS ploughs-ahead at 3.8fps in the full resolution, or 8.4fps at reduced quality. In our tests it didn't quite deliver the quoted speeds, but remained much faster than typical point-and-shoot compacts, allowing it to successfully capture many action sequences – again you can see an example in our main review.
Completing the picture is a great Auto mode which effectively deployed scene-detection to identify the type of photo you were taking, while seamlessly switching between face detection and multi-area AF modes to ensure the subject was sharp. In our day-to-day tests we found very few occasions when the IXUS 300 HS / SD4000 IS delivered a dud exposure or an out-of-focus shot.
So a solid, good-looking compact with a sensible resolution and bright lens which both provide genuine benefits in low light, the choice of HD video or slow motion capture, manual control over exposures or an effective auto mode, and a 3in widescreen display which may not be ideally-shaped for 4:3 stills, but looks great when filming HD video. It's a great specification for a point-and-shoot camera that's likely to be used for low light or high-speed capture, but the price reflects the capabilities. This is a relatively expensive camera and for much the same money or only a little more, there's a number of compelling alternatives – let's take a closer look at some options.
Compared to IXUS 1000 HS / PowerShot SD4500 IS

Shortly after releasing the IXUS 300 HS / SD4000 IS, Canon announced the second IXUS / ELPH to carry the HS (High Sensitivity) tag: the IXUS 1000 HS / SD4500 IS. Both cameras share the same 10 Megapixel CMOS sensor, which means both enjoy around a one stop advantage at higher sensitivities than typical 14 Megapixel compacts. Both models also offer the slow motion video mode and fast continuous shooting options, and both share the same 3in / 230k widescreen displays. So what's the difference?
The major difference between the IXUS 300 HS / SD4000 IS and IXUS 1000 HS / SD4500 IS concerns the lens on each camera. The IXUS 300 HS / SD4000 IS features a fairly basic 3.8x zoom (28-105mm equivalent) with a brighter than average f2.0-5.3 focal ratio. In contrast, the IXUS 1000 HS / SD4500 IS boasts a much more powerful 10x zoom (36-360mm equivalent), albeit with a slower f3.4-5.6 focal ratio.
But while the IXUS 1000 HS / SD4500 IS lens zooms-in over three times closer than its sibling, it starts at a much less wide 36mm equivalent. The focal ratio is also much less impressive at f3.4-5.6, making it just under two stops darker when both are fully zoomed-out. So under the same lighting conditions and shutter speed, the IXUS 300 HS / SD4000 IS could use a sensitivity of 400 ISO, while the IXUS 1000 HS / SD4500 IS would need to operate at 1250 ISO, making a huge difference to image quality.
The longer lens range isn't the only string in the newer model's bow though: while both models share the same sensor, the top quality video mode on the IXUS 300 HS / SD4000 IS is 720p, while the IXUS 1000 HS / SD4500 IS boasts Full HD at 1080p, interestingly at 24fps.
As for money, the newer IXUS 1000 HS / SD4500 IS costs around 10-15% more than the IXUS 300 HS / SD4000 IS. That extra cash gets you the much longer lens range and Full HD video, but you lose out on the brighter and wider lens of its sibling. Depending on your requirements, it may be a fair sacrifice, and the fact remains the IXUS 1000 HS / SD4500 IS is one of the slimmest 10x compacts around while still featuring fast continuous shooting and a sensible resolution. Look out for our upcoming Canon IXUS 1000 HS / PowerShot SD4500 IS review for more details.
Compared to Canon PowerShot S95

The Canon IXUS 300 HS / SD4000 IS isn't the company's only compact to feature a bright lens and sensible approach to resolution: Canon's PowerShot S95 is the successor to 2009's S90 which packed a great deal of control and flexibility into a very small package.
The PowerShot S95 also features a 10 Megapixel sensor with 720p HD video (albeit at 24fps) and a 3.8x zoom with wide-angle coverage and a bright f2.0 aperture. But while the headline specifications are similar, both the lens and sensor are different. The S95 employs a slightly larger 1 /1.7in CCD sensor compared to the 1 /2.3in CMOS type in the IXUS 300 HS / SD4000 IS. The S95's lens may share the same effective focal length, but is a different model to match the slightly bigger sensor – and while both share the same f2.0 aperture when zoomed-out, the S95 is a little brighter when zoomed-in at f4.9.
The IXUS 300 HS / SD4000 IS may have Aperture and Shutter Priority, but the S95 also features full Manual exposures along with greater control for enthusiasts with a proper mode dial and an innovative lens ring which can be configured to different tasks, including manual focusing. Enthusiasts will also greatly welcome RAW recording capabilities on the S95.
Each camera also takes a different approach to their displays: the IXUS 300 HS / SD4000 IS employs a 3in 16:9 widescreen display with 230k resolution, while the S95 features a 3in 4:3 display with 460k resolution. When shooting 4:3 stills (in their respective best quality modes), the S95's screen will show a larger and much more detailed image. When shooting in 16:9 though, the S95 will have to letterbox the image whereas the IXUS 300 HS / SD4000 IS will fill its screen – although the higher display resolution of the S95 will mean 16:9 images may still look a little sharper on-screen, if not anywhere near as big.
But for all the PowerShot S95's features, it still employs a CCD sensor, which means slower continuous shooting and the risk of vertical streaking on videos; it also lacks the slow motion video mode. But the PowerShot S95's slightly larger sensor, greater control, more detailed screen and RAW mode will greatly appeal to enthusiasts who'll be happy to pay one third more for this tiny but powerful compact. Look out for our upcoming Canon PowerShot S95 review for more details.
Compared to Panasonic Lumix DMC-TZ10 / ZS7

For approximately the same money as the IXUS 300 HS / SD4000 HS you could alternatively buy Panasonic's best-selling Lumix DMC-TZ10 / ZS7. In a body that's only slightly chunkier, the TZ10 / ZS7 packs in a 12x optical zoom, starting wider at 25mm and ending much longer at 300mm. The focal ratio is again less impressive though at f3.3-4.9.
Like the PowerShot S95, the TZ10 / ZS7 employs a 3in / 460k screen that's 4:3 in shape, so again this is much preferred when shooting in the 4:3 aspect ratio. Movies on both the TZ10 / ZS7 and IXUS 300 HS / SD4000 IS are both available at 720p with optical zooming, although non-European Panasonics with AVCHD modes can keep recording until they run out of memory. Both cameras feature Aperture and Shutter Priority modes, but the Panasonic also includes full Manual along with a physical mode dial.
The TZ10 / ZS7 additionally boasts a built-in GPS which not only records the co-ordinates of your images for later mapping, but also looks them up against a database of internal landmarks, which can be a neat tourist guide.
The IXUS 300 HS / SD4000 IS performs better in low light though with a lower pixel density and a much brighter lens, at least when zoomed-out. The Canon also features faster continuous shooting at full resolution and a neat slow motion video mode, while avoiding the vertical streaking on videos which occasionally plagues the Panasonic.
Unless you're into shooting fast action or in dim conditions though, the much broader zoom range, more detailed screen and GPS of the Lumix TZ10 / ZS7 are heard to resist. No wonder it continues to top the sales charts. See our Panasonic Lumix DMC-TZ10 / ZS7 review for more details.
Canon IXUS 300 HS / PowerShot SD4000 IS final verdict

There's no denying the Canon IXUS 300 HS / SD4000 IS is a good solid compact. It combines the slick build and great auto modes of the IXUS / ELPH range, but adds much faster continuous shooting, manual controls and superior low light capabilities to the mix, resulting in a good-looking but powerful camera.
As discussed above, the low-light aspect really works too. Don't get us wrong, it's nowhere near what you'll get from a camera with a large sensor, but the combination of a sensible resolution and a bright lens (at least when zoomed-out) gives it a definite advantage over typical compacts in dim conditions. The quick continuous shooting lets you grab action shots which were previously out-of-reach for most Canon compacts, while the slow motion video, manual control and HD movies are the icing on the cake.
But once again all of this comes at a price and for much the same money you could buy a super-zoom compact like the Panasonic Lumix TZ10 / ZS7 which may not share the same low light capabilities, but does boast an optical range over three times broader, not to mention built-in GPS. Its models like these along with other compelling options in Canon's own catalogue which present the biggest challenge to the IXUS 300 HS / SD4000 IS.
As such while we can recommend it to anyone who wants an IXUS / ELPH with improved low light and action performance, enthusiasts will ultimately prefer the PowerShot S95 while those who are happy shooting slower subjects under brighter conditions will find the lure of a super-zoom compact hard to resist.
---


Good points
Brighter than average lens (at wide angle).
Sensible resolution delivers better low-light results.
720p HD movies and slow motion video at 240fps.
Great auto along with Aperture and Shutter Priority.
Fast continuous shooting at full resolution.

Bad points
Compelling rivals at similar price.
Best quality 4:3 mode looks small on wide display.
Minimal labelling on rear controls.
Some focus-drifting in videos under low light.


Scores
(relative to 2010 compacts)


Build quality:
Image quality:
Handling:
Specification:
Value:

Overall:



18 / 20
17 / 20
17 / 20
17 / 20
15 / 20

84%