Canon IXUS 300 HS / PowerShot SD4000 IS
Intro
Canon's IXUS 300 HS (or PowerShot SD4000 IS Digital ELPH as it's known in North America) is a 10 Megapixel compact with a 3.8x optically-stabilised zoom and 3in widescreen display. Announced in May 2010, these headline specifications sound fairly average, but the IXUS 300 HS / SD4000 IS has a number of very important capabilities which take it beyond typical point-and-shoot compacts.
Most notably it's the first IXUS / ELPH to feature the company's new High Sensitivity system, or HS for short. This employs a new back-illuminated 10 Megapixel CMOS sensor which claims superior low-light capabilities.
Complementing this is an optical zoom with 28-105mm equivalent coverage and a brighter than average aperture of f2.0-5.3. When zoomed-out, the f2.0 aperture gathers twice as much light as one at f2.8, which means under the same conditions you could use half the sensitivity for better quality or a shutter speed twice as fast to better freeze action or minimise camera-shake. Coupled with the sensible resolution and a maximum sensitivity of 3200 ISO (at the full image size), the IXUS 300 HS / SD4000 IS promises to be an above average performer in low light.

The high speed read-out of the CMOS sensor also allows the IXUS 300 HS / SD4000 IS to offer video recording at 720p HD resolution, and as a CMOS type, the sensor also avoids the vertical streaking seen on many CCD-based models. Video is accompanied by stereo sound and you can also optically adjust the zoom while filming. Further leveraging the speed of the sensor is a new Super Slow Motion mode which captures video at 240fps, eight times faster than normal. When played back at 30fps, these videos slow the action by eight times. While the resolution in this mode is a modest 320×240 pixels, the ability to analyse fast action in slow motion is a fun addition for the camera.
The fast sensor additionally allows the IXUS 300 HS / SD4000 IS to offer quicker than average continuous shooting capabilities: an impressive 3.7fps at the full 10 Megapixel resolution, or 8.4fps at 2.5 Megapixels.
As an IXUS / ELPH, you can expect a fully automatic mode with scene detection, but the IXUS 300 HS / SD4000 IS complements it with Program, Aperture and Shutter Priority modes for when you want more control. Like other recent Canon compacts, there's also face, smile and wink self-timers, along with fisheye and miniature effects. Rounding-off the package is a 3in widescreen display, ideal for framing HD movies.
Canon has since announced the second 'HS' model, the IXUS 1000 HS / SD4500 IS, which keeps the same sensor, screen and slow motion mode, but switches the 3.8x zoom for a 10x range and adds 1080p video recording. While exciting, this newer model doesn't diminish the impact of the earlier IXUS 300 HS / SD4000 IS reviewed here. The IXUS 300 HS / SD4000 IS may not zoom anywhere near as long, but it does go comfortably wider at an equivalent of 28mm compared to 36mm. The lens on the older model is also brighter too: when both are zoomed-out, you're looking at f2.0 versus f2.8, which as explained above, allows the IXUS 300 HS / SD4000 IS to gather twice as much light.
As such the IXUS 300 HS / SD4000 IS remains one of the most interesting cameras in Canon's compact range, with low-light and manual capabilities which will greatly appeal to enthusiasts. In our full review we'll put the IXUS 300 HS / SD4000 IS through its paces, comparing it to a 14 Megapixel CCD model to see if the lower resolution and CMOS technology really gives it an edge in quality. You'll also find out how well the full manual control, fast continuous shooting and various video modes work in practice.
Canon IXUS 300 HS / PowerShot SD4000 IS design and build quality

Measuring 100x54x23.6mm and weighing 175g (6.17oz) including battery and card, the IXUS 300 HS / SD4000 IS sits roughly in the middle of today's compacts: it's not as slim as models like the IXUS 130 / SD1400 IS, but equally not as tall or thick as typical super-zoom models. As such it'll slip into all but the smallest pockets with ease.
Like other Canon IXUS / ELPH compacts, the build quality is superb. The metal body has smooth joins and nicely rounded edges which never catch. The smooth front surface has no grip to speak of, but the cross-hatched Canon logo provides surprising purchase for your right middle finger, while your thumb presses against the control wheel on the rear; the combination allows a pretty secure hold even when one-handed, although there's also plenty of room for your left hand to provide further stability without obscuring the lens, flash or screen.
Depending on your region, the IXUS 300 HS / SD4000 IS is available in black, silver or red finishes, with a limited edition white version exclusively offered in certain stores. At the time of writing there was no underwater housing available for this model from Canon itself, but Ikelite offers one that's good to depths of 60m or 200 feet.
The IXUS 300 HS / SD4000 IS may feature manual exposure modes and a number of features for enthusiasts, but Canon's opted for a simple control system with the minimum of buttons, not to mention labelling.
There's no physical mode dial, only a three way-switch on the top surface to set the camera between Movie, Shooting and Auto. Alongside this is a small power button and the shutter release with a rotary zoom collar.
The rear surface is dominated by the 3in widescreen display (more of which later), with a single control wheel and two chunky buttons to its right. The upper button is dedicated to playback, while the lower one enters the main menu system. Meanwhile, the control wheel is unlabelled beyond a small Func Set button in the middle. Unlike many earlier Canon compacts which employed control wheels with smooth, stepless motion, the one here is stepped, which provides useful feedback on how far you've turned it.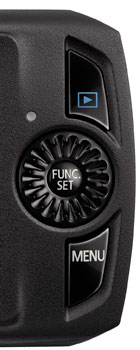 At first the absence of labelling around the wheel seems a little unapproachable, but before long it makes sense. The control wheel doubles-up as a traditional four-way joypad, with the function of each direction displayed for a couple of seconds after power-up. If you don't remember them, a gentle push on the edge of the wheel at any time while shooting will reveal the graphical guide again. In the Shooting mode, pushing left sets the focusing range, pushing up adjusts the exposure compensation, pushing right sets the flash options, while pushing down cycles between the display views. Pushing the central Func Set button confirms an action or fires-up the super-imposed menu system for adjusting other common settings. We'll detail all the options later in the review.
The upper button on the rear is dedicated to playback, which you can also enter from power-off by pressing and holding; a half-press of the shutter release exits playback and gets the camera ready for shooting. When you enter playback, a graphical guide to the control wheel's direction buttons briefly appears – just like when shooting – but annoyingly (and inconsistently) this won't reappear with a gentle lean on the edges. To be fair, the controls during playback are pretty simple: pressing the wheel left or right scrolls through images, while pushing down again cycles through the display options. Spinning the wheel allows you to quickly scroll through images.
A large flap covering just about the entire right side of the body can be pulled back to reveal standard mini HDMI and mini USB / AV ports. Canon supplies separate USB and AV cables for use with the latter port, but as usual, you'll need to supply your own HDMI cable for connecting to HD displays.
The IXUS 300 HS / SD4000 IS is powered by the NB-6L rechargeable Lithium Ion battery pack. Canon claims it's good for 250 shots under CIPA conditions, which is fairly typical for a camera of this size and class. The battery pack can also be switched for the optional ACK-DC40 AC adapter kit for mains operation. In use we actually managed to get closer to 350 shots per charge with several minutes of HD video, albeit with low flash use and minimal playback.
In terms of memory, the IXUS 300 HS / SD4000 IS unsurprisingly uses the SD format, and like most 2010 compacts, supports the latest SDXC standard for cards bigger than 32GB; wireless Eye-Fi cards are also supported. Like other Canon compacts, there's no built-in memory, so you'll need to fit a card before you can take any photos or video. Canon recommends cards rated as Class 4 or faster to smoothly support the HD video, but at least that includes affordable models like SanDisk's Ultra II range; we verified Ultra II cards worked fine with the HD movie mode. The SD slot is housed in the battery compartment, and alongside the door, just off-centre is a metal tripod thread.
Canon IXUS 300 HS / PowerShot SD4000 IS lens and stabilisation

The Canon IXUS 300 HS / SD4000 IS is equipped with a 3.8x zoom that's equivalent to 28-105mm while sporting a brighter than average focal ratio of f2.0-5.3. This not only gives the IXUS 300 HS / SD4000 IS wide-angle coverage, but greater light gathering power than typical compacts – at least when zoomed-out to 28mm. You can see an example of its coverage below, and further examples of how you can use it in our sample images Gallery.
| | | |
| --- | --- | --- |
| Canon IXUS 300 HS / SD4000 IS coverage wide | | Canon IXUS 300 HS / SD4000 IS coverage tele |
| | | |
| 4.9-18.6mm at 4.9mm (28mm equivalent) | | 4.9-18.6mm at 18.6mm (105mm equivalent) |

The 3.8x optical zoom may be lacking the glamour and reach of super-zoom models, but by offering wide angle coverage and sufficient telephoto for portraits, it delivers a usable walk-around range. What makes the lens on the IXUS 300 HS / SD4000 IS really special though is its focal ratio of f2.0-5.3.
Average point-and-shoot cameras with similar zoom ranges typically have a focal ratio of f2.8 when zoomed-out to their widest angle settings. The f2.0 focal ratio of the IXUS 300 HS / SD4000 IS when zoomed-out allows it to gather twice as much light, which means under the same conditions you could halve its sensitivity. This is a big advantage when you consider the quality difference between 200 and 400, or 400 and 800 ISO on compact cameras. Gathering twice as much light alternatively allows you to use a shutter speed twice as fast, which is obviously useful for better freezing action or avoiding camera shake.
It is however important to note the f2.0 focal ratio only applies when the IXUS 300 HS / SD4000 IS is completely zoomed-out to 28mm. Like most compacts, the aperture steadily decreases as you zoom-in, and by the time the camera's at 105mm, the ratio becomes an average f5.3.
But the bottom line is the IXUS 300 HS / SD4000 IS can capture twice as much light as most compacts when zoomed-out to their widest focal lengths, and this gives it a big advantage in low light conditions. The ability to use lower sensitivities for better quality or faster shutter speeds to avoid shake are invaluable. Of course if you mostly shoot under bright conditions, it won't make much difference to you, and it's also worth noting the IXUS 300 HS / SD4000 IS doesn't offer a particularly shallow depth-of-field even with the aperture wide-open and the lens zoomed-in – but anyone shooting in dim conditions will still appreciate the low light benefits.
The Canon lens extends quickly upon power-up with the camera ready for action in around 1.5 seconds. As described earlier, the zoom is operated by a rotary collar with the IXUS 300 HS / SD4000 IS offering over 15 steps between wide and telephoto – this gives it finer steps over many Canon models.
Despite Canon choosing to drop the IS label from the IXUS brand in 2010, the IXUS 300 HS definitely features Image Stabilisation; interestingly the identical North American SD4000 IS version still has the IS label to reassure its customers. Branding aside, the IXUS 300 HS / SD4000 IS offers the same three stabilisation modes as most Canon compacts: Continuous where the system operates all the time, Shoot Only which only applies stabilisation as you take the photo, and Panning which only stabilises in the vertical axis for when you're moving the camera horizontally as you take the photo – for an example of using the latter, see the Blurring Action tutorial at our sister site, DSLR Tips. You can also switch off stabilisation for use on tripods.
Canon IXUS 300 HS / SD4000 IS Image Stabilisation off / on (Continuous)

100% crop, 4.9-18.6mm at 18.6mm, 1/8, 200 ISO, IS off

100% crop, 4.9-18.6mm at 18.6mm, 1/8, 200 ISO, IS on
Above are examples taken with and without the default Continuous stabilisation using the IXUS 300 HS / SD4000 IS fully zoomed-into its maximum equivalent of 105mm, and at a shutter speed of 1/8. Traditional photographic advice would recommend a shutter speed of at least 1/100 to eliminate camera shake at this focal length, but the stabilised IXUS 300 HS / SD4000 IS allowed us to capture sharp handheld shots at 1/8, which corresponds to almost four stops of compensation.
This is an impressive capability, and don't forget the f2.0 aperture means it'll allow shutter speeds twice as fast as models at f2.8 under the same conditions, or operation at half the sensitivity. Bottom line is the IXUS 300 HS / SD4000 IS has the potential to capture better quality images with less camera shake in low light than most rivals – at least when they're zoomed-out.
Note, with the same 28-105mm equivalent range and f2.0 aperture (when zoomed-out) as the PowerShot S90 / S95, many may believe the lens in the IXUS 300 HS / SD4000 IS is in fact the same model. The latter's optics are however different: they cater for a physically larger sensor (hence the actual focal length is 6-22.5mm and not 4.9-18.6mm), and the maximum aperture when zoomed-in is fractionally brighter at f4.9 rather than f5.3.
Canon IXUS 300 HS / PowerShot SD4000 IS screen and menus

The Canon IXUS 300 HS / SD4000 IS is equipped with a 3in widescreen (16:9) display with 230k pixels. This is an interesting choice as while it's a perfect fit when filming (or playing) HD movies, normal photos at the best quality setting will occupy a smaller portion in the middle of the screen, with thick black bars running down either side.
Canon may not waste this space, using it to display shooting icons with less obstruction of the main image, but there's no getting away from the fact photos shot in the native 4:3 aspect ratio of the sensor will only measure 2.4in on their diagonal, which looks a lot smaller than the conventionally-shaped 3in screens of rival models.
The flip-side though is having HD movies filling the screen, whereas on normal displays you'll have black bars running above and below. As such, widescreen movies are displayed much larger on the Canon than they are on models with 4:3 shaped screens. You can also choose to take stills in a cropped 16:9 mode, which may have a lower vertical resolution, but will fill the screen, and of course this mode will also be the perfect fit for slideshows on widescreen TVs. As soon as you zoom-into an image during playback, it'll also fill the screen, regardless of its original shape.
Ultimately there'll always be a compromise with the screen when a camera can capture images and video with significantly different shapes – if you choose a screen which fits one type, then there'll be black bars with the other. If your priority is shooting HD video, you'll definitely prefer having a widescreen monitor, but if you mostly shoot stills, you'll probably prefer a camera with a more conventionally-shaped 4:3 shaped screen, like one of its rivals or another model in Canon's range.
As for the quality of the screen itself, it's bright and colourful, but susceptible to reflections from direct bright light – with the Sun behind you, it can become hard to see, but that's par for the course for most displays. As for detail, the IXUS 300 HS / SD4000's screen employs a fairly average 230k resolution, using a stretched 320×240 grid. When shooting in the narrower 4:3 shape, you're only using three quarters of those pixels for the image. So not only is the picture relatively small at 2.4in when shooting in the best quality mode, but it's comparatively coarse too with just 172k pixels devoted to the active image. If the IXUS 300 HS / SD4000 IS was a cheaper model, this would be acceptable, but for its premium price you'd hope for something a bit better. A higher resolution screen may not make any difference to the recorded quality, but their sharper details on-screen make images in composition and playback look much nicer, while also allowing smoother-looking menu fonts.
Speaking of menus, we'll now move onto the on-screen information. While shooting photos with the IXUS 300 HS / SD4000 IS, there's just two display views: one with a clean image, and the other with shooting information. A three-by-three grid can be enabled for both views in the menus, but sadly there's no live histogram, a feature you'll find on much of the competition at this price.
Regardless of whether you're shooting 4:3 or 16:9 stills on the IXUS 300 HS / SD4000 IS, a variety of shooting icons are displayed down the left and right sides of the screen; if shooting in 4:3, these occupy the black bars, and if shooting in 16:9, they're simply super-imposed over the image. On the left side the IXUS 300 HS / SD4000 IS displays icons for the battery life, camera orientation (automatically adjusting settings for portrait aspects), white balance, My Colours, i-Contrast, drive mode, shake warning and metering mode. On the right side are icons for the shooting mode, flash setting, red-eye correction, date embedding setting, and the ISO sensitivity.
There's certainly potentially a lot of information running down either side of the screen, but 4:3-shaped images will still have some details super-imposed, including the image quality, shots remaining, and exposure settings.
In terms of on-screen controls, the IXUS 300 HS / SD4000 IS employs a similar superimposed Function menu to other recent Canon compacts. It's the latest design which upon pressing the FUNC / SET button presents a vertical list of options running down the left hand side of the screen. This list scrolls up and down with the available options popping-out to the right in another vertically scrolling list. As before, if 'Hints and Tips' are enabled in the main menus, you'll be given a brief message helpfully describing what it'll do, although you can turn this off altogether if preferred.
It's a nice touch, although some explanations could go further for beginners – for example switch the White Balance to Tungsten and the IXUS 300 HS / SD4000 IS will say "For Shooting under Tungsten Lighting". Well, sure, that much is obvious, but perhaps giving an example like "For Shooting under Tungsten Lighting, such as indoor lamps" might be more useful. Likewise, choosing 1600 ISO will simply say "Set ISO to 1600" when it could elaborate and suggest it might be good for low light conditions. As Canon keeps this system unchanged, it's beginning to fall behind the help offered on some rivals.
The actual settings on offer vary according to the shooting mode, but in Program it lets you adjust the metering, My Colours options, White Balance, Sensitivity, Recording Mode, Self Timer, Drive Mode, Image resolution and Image compression.
| | |
| --- | --- |
| | |
| | |
| | |
The various menus and settings are navigated using a thumb wheel which also rocks in four directions to double-up as left, right, up and down buttons. As mentioned above, we're pleased to report the wheel on the IXUS 300 HS / SD4000 IS features stepped feedback allowing you to know exactly how much you've turned it, as oppose to some Canon compacts which are completely smooth. It's also now easier to grip, although as discussed in the design section above, Canon's chosen not to label the up, down, left and right rocker functions. Instead a gentle lean in any of these directions during shooting mode displays an on-screen guide indicating what a full push will achieve. It's a nice solution which allows context-sensitive details, but sadly during playback, the guide only appears briefly before then leaving you in the dark as to which button will delete an image. No amount of gentle leaning during playback will bring the guide icons back again.
During playback, the DISP button cycles between a clean view and ones with basic or detailed shooting information, the latter including a brightness histogram. An additional page in playback shows a thumbnail of the image alongside an enlarged portion showing the active focus area. If the photo was taken with Face Detection, then the enlargement will show the primary subject's face, allowing you to quickly check their expression and confirm the focus. You can also zoom-in further on the detail if desired, or switch between other focus points – it's a handy feature in practice. Turning the camera to the side will also rotate the image by 90 degrees to always remain upright – handy for filling the screen with a portrait aspect shot. Even the thumbnail view on the histogram page rotates as you turn the camera. Bizarrely this sensible feature isn't widely implemented by the competition.
The thumb wheel on the back can also be used to quickly scroll through thumbnails during playback, using a interface first seen on the PowerShot G11 and S90 which optionally varies the thumbnail size depending on the speed at which you turn the wheel. Turn it slowly and the thumbnails pass by one at a time, automatically expanding to fill the screen. Turn it quickly and you'll see a line of smaller thumbnails, and pressing Set will fill the screen with the one you settle-on. It's a fun way to navigate the images.
Pressing the Menu button while in playback presents a number of options for adjusting images including a red-eye correction mode. This uses face detection to frame the eyes of the subjects on your photos. You can then choose which frames to apply correction to and also whether you'd like the result to overwrite the original or create a new file.
Canon IXUS 300 HS / SD4000 IS exposure modes

The Canon IXUS 300 HS / SD4000 IS may only have a simple three-way switch on the top to choose between movies, shooting or auto, but the middle of these three options unlocks a wealth of additional modes selected on-screen using the Func / Set menu. We'll detail them and further exposure options in turn.
With the top switch set to Auto, the camera attempts to identify the subject and configure itself appropriately. Like other 2010 Canon compacts, the IXUS 300 HS / SD4000 IS doesn't just recognise people, landscape or close-up shots, but also the lighting conditions for each, differentiating between bright conditions, blue skies or night-time, and whether the subject is backlit or not. In each instance, the exposure and flash are adjusted accordingly, and the camera will even attempt to recognise a Sunset and boost the colours.
The IXUS 300 HS / SD4000 IS can also detect whether the person is in motion and whether the camera's mounted on a tripod. In the case of the latter, the camera will automatically unlock longer exposures which wouldn't normally be handheld successfully. The actual conditions or subject recognised by the camera is indicated by an icon in the top left corner, which you'll see adjust as you recompose. You'll need to check the manual to confirm what each icon means though, for example those taken under normal, blue or dark skies feature grey, blue or dark blue icons respectively, while backlit situations have a Sun in the corner.
Or rather than learning the icons and second-guessing the camera, you could simply relax and trust the IXUS 300 HS / SD4000 IS as like other recent Canon compacts it does a pretty good job of recognising the scene and choosing the best settings for it. In practice, the camera seamlessly switches between portrait mode with face detection when pointed at a person, or into macro mode when placed close to a subject. It's also interesting to watch the change of icons in the corner of the screen as the camera detects different lighting conditions, although Canon admits pointing it at a blue or orange wall can fool the camera into thinking it's either a glorious day or a spectacular sunset. That said, it's as good a system as any of the competition and one we'd be happy to trust for most day-to-day shots. We certainly rarely had a dud in terms of focus and exposure.
In most situations, the Auto mode selected larger apertures with fast shutter speeds, generally varying the sensitivity between 125 and 400 ISO. It wasn't averse to boosting the sensitivity to 800 ISO under dimmer conditions to avoid camera shake, or even using 400-800 ISO with the flash. Interestingly under very bright conditions, the camera could also apply a Neutral Density filter, the presence of which is indicated by ND on the screen; this can't be manually activated or disabled for that matter.
To access the other modes, flick the switch on top of the camera to the middle 'Shooting' position, then choose from no fewer than 20 options using the on-screen Function menu. First-up come Aperture and Shutter Priority, followed by Program.
With the lens zoomed-out, Aperture Priority lets you choose from 14 different f-numbers from f2.0 to f8. Shutter Priority lets you choose exposures from 1/2000 to 15 seconds again in 1/3 EV increments. In each mode, the control wheel lets you quickly change the setting, while pushing upwards presents exposure compensation in the usual +/-2EV range. Program mode offers automatic exposure without the opportunity to shift, but again with compensation if desired. Strangely, considering the presence of the priority modes, there's no full manual, so no chance to really under or over-expose beyond the +/-2EV compensation range.
The presence of Aperture Priority implies some control over the depth-of-field, but like all cameras with small sensors and lenses with short actual focal lengths, the depth-of-field is already pretty broad to start with. This means it's hard to achieve a blurred background on portraits even with the aperture wide open. Your best bet is to zoom all the way-in, position the subject close and the background as far away as possible, and you can see an example under these conditions in our Gallery. Macro shots allow a shallower depth-of-field, but neither these nor portraits will come close to the blurred background effect you can enjoy with a DSLR, or a compact with a large sensor and longer lens.
To illustrate the depth-of-field control of the IXUS 300 HS / SD4000 IS in a macro environment, we photographed a still-life arrangement of three SLR lenses at different distances and focused on the one on the left; this lens was positioned 15cm from the camera, with the lens set to its widest focal length of 4.9mm (28mm equivalent). We chose to shoot this composition with the lens zoomed-out in order to access the maximum range of apertures from f2 to f8.
As you can see below, there's a visibly smaller depth-of-field on the sample taken at f2, indicating the presence of a physical iris and the ability to control the effect to some degree. Once again though, like most compacts, you won't be achieving anywhere near the blurring effect that's possible on a DSLR.
Canon IXUS 300 HS / SD4000 IS: Depth-of-field in Aperture Priority

Aperture Priority: f2, 4.9-18.6mm at 4.9mm (28mm equiv)
Aperture Priority: f8, 4.9-18.6mm at 4.9mm (28mm equiv)
On a more positive note though, Aperture Priority does allow you to select the optimum f-number to avoid diffraction. When zoomed-out and focused at infinity, we found the optimum sharpness (disregarding depth-of-field) was achieved just one notch in at f2.8, while closing the aperture much beyond f4 resulted in an increasingly soft image.
While it's obviously reassuring to manually dial-in these settings for the best results, we're pleased to report the IXUS 300 HS / SD4000 IS already seemed to be aware of them, and tended to use large apertures with quick shutter speeds in Program and Auto modes when zoomed-out.
Moving on, Shutter Priority lets you choose deliberately slower-than-normal exposures to blur moving action, such as waterfalls or racing vehicles. You can find out how to achieve these effects in our Blurring Action and Photographing Water tutorials. Once again though there's no full Manual control, so no chance to really under or over expose your shots for creative effects – the limit for under and over exposure is the +/-2EV range offered by exposure compensation.
If you like scene presets, but prefer to choose them yourself, the IXUS 300 HS / SD4000 IS offers eight from the Mode menu. This menu is also where you'll find Stitch Assistance (from left to right or right to left), Canon's Colour Swap and Colour Accent, the Low Light and High Speed Burst modes (both operating at 2.5 Megapixels at up to 6400 ISO), and two special effects filters which simulate fish eye and tilt / shift lenses. Strangely the mode menu is also where you'll find the Smart Shutter options which trigger the shutter after detecting a new face, a smile or a wink. Surely it would be more sensible to find these in the self-time or drive section, but there you go. We'll detail them in that section below.
For now though, here's two images taken from the same position showing the new Fisheye and Miniature filter effects using their default settings; it's possible to vary the strength of the fisheye distortion along with adjusting the position of the band of focus in the Miniature mode.
| | | |
| --- | --- | --- |
| Canon IXUS 300 HS / SD4000 IS: Fisheye preset | | Canon IXUS 300 HS / SD4000 IS: Miniature preset |
| | | |
| Fisheye preset: 4.9-18.6mm at 4.9mm (28mm equivalent) | | Miniature preset: 4.9-18.6mm at 4.9mm (28mm equivalent) |
The IXUS 300 HS / SD4000 IS also offers automatic dynamic range adjustments using its i-Contrast feature (disabled by default). i-Contrast automatically boosts shadow areas or faces darkened by strongly backlit scenes. To put it to the test we took two photos of a Church interior with and without i-Contrast set to its Auto option. This composition features dark shadow areas and strong window lighting which represents a challenge for any camera's exposure system.
Canon IXUS 300 HS / SD4000 IS i-Contrast: Off / Auto

1/10, f2.8, 125 ISO

1/10, f2.8, 125 ISO
The example above shows i-Contrast selecting the same exposure when set to its Auto mode, and while there's no detail retrieved in the saturated windows, the darker areas such as the roof, flooring and benches have certainly received a boost.
The histograms below each image give a better idea of what's going on, with a more gentle slope to the shadow values and a boost in upper mid-tones, albeit still with clipping in the highlights. Like other systems which boost shadow areas, there's inevitably an increase in visible noise as a result.
Finally, the IXUS 300 HS / SD4000 IS's Date Stamp option allows the time, date or both to be permanently written in the corner of the image. Such digital mutilation may horrify many photographers, especially considering the date and time are always present in the EXIF data of the file itself, but we've heard from sufficient numbers of people who want the feature to know it's something of value.
Canon IXUS 300 HS / SD4000 IS focusing and face detection

The Canon IXUS 300 HS / SD4000 IS is equipped with two main autofocus systems: Face AiAF and Centre. When set to the former, the camera defaults to a nine-area system, but seamlessly switches to Face Detection should a human subject be detected. Like other recent Canon compacts, this works well in practice and ensures you never have to worry about manually selecting Face Detection – and once it locks onto a face, the camera easily tracks it even to almost complete profile.
Selecting Centre understandably switches to a single AF area in the middle of the frame, which can be adjusted in size between normal and small; annoyingly you can't move it around the composition though, so to lock the focus off-centre, you'll need to half-press the shutter release and recompose.
Autofocus is pretty quick on the IXUS 300 HS / SD4000 IS and we suffered from very few focusing errors during our tests. Like other DIGIC 4 models, the IXUS 300 HS / SD4000 IS also offers a Servo AF mode which tracks a subject while the shutter release is half-pressed. In use this proved effective when photographing approaching Jetboats in our Gallery section, although it didn't seem quite so confident with smaller objects at very close range; the Focus Tracking option on Panasonic's Lumix compacts feels more confident in this regard. There's no manual focus option on the IXUS 300 HS / SD4000 IS.
Like other recent Canon compacts there's also Blink Detection which can warn you when it believes a subject has blinked in a photo. Both this and face detection are exploited in numerous self-timer options we'll detail later which can trigger the countdown with the presence of a new face or a wink from an existing one.


Canon IXUS 300 HS / SD4000 IS Movie Mode

The Canon IXUS 300 HS / SD4000 IS offers a variety of movie modes with stereo sound. When set to Normal in the menu, you can choose between 320×240, 640×480 or 1280×720 pixels, all at 30fps (29.97 actual), and you have the additional choice of applying Canon's Colour Swap or Colour Accent modes for special effects.
Unusually for a Canon compact you can actually adjust the optical zoom while filming, and thanks to the CMOS sensor, the vertical streaking seen on CCD models is also avoided. The widescreen display is filled by video when shooting or playing back HD video.
Like most Canon models which employ DIGIC 4, the IXUS 300 HS / SD4000 IS compresses its video using the modern H.264 format and encodes stereo audio as Linear PCM at 16 bit / 44.1KHz, then stores the result in a QuickTime MOV wrapper. The maximum recording time is 10 minutes per clip in HD or one hour in the lower resolution modes. You'll need around 2GB to record ten minutes of HD and Canon recommends using SD cards rated as Class 4 or faster, which includes affordably priced SanDisk Ultra II models; we verified the HD movie mode worked file with a 1GB Ultra II card, along with quicker Class 6 models.
Below is our first HD movie sample, which as always can be downloaded by registered member of Vimeo; we use VLC Player to watch Canon's MOV clips under Windows. The video below shows a slow handheld pan with an optical zoom at the end. The first thing to notice is the absence of vertical streaking on the rippling water – this is avoided thanks to the use of a CMOS sensor. Models which use CCD sensors can suffer from streaking in areas of saturated highlights, like sunlight reflecting on rippling water, or a backlit window in a dark room. Towards the end of the clip you'll see a demonstration of the optical zoom range, and while the zooming process isn't completely linear in speed (nor is it far from silent), we're still pleased to find it offered on a Canon compact. The AF system also manages to stay locked-on despite the adjustment in focal length.
Canon IXUS 300 HS / SD4000 IS sample video 1: outdoors, sunny conditions, handheld panning with zoom
Below is a second HD sample, again handheld at wide-angle, but this time in low light conditions. There's understandably some noise, but the bright maximum aperture when zoomed-out at least means the camera doesn't have to amplify the signal as much as compacts with more typical lenses. You'll also notice the absence of vertical streaking around the outside window towards the end of the clip – on models with CCD sensors, there's often quite visible streaking there. Sadly there's quite a lot of focus drifting on this sample.
Canon IXUS 300 HS / SD4000 IS sample video 2: indoors, dim conditions, handheld panning
Next up comes a clip filmed under bright light from a tripod to illustrate a best-case scenario.
Canon IXUS 300 HS / SD4000 IS sample video 3: outdoors, sunny conditions, tripod-based panning
So far so normal for a 2010 Canon compact, but new to the IXUS 300 HS / SD4000 IS is a Super Slow Motion mode which drops the resolution to 320×240 pixels to allow capture at 240fps. These recordings are then played back at 30fps, revealing the action taking place eight times more slowly than normal. You can record in this mode for a maximum of 30 seconds, and since playback is effectively eight times slower than normal, that half minute burst would take four minutes to watch. No audio is recorded in this mode, and the optical zoom is also locked once you start filming.
The reduction in resolution to QVGA is disappointing, but the Super Slow Motion mode is still capable of capturing some neat action clips. We've shown two below, one of the Shotover Jetboats performing one of their trademark spins, and the other of a Snowboarder making a small jump (this was taken from a moving chairlift, so forgive the wobbling and post at the end!). The clips are pictured at 100%, so we're showing them here at their maximum size without any scaling.
The normal 720p HD movie mode is capable of capturing good quality results in decent light (albeit with focus drifting in our low light sample above) and the Super Slow Motion mode can be a lot of fun, albeit at a limited low resolution. The use of a CMOS sensor is also welcomed as it avoids the vertical streaking which often plagues CCD-based models. If you're after higher resolution videos though, the more recent IXUS 1000 HS / SD4500 IS boasts 1080p video capabilities.
Canon IXUS 300 HS / SD4000 IS drive modes

Canon's point-and-shoot cameras haven't had the greatest track records when it came to continuous shooting, but the IXUS 300 HS / SD4000 IS aims to change all that. While several models in the 2010 Canon range shoot at just half a frame a second, the IXUS 300 HS / SD4000 IS exploits its CMOS sensor to deliver a relatively impressive rate of 3.7fps at the full 10 Megapixel resolution. The focus and exposure may be locked as soon as you half or fully press the shutter release, but the speed is way beyond what we've seen on many recent Canon compacts and a very welcome enhancement.
Alternatively if you're willing to drop the resolution to 2.5 Megapixels, the IXUS 300 HS / SD4000 IS's High Speed Burst mode will fire-off images at 8.4fps, again with the focus and exposure locked from the first shot.
To put these capabilities to the test we fitted the IXUS 300 HS / SD4000 IS with a Class 6 Lexar Professional 8GB SDHC card and used Shutter Priority to select a speed of 1/500 at 125 ISO. We fired-off 50 Large Fine JPEGs in 19 seconds and the camera showed no signs of slowing or stalling. This corresponded to a rate of 2.6fps. Switching to the High Speed Burst mode, we fired-off 63 frames in ten seconds, again with no sign of slowing, which corresponded to a rate of 6.3fps.
In each case, the speeds fell well short of the claimed specifications, but were still sufficiently quick to be useful for capturing action sequences. To put the continuous shooting to the test in a real-life environment we headed to the World-famous Shotover Jet in Queenstown where the boats travel at up to 85kph and perform 360 degree spins. Below are ten frames taken from a sequence representing around two and a half seconds of action; the individual exposures were 1/500 at 400 ISO.
Canon IXUS 300 HS / SD4000 IS Continuous shooting
Once again while the continuous shooting speed at full resolution worked out closer to two and half frames per second, the images above prove it's still possible to capture fast action sequences with a fair degree of success – even with the focus and exposure locked from the first frame. It's a very welcome boost in performance for a Canon compact.
The IXUS 300 HS / SD4000 IS also inherits the wealth of self-timer options seen on other recent Canon compacts. A dedicated entry in the Function Menu lets you choose from conventional ten and two second countdowns, along with a custom option which fires-off between one and ten shots after a delay of 0 to 30 seconds.
In addition, Canon offers a selection of self-timer options which exploit face detection, although bizarrely you won't find any of them in the self-timer section. Instead head to the Recording mode section of the Function Menu and choose the Smart Shutter option. This gives you the choice of Smile, Wink and Face timers, which delay the countdown until they see the subject either smile or wink or until a new face enters the frame. You can also set the number of shots to be taken between one and ten.
These modes sound like a novelty, but they're actually both fun and useful in practice. We just don't understand why you need to enter the Recording Menu to access them amongst the scene presets, when they really ought to be listed in the normal self-timer menu. After all, the 'face-timer' of previous Canon compacts was listed alongside the normal self-timer options, so why it's moved is a mystery. Sadly without reading the manual (or a detailed review), many owners may not even realise these options exist.
Canon IXUS 300 HS / SD4000 IS sensor

The IXUS 300 HS / SD4000 IS becomes the first IXUS / ELPH to employ a back-illuminated CMOS sensor. Measuring 1 /2.3in, it's the same size as those found in comparable compacts, but to improve the low light capabilities, Canon's held-back on the resolution. So rather than packing 14 Megapixels or more, the IXUS 300 HS / SD4000 IS offers a relatively modest 10 Megapixels. The images are 4:3 in shape with a maximum resolution of 3648×2736 pixels.
Does Canon's strategy of employing CMOS technology with a sensible Megapixel count really make a difference in low light quality compared to higher resolution CCD chips? Find out in our High ISO Noise results pages where we've directly compared the IXUS 300 HS / SD4000 IS against the IXUS 210 / SD3500 IS.
In addition to the best quality mode, the IXUS 300 HS / SD4000 IS offers four lower resolutions and a cropped 16:9 option, along with the choice of Fine and Normal JPEG compression; unsurprisingly the option to record in RAW is beyond the IXUS / ELPH range, and for that in a Canon compact you'll need to go for the PowerShot S95 or G12. Best quality Large Fine JPEGs measure around 2-3MB each, and like all Canon compacts, there's no built-in memory to get you started so you'll need to provide your won card from day-one. As discussed above, the IXUS 300 HS / SD4000 IS is compatible with SD, SDHC and the latest SDXC cards, with Class 4 or faster models required to support the HD movie mode.
The sensitivity ranges from 125 to 3200 ISO at the full resolution, with the Low Light Scene Preset operating between 400 and 6400 ISO, albeit at a greatly reduced resolution of 2.5 Megapixels; there's no way to adjust the noise reduction. To see how the quality of the IXUS 300 HS / SD4000 IS measures-up in practice, take a look at our real-life resolution and high ISO noise results pages, browse the sample images gallery, or skip to the chase and head straight for our verdict.