Canon IXUS 210 / PowerShot SD3500 IS ELPH
Canon IXUS 210 / PowerShot SD3500 IS vs Sony Cyber-shot DSC-TX7 Real-life resolution
Canon IXUS 210 / PowerShot SD3500 IS results: Real-life resolution / High ISO Noise
| | | |
| --- | --- | --- |
| Canon IXUS 210 / PowerShot SD3500 IS | | Sony Cyber-shot DSC-TX7 |
| | | |
| f4, 80 ISO | | f6.3, 125 ISO |
| | | |
| | | |
| f4, 80 ISO | | f6.3, 125 ISO |
| | | |
| | | |
| f4, 80 ISO | | f6.3, 125 ISO |
| | | |
| | | |
| f4, 80 ISO | | f6.3, 125 ISO |

Canon IXUS 210 / PowerShot SD3500 IS results: Real-life resolution / High ISO Noise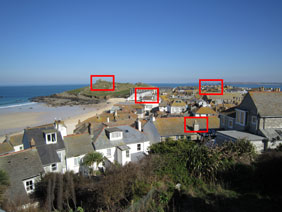 Support this site by
shopping below

To compare real-life performance we shot this scene with the Canon IXUS 210 / PowerShot SD3500 IS and Sony Cyber-shot DSC-TX7 within a few moments of each other using their best quality JPEG settings.
The lenses on each camera were set to approximate the same field of view and both were set to Program mode with manual ISO override. Both cameras were set to their lowest available ISO sensitivity – 80 ISO on the IXUS 210 / PowerShot SD3500 IS and 125 ISO on the Cyber-shot DSC-TX7.
The above image was taken with the Canon IXUS 210 / PowerShot SD3500 IS in Program mode. The lens was set to 4.3mm (24mm equivalent) and the metering selected an exposure of 1/800th of a second at f4. The original 4320×3240 pixel image had a file size of 3.56MB.
The Canon test image is well exposed, and shows good tonal detail in the shadows and highlights. The colours are well saturated and natural looking and, though it might appear a little on the blue side for some people's liking, the white balance is about right, producing fairly neutral colours.
The lens and 14.1 Megapixel sensor do an excellent job of rendering fine detail in this scene. Overall, the crops are sharp and contrast is good. The first crop is actually the least impressive, but you can just about make out the crosses at either end of the chapel roof. The lighthouse is a well resolved single white column and you can even make out some detail in the cliffs behind it. The houses in the foreground of the lighthouse crop, which is taken from near the edge of the frame, look a little soft but elsewhere edge detail is crisp and well defined.
Compared with the crops from the Sony Cyber-shot DSC-TX7, the Canon IXUS 210 / PowerShot SD3500 IS results are better all round. The first crop is interesting because it clearly demonstrates the difference in colour processing between the two cameras. The Cyber-shot TX7's tendency towards red is clearly visible on the hillside. The Canon IXUS 210 / PowerShot SD3500 IS is also much better at resolving fine detail across the frame. Compare the lighthouse and cliffs in the second crop, the roof tiles to the left of the chimney in the third and the green roof in the bottom left corner of the final crop for the most obvious evidence.
Note the fine noise grain on the Canon samples which isn't present on the Sony – this is more down to differences in noise reduction strategies than a cleaner signal from the TX7's sensor. If you like Sony's smooth approach to image processing, you may prefer its output below, but it can prove problematic with smearing at higher sensitivities. Speaking of which, let's now see how each camera performs throughout their sensitivity ranges in our Canon IXUS 210 / SD3500 IS High ISO Noise results.