Canon IXUS 130 / PowerShot SD1400 IS
Verdict
Canon's IXUS 130 / PowerShot SD1400 IS continues the steady evolution of the slimmest model in the range. This camera is all about looks and size and doesn't disappoint in either respect. Measuring just 92x56x17.8mm, it's a seriously compact camera which combined with beautifully rounded corners and lack of sharp edges will see it slip easily and comfortably into any pocket. It's a camera you can't help but enjoy handling, which coupled with its tiny dimension means you'll never leave it at home.
The beauty is more than skin-deep too. The IXUS 130 / SD1400 IS inherits the 720p HD movie mode and HDMI port of its predecessor, while featuring more sophisticated scene detection which does a great job of working out what you're trying to take in Auto; indeed we'd be happy to leave it on Auto for almost all situations.
The small boost in resolution was inevitable, but thankfully doesn't compromise image quality, which looks good up to 200 ISO and remains fairly usable at higher settings. Certainly it's as good, if not better than most compacts with the same resolution and sensor area.
| | |
| --- | --- |
| | |
| | |
| | |
The most important upgrade over its predecessor though is a broader 4x zoom range which crucially now includes 28mm (equivalent) wide-angle coverage. This addresses our major complaint with the earlier IXUS 100 IS / SD780 IS which may have been a physically desirable camera, but one with a basic 3x zoom range which lacked true wide angle coverage. Now with the new IXUS 130 / SD1400 IS, you get a lens which zooms wider and a little longer, packed into a slightly slimmer package than before. The optics aren't bad either, and while there's a little softness in the extreme corners when zoomed-out, it still outperforms its predecessor and the main rival we compared it against. Shame you still can't zoom while filming video, but this is an area where Canon refuses to budge on most models.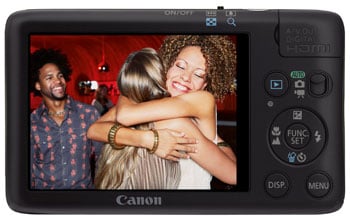 Before we get too carried away though, there are a number of downsides to point out. Most obviously compared to its predecessor, the optical viewfinder is now absent. This isn't entirely surprising given they deliver a tiny and slightly inaccurate view which is hard to sell on the shelves when many buyers only concentrate on key specifications like resolution, zoom range and screen size. But it is a shame to see them gradually become extinct on most compacts as they did allow you to compose with the screen switched off to save power and extend a failing battery; they were also handy when direct sunlight made the screen hard to view.
But on the upside, the screen is now slightly larger than before and looks great in use. The image is bright and viewable even in bright conditions or at extreme angles, allowing you to easily compose with the camera held low or high above your head.
Less forgivable is Canon's continued lack of interest in even half-decent continuous shooting capabilities on the vast majority of its compacts. The IXUS 130 / SD1400 IS shoots at just 0.7fps at its full resolution, and only manages 1.4fps with its quality dropped to 3.5 Megapixels in the Low Light mode. This is not the camera for you if you want to capture any kind of action sequence. It's also odd to find the clever face, smile and wink timer options hidden away amongst the scene presets when they really ought to be in the main self-timer menu. Many owners may end up missing these handy features without studying the manual.
There's also the fact that Sony has an even slimmer camera with the same resolution, zoom range and screen size at a comfortably lower price. So before wrapping-up, how do the two cameras compare?
Compared to Sony Cyber-shot DSC-W350
Sony's Cyber-shot DSC-W350 is one of the closest rivals for the Canon IXUS 130 / SD1400 IS, with both cameras sharing a great deal in common. Both are ultra-slim compacts featuring 14 Megapixels, 4x stabilised zooms, 2.7in / 230k screens, 720p HD video and very capable Auto modes with scene detection.
In its favour the Sony W350 zooms a tad wider to an equivalent of 26mm (albeit being a little shorter at the long end), you can optically zoom while filming (albeit very quickly), it features Sony's excellent Sweep Panorama which automatically generates panoramic photos in-camera with a simple sweep of the camera, and it's actually a little smaller in every dimension. Best of all, the Sony W350 is comfortably cheaper than the Canon.
Sounds like a slam-dunk for Sony, but there's a number of benefits to the Canon which you only really notice when using both cameras side-by-side. The Canon IXUS 130 / SD1400 IS may be slightly larger, but thanks to its rounded corners it feels much more comfortable in your hands (or pockets) and looks classier too. The screens may be the same size and resolution, but Canon's is brighter and considerably easier to view at high or low angles when the image on the Sony virtually disappears. The IXUS 130 / SD1400 IS also features a standard Mini HDMI port, whereas Sony forces you to buy a proprietary cable for HDTV connectivity, and even then only delivers analogue Component output. In terms of image quality, both cameras were roughly neck-in-neck in our main results pages, but comparing the Gallery images saw the Canon enjoy an edge.
But while there are differences in their specifications and features, the major decision will boil down to real-life handling and price. Pick up both models in person and most will find the Canon superior in look and feel, while also boasting a far superior screen. But while the Sony isn't as classy in person, it is noticeably cheaper. Indeed it represents great value considering its tiny dimensions, wide lens and HD video. Check out our Sony Cyber-shot DSC-W350 review for more details.
Canon IXUS 130 / PowerShot SD1400 IS final verdict
Canon's IXUS 130 / SD1400 IS improves upon its already desirable predecessor with a broader and wider zoom lens, enhanced Auto mode, and a series of clever self-timers triggered by a face, smile or wink. The screen's also slightly bigger than before and looks great at almost any angle, and you still get 720p HD video and an HDMI port to enjoy your photos and movies on an HDTV.
You can of course get most of this in any mid-range compact, but like its predecessor, much of the appeal of the IXUS 130 / SD1400 IS lies with its physical build and appearance. It's a great-looking tiny camera with beautifully rounded corners, allowing it to slip discreetly into any pocket. Handle it in the flesh and it's hard to resist.
Our biggest complaint with the earlier IXUS 100 IS / SD780 IS was its unremarkable 3x zoom range which lacked true wide-angle capabilities. That's now been addressed with a broader 4x range on the IXUS 130 / SD1400 IS which includes 28mm coverage. Annoyingly you still can't optically zoom while filming video, but the range is much more flexible for normal photography.
The optical viewfinder of its predecessor may now be gone, but again offering some consolation is the slightly larger screen which looks great in use. In terms of exposures, the camera remains pretty much fully automatic, although the latest scene detection does a great job. Probably the worst aspect in terms of performance is its slow continuous shooting speed, but unless you want to capture action, this won't bother you.

So with great looks and finish, a nice wide lens, foolproof Auto, HD video and decent image quality, there's a great deal to like about the IXUS 130 / SD1400 IS. Sure, there's a premium for packing these capabilities into such a small body, but it's a price many will be happy to pay. After all the earlier IXUS 100 IS / SD780 IS sold by the bucket-load even when equipped with a basic 3x zoom. This year you get a wider lens and bigger screen along with a slimmer and more rounded body. Even in the continued absence of a decent burst mode and optical zoom while filming, it adds up to a highly desirable package. If you're happy to pay the premium for a great-looking slim automatic compact, the IXUS 130 / SD1400 IS won't disappoint.
---

Good points
Very slim and stylish body; looks and feels great.
4x stabilised zoom with 28mm wide coverage.
Foolproof Auto with scene detection.
720p HD video and HDMI output.

Bad points
Pointlessly slow continuous shooting speed.
Cannot optically zoom while filming.
Optical viewfinder of earlier model missing.
Face, smile and wink timers in strange location.


Scores
(relative to 2010 compacts)

Build quality:

Image quality:

Handling:

Specification:

Value:

Overall:

19 / 20
16 / 20
16 / 20
17 / 20
16 / 20

84%