Canon IXUS 105 / PowerShot SD1300 IS
Canon IXUS 105 / SD1300 IS vs Nikon COOLPIX S3000 vs Sony Cyber-shot DSC-W310 High ISO Noise

Canon IXUS 105 / PowerShot SD1300 IS results: Real-life resolution / High ISO Noise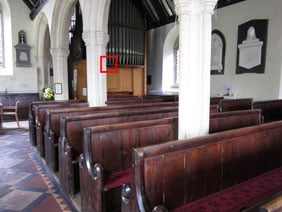 | | |
| --- | --- |
| | Support this site by shopping below |
To compare noise levels under real-life conditions we shot this scene with the Canon IXUS 105 / SD1300 IS, the Nikon COOLPIX S3000 and the Sony Cyber-shot DSC-W310.
The lenses on all three cameras were set to approximate the same field of view and ISO was manually set.
The above shot was taken with the the Canon IXUS 105 / SD1300 IS in Program mode with the lens at a wide angle setting of 5mm (28mm). The exposure was half a second at f2.8. The crops are taken from the area marked with the red square and presented below at 100%.
The results from the Canon IXUS 105 / SD 1300 are very good in their own right and compare very favourably with the results from the other two cameras. Quite often in very low light situations compacts are prone to underexposure and it can be difficult to see much detail in the crops which are taken from a quite poorly lit central part of the frame. In this case though, if anything, the IXUS 105 / SD 1300 has slightly overexposed the scene, burning out the detail on the white pillar in the foreground.
As for the crops, the first two, at 80 and 100 ISO are near identical and show little if any noise. Canon's processing strikes a good balance all the way up the ISO range, so although the noise gets progressively worse it's kept in check without the processing becoming more obtrusive than the noise it is supposed to deal with. At 800 ISO, the noise, though very apparent, isn't completely objectionable and bears a resemblance to film grain. Beyond 800 ISO it's never going to be pretty though and the 1600 ISO setting is going to be for emergency use only. The Low Light scene mode, which shoots 2 Megapixel images selected 1600 ISO here. The size difference makes a comparison difficult, but it doesn't look quite as grainy as the full resolution shot, so might be worth a try if lower noise is more important to you than size.
Compared with the Nikon COOLPIX S3000, the IXUS 105 / SD1300 IS produces better results at every ISO setting, though the difference gets more obvious the higher you go.The COOLPIX crops start softer and end clumpier with less detail as you move through the ISO range.
The Sony Cyber-shot DSC-W310 fares little better, but the overriding problem here is white balance. While it's common for white balance to waver at higher ISO settings, the Cyber-shot DSC-W310 got it badly wrong right from the off with images at every ISO setting displaying a strong blue cast.
Now head over to our Canon IXUS 130 / SD1300 IS gallery to see some more real-life shots in a variety of conditions.
| | | | | |
| --- | --- | --- | --- | --- |
| Canon IXUS 105 / SD1300 IS | | Nikon COOLPIX S3000 | | Sony Cyber-shot DSC-W3100 |
| | | | | |
| 80 ISO | | 80 ISO | | 80 ISO not available |
| | | | | |
| | | | | |
| 100 ISO | | 100 ISO | | 100 ISO |
| | | | | |
| | | | | |
| 200 ISO | | 200 ISO | | 200 ISO |
| | | | | |
| | | | | |
| 400 ISO | | 400 ISO | | 400 ISO |
| | | | | |
| | | | | |
| 800 ISO | | 800 ISO | | 800 ISO |
| | | | | |
| | | | | |
| 1600 ISO | | 1600 ISO | | 1600 ISO |
| | | | | |
| | | | | |
| 1600 ISO (Low Light scene mode) | | 3200 ISO | | 3200 ISO |