Canon Digital IXUS 95 IS / PowerShot SD1200 IS ELPH
Intro
Announced in February 2009, the Canon Digital IXUS 95, also known as the PowerShot SD1200 IS Digital ELPH in North America, is a 10 Megapixel compact with a 3x image stabilised optical zoom, 2.5in LCD display and an optical viewfinder. It replaces the Digital IXUS 80 (PowerShot SD1100 IS), adding extra resolution and Canon's new scene recognition technology. Since launch it's become one of the best-selling compacts of 2009, and in our review we'll find out if it lives up to its popularity.
Looks-wise, the IXUS 95 IS / SD1200 IS shares more than a passing resemblance to its predecessor and the IXUS / ELPH family, renowned for its classy good looks. Slightly smaller than a pack of playing cards, the IXUS 95 IS / SD1200 IS will easily fit into your pocket, but with it's rounded corners, satin metallic body and flush controls, it's the kind of object you'll want to carry around in your hand, like a phone. Depending on your region, it's also available in a wide choice of colours: dark grey, blue, pink, green, light grey or orange, and if you'd really like to make a splash, the optional WP-DC29 underwater housing will protect the camera to depths of 40m.
The 3x zoom lens retracts completely when the camera isn't in use, producing a soft-edged lustrous brick. Though you wouldn't think this an especially ergonomic shape, it's surprisingly comfortable to grip either with one hand or two. The LCD panel is bright and punchy, and Canon's even squeezed-in an optical viewfinder, though it's so tiny we can't see many people wanting to use it other than in an emergency, when battery power is very low for example.
The rear panel controls are finished in grey plastic, a look that's slightly at odds with the overall design, nowhere more so than the mode selector switch, a three-position plastic lug that doesn't look very elegant, but at least provides a simple means of switching record modes.
The mode switch has three positions, Auto, Program (plus scene modes), and Movie. The Playback mode has been moved to a separate button and the direct print button has been dropped from this model.
Below that is the familiar Canon control disc with a central Func Set button surrounded by a four-point disc used for navigating menus and for single-click functions such as exposure compensation, flash, self timer and macro focusing.
A button at the bottom of the rear panel toggles display overlays and, because of the presence of an optical viewfinder, can also be used to turn the display off, resulting in greatly increased battery life. Finally the menu button activates the full capture and playback tabbed menu system, depending on which mode you're in.
On the top panel there's just the recessed on/off button and the larger raised shutter release with it's zoom collar.
The built-in flash sits on the top left corner of the front panel and has a quoted maximum range of 4.2 metres at the wide angle setting. In Program mode you can force it on or off or have it activate automatically when conditions demand. There's also a slow-synchro mode for creative effects in low light.
Within the specified range, the flash produced excellent results with only slight fall off in illumination at the frame edges. In very dark conditions, such as at night or in dimly lit rooms, the flash could result in red-eye, even with the red-eye lamp in use, so you'll almost certainly want to make use of the red-eye correction option in these situations.
The IXUS 95 IS / SD1200 IS's NB-6L 1000mAh battery pack provides sufficient power for 260 shots when using the LCD panel and 700 shots with the LCD panel switched off. This demonstrates one of the major advantages of a camera with an optical viewfinder – even though the view is tiny on the IXUS 95 IS / SD1200 IS and sometimes suffers from parallax error, the ability to shoot for nearly three times longer than with the screen speaks for itself.
Support this site by shopping at Amazon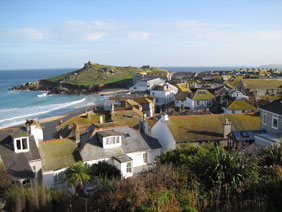 Canon IXUS 95 IS / SD1200 IS coverage

6.2-18.6mm at 6.2mm (35mm equivalent)

6.2-18.6mm at 18.6mm (105mm equivalent)
The lens on the IXUS 95 IS / SD1200 IS is a 3x optical zoom ranging from 6.2 to 18.6mm (35-105mm equivalent). Let's speak plainly and say that's not going to set anyone's heart racing. It's neither a super wide angle nor a super telephoto, and is about the minimum coverage you'd expect from a zoom lens of any description. Having said that it provides what you'll need for taking most kinds of photos from small group shots to portraits and will allow you to nicely frame your shot without having to walk back and forth too much.
On power-up the lens extends in two sections by about 20mm and the camera is ready to shoot in less than a second. In macro mode you can focus as close as 3cm, not as close as some Canon compacts, but better than most of the competition.
The zoom covers the total distance smoothly and rapidly: end-to-end it takes about a second and you can jog it through six discrete steps with a nudge on the zoom rocker. It's nice and quiet too.
The IXUS 95 IS / SD1200 IS employs Canon's optical image stabilisation to reduce the effects of camera shake and make it possible to shoot in low light using slower shutter speeds than would ordinarily be possible.
In Auto mode, image stabilisation activates automatically, while Program gives you the choice of three options – Continuous, which is on all the time, Shoot only, which activates when you press the shutter release half way and Panning which only stabilises the vertical axis and is used when you pan horizontally to follow a moving subject. See the Blurring Action tutorial at our sister site DSLR Tips for an example of this.
Canon IXUS 95 IS / SD1200 IS: IS off / continuous

100% crop, 6.2-18.6mm at 18.6mm, 1/30, 400 ISO, IS off

100% crop, 6.2-18.6mm at 18.6mm, 1/30, 400 ISO, IS on
The two crops above were taken from images shot with the IXUS 95 IS / SD1200 IS in Program mode with the lens zoomed into it's maximum equivalent of 105mm and using an exposure of 1/30 at f4.9. Ordinarily you'd expect to experience camera shake at shutter speeds below 1/100th of a second at this equivalent focal length. The image on the left, taken with IS turned off shows some (though not much) evidence of camera shake, whereas the one on the right, taken with IS in Continuous mode, is reasonably sharp. In Auto mode the slow shutter warning appears at shutter speeds slower than 1/30 and in our test the IXUS 95 IS / SD1200 IS wasn't able to eliminate camera shake at 1/15th of a second.
The IXUS 95 IS / SD1200 IS's slow shutter warning is quite cleverly linked to the zoom. At full zoom it activates at speeds slower than 1/30th of a second, but if you zoom out to the widest angle setting the slow shutter warning doesn't appear until you drop below 1/20th.
The IXUS 95 IS / SD1200 IS AiAF can detect and track up to nine faces when photographing people. Pointing the camera at a person or group is enough to activate the system, with a white frame appearing over the main subject and up to two grey frames appearing around additional faces. When you press the shutter button halfway, up to nine green frames appear on those faces on which the camera maintains focus.
All recent Canon Compacts make use of the DIGIC 4 processor's face detection and it works very well in nearly all circumstances. In good light it's quick to locate faces and sticks with them even when they are turned almost to full profile. Indoors it's a little less efficient, but still workable. When faces aren't detected the camera defaults to a nine-area AF grid system.
You can also select Centre AF focussing which uses a single central frame as the focus area. The central frame can be set to one of two sizes for more precise focus selection and the focus can be locked by pressing the right (macro) button on the control disc.
The IXUS 95 IS / SD1200 IS has a 2.5in LCD panel with 230K pixels. It's clear, bright and contrasty and makes for comfortable viewing in all conditions bar bright sunlight. The brightness is adjustable but, as with all LCD screens, if you can't see it on the default setting, increasing the brightness won't help much.
Bucking the trend to dispense with optical viewfinders, the IXUS 95 IS / SD1200 IS has a very small optical viewfinder located centrally above the LCD display. It's so small that using it is a bit of an effort and in most situations you'll be better off with the screen which is more accurate. But for shooting in bright sunshine or when you want to conserve the battery it provides a useful alternative.
Pressing the menu button in one of the capture modes activates the two-tabbed menu system common to all recent Canon compacts. The first of these provides access to shooting settings including digital zoom, flash, AF-assist beam, display overlays, and date stamp. The second accesses less commonly used camera settings like speaker volume, LCD brightness, file numbering options, auto rotate, date and time setup and power saving options. This is also where you go to format SD cards.
Support this site by
shopping below

The truth is you need to use these menus only rarely because nearly all of the important stuff is located on the Func menu which is activated by pressing the Func/Set button in the centre of the control disc.
This menu overlays the capture view providing settings down the left of the screen with associated options on a bar across the bottom. In Auto mode all you can do from the Func menu is change the image size. The other options, including ISO, white balance, colour modes, metering modes and continuous shooting, are greyed out and only appear in Program mode.
In playback mode the main menu provides the same camera setting tab as in capture mode, but this time it's joined by an additional two tabs. One with slideshow and basic image editing tools such as i-Contrast dynamic range enhancement, red-eye reduction and resizing, and another with direct print options.
The Func button has no function in playback mode, but the Display button toggles several overlays. The first of these is blank so you can view the unadorned image. Next is a simple information overlay including file number, date and time and image size. Pressing display again reduces the image preview to a thumbnail and displays a histogram along with a detailed information display including exposure settings. This view also flashes areas that have clipped highlights. Finally there's a focus check which displays a magnified view of the focus areas used during shooting – if the shot was taken with face detection, this provides a quick way of checking if the person was sharp.
In Auto mode the IXUS 95 IS / SD1200 IS features Canon's automatic scene detection which refines exposure calculations on the basis of the subject. It determines whether there are people in the scene, whether it includes blue skies, whether the subject is backlit, how close the subject is and whether it's day or night. An icon appears in the top left of the screen to tell you what that camera thinks it's looking at. This is quite an advance on conventional auto exposure and works very well in most circumstances (though it can be fooled by large areas of colour), and results in much better results, particularly for backlit and night shots.
For situations where Auto mode isn't providing the results you want, or if you simply want a little more control, Program mode provides access to ISO white balance, colour presets, metering modes and continuous shooting. There are also five scene modes – Portrait, Night snapshot, Kids and pets, Indoors and Sunset – all accessible from the Func menu when in Program mode. Pressing the display button while on the last of the scene modes provides access to a further nine scene modes including Fireworks, Foliage, Snow and a 3200 ISO mode that produces 1600×1200 pixel shots.
Like its predecessor, the IXUS 95 IS / SD1200 IS can shoot movies at two sizes, 640 x 480 pixels and 320 x 240 pixels, both at 30fps. There's also a 640 x 480 long play setting which reduces the bit-rate to effectively double the recording time. You sadly can't use the optical zoom whilst recording a movie, but a 4x digital zoom is available. With a starting size of 640 x 480 pixels, the quality of 4x digitally zoomed footage leaves a lot to be desired though.
The absence of an HD video mode on a new compact, even one as inexpensive as the IXUS 95 IS / SD1200 IS is always a bit of a disappointment. To be fair, its major rival, the Sony Cyber-shot DSC-W220, also lacks HD video, so if this feature is of crucial importance, you might want to consider the next IXUS / ELPH model up the chain – the IXUS 100 IS / SD780 IS. In the meantime, registered members of Vimeo can download the original file for the clip seen here at the following page for further evaluation if desired.
Continuous shooting is available in Program mode and is activated form the Func menu. The manual says that the IXUS 95 IS / SD1200 IS can shoot 1.4fps in continuous mode and our test matched that figure almost exactly.
The IXUS 95 IS / SD1200 IS is equipped with a 1 /2.3in CCD sensor producing 10 Megapixel images with a maximum size of 3648 x 2736 pixels. Photos are stored as JPEGs using one of two compression settings – Normal and Fine. Photos shot at the maximum size using the Fine option are typically around 2 – 2.5MB in size. The ISO range extends from 80 to 1600 and there's a 3200ISO scene mode that restricts the image size to 1200 x 1600 pixels.
To see how the quality of the IXUS 95 IS / SD1200 IS measures-up in practice, take a look at our real-life resolution and high ISO noise results pages, browse the sample images gallery, or skip to the chase and head straight for our verdict.