Canon PowerShot S5 IS lens and stabilisation
The Canon PowerShot S5 IS's headline feature is its 12x optically stabilised zoom lens. This delivers an equivalent range of 36-432mm with a focal ratio of f2.7-3.5; the actual focal length is 6-72mm and we counted 20 steps when zooming from wide angle to telephoto without any lurching.

The lens zoom is powered by one of Canon's USM motors which makes it smooth and quiet in operation. The S5 IS offers two different zoom speeds depending on how far you push the rocker, and the slower of the two is virtually silent. This allows Canon to enable the optical zoom during video recording – an unusual and welcome option. Note unlike its EF DSLR lenses, the USM motor is not used for focusing.
The barrel extends by 27mm during power-up with the camera ready for action in about a second –quicker than many. Once the lens is extended, most of the zooming takes place internally, so the barrel extends by a mere extra 4mm when fully zoomed-in.
Canon's redesigned the lens cap for the S5 IS and it now clips onto the outer edge of the barrel, although not with any significant conviction – it falls off way too easily. While this allows the lens to prod it off when extending, you'll find it's generally also fallen off when removing the S5 IS from a pocket or bag, which raises concerns over damaging the front element.
The S5 IS's closest focusing distance is 10cm in Macro mode and 0cm in Super Macro – that's right, zero cm. This means the camera can stay focused even with the subject virtually pressed against the front of the barrel. Of course within a couple of cm, it's hard to avoid casting a shadow on the subject, while at 0cm, you're really looking at backlit objects, but it's still an impressive and welcome feature to have at your disposal.
To illustrate the Canon's coverage we mounted it on a tripod and shot the same scene fully zoomed-out, then fully zoomed-in. We then shot the same scene from the same position using the popular Panasonic Lumix DMC-FZ18 super-zoom which is equipped with a wider and longer 28-504mm equivalent range.
Support this site by shopping at Amazon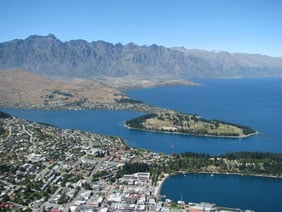 | | | |
| --- | --- | --- |
| Canon PowerShot S5 IS coverage wide | | Panasonic Lumix FZ18 coverage wide |
| | | |
| 6-72mm at 6mm (36mm equivalent) | | 4.6-82.8mm at 4.6mm (28mm equivalent) |
Equivalent focal lengths of 36 and 28mm may not sound that different, but it's clear from the photos above how much more the Panasonic can capture when zoomed-out. This is not just useful for big landscapes, but equally handy for interiors, big group shots or situations when you simply can't step back any further.
The examples below taken with each camera fully zoomed-in show the Panasonic delivering a slightly closer crop to the Canon. While the optical range of the Canon is by no means shoddy, it's interesting the company chose to stick with same 12x 36-432mm lens as its predecessor when rivals were already gearing-up for 18x lenses with wider angle capabilities. Even now very few of Canon's latest compacts have 28mm equivalent coverage.
| | | |
| --- | --- | --- |
| Canon PowerShot S5 IS coverage tele | | Panasonic Lumix FZ18 coverage tele |
| | | |
| 6-72mm at 72mm (432mm equivalent) | | 4.6-82.8mm at 82.8mm (504mm equivalent) |
We're personally not that bothered by the extra reach of the Panasonic FZ18, but its wider angle coverage is of great benefit and a feature sorely missing on the S5 IS – not to mention many other Canon compacts including the flagship PowerShot G9. Canon's next generation of compacts and super-zooms really have to address this.
If you're hooked on the S5 IS but really wish it captured wider or longer fields of view, Canon offers two optional lens converters. First you'll need to unclip the cosmetic ring mounted on the end of the barrel, then attach the optional LAH-DC20 lens adapter / hood kit. With this fitted you can then fit either the optional WC-DC58A wide angle or TC-DC58B tele-converters.
The WC-DC58A applies a magnification of 0.75 times, widening the coverage to an equivalent of 27mm, while the TC-DC58B applies a 1.5x factor to bring the maximum equivalent focal length to 648mm. Like all lens converters, these are relatively hefty items which greatly add to the size and weight of the S5 IS. If you were really serious about wanting wider or tighter views, you'd probably be better off with a model like the Panasonic FZ18.
Canon PowerShot S5 IS stabilisation

The PowerShot S5 IS features optical image stabilisation which can be enabled in the Menu system with four options: Continuous applies stabilisation constantly, Shoot Only applies when you take the photo, Panning only stabilises vertically, and Off disables the system for when you have the camera mounted on a tripod.
Canon PowerShot S5 IS Image Stabilisation off / on (continuous)

50% crop, 6-72mm at 72mm, 1/30, 80 ISO, IS off

50% crop, 6-72mm at 72mm, 1/30, 80 ISO, IS on
Traditional photographic advice would recommend a shutter speed of one over the equivalent focal length to avoid camera shake, and with a maximum equivalent of 432mm, we found we typically needed shutters of 1/250 to 1/500 to completely avoid any wobbles.
With IS activated and set to the default Continuous mode though, we could reliably handhold exposures as slow as 1/30, corresponding to between three and four stops of compensation. Therefore it's a valuable facility, although like all optical stabilisation systems, it won't freeze a subject in motion.
All our handheld Gallery shots were taken using the camera's stabilisation, so check out our S5 IS sample image page for more examples; we also have a demonstration in our video tour.

Canon PowerShot S5 IS focusing

By default, the PowerShot S5 IS operates in its FlexiZone autofocus mode. This focuses on subjects in the middle of the frame, although allows you to manually move the focus point to almost anywhere in the frame.
The S5 IS also offers face detection which can track up to nine human faces, although it won't work if FlexiZone AF is switched on in the main menu system. This can cause a little confusion at first as FlexiZone is enabled by default in PASM modes, but once disabled, you can use the AF adjust button to switch between centre and face detect. The AF can also be set to operate continuously or only when you press the shutter release halfway to save power.
In use, the AF was pretty responsive even when fully zoomed-in with little searching in good light. Under dimmer conditions, it was slower, but again locked onto subjects without too much difficulty.
A button on the side of the lens barrel switches the S5 IS into its manual focus mode and works like a shift key. Keep it held in and you can then use the rocker to adjust the focusing distance with the help of a two-times magnified window in the middle of the screen and a scale to the right.
The S5 IS also offers a focus bracketing option which takes three photos: one at the active focus point, one a little closer and one a little further. It's possible to choose the degree of adjustment from three options.
Canon PowerShot S5 IS sensor and processing

The Canon S5 IS is equipped with an 8 Megapixel CCD sensor, measuring 1/ 2.5in. This generates 4:3 images with a maximum resolution of 3264×2448 pixels, and there's the choice of four lower resolutions or a cropped 3:2 aspect ratio mode. Images can be recorded with the choice of three different JPEG settings: Normal, Fine and Superfine, with the latter typically measuring 3 to 5MB each at the full resolution. Sadly for enthusiasts, there's no RAW option. Unusually compared to rival models, there's no built-in memory either, but Canon supplies a 32MB SD card to get you started; you'll want to upgrade this ASAP though.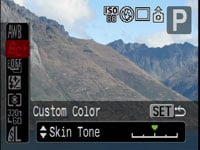 The image quality is adjusted in the super-imposed Function menu. The sensitivity, which gets a button all to itself, runs from 80 to 1600 ISO. These all operate at full resolution with Canon not mucking around with higher sensitivities at reduced resolutions. This sensibility is also reflected in the Auto ISO Shift mode option which only increases the sensitivity to eliminate camera shake after you've effectively agreed to it – a nice approach which should eliminate any nasty surprises at unexpectedly high ISOs.
The My Colours menu accessed using the Function menu offers ten different processing options including Vivid, Sepia and Black and White, or an eleventh Custom Colour option which allows you to independently adjust the Contrast, Sharpness, Saturation, red, green, blue and skin tone by plus or minus two steps. That's quite an impressive range of adjustments for a non-DSLR.
Canon PowerShot S5 IS movies

The Canon PowerShot S5 IS is justifiably proud of its video recording capabilities which unusually include stereo sound and the ability to optically zoom while you're filming – and thanks to the quiet USM motor used to power the zoom, any mechanical noise is kept to a minimum.
Canon's also made it easy to start filming at any time and in any mode by providing a dedicated record button on the back of the camera. As mentioned on the previous page, the video quality can be adjusted even when you're not in the movie mode, and the S5 IS also shows its available video recording time at all times alongside the number of still shots remaining. You can even take stills while recording video, but doing so will temporarily interrupt the video itself.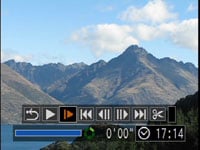 In terms of the video itself, there's the choice of four modes: two at 640×480 and two at 320×240. The 640×480 modes are both at 30fps, with the choice of normal, or long play, the latter using higher compression for longer recording times. The 320×240 modes are available in either 30 or 60fps, with the latter offering smoother playback when the S5 IS is put into slow-motion. Set to the best quality 640×480 normal mode, you're looking at about 2 MB per second, and you can keep recording until you run out of memory or when the file size reaches 4GB – four times bigger than its predecessor.
Audio on most still cameras often leaves much to be desired, but the S5 IS goes beyond most models with two microphones above the lens providing stereo recording. It's possible to manually set the recording level if desired (complete with a level meter) and also apply an optional wind filter.
The S5 IS can also record audio only files, captured at 16 bit resolution and with sampling rates of 11.025, 22.050 or 44.100 KHz for up to two hours. It's a useful facility for taking spoken notes or even conducting an interview. You can alternatively record a sound memo lasting up to one minute that's attached to an image.
Canon PowerShot S5 IS drive modes

The PowerShot S5 IS offers one Continuous shooting option which according to Canon fires at a maximum speed of 1.5fps when the focusing is locked. Set the focus to auto and the rate drops to 0.9fps.
In practice we achieved slightly faster rates of 1.4fps with fixed focus, but it's still way too slow to capture fast action sequences. It's a disappointment considering the camera's enthusiast market and also the fact many rivals offer short bursts at 3fps or even quicker options at lower resolutions.
In terms of the self-timer, you have the choice of two or 10 second countdowns.