Canon PowerShot G1X Mark II review
Verdict
The PowerShot G1 X Mark II is Canon's second attempt at a large sensor compact and thankfully it's streets ahead of its disappointing predecessor. The original G1 X Mark I sported a large 1.5in sensor that delivered great image quality that came close to matching the output of the company's APSC DSLRs. Unfortunately beyond a fully articulated screen and flash hotshoe that's about the only good thing that could be said of it. The G1 X Mark I's fixed lens had a slow aperture and modest 20cm closet focusing distance which ruled out close-ups or any kind of shallow depth of field effects, and the continuous shooting was dire.
For the G1 X Mark II, Canon went back to the drawing board, keeping the best part of the G1 X Mark I – its sensor – but refining pretty much everything else. The lens range is broader, the aperture brighter and the focusing closer, all of which make it a much more flexible camera that can deliver shallower depth of field effects than most rival compacts. There's more controls, built-in Wifi and NFC for wireless connectivity, and while the continuous shooting still isn't blindingly fast, it is at least faster than before. Meanwhile the optical viewfinder of the Mark I may have gone, but you can slide-on a far superior – albeit expensive – electronic option, and while the screen now only tilts vertically, it has become touch sensitive allowing you to tap to reposition the focus.
It adds up to a significantly better proposition than its predecessor, but one that enters a highly competitive market lead by Sony with its similarly-priced RX100 III. There's no doubting the bigger sensor in the G1 X II delivers superior quality to the RX100 III and (coupled with a longer lens) a better chance to blur the background, but the Sony is physically much more pocketable and better-featured too. Then at the higher-end there's Fujifilm's X100T. Before my final verdict, let's see how the features measure-up.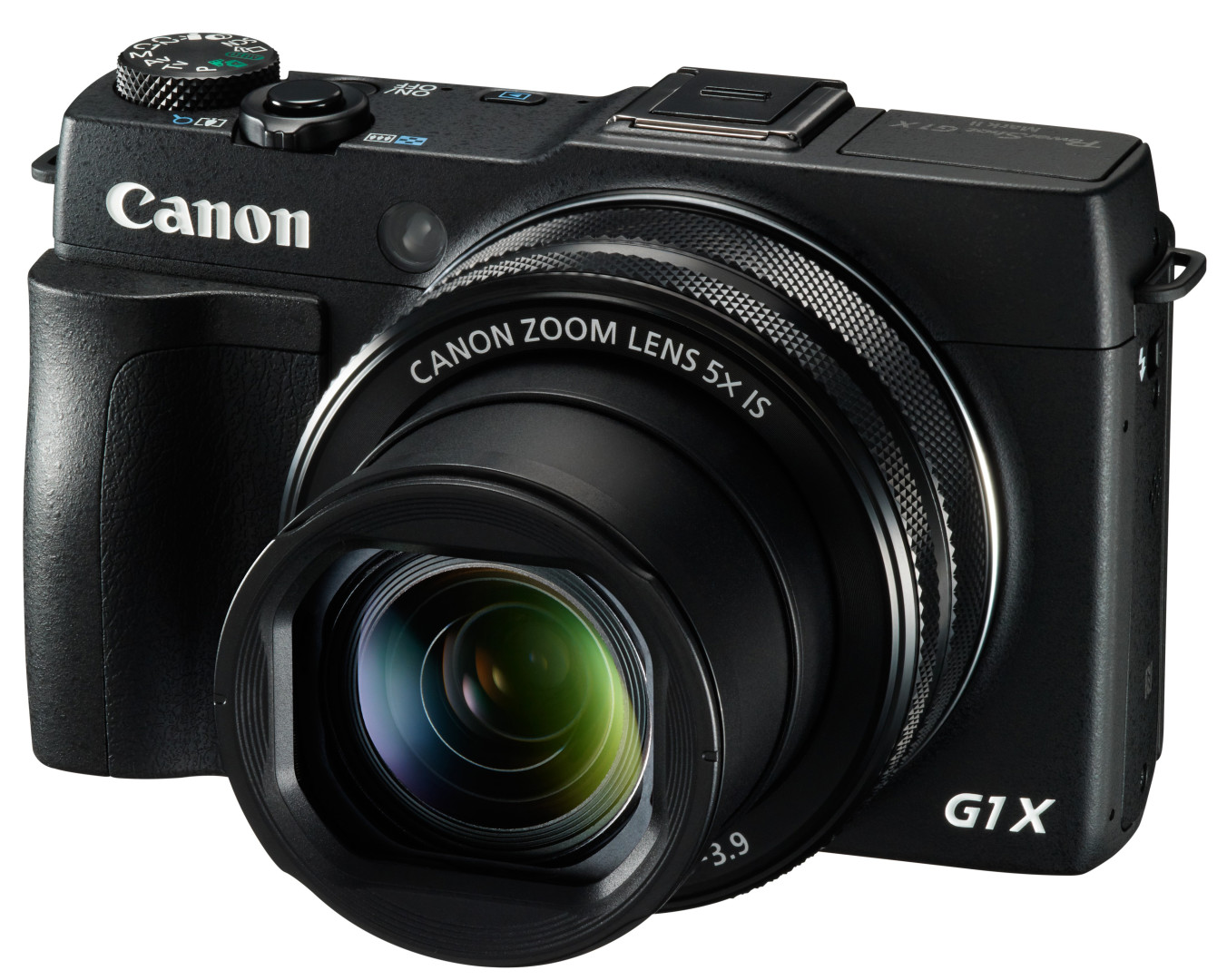 Sony RX100 III vs Canon G1 X II
Sony's Cyber-shot RX100 III is another high-end compact aimed at enthusiasts, and priced similarly to the G1 X II it becomes a natural rival, although both models are quite different.
In its favour the G1 X II features a larger 1.5in type sensor which coupled with a lower resolution allows it to deliver lower noise at higher sensitivities, although at some focal lengths the RX100 III has a brighter aperture, allowing it to use a lower ISO and narrow the gap. The Canon boasts a longer optical range of 24-120mm compared to 24-70mm, allowing it to zoom almost twice as close as the Sony; Canon's also ensured the lens remains quite bright at the long end, which allows the G1 X II to deliver shallower depth of field effects than the Sony, so long as both are zoomed to their maximum focal lengths.
Both cameras feature vertically-tilting screens which can flip up to face the subject, but Canon's is touch-sensitive, allowing you to easily change the AF area with a single tap or pull-focus while filming movies. The G1 X II also sports two lens barrel control rings, a bigger grip to hold onto and a hotshoe for mounting flashguns or the optional viewfinder. The movie mode also lets you apply a miniature effect if desired.
In its favour, the RX100 III features a built-in viewfinder, superior quality video with more detail, higher bit and frame rates, slow motion options, much more sophisticated smartphone remote control along with the chance to download apps into the camera, battery charging via USB (although I know some will prefer the traditional mains charging of the Canon), faster burst shooting (roughly twice as fast), and while both feature built-in ND filters, Sony can deploy its automatically whereas Canon's requires you to choose when to use it or not.
The biggest difference though is their size, and for me this is the real deciding factor. The Sony is just about small enough to squeeze into most trouser pockets whereas the Canon is not, instead requiring a small bag, or a coat pocket. The Canon is heavier too and remember it doesn't include a built-in viewfinder. On the other hand the Canon is easier to hold, especially if you have large hands, and the image quality for still photos is superior and the potential depth of field is shallower. Ultimately you have to think carefully about what features you want from a small camera, and crucially how small and light you'd like it to be.
See my Sony RX100 III review for more details.
Canon PowerShot G1 X II final verdict
Canon's original PowerShot G1 X Mark I was one of the most frustratingly disappointing cameras I've tested in recent times. The image quality was outstanding, but the camera let down by a slow lens, terrible macro, pointless optical viewfinder, hopeless continuous shooting, basic movie facilities and a body which really ought to be much smaller. Meanwhile Sony seemed to nail the concept of a big sensor compact with the steadily evolving Cyber-shot RX100 series.
Canon, like all camera companies, must have looked enviously at Sony's sales figures as the RX100 models flew off the shelves in a market where demand for compacts was in serious decline. Sensibly it went back to the drawing board for the G1 X Mark II, addressing many issues with the original model and taking a fair amount of inspiration from Sony. So it's out with the useless optical viewfinder in favour of a smaller body which can accommodate an optional electronic viewfinder. It's goodbye to a side-hinged screen but hello to one that vertically tilts and can twist to face the subject, and in an extra fingers-up to Sony is now also touch sensitive. Personally speaking I do miss the side-hinged articulation when shooting in the portrait aspect, but being able to tap to focus is a big benefit over the original G1 X and the RX100 III and at least you can still face the screen to the subject for crafty self-portraits or filming pieces to camera.
The real trump card over the RX100 III though is the new lens, delivering a longer range which coupled with the larger sensor allows it to deliver shallower depth of field effects. Canon's also fitted it with not one but two control rings and greatly improved the terrible macro mode of its predecessor to match the Sony.
Couple all of this image quality that's already proven from its predecessor and the G1 X Mark II looks pretty strong. And yet it failed to get me excited during my test period. The image quality wasn't in doubt, and the new lens really does resolve the macro and shallow depth of field issues that plagued its predecessor.
The problem is the physical size of the thing. The G1 X II may have lost its optical viewfinder and fully articulated screen, but it's still a chunky piece of kit that failed to squeeze into any of my pockets other than my coat. It really demands a bag of some description and as such isn't a camera I ended up carrying everywhere with me, instead requiring a conscious decision to accommodate it. There's plenty of system cameras that are roughly the same size, and while none sport a built-in 5x zoom, they do have the benefit of an interchangeable lens mount. The bottom line is the G1 X II is only 'compact' if your main camera is a semi-pro DSLR.
For me a compact needs to be smaller – pocketable ideally – and if I'm carrying a camera that's as big as the G1 X II I want it to have interchangeable lenses and better features. After all, the G1 X II may have faster continuous shooting than its predecessor, but it's still slower than many of it class, and both the movie capabilities and smartphone remote control are some of the most basic around.
Where a chunkier model like the G1 X II can carve a niche for itself though is in terms of ergonomics, style or even quirkiness, but again it fails in these respects too. The twin lens rings sound great in practice, but in use I found the clickable one really frustrating, and in terms of control, style and sheer charm it pales next to the various Fujifilm X models. I liked its output but rarely enjoyed actually shooting with it, and that's a problem. I also think a camera of this size and class needs a built-in viewfinder, especially now Sony's squeezed a very serviceable one in the smaller RX100 III.
Ultimately a camera is a very personal choice, arguably even more so for a compact which could – and should – be with you at all times. For me personally, Sony has hit the nail on the head on size and features with the pocketable RX100 III, while Fujifilm scores on quality and style with the X100T. This leaves the G1 X II in an uncomfortable middle ground where it's too big to be truly compact and just not classy enough to compete with similarly-sized models.
The counter-argument is it delivers the best photo quality of any compact in this price bracket, which coupled with a very flexible lens range and the convenience of a touch-screen display makes for a camera that can certainly be recommended. It's just not for me personally.
Good points
Great image quality from 1.5in sensor. Best in class.
Flexible 5x zoom range with bright aperture.
Tilting screen with touch capabilities.
Built-in Wifi with NFC and smartphone control.
Bad points
No built-in viewfinder – it's an optional accessory.
Too large to fit in most pockets.
Very basic movie capabilities.
Average continuous shooting speed.
Rudimentary smartphone remote control.
Sticky-feeling control ring.