Canon PowerShot G10 verdict
Canon's PowerShot G10 continues the G-series tradition of delivering high-end features and full manual control in a compact form factor. This is a well-built camera which will greatly appeal to enthusiasts or anyone looking for a pocketable backup to a DSLR.
With the G10, Canon's sensibly kept the full manual control, RAW recording and flash hotshoe of its predecessor, but made a number of enhancements, some expected, others less so. One of the most requested was a widening of its lens coverage, and while the G10's 5x optical range is now shorter than the 6x of the G9, it crucially starts at a wider equivalent of 28mm to its predecessor's 35mm.
This equips it with useful wide angle capabilities which are invaluable, whether you're shooting an expansive landscape, a large building, cramped interior or big group shot. There's inevitably greater geometric distortion when zoomed-out, and once zoomed-in it only reaches two thirds the focal length of its predecessor, but ultimately we much prefer the G10's new range.
The other headline enhancement of the G10, although one which few enthusiasts asked for, is a boost in resolution to 14.7 Megapixels. This inevitably raises concerns over noise, but in our tests, the G10 delivered roughly similar levels to its predecessor when viewed on-screen at 100%. That's a good result given the boost in pixels, although most enthusiasts would have been happier with the same resolution as the G9 (or even lower), but improved noise performance.
Like most compacts, the G10 delivers its best results at the lowest sensitivities, and that means 80 and 100 ISO. There's a drop in ultimate detail at 200 ISO and a noticeable reduction in quality at 400; the Panasonic LX3 may be no angel at high sensitivities, but it'll outperform the G10 at this point, although set both cameras to their lowest sensitivities and the G10 will comfortably out-resolve it. The G10's RAW files also boost its maximum resolving power further.
Indeed, when set to its lowest 80 ISO sensitivity, the G10 is capable of capturing a huge amount of detail, but its high resolution performance is not without caveats. Diffraction is an issue with this many pixels packed into a small area, and in our studio resolution tests, the G10 only delivered its best results with the aperture wide open. As you stop it down, the resolving power steadily decreases, until it's working closer to 10 Megapixels by f8. So if you want to see the best from the G10, you should shoot at 80 ISO in RAW and with the aperture open – this won't come as a surprise to most enthusiasts.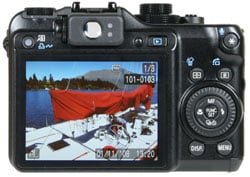 Since the earlier G9 already featured a 3in screen and it looks unlikely the G-series will ever enjoy a flip-out monitor again, few expected any enhancements to the G10's monitor. But while it measures the same 3in as its predecessor, its higher 460k resolution allows it to look much more detailed in composition, playback or even just menu navigation. It also boasts an extremely wide viewing angle in any direction, so while the screen doesn't flip-out, it remains surprisingly visible when held low or high above your head, not to mention angled from either side. It's one of the best screens we've seen on a compact.
Canon's improvements to the control system also work well, with the relocation of the dedicated ISO dial and the addition of a new exposure compensation dial. In conjunction with the thumb wheel on the back, the G10 is quick and easy to control, and thanks to a larger grip, more comfortable to hold too. The G10's new battery pack also gives the camera 400 shots per charge to the 240 of the G9 – a nice bonus, even if it means G9 owners upgrading won't be able to use any existing spares.
One of the criticisms of the G9 was relatively slow handling, and while the G10 has now actually become slightly slower in terms of continuous shooting, the general handling feels quicker. Startup, focusing, and playback all feel a little faster than the G9, although again the 1.3fps continuous shooting continues to eliminate it as an action camera, even with its new Servo AF tracking.
Much of the quicker performance is down to the new DIGIC 4 processor, which also brings the advantage of improved face detection along with the more efficient H.264 codec for video, which shrinks files by about 30% over the G9 at the same quality. Annoyingly though Canon's resisted equipping the G10 with anything more exotic than bog-standard 640×480 pixel VGA video at 30fps. It may look good, but there's no HD or even wide VGA options, both of which have been offered by Panasonic for some time.
Strangely the G10 is also actually lacking some of its predecessor's video options. The low resolution 160×120 mode is missing, as is the admittedly odd XGA 1024×768 mode at 15fps. A bigger loss though is the absence of the G9's fun time-lapse video facility. Since this has also been lost on other Canon compacts with DIGIC 4, we assume it's a casualty of the new image processor, and instead the only new gadgetry you can look forward to is a self-timer mode which exploits face detection to wait until a new person enters the frame before taking the shot.
Without HD video recording, it's also no surprise to find the G10 lacking any kind of HD output, be it HDMI or component, again an aspect where Panasonic takes the lead. It's also worth noting Canon's made no mention of any improvements to the G10's lens assembly which could improve on its predecessor's reported issues with dust. As such while we didn't experience dust during our tests with the G10, it could be equally susceptible as the G9.
So before our final wrap-up, how does the PowerShot G10 compare against its rivals?
Compared to Panasonic Lumix DMC-LX3

Panasonic's Lumix DMC-LX3 is arguably the biggest rival for the G10, with both cameras offering manual control, flash hotshoes, RAW recording, high resolution screens and wide angle coverage in relatively pocketable form factors, and for roughly the same price too. Despite these similarities, there are a number of key differences between the models.
In its favour, the LX3's lens has wider-angle coverage equivalent to an impressive 24mm, while additionally boasting a brighter focal ratio of f2.0-2.8 to the G10's f2.8-4.5. By keeping the resolution to a sensible 10 Megapixels, the LX3 delivers cleaner results at higher sensitivities. The LX3 can also record both widescreen standard definition and 720p high definition video clips, along with offering quicker continuous shooting options of 2.5fps for eight standard JPEGs, or 100 3 Megapixel images at 6fps. The LX3's Intelligent Auto mode is arguably more sophisticated with scene recognition, and the camera itself is comfortably smaller and around one third lighter. It also offers optional component output to HDTVs.
It's far from a one-sided argument though. Most obviously the PowerShot G10 features almost 50% more pixels, allowing it to capture finer detail – at least at its lowest sensitivities and largest aperture. The G10's lens may not get quite as wide at 28mm, but has double the optical range – 5x to the LX3's 2.5x, allowing it to zoom-in much closer to an equivalent of 140mm compared to the LX3's 60mm. Both cameras may sport 3in 460k screens, but the G10's looks better and matches the native 4:3 shape of its sensor, whereas you'll only fill the LX3's screen when shooting in 3:2.
Both cameras boast full manual control, but the G10 lets you change settings with chunky dials and an excellent thumb wheel whereas the LX3 forces you to prod a tiny joystick. And while the G10 is larger and heavier, it features a built-in optical viewfinder and solid build quality which feels sturdier – there's no messing around with a lens cap either. Finally, the G10's battery is good for about one third more shots per charge.
Ultimately it's a case of swings and roundabouts. Both are great compacts for enthusiasts and the choice boils down to which feature-set and zoom range best suits your requirements, along with which model looks and feels best to you in person. See our Panasonic Lumix DMC LX3 review for more details.
Compared to Canon PowerShot SX10 IS

Costing around 25% less than the G10, Canon's latest super-zoom the PowerShot SX10 IS is an interesting alternative. Like the G10 it features full manual control, H.264-encoded movies and a flash hotshoe to satisfy enthusiasts, but features several key advantages.
Most obviously as a super-zoom, the SX10 IS has a much longer optical range: a considerable 20x to the G10's 5x. Both models may start at a wide angle equivalent of 28mm, but where the G10 stops at 140mm, the SX10 IS keeps zooming to a whopping 560mm. For greater compositional flexibility, the SX10 IS also features a fully articulated monitor which tilts and flips to any angle, while the audio recorded in its movie mode is in stereo.
Sounds great, but the G10 has several key advantages of its own. Most obviously a much higher resolution of 14.7 Megapixels to the 10 Megapixels of the SX10 IS; the G10's sensor is also a larger 1/ 1.7in type to the 1/ 2.3in of the SX10 IS. The G10's screen may be fixed in position, but it's half an inch larger and features double the pixels for a much more detailed view. Perhaps most crucially of all though, the G10 sports a RAW mode – indeed, it's the only non Canon DSLR to offer the facility. The G10 is also more pocketable and features a number of physical control dials which will appeal to enthusiasts.
But the 20x zoom and flip-out screen of the SX10 IS is undeniably tempting, especially given the lower price. If only it had RAW recording… Interestingly Canon also has the higher-end SX1 IS which is identical to the SX10 IS, but switches the CCD sensor for a CMOS version at the same resolution. This allows the SX1 IS to boast fast continuous shooting at 4fps, and the ability to record full HD 1080p video. Strangely, Canon USA hasn't announced plans to sell the SX1 IS as yet, but it is available pretty much everywhere else in the World – check the Canon PowerShot SX1 IS price in the UK, and look out for our reviews of both cameras in the future.
Also consider

In terms of features, Nikon's CoolPix P6000 is another enthusiast's compact worth considering with its 13.5 Megapixel resolution, 4x zoom with 28-112mm equivalent coverage, manual control, flash hotshoe, RAW recording and even a built-in GPS.
If you're after a compact with DSLR quality, you should also check out the Sigma DP1. While it's pricey and ended up disappointing in too many respects, there are those who'll work around any issues to enjoy the unique-looking output from its Foveon X3 sensor; see our Sigma DP1 review for more details. Panasonic's Lumix DMC-G1 is also a contender with a DSLR-sized sensor and removable lenses; see our Panasonic Lumix G1 preview for more details.
Canon PowerShot G10 final verdict

The Canon PowerShot G10 is not without its faults: it's slow at continuous shooting, there's no HD video or HD outputs, and for the best image quality you'll need to shoot at 80 ISO with the aperture wide open. Fans of earlier generations of the PowerShot G-series will also lament the continued absence of an f2.0 lens and flip-out screen.
But these aside, the PowerShot G10 remains a superb compact camera. It's built like a brick yet comfortable to use, boasts full manual control along with a flash hotshoe and RAW recording, has an excellent looking screen, a flexible zoom range with wide angle capabilities and decent stabilisation, and the potential to deliver images packed with detail – again so long as you stick to the lowest sensitivities and largest apertures.
The demands and expectations of enthusiasts mean there'll inevitably be compromises with any compact that targets them and areas where it'll disappoint – indeed if we're wishing, how about a G11 with an f2.0 lens, HD movies, fast continuous shooting, a flip-out screen and most importantly of all, a physically bigger sensor?
But while the G10 faces tough competition both from its own range along with a number of rivals, most notably Panasonic's Lumix LX3 and G1, this latest Canon manages to be one of the most desirable compacts for enthusiasts to date. Again you should compare it closely against the Lumix LX3, but ultimately we preferred the G10 for its more flexible zoom range, better controls, nicer-looking screen and superior battery life. Like its predecessor, it's not perfect, but closer than most to fulfilling the brief.
Support this site by shopping at Amazon
---


Good points
5x stabilised zoom with 28mm wide angle.
Flash hotshoe and RAW recording.
Great quality 3in 460k screen.
Good controls, build and ergonomics.

Bad points
Slow continuous shooting – just 1.3fps.
No G9 time-lapse movies and still no HD.
Diffraction reduces detail above max aperture.
No HD output – HDMI or component.


Scores
(relative to 2008 compacts)


Build quality:
Image quality:
Handling:
Specification:
Value:

Overall:



19 / 20
18 / 20
17 / 20
18 / 20
18 / 20

90%



Support this site by checking prices above or shopping via our affiliate stores