Canon IXUS 310 HS / PowerShot ELPH 500 HS
Intro
Announced in February 2011, the Canon IXUS 310 HS, (or PowerShot ELPH 500 HS as it's known in North America) is Canon's latest touch-screen compact. This is the first touch-screen model to carry the HS suffix, which stands for High Sensitivity and provides superior low-light shooting performance using a back-illuminated 12.1 Megapixel CMOS sensor.
The IXUS 310 HS / ELPH 500 HS has a 4.4x stabilised optical zoom with a wide f2.0 maximum aperture and an ultra-wide angle 24mm maximum field of view. As well as the automatic shooting modes you'd expect, it also sports Program, Aperture and Shutter-priority exposure modes, and can shoot Full HD video at 1080p.
With its combination of touch-screen operation, high quality video, semi-auto exposure modes and good low-light performance, the IXUS 310 HS / ELPH 500 HS will undoubtedly appeal to enthusiast photographers and videographers alike. Here we've compared it against the Sony Cyber-shot TX10 and Panasonic Lumix FX77 / FX78, two similarly priced touch-screen models that share some of the IXUS 310 HS / ELPH 500 HS's core features, but also have something different to offer.
Canon IXUS 310 HS / ELPH 500 HS Design and controls

The IXUS 310 HS / ELPH 500 HS shares the same 'choc-ice' styling of earlier wide-screen IXUS / ELPH models, and our brown review sample made the analogy even more fitting. It's also available in gold, silver and pink. At 185 grams including the card and battery it's no lightweight, but fits comfortably in your hand and jacket, if not being quite shirt-pocket sized. Unlike the Sony Cyber-shot TX10 you can't take it in the water and at the time of writing there was no underwater housing available – at least not from Canon anyway.
Support this site by
shopping below
The IXUS 310 HS / ELPH 500 HS continues the trend for Canon touch-screen compacts to eschew physical controls. There's an on/off button and a two-position mode switch on the top panel and a playback button on the rear; aside from the big round shutter release button and its zoom collar that's it for physical controls.
The rear panel is taken up almost entirely by the screen, with a small ridged panel on the right which provides a very effective thumb rest – this is a comfortable camera to hold and operate. With a 16:9 aspect ratio, the screen is ideally suited to HD video recording, although black vertical bars appear down the side for still shooting in the native 4:3 aspect ratio. The absence of a video 'mode' (you press a record screen icon to start shooting video in any stills mode) means you have to frame up your shot in 4:3, the camera then switching to the 16:9 view when recording starts. If you find you're shooting more video than stills you can set the aspect still photo ratio to 16:9, but you have to remember to switch it back unless you're happy with 16:9 stills with a cropped resolution of 4000 x 2248, or just over 8 Megapixels.
To look at, the screen is a delight. With 460k pixels, images look clear and crisp and the viewing angle is nice and wide both horizontally and vertically, so even when held above your head you can easily compose shots. The touch-screen doesn't feel as responsive as some of the earlier touch-screen IXUS models I've reviewed though. I had to press quite firmly for the screen to respond and flicking through menu options didn't have the same natural feel as it does on my iPhone for example. The touch functions are augmented by tap controls during playback and I personally found it a lot easier to tap the side of the camera to advance playback rather than swiping the screen.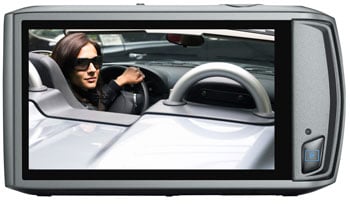 Touch-icon controls are arranged in the black vertical strips down either side of the screen. These include shooting mode, video recording, flash and self-timer controls as well as Canon's quick-access 'Func' menu. What's included here is fully customisable so you can configure the screen to include pretty much anything you want as long as there's room, and if it gets a bit cluttered there's a display icon that makes it all disappear.
The built-in flash has a maximum quoted range of 5 metres which is quite generous, it's also quick to recycle, particularly when shooting close subjects when the power is automatically reduced. Less impressive is thetThe IXUS 310 HS / ELPH 500 HS's battery life – around 180 shots from the fully charged NB-6L Lithium Ion battery.
The combined battery and card compartment is located behind a door on the underside of the camera and takes SD (HC and XC variants) and MMC (MMCplus and HCMMCplus variants) cards. Another door on the right side of the camera opens to reveal mini HDMI and A/V / USB out ports.
Canon IXUS 310 HS / ELPH 500 HS lens and stabilisation

The IXUS 310 HS / ELPH 500 HS lens has a range of 24 – 105mm (equivalent) and a maximum aperture at the 24mm setting of f2.0. With even budget compacts now typically sporting 28mm amd even 26mm lenses, mid-range compacts are having to push the boundaries and the IXUS 310 HS / ELPH 500 HS is no different in this respect to the Sony Cyber-shot TX10 or the Panasonic Lumix FX77, both of which offer a similar wide angle view. What makes the Canon stand out though is its brighter than average focal ratio of f2, at least when zoomed out, allowing it to gather more light than its rivals, in turn allowing quicker shutter speeds and or lower ISOs under the same conditions.
| | | |
| --- | --- | --- |
| Canon IXUS 310 HS / ELPH 500 HS coverage wide | | Canon IXUS 310 HS / ELPH 500 HS coverage tele |
| | | |
| 4.3-18.8mm at 4.3mm (24mm equivalent) | | 4.3-18.8mm at 18.8mm (105mm equivalent) |
At the other end of the scale, 105mm is considered a 'portrait' focal length. It'll allow you to tightly frame subjects that are reasonably close to begin with, but isn't going to get you great sports or wildlife shots.
Canon's optical image stabilisation has proved to a be a steady performer on other IXUS models and adds to the IXUS 310 HS / ELPH 500 HS's low-light capabilities with a claimed four stops of stabilisation. IS can be turned off, activated continuously, or when you half-press the shutter release. I tested it by taking the two shots below with IS turned off and in continuous mode. These shots were taken with the lens zoomed to its full telephoto setting of 105mm (equivalent) at a shutter speed of 1/5th of a second, fully substantiating Canon's claim.
Canon IXUS 310 HS / ELPH 500 HS stabilisation: IS off / IS Continuous

100% crop, 4.3-18.8mm at 18.8mm, 1/5, 400 ISO, Aperture priority mode, IS off.

100% crop, 4.3-18.8mm at 18.8mm, 1/5, 400 ISO, Aperture priority mode, IS Continuous.
Canon IXUS 310 HS / ELPH 500 HS shooting modes

In Auto mode the the IXUS 310 HS / ELPH 500 HS uses scene detection to enhance automatic exposure and Face AiAF, both of which are extremely effective. Once Face AiAF has identified faces you can select the primary target by touching the screen. In the absence of faces the system defaults to nine-area AF, but again, you have the option of simply touching the screen to focus on a particular object, touch focusing is quick, simple and very effective.
Support this site by
shopping below

Flick the mode switch to the other position and you can set Program, Av, Tv, or one of a variety of scene modes using the touch-screen. There are of course, the usual stalwarts and the IXUS 310 HS / ELPH 500 HS also includes the 'Creative filters' introduced on other recent Canon Compacts. A new Creative Light Effect which produces artificially shaped bokeh joins the Fish-eye, Miniature, Toy camera, Monochrome, Super Vivid and Poster Effects. Hand held Night Scene relies on the CMOS sensor's fast continuous shooting to take a series of low-light shots and produce a composite. I've included an example of this on the High ISO noise results page to compare it with what you'd get by simply shooting with a higher ISO sensitivity setting in Program mode.
And of course like other recent Canon compacts the IXUS 310 HS / ELPH 500 HS includes Smart Shutter, which uses Face detection to provide smile shutter and self timer options. There are three options, Smile, Face self-timer and Wink self-timer any of which can be configured to take up to 10 shots on activation. A final new addition is Movie digest, which records a short VGA resolution movie clip of the scene prior to every shot and edits them altogether for a movie digest of the day's action. As buffered footage is recorded to the card there's no shooting delay, though it does deplete the battery more quickly. With that caveat, it's a really great idea and sure to provide you with some exceptional movie moments.
Canon IXUS 310 HS / ELPH 500 HS movie modes

The IXUS 310 HS / ELPH 500 HS can shoot full HD resolution 1080p movies at 24fps which are encoded in H.264 format and saved in a QuickTime wrapper with a .mov suffix; the 24fps frame rate will delight film-makers who want to incorporate footage into pro projects. The other movie formats are 720p, 640 x 480 and 320 x 240 all at 30fps.
At full HD resolution the data rate is around 36 Megabits per second which means you'll fit just under 15 minutes in total on a 4GB card. Continuous recording is however limited to 4GB or 10 minutes in the HD modes and an hour for the lower resolutions. As you can see from the examples below, the quality is impressive, particularly hand-held with Canon's Dynamic IS stabilisation.
You can shoot video in several of the scene modes as well as Program mode, but you can't set the exposure manually. Additionally there are two dedicated movie modes – iFrame movie and Super Slow Motion movie. iFrame is an Apple format which provides for easier editing in iMovie and other applications that support it. Super Slow Motion movie has two speed options – 240fps mode records at the 320 x 240 resolution while 120fps mode records at 640 x 480 with playback speeds at 30fps of 1/4 and 1/8 real time respectively.
With stereo mics, the sound quality is good and you can use the optical zoom during video recording. It's fairly quiet, but in the absence of other sound you can hear the zoom motor.
Canon IXUS 310 HS / ELPH 500 HS sample video 1: outdoors, sunny, handheld pan with optical zoom
In 1920 mode The IXUS 310 HS / ELPH 500 HS produces sparkling quality video, Canon's Dynamic IS keeps things reasonably steady and you can use the optical zoom which is slowed to an ideal rate for video, though the buzz is a little distracting.
Canon IXUS 310 HS / ELPH 500 HS sample video 2: outdoors, sunny, tripod pan with optical zoom
On this tripod panning shot the CMOS sensor on the IXUS 310 HS / ELPH 500 HS copes well with the into-light conditions and the focus is spot on throughout even during zooming.
Canon IXUS 310 HS / ELPH 500 HS sample video 3: indoors, low-light, handheld pan
For this interior hand-held panning shot the IXUS 310 HS / ELPH 500 HS copes well with the changing light conditions and the stereo mics make a good job of picking up the ambient sound. Even in relatively low light the focus is well handled.
Canon IXUS 310 HS / ELPH 500 HS handling

The IXUS 310 HS / ELPH 500 HS starts up and is ready to shoot in a fairly pedestrian two seconds or so. Focusing in all modes is fast and positive and the the Digic 4 processor's face detection is among the best around, locking onto and holding faces even when several metres from the camera and turned three-quarter profile.
In the default setup the touch controls provide good access to frequently used functions and if you don't like the way things are arranged you can easily change it. With touch focusing and face selection Canon has put the screen to good use with features that conventional compacts can't emulate, but the lack of responsiveness in this model's touch-screen continued to irk me. I was still having to make more than one attempt at things like menu selection long beyond the point at which they should have become second nature.
The continuous shooting performance of the IXUS 310 HS / ELPH 500 HS fell significantly below the manufacturer's published figure of 3.4fps. The best I managed using a freshly formatted Lexar 8GB 133X SD card was 1.8fps with a marginal improvement to 2.3fps at the higher of the two available compression settings.
The IXUS 310 HS / ELPH 500 HS's 12.1 Megapixel back illuminated CMOS sensor records pictures with maximum pixel dimensions of 4000 x 3000. At this resolution it offers two compression settings, the best quality Fine setting produces images around 3MB in size.
To see how the quality of the IXUS 310 HS / ELPH 500 HS measures-up in practice, take a look at our real-life resolution and high ISO noise results pages, browse the sample images gallery, or skip to the chase and head straight for our verdict.