Canon ELPH 340 / IXUS 265 review - Verdict
Verdict
The IXUS 265HS / ELPH 340 HS is now the flagship model in Canon's budget compact range. It's the only one with a CMOS sensor, the only one to shoot full 1080p HD video, the only one with Wifi and it packs a very capable 12x stabilised optical zoom into a very compact and stylish body – always the trademark of the IXUS / ELPH range.
In an era where point-and-shoot compacts are under relentless pressure from smartphones, the IXUS 265HS / ELPH 340 HS still has plenty to offer and the 'downgrade' to the Digic 4+ processor, from the Digic 5 in the IXUS 255 HS / ELPH 330 isn't really worth worrying over in the light of upgraded video capability, faster (but not quite as fast as the quoted 3.9fps) continuous shooting and retention of the Handheld NightScene stacking mode.
Being able to connect a camera like this to your phone is becoming a must have feature and the NFC connectivity is a welcome addition. The IXUS 265 HS / ELPH 340 HS has one of the brightest and best 3 inch screens around, but what a shame that Canon no longer provides at least one IXUS or ELPH with a touch screen.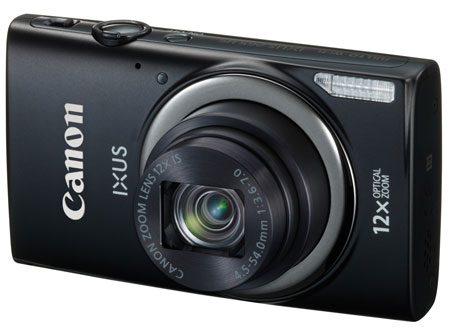 Compared to Lumix SZ8

On the Surface, the Lumix SZ8 has a lot in common with the IXUS 265 HS / ELPH 340 HS. The two are similarly proportioned (the extra 4mm thickness on the SZ8 is all lens bezel) and are within a few grams of each other in weight. They both have a 16 Megapixel sensor, they share the same screen dimensions, both have built-in Wifi and they even provide a similar number of shots from a fully charged battery.
But look a little closer and significant differences begin to emerge. The Lumix SZ8 has a CCD sensor which doesn't match the high ISO noise performance of the IXUS 265 HS / ELPH 340 HS and doesn't quite match its image quality. It also suffers from vertical purple streaking on movies when shooting subjects with bright highlights like sunlight reflecting on water.
Both have 460k 3 inch screens, but the one on the IXUS 265 HS / ELPH 340 HS is brighter, more contrasty, and has a wider angle of view. Both models are Wifi equipped but the IXUS 265 HS / ELPH 340 HS also has NFC so if you have an NFC equipped phone all you need do to establish a connection is tap the two devices together. In its favour the Panasonic Image App is more fully featured allowing more versatile remote shooting and direct upload to sharing and social networks
Both have capable point-and-shoot Auto modes with scene detection, but the Lumix SZ8 has a much wider range of effects filters including Miniature mode which, as on the IXUS 265 HS / ELPH 340 HS, you can use for movie recording. The IXUS 265 HS / ELPH 340 HS miniature mode is more versatile though, with a moveable in-focus area and a choice of playback speeds. The SZ8 has nothing to match Creative shot, a short and simple route to creative compositions and effects on the IXUS 265 HS / ELPH 340 HS. Unless you're fond of panoramas, in which case its very capable panorama mode will more than compensate.
The IXUS 265 HS / ELPH 340 HS outperforms the Lumix SZ8 with a 1080p30 full HD mode compared with 720p30 on the SZ8. It also provides one of the simplest ways to make a movie of an event or day's shooting in Hybrid auto mode, now readily available on the mode switch. The IXUS 265 HS / ELPH 340 HS also boasts faster full resolution continuous shooting, even though it couldn't match the quoted 3.9fps speed in my tests.
Depending on where you shop, the Lumix SZ8 costs around 25 percent less than the IXUS 265 HS / ELPH 340 HS. If you're on a budget, the SZ8 is a less expensive compromise, it's a good little compact, but it lacks the quality of the IXUS 265 HS / ELPH 340 HS in a number of key areas.
See my upcoming Panasonic Lumix SZ8 review for more details.
Compared to Sony WX350

The Sony WX350's 20x optical zoom has a range of 25-500mm and really puts it in the compact or pocket super-zoom category. Ordinarily this would warrant a comparison with other compact, super-zooms, indeed when I tested the WX350 earlier in the year it was up against the 18x PowerShot SX600 HS. However, the WX350's very compact proportions – at launch Sony described it as 'the world's smallest and lightest compact camera with a 20x optical zoom' – and its falling price tag make it a tempting alternative to a 12x model like the IXUS 265 HS / ELPH 340 HS.
You'll pay a little more for the WX350, so what does that buy you? I've already talked about the longer zoom, the WX350 also has a higher resolution 18.2 Megapixel sensor which will gain you bigger prints, but the quality and noise performance is similar to the the IXUS 265 HS / ELPH 340 HS. Another advantage the WX350 has is that its Multi Frame Noise Reduction stacking mode allows you to set the sensitivity manually, as opposed to the Auto ISO Handheld NightScene mode on the The IXUS 265 HS / ELPH 340 HS.
As point and shoot cameras, these models are all about creative features. These may or may not matter to you, but while both offer a range of effects, Canon takes things one step further on the IXUS 265 HS / ELPH 340 HS with Creative shot mode, which takes a lot of the decision making out of applying effects. On the other hand, The WX350 has a really excellent panorama mode, something you won't find on any Canon Compact.
Both cameras have built in Wifi, and both offer NFC for easy connection to suitably equipped smartphones. Both provide basic remote shooting using a smartphone and allow you to transfer photos wirelessly to your phone. But the IXUS 265 HS / ELPH 340 HS offers more options including transfer to a computer and photo sharing sites as well as wireless printing. It also allows you to use your phone's GPS to geo-tag photos on the camera card.
The WX350 offers 1080p50/60 HD video compared with 1080p30 on the IXUS 265 HS / ELPH 340 HS. Beyond 'normal' video modes the IXUS 265 HS / ELPH 340 HS has Hybrid mode, which shoots a short clip prior to every picture you take and stitches them all into a movie digest of the days shooting. The WX350 takes a slightly different approach with Motion shot video which creates a sequence of fast-action, superimposed images to demonstrate motion of a subject through the frame. The WX350 has much better contnuous shooting with a 10fps full resolution mode compared with 3.9fps quoted, but in reality more like 2.6fps on the IXUS 265 HS / ELPH 340 HS.
Overall the WX350 is a more powerful camera for most, but it carries a higher price tag in most regions to match.
See my Sony WX350 review for more details.
Canon IXUS 265 / ELPH 340 final verdict
Canon continues to position the IXUS / ELPH range as chic fashionable accessories and has gone into overdrive in 2014 with a catalogue that's as much about clothes, hair and nails as it is about cameras. But that doesn't mean the IXUS 265 HS / ELPH 340 HS isn't a very capable point-and-shoot compact, just that it's also a very stylish one.
Everything the IXUS 265 HS / ELPH 340 HS does it does well. And Canon has packed all the best bits of the IXUS / ELPH design and feature set into this model. If you're going to buy one from this series, this is definitely the one to go for. There are alternatives, but the IXUS 265 HS / ELPH 340 HS hits a sweet spot with a great balance of features that's very competitively priced. If that sounds like a recommendation, that's exactly what it is!
Good points
12x stabilised optical zoom.
Creative shot & Hybrid auto modes.
1080p30 full HD video.
Wifi with NFC.
Bad points
Limited Creative effect filters.
No touch screen.