Canon PowerShot D20 review
Intro

The Canon PowerShot D20 is a rugged waterproof camera designed for use outdoors in the kind of environmental conditions you'd hesitate to take a conventional camera. It's waterproof to a depth of 10 Metres, dustproof, shockproof and can be used in temperatures from -10 to 40 degrees Celsius.
The D20 is Canon's second waterproof model coming a not inconsiderable three years after the original D10 which coincidentally remains in the PowerShot Line-up. A wait of three years is a lifetime in the digital camera world, so you'd be forgiven for thinking Canon had given up on the idea of waterproof cameras, but it's put some effort into the new model. As well as radical restyling, the D20 swaps the D10's 12.1 Megapixel CCD sensor for a CMOS one of the same resolution and increases the lens range to a 5x 28-140mm equivalent with Intelligent Image stabilisation. The screen size increases from 2.5 to 3 inches with 460k pixel resolution. The D20's movie capabilities have been brought up to date with 1080p24 HD video. Finally, there's a built in GPS receiver that not only enables you to tag images with location data, but also allows recording of a GPS log of your travels.
To test the PowerShot D20 I took it into the Atlantic surf off the coast of Cornwall in the South West of the UK along with the Panasonic Lumix TS20 / FT20. The PowerShot D20 is a bigger, more expensive model with superior sealing, a longer zoom range and a built-in GPS. But do these features justify the higher price tag, or would you be better off in the water with the less expensive and more compact Lumix TS20 / FT20? Read my full review to find out.
Canon PowerShot D20 Design and controls

With its rounded corners and submarine styling, the earlier D10 was an unorthodox looking camera but, to my mind, perfectly designed for its purpose. The new PowerShot D20 is less stylised than its predecessor, but still not what you'd call conventional, with a tough curvy plastic shell and many other design elements which set it apart form the rest of the PowerShot range.
Most obviously, there's no extending lens. Unusually for an underwater camera, the older PowerShot D10 employed a conventional lens enclosed within the waterproof casing. With the D20 Canon has opted for a 'folded' optics lens design which is more compact. This makes the D20 quite slim and easier to tuck inside a wetsuit, but it's by no means the smallest underwater compact around. At 112 x 70 x 28mm and weighting 228g with battery and card it's substantially bigger and heavier than the Panasonic Lumix TS20 / FT20 which measures 101 x 58 x 19mm, and at 142g is almost half the weight.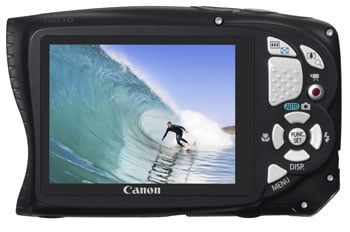 Viewed from the front the D20 has a rectangular profile with one side sculpted into a smooth curve. The two tone colour scheme contrasts the matt plastic finish with a faux metallic plate finished in a choice of silver, blue or yellow. The casing is held together with highly visible recessed hex screws and the strap, as on the D10 is attached via a bayonet lug on the bottom right corner. It all adds up to a rugged look and feel that's in tune with the PowerShot D20's function.
The front panel curves smoothly into the top which is home to the shutter release, on/off button and the unusually located playback button. There's no zoom rocker around the shutter button as is the norm on PowerShot models – presumably an arrangement that's difficult to seal. Instead the zoom is activated by two buttons just above the thumb pad on the rear of the camera. To the right of the pad is the dedicated movie record button and below it the familiar Canon four-way controller with four separate control pads in place of the disc or ring arrangement found on other PowerShot models. Finally the menu button is located at the bottom of the panel.
| | |
| --- | --- |
| | |
| | |
| | |
The D20's buttons are large and well-spaced, protrude from the back panel and react with a positive click when pushed. This is important with camera designed for use in demanding environments where you're often unable to look at the camera, your hands are cold or gloved and you have to operate the camera one-handed while using the other hand to hold on to something, be it a boat, a rope, or a rock face. The D20's buttons are really well designed in this respect with contrasting shapes to allow you to differentiate them by touch.
Behind a sealed door on the right of the camera are mini HDMI and USB / A/V ports plus a DC-in socket which you can use to power the camera with the optional AC adaptor, though obviously not in wet conditions. The combined battery and card compartment on the base is likewise fitted with a sealed door and secured with a catch. If this door is opened the camera powers down, but there's no warning to let you know if either of the doors isn't securely closed.
The PowerShot D20's 3 inch LCD screen has a resolution of 460k pixels and a 4:3 aspect ratio which means the screen area is filled when composing and playing back full resolution images. When shooting HD video the view is letter-boxed with black bars top and bottom. The screen provides a good view for both composing shots and playing them back. It has a wide viewing angle both horizontally and vertically; even with the camera held at arms length, you get a good view of things. The brightness level is adjustable but, as with all screens that won't help you much in bright sunlight where a certain amount of guesswork is inevitable.
The PowerShot D20's built-in flash is located just to the right of the lens more or less in the top middle of the front panel. It has a maximum range of 3 metres at the wide angle lens setting with Auto, manual on/off, and Slow synchro settings. In the absence of a guide number I'd assume that 3 metre figure is at a relatively high ISO sensitivity setting but if you need more flash power there's the option of fitting Canon's HF-DC1 or HF-DC2 external flash units.
Canon PowerShot D20 lens and stabilisation

The PowerShot D20 Has a 5x optical zoom with an equivalent range of 28-140mm. Whereas the D10 used a conventional extending lens within its waterproof casing, the D20 has a 'folded optics' construction – the light path is reflected within the lens system to allow a shorter physical path for the light to travel and therefore a slimmer body. Folded optics have been popular with other manufacturers both for waterproof and other models, but this is a first for Canon.
The range has increased from the 3x of the D10, extending at both ends to provide a useful 28mm wide angle and a moderate telephoto to help you get a little closer to the action. It exceeds the 4x range of the Lumix TS20 / FT20, but with less of a wide angle view and a significantly longer telephoto.
| | | |
| --- | --- | --- |
| Canon PowerShot D20 coverage wide | | Canon PowerShot D20 coverage tele |
| | | |
| 5-25mm at 5mm (28mm equivalent) | | 5-25mm at 25mm (140mm equivalent) |
For action in the water and in other demanding environments where framing can be a challenge I think this is a good range to work with. The demands of sealing a waterproof camera mean you don't see them with zoom ranges longer than this. The Olympus Tough TG-820 iHS, Nikon COOLPIX AW100 and Cyber-shot TX200V all sport 5x zooms with folded optics. Another consequence of the folded optical path is that maximum apertures aren't that bright. The PowerShot D20 has a maximum aperture of f3.9 – 4.8, but with its back illuminated CMOS sensor and Intelligent IS stabilisation, it nonetheless aquits itself well in low light conditions.
I tested the D20's Intelligent IS by zooming it to its maximum 140mm setting and taking a series of shots in worsening light at progressively slower shutter speeds. As you can see from the crops, the Powershot D20 can eliminate camera shake at shutter speeds down to 1/25th of a second – more than two stops slower than the 140th that the photographers rule of thumb suggests is safe at a focal length of 140mm and a little better than Canon's quoted two stops figure. If you're wondering why the D20's stabilisation performance is so modest compared with other models in the PowerShot range with Intelligent IS, again, it's the folded design of the lens.
Canon PowerShot D20 Intelligent IS Off/Continuous

100% crop, 5-25mm at 25mm, 100 ISO 1/25, IS Off.

100% crop, 5-25mm at 25mm, 100 ISO 1/25, IS Continuous.
Canon PowerShot D20 shooting modes

The PowerShot D20 is essentially a point-and-shoot compact and as such lacks any manual or semi-auto exposure modes. Auto mode uses the Digic 4 processor's scene detection algorithm to determine the best exposure. It works by dividing scenes into those that either do or don't contain people, and determines whether there's any subject movement before analysing the lighting conditions. The Digic 4 can tell if the subject is backlit, spotlit, if there is blue sky in the frame and if you're shooting a sunset. It can also determine if you're shooting in the dark and whether you have the camera attached to a tripod. Finally it keeps track of focus as well as exposure so can tell if you're lining up a macro shot. Put all that together and you have a system that capable of recognising 32 different scene types.
Switch to Program auto mode and you lose the scene detection, but gain a little more control over some settings. You can manually set the ISO sensitivity and white balance, choose from one of three metering modes and adjust exposure compensation by up to plus or minus 2EV.
The D20 lacks a mode dial, to switch modes you press the top button on the four-way controller and select from a menu. As you'd expect on a waterproof model, the first option after Auto and Program is Underwater, followed by Snow. The next menu position displays a sub-menu with a further selection of scene modes including Smart Shutter, which uses face detect to activate the shutter, Handheld NightScene low light stacking mode, and the Creative effect filters.
Creative effects include Fish-eye, Miniature, Toy Camera, Monochrome, Super Vivid, Poster Effect, Colour Accent and Colour Swap filters. Most of them can be used for movie shooting as well as stills and have additional settings that are accessed by pressing the display button. Monochrome, for example has three tone options – B/W, Blue and Sepia – and the Miniature effects allows you to adjust the position and size of the focus zone in both horizontal and vertical orientations.
Canon PowerShot D20 movie modes

In big step up from the basic movie capability of its predecessor, the PowerShot D20 now offers full HD movie recording with 1080p resolution at 24 frames per second. Video is encoded using the H264 codec at an average bit rate of 33Mbps and saved in a QuickTime wrapper with a .mov extension in the same folder as still images. There's also a 720p30 mode as well as 'standard' VGA 640 x 480 resolution option.
I've already mentioned that you can use the Creative effect filters for movie shooting and the PowerShot D20 offers some other very clever and creative video options that put it ahead of the competition for action video sequences. First, there's a Super Slow Motion Movie mode which records 640 x 480 video at 120fps or 320 x 240 at 240fps. Both these modes playback at 30fps resulting in action that's slowed down by 4x or 8x respectively. The PowerShot D20 also includes Canon's innovative Movie digest mode that buffers a few seconds of video prior to each still shot you take then compiles them all into a movie.
The D20 is equipped with a mono mic located on the front panel and has a software wind filter. The zoom can be used during recording and operates at a slower speed with no motor noise.
Canon PowerShot D20 sample video 1: outdoors, sunny, handheld pan
The quality of the D20's 1080p24 mode is very good. There's a slightly audible click from the zoom on its inward journey, but the AF doesn't wander and the stabilisation does a good job of ironing out wobbles at the maximum 140mm zoom range.
Canon PowerShot D20 sample video 2: outdoors, sunny, tripod pan with optical zoom
Stabilisation was disabled for this tripod-mounted shot. The D20 does a good job with the exposure in difficult conditons and the CMOS sensor copes well with the bright reflections. The AF is again rock steady and the zoom motor is inaudible, though the quality of the sound changes while zooming which suggests Canon may be employing an audio filter to supress the zoom noise.
Canon PowerShot D20 sample video 3: indoors, low-light, handheld pan
The D20's mono mic does a god job with the audio on this interior low-light panning shot. The exposure and AF also cope very well, but there's a high level of visible noise in this clip.
Canon PowerShot D20

handling

The PowerShot D20 is ready to shoot in a swift 1.5 seconds after switching it on. Handling is is more critical factor for 'rugged' cameras, as picture taking is just a more difficult thing to do when you're in the water, on skis, or in extreme weather conditions. Like its predecessor, the D10, it's been designed with this in mind and the big buttons, clear labelling and simple menus all help. As with all cameras that use an internal lens mechanism mounted on the top left corner, you need to be careful to keep your fingers out of the way, but it's a mistake you quickly learn to avoid making.
And that isn't the only problem you need to look out for with the lens. In the water it's all to easy for small droplets to form on the glass surface, making autofocus almost impossible and marring the shot in any case – you can see examples of this in the first row of images below. To be fair, this happened just as much with the Panasonic Lumix TS20 / FT20 and, barring some sort of water-repellant coating, it's hard to see what manufacturers could do about it. It's something you need to be constantly on the lookout for though.
As well as being water-proof to a depth of 10 metres, the D20 is shock-proof. According to Canon it's capable of withstanding knocks and drops up to 1.5 metres. Though it's obviously preferable not to knock the camera about if you can avoid it, a certain amount of rough treatment is inevitable when you're in and around water and I can confirm that the D20 is capable of withstanding the kind of treatment Canon says it is, having twice dropped it from about exactly that height onto the ground in a car park. I didn't do it on purpose (honest, Canon), on both occassions I unzipped and removed the top half of my wetsuit, forgetting the camera was tucked inside, under my arm.
The D20 is also freeze-proof, you can use it in conditions down to -10 degrees C I didn't get it anywhere near that cold, but I do know from experience of using other cameras in freezing temperatures that the biggest problem (aprt from cold hands) is battery life. The D20's CIPA rating is a respectable 280 shots with the GPS turned off. This figure will have been measured at or near room temperature and will reduce considerably as conditions get colder. I've already mentioned the large buttons on the D20, the fact that they, along with most of the camera are plastic is also a bonus in very cold conditions. With a lower thermal conductivity than metal, plastic is a lot more comfortable to hold and touch in freezing conditions.
I didn't try using the D20 with gloves on, but I did spent quite a bit of time in the water with it. The biggest factor for handling in and under the water is the camera's size, which works both for and against it. The big buttons are easy to operate and the 3 inch screen makes framing up shots relatively easy, though, inevitably, if you're being buffetted around by waves there's going to be some guesswork involved. The screen is actually much easier to see under the water than on or out of it and if you're snorkelling with a mask you'll be pleasantly surprised at how much easier it is to compose photos than outdoors in bright sunlight.
The D20's size makes it quite difficult to manage when you're not taking pictures, or trying to get into position in the water. You can swim with the Panasonic Lumix TS20 / FT20 tucked into the palm of your hand, but it's not nearly so easy with the D20. It's supplied with a lanyard style wrist cord with a toggle to adjust it tight around your wrist and while that reduces the risk of you losing it, it doesn't really help keep it out of the way when you're not using it. I found the best solution was to keep it tucked in my wesuit, take it out, slip the strap over my wrist and tighten it before taking shots, then returning it to the safety of my wetsuit. If you do manage to let go of the D20 in the water it doesn't float, so you really need to keep hold of it at all times. There's an accessory kit that includes a neoprene pouch and a float that might help you locate the D20 if you inadvertently let go of it in the water. And you may think it strange for a water-proof model, but Canon also produces a WP-DC45 water-proof housing for the D20 which will get you down to a depth of 40 metres.
The D20 has Face detect AF which works as well as on other powerShots in 'normal' circumstances, but isn't so effective in the water and when subjects are moving fast. When it can't detect faces it defaults to Canon's very effective nine area AF and there are also Centre and tracking AF options.
Canon compacts aren't renowned for their fast continuous shooting capabilities and the D20 is no exception. With a full resolution speed of 1.9fps actions sequences are more or less out of the question. I tested the D20's continuous shooting with a freshly formatted speed class 10 SD card and it actually managed a little better than the quoted speed, but even 2.2 frames per second isn't going to help you capture fast action. Let's face it, a lot of what this camera will be used for is action shots – surfing, snowboarding, kayaking and the like – but also the kids sledging and in the pool – and so the lack of a decent burst mode is a bit of a disappointment.
But while it lacks a fast burst shooting mode, the PowerShot D20 is equipped with a GPS receiver enabling automatic location tagging of images. The D20 also records a track log which you can use with you own software, or websites like everytrail, to map your route. Generally, in the wide open spaces of Cornwall the GPS performed well, though it didn't ever pick up a signal indoors and its performance was inconsistent in proximity to close buildings. Its altitude reporting was also a bit off, it tagged one of my shots, taken floating on the surface of the Atlantic Ocean off the Cornwall coast, at 196ft below sea level.
The D20 has a 12.1 Megapixel CMOS sensor measuring 1 / 2.3in with a maximum image size of 4000 x 3000 pixels. Images are stored as JPEG files compressed to produce file sizes of 2 to 4MB. The ISO sensitivity ranges from 100 to 3200 ISO.
To see how the quality of the PowerShot D20 measures-up in practice, take a look at my Canon D20 quality and Canon D20 noise results pages, browse my Canon D20 sample images, or skip to the chase and head straight for my verdict.