Intro
The PowerShot D10 is Canon's first foray into the waterproof camera market. Built around a 12.1 Megapixel sensor, 3x zoom and 2.5in LCD panel, the specifications are pedestrian for a modern compact, though the D10 looks anything but.
Designed from the ground-up for use in extreme environments, the D10 certainly looks the part with faux metallic finishes, rounded corners and an enclosed lens housing. Canon claims it's water-resistant to depths of 10m.
There are two obvious questions: how does the D10 perform in the water, and can it replace an ordinary compact for everyday use? To find out we took the D10 surfing, paddling and shopping for crustaceans, along with running it through our normal image quality tests. So read on to discover out how the D10 performs in practice, and how it compares with two other compacts designed for use in and around water – the Panasonic Lumix DMC-FT1 / TS1 and Olympus TOUGH 8000.
With its rounded corners, enclosed lens housing and corner bayonet mounts, Canon's waterproof PowerShot D10 looks, appropriately enough, like a miniature submarine. The casing is a little larger than the average compact, but the rounded contours will just allow you to slip it into your trouser pocket; perhaps more importantly, you can comfortably tuck it inside your wetsuit where it will sit comfortably until you need it.
The camera is available in silver with a metallic blue face plate which can be swapped for optional alternatives. It's also supplied with a wrist strap and mounting post which locks into one of the four bayonet mounts on each corner of the camera body. There are optional straps including a carabiner cord so that you can attach the camera to yourself or your kit.
The D10 has two doors, both protected with waterproof seals. One on the right side covers the USB and video ports the other provides access to the battery compartment and SD card slot. They're both quite difficult to open on account of the seal – on other cameras this would be a complaint, but in this case it inspires confidence in its build quality and water-tightness.
Without the battery, the D10 weighs 190 grams. It's a comfortable camera to hold and shoot with, both in and out of the water and despite, or maybe even because of its unorthodox contours, it feels secure in the hand. The D10 is water-resistant to depths of 10m, has an operating temperature range of -10 to 40 degrees Celsius and is dustproof and shockproof to 1.22m. The operating temperature range of the battery doesn't match that of the camera and in sub-zero temperatures you might discover that, while the camera is fine, the battery may not function – or at least run dry much more quickly.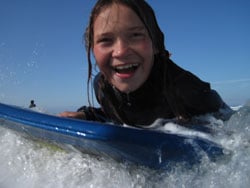 The layout of the controls, though familiar to other Canon compacts, makes a few departures for the sake of water-tightness. The top panel features a nice big shutter release button alongside a smaller on/off button. Buttons on the rear above the 2.5in LCD panel provide direct printing (or other user definable functions) mode selection and playback, these last two replacing the usual Canon mode dial.
To the right of the screen are the zoom controls, menu and one-touch buttons for exposure compensation, flash, self timer and macro/focussing arranged in a ring around a central func/set button. Display and Menu buttons complete the set. All the buttons are composed of a grey plastic material, they're nice and big and clearly labelled, and therefore easy to see and use when you're in or under water.
The D10's built-in flash mounted directly above the lens has a maximum range of 3.2 metres. There are four settings – on, off, auto and slow synch and there's red-eye correction in software that can be applied during shooting or subsequently.
Support this site by shopping at Amazon
The D10's 3.7V 1000mAh battery provides sufficient power for 220 shots using the CIPA (Camera and Imaging Products Association) measurement standard. The CIPA standard specifies things like the frequency with which the LCD panel, zoom and flash are used and provides a good guide to how many shots you can expect to get during 'average' use. For a waterproof camera, keeping the battery dry is clearly a high priority and the D10's battery compartment remained bone dry during all of our water-based testing.
Canon PowerShot D10 coverage

6.2-18.6mm at 6.2mm (35mm equivalent)

6.2-18.6mm at 18.6mm (105mm equivalent)
The D10's 3x optical zoom lens has a range of 6.2 to 18.6mm – a 35mm equivalent of 35mm-105mm. The maximum aperture ranges from a respectable f2.8 to f5.9 depending on the lens focal length.
It employs Canon's optical image stabilization to eliminate or reduce camera shake at slow shutter speeds. The 3x optical zoom range is about the minimum you'd expect to find on a recent compact and is one of the D10's disappointments. It's neither wide enough to get a good ultra wide angle shot, nor does it offer a long enough telephoto to get you close to distant action. It does focus reasonably close though, with a macro close-focussing distance of 3cm.
The zoom buttons on the rear of the camera cover the narrow range swiftly, as you'd expect. The journey is reasonably smooth, but not perfectly so, and we managed to jog the lens through six discrete steps.
One impressive thing about the D10 is the speed with which it's ready for action – less than a second from pressing the on/off button. Because the lens casing is fully enclosed there is no extending barrel – everything happens internally – reducing the potential for damage.
The PowerShot D10 uses an optical system to stabilize the image and avoid camera shake at slow shutter speeds. There are three modes available – continuous, which is on all the time, Shoot only, which activates when you press the shutter release half way and panning which only stabilises the vertical axis and is used when you pan horizontally to follow a moving subject. See the Blurring Action tutorial at our sister site DSLR Tips for an example of how you'd use this.
Canon PowerShot D10: IS off / continuous

100% crop, 6.2-18.6mm at 18.6mm, 1/15, 80 ISO, IS off

100% crop, 6.2-18.6mm at 18.6mm, 1/15, 80 ISO, IS on
The two crops above show the same scene shot with the D10 at its maximum zoom of 18.8mm (105mm equivalent) using the same exposure settings. In Program mode at 80 ISO the camera has set a shutter speed and aperture of 1/15th of a second at f4.9. At this focal length you wouldn't ordinarily expect a shake-free image at speeds slower than 1/100th of a second and the left crop, taken with IS off shows clear evidence of camera shake. The right shot is crisp and clear, demonstrating an effective image stabilization of nearly three stops. Pretty impressive.
The PowerShot D10 has several autofocus modes including face detection. In Face AiAF mode the camera locks onto and tracks up to 9 faces. Canon's DIGIC 4 processor has improved on the face recognition of earlier models and in good light the D10 does a great of of identifying and tracking faces even when turned almost to full profile.
When faces aren't detected the camera defaults to nine-area autofocus, selecting elements in the frame from which to obtain a focus lock. Selecting Centre AF restricts the autofocus to the central frame and a menu setting allows the size of this to be reduced to further narrow the focus zone. Servo AF mode allows you to track moving subjects on which a focus lock has been obtained as long as you continue to maintain a half-press of the shutter release.
The PowerShot D10 also has manual focussing mode of sorts. This is activated by pressing the focus button which is also used to select macro, normal and infinity focus from the on-screen menu which then appears. Once manual focus is selected you use the up and down buttons to adjust the focus, using a scale on the left of the screen as a guide; this switches from metres to centimetres as you adjust the focus closer. As a further visual aid, the centre portion of the screen is magnified.
Once you've got the focus roughly where you want it, a half-press on the shutter release fine tunes it using the camera's autofocus technology. It would be more accurate to call it manually assisted focus and, though not what you'd call effortless, it does work.
The Canon PowerShot D10's 2.5in LCD screen with 230k pixels is one of the clearest and brightest we've seen. No LCD panel excels in bright sunlight, but the D10's did a better job than most on the default brightness setting. This can be adjusted from the settings menu with two brighter (and two darker) positions available.
The screen provides a reasonably good view from side to side, but less so vertically. Having said that, you can see well enough to frame a subject with it held at arms length above your head. It isn't flush with the camera back, but slightly raised with a ridged edge. During playback the image automatically rotates to provide a full screen view of both landscape and portrait format images.
Pressing the display button in record mode toggles the record mode settings – there are only two options, on and off. In auto mode you see the quality settings, flash mode, battery power indicator recognised scene mode and number of pictures remaining. Program mode adds some other information including ISO, IS mode, metering and shooting mode. The display overlay option in the menu can be set to show a 3:2 aspect ratio guide or a 3×3 grid.
There's no live histogram, but you can display one during playback by pressing the display button. The histogram view also displays a selection of metadata including exposure settings and date and time. You can turn off all overlay information using the display button, or just display brief image information. There's also a fourth option which allows you to check focus by displaying a magnified portion of the AF areas.
Support this site by
shopping below
The D10 provides a variety of options for searching, filtering and playing back photos. Using the zoom buttons you can display and navigate a 3×3 grid of images and pressing the up (exposure compensation button) during playback allows you to jump to or filter images by date, category, or folder or type (i.e. movies or stills). Slideshow playback, accessible from the menu, can be configured for display time, transition and looping and you can apply the same filters to slideshow images as during normal playback.
The PowerShot D10 employs the usual Canon compact system of separate menus for recording and playback functions accessed from the same button. The menus are navigated using four direction buttons which double up as single-click selectors for exposure compensation, flash mode, self-timer options and macro/focussing, with a func.set button in the centre.
The capture menu is split across two tabs; one for shooting settings including AF, IS, Flash, display overlay and blink detection, the other for camera settings including card formatting, LCD brightness, power saving and date and time setup.
Pressing the func.set button displays a quick menu that, in Program mode, provides access to ISO, white balance, colour presets metering, continuous shooting, and image size and quality options. In Auto mode you're restricted to just the image size and quality settings. The dual-level menu system and function button approach works well in most circumstances, and the D10's logical layout and clear labels make for easy operation even in difficult conditions.
Exposure options are determined by the shooting mode with Program offering the widest access to camera settings using the four button and dual menu system described above.
Auto mode features Canon's new automatic scene detection which refines exposure calculations on the basis of the subject content. In essence this determines whether there are people in the scene, whether it includes blue skies, whether the subject is backlit , how close the subject is and whether it's day or night. An icon appears in the top right of the screen to tell you what that camera thinks it's looking at. Most of the time it's uncannily accurate, but in the event of it being flummoxed (by a blue wall for example) you can easily switch to Program or scene mode.
If you're taking photos underwater, it's recommended you select the underwater scene mode, rather than selecting Auto or Program mode and leaving it to the D10 to figure out that you've submerged it. It can't be that difficult to detect, optically or otherwise, that the camera is underwater and a fail-safe method to automatically switch to underwater scene mode when this happens would be useful.
Other scene modes include stitch assist (for producing panoramas), portrait, landscape, night snapshot, kids & pets, indoor, fireworks and sunset – there are 18 in all including a 3200 high ISO mode which restricts the image size to 1600 x 1200 pixels.
The D10 has two movie settings, 640×480 (VGA) pixels and 320×240 pixels, both at 30 frames per second. With the trend for compacts to include an HD video option, this might be a deal-breaker if you plan to do a lot of video recording.
You can shoot continuously in VGA resolution until the 4GB limit, which takes around an hour. Movies are encoded using the H.264 variant of the MPEG-4 codec and saved to the SD card as .mov QuickTime files.
Sadly you can't optically adjust the zoom while filming, although there's a digital option if you're desperate. Here's an example clip, showing how you can confidently use the camera in and around water, and registered members of Vimeo can download the original file for closer examination here.
The PowerShot D10's continuous shooting performance is quoted at 1.1 shots per second and this is almost exactly what it achieved in testing. That's not really fast enough to capture a sports action sequence, but it will give you an improved chance of getting one good shot from a short sequence.
The PowerShot D10 uses Canon's latest DIGIC 4 processor which along with faster operation, offers some neat features like face self-timer, and i-Contrast tonal range enhancement. It also provides more accurate face recognition and tracking as well as, on this model, blink detection.
At the heart of the PowerShot D10 IS is a 12.1 Megapixel CCD sensor measuring 1/2.3in and delivering images with a maximum resolution of 4000×3000 pixels, that can be printed up to 13.3x10in at 300dpi. There's the choice of four lower resolutions along with a cropped 16:9 aspect ratio.
Images can be recorded with either Fine or Normal JPEG compression settings, although the SuperFine option of higher-end Canon compacts is missing here; unsurprisingly there's no RAW option either. Like other Canon compacts, there's no built-in memory, but depending on your region Canon may supply a small SD card to get you started. You'll want to replace this with something much larger as soon as possible though.
The sensitivity ranges from 80 to 1600 ISO at full resolution, with a 3200 ISO Scene Preset operating at a greatly reduced resolution of 2 Megapixels. To see how the quality of the PowerShot D10 IS measures-up in practice, take a look at our real-life resolution and high ISO noise results pages, browse the sample images gallery, or skip to the chase and head straight for our verdict.