Canon PowerShot A490 / A495
Canon PowerShot A490 / A495 vs PowerShot A31000 High ISO Noise
Support this site by
shopping below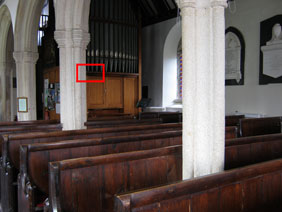 To compare noise levels under real-life conditions we shot this scene with the Canon PowerShot A490 / A495 and the Canon PowerShot A3000 IS/ A3100 IS. Ordinarily we would also have included the Nikon COOLPIX L22 but this wasn't possible as the COOLPIX L22 has no means of manually setting its ISO sensitivity.
The lenses on both cameras were set to approximate the same field of view.
The above shot was taken with the the Canon PowerShot A490 / A495 in Program mode with the lens at a wide angle setting of 6.6mm (37mm). The exposure was half a second at f3. The crops are taken from the area marked with the red square and presented below at 100%. The A490 / A495's excellent overall image quality is matched by its high ISO noise performance. At the lower 'normal use' ISO settings there's very little, if any, evidence of noise, it's simply not something you need to worry about. At 200 ISO there's a very slight deterioration in image quality as the noise begins to appear, but you need to look hard to spot it, and unless you're making full sized prints it's nothing that would even make you pause for thought before using it.
At 400 ISO there's no doubt that the noise is becoming an issue. The PowerShot A490 / A495's attempts to cope with it are also more visible than they should be – note the slight loss of detail in the stone pillar on the left of the crop. Nonetheless, even at 400 ISO the noise isn't ruinous. It isn't until you get to 800 ISO and beyond that the noise, rather than the image detail has the upper hand, making these settings you'd only consider for a shot where the subject was so important to you that image quality was only a minor concern.
Unlike earlier A Series PowerShots, the A490 / A495 doesn't have a 3200 High ISO scene mode. This has been replaced with a Low Light scene mode which produces a 1600 x 1200 2 Megapixel image at higher ISO sensitivities from 400 up – in this case it chose 1600 ISO. The detail in this image is a marked improvement on the full resolution 1600 ISO setting and is definitely worth considering if quality, rather than image size is your priority.
The comparison with PowerShot A3000 IS / A3100 IS makes interesting viewing. At every sensitivity setting up to and including 400 ISO, the less expensive camera produces sharper cleaner images with more detail and less noise. from 800 ISO upwards there's not much in it. It's worth bearing in mind, though, that with optical image stabilization on the A3000 IS / A3100 IS, you're less likely to need to use the higher ISO settings in the first place.
Now head over to our Canon PowerShot A490 / A495 gallery to see some more real-life shots in a variety of conditions.
| | | |
| --- | --- | --- |
| Canon PowerShot A490 / A495 | | Canon PowerShot A3000 IS / A3100 IS |
| | | |
| 80 ISO | | 80 ISO |
| | | |
| | | |
| 100 ISO | | 100 ISO |
| | | |
| | | |
| 200 ISO | | 200 ISO |
| | | |
| | | |
| 400 ISO | | 400 ISO |
| | | |
| | | |
| 800 ISO | | 800 ISO |
| | | |
| | | |
| 1600 ISO | | 1600 ISO |
| | | |
| | | |
| Low Light mode (1600 ISO at 2 megapixels) | | Low Light mode (1600 ISO at 2 megapixels) |