Canon EOS T5 1200D review
Verdict
The EOS Rebel T5 / 1200D is Canon's latest entry-level DSLR. Launched into a market in slow decline and under increasing pressure from compact mirrorless system cameras, the T5 / 1200D also faces competition from its perennial rival Nikon with the D3300.
So what new features does the T5 / 1200D have to tempt the buying public? There's a new 18 Megapixel sensor providing an increase of 6 Megapixels on its predecessor, and a slightly bigger 3 inch screen with a bump in the resolution to 460k dots. The T5 / 1200D can now shoot 1080p video and has the option to set movie exposure manually. There's also a free smartphone app packed with well-crafted interactive tutorials which will be useful to both beginners and those wanting to confirm certain features or controls.
Those changes aside, the EOS T5 / 1200D shares a lot in common with the model it replaces. It has the same 0.8x pentamirror based optical viewfinder, the same 9-point autofocus system, the same built-in flash and the same range of stills shooting modes with the same 3fps continuous shooting drive mode. It also has the same battery, but the number of shots you can expect from it has reduced from 700 to 500. The presence of a smartphone app is nice, but it highlights the absence of Wifi actually built-into the camera, a feature which could have given the Canon an edge over budget rivals. So beyond the increase in sensor resolution there's really not a great deal new on offer. Below you can read how it compares with three of its main rivals, Nikon's D3300 and the Sony A3000 and A5000, before my final verdict.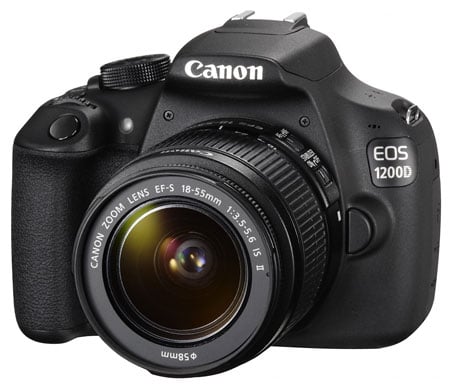 Canon T5 / 1200D vs Nikon D3300
The Nikon D3300 is the company's entry-level DSLR and as such is the main DSLR competitor for the T5 / 1200D. It's smaller and lighter than the T5 / 1200D, but there's little more than a few millimetres in it, both models look and feel quite alike and have a similar build quality. On the inside, though, there's one big difference and that's in their respective sensors. The D3300 has a 24 Megapixel sensor with no optical low pass filter (OLPF). The OLPF slightly blurs the image to reduce the incidence of unwanted colour patterns known as moire. Removing the OLPF (as Nikon has now done across its range) does bring minor benefits in sharpness compared to earlier models which employed the filter, but as you can see in my side-by-side results with the Canon and Sony, the bigger factor is the quality of the kit zoom.
Like all DSLRs, both these models provide an optical viewfinder for normal shooting. Both use a pentamirror to bend the light path once it's travelled through the lens and the specifications look similar. In practice though the D3300 offers a significantly bigger view, and if you're choosing a DSLR for its optical viewfinder, this could be an influential factor.
Switch to live view, and you can compose using the screen. Both models have 3 inch screens but the D3300's has a higher 920k dot resolution compared to 460k dots on the T5 / 1200D. In practice though, both screens provide a decent view and there's little to choose between them. When not in live view or movie recording modes, the screens display exposure and other info with both offering quick access to common settings.
Both of course offer the full range of PASM exposure modes as well as fully auto exposure and a range of scene modes. But the D3300's auto mode uses Scene detection in live view and there's also a range of effects filters. And with the mode dial set to the Guide position it provides guidance on a range of subjects and scenarios as well as changing the camera settings for you. By contrast, the T5 / D1200 provides Creative auto mode for easy setting of Picture styles, background blurring and drive modes.
The D3300 has a wider range of movie modes with 1080p60 at the top compared with 1080p30 on the T5 / 1200D. Both models have built-in mono mics but, unusually for an entry level DSLR, the D3300 has an input for an external stereo microphone. The T5 / 1200D provides fully manual PASM exposure modes for movie shooting whereas the D3300 offers control over the shutter speed and ISO sensitivity. Though the D3300 provides continuous AF for movies, if you check the example on my D3300 review you'll understand why it's probably best avoided. Finally, though it sadly lacks what Canon used to call movie digest and now calls Hybrid Auto mode, the T5 / 1200D can assemble a sequence of short clips into a sequence called a video snapshot. The D3300 also offers helpful hints on-screen as you shoot, although countering this, Canon offers a free smartphone app packed with interactive tutorials.
The D3300 offers slightly superior continuous shooting at 5fps compared with 3fps on the T5 / 1200D. Its built in flash is slightly more powerful, it has a separate compartment for the SD card, and can take 700 shots on a full charge compared with 500 on the T5 / 1200D. In these and the other factors I've mentioned it outperforms the T5 / 1200D but it also costs significantly more. So the choice here is really between the T5 / 1200D, a budget model in the true sense of the word offering an entry into DSLR photography at a bargain price, and the D3300, a more capable and fully featured performer at a slightly higher price point.
See my Nikon D3300 review for more details.
Canon T5 / 1200D vs Sony A3000
As a mirrorless compact system camera, the Sony A3000 is a very different proposition to a DSLR like the Canon EOS T5 / 1200D. Externally, it's a lot smaller and lighter, but it retains the DSLR-like shape and styling – it looks a little like a T5 / 1200D that's shrunk in the wash and lost some of its buttons.
Inside, the A3000 has a 20 Megapixel CMOS sensor with 2 megapixels more than the T5 / 1200D. So you get a little more resolution, but with the same physical size APS-C sensor the two models are very closely matched in terms of image quality and noise performance.
In handling terms probably the biggest difference between the Canon T5 / 1200D and Sony A3000 is the viewfinder. The former has an optical viewfinder where you view light coming directly from the scene via a system of mirrors, the latter has an electronic viewfinder with a 201k dot panel. Modern high resolution EVFs are now competing with optical viewfinders to provide a similar experience, though both have their fans. But the Sony A3000's EVF is an inexpensive low resolution panel which is quite slow to respond to movement and not nearly as bright as the T5 / 1200D's optical viewfinder. In its favour, the A3000's viewfinder provides 100% coverage, the ability to compose movies, along with information and grid overlays and allows you to preview exposure settings and effects. But if you want a decent quality EVF you'll need to go for the A6000.
Both models are equipped with screens and again, by modern standards, the A3000's is an inexpensive 230k dot screen with half the reolution of the 460k dot screen on the T5 / 1200D. Though both are the same size, the 16:9 proportions of the A3000's screen make for a smaller viewing area when shooting stills and it suffers more from poor visibility in bright sunshine. That said, the 16:9 shape means video is displayed larger than on the Canon screen.
Like the T5 /1200D the Sony A3000 offers the full range of PASM shooting modes, but its two auto modes are more sophisticated with scene detection and composite shooting for improved results. The A3000 also offers a good range of effects filters as well as a panoarama mode – something never before seen on a Canon camera of any description.
Like all Sony models, the A3000 encodes video in AVCHD and MP4 formats with 1080i50/60 and 1080p25/30 HD modes. As a mirroless model, you can shoot video on the A3000 simply by pressing the record button, there's no need to first switch to Live view as on the T5 /1200D. Both offer manual control over the exposure, but the A3000 provides continuous AF for movies which is reasonably quick to respond, accurate and unobtrusive. You can also mount an optional external microphone accessory on the hotshoe.
As an entry level camera, I think the Sony A3000 has more to offer feature-wise than the Canon T5 / 1200D, if you can live with the realitively dim, low resolution EVF. If you want a higher quality EVF you'll need to go for the A6000, but if you think you'll be mostly composing with the screen and don't really need a viewfinder at all then I'd encourage you to check out the A5000 below which I reckon is one of the most compelling entry-level cameras with interchangeable lenses.
See my Sony A3000 review and Sony A6000 review for more details.
Canon T5 / 1200D vs Sony A5000
Sony's A5000 is a mirrorless system camera without a viewfinder. By dispensing with the mirror and the viewfinder, and relying on the screen alone for composition, the A5000 manages to achieve a much smaller and lighter form factor than a traditional DSLR like the Canon and Nikon bodies, not to mention Sony's own A3000 above. But though the A5000 and T5 / 1200D are very different on the outside, both models are fitted with an APS-C sensor that's the same physical size. The difference here is that the T5 / 1200D's sensor has a slightly lower resolution – 18 Megapixels compared with 20.2 Megapixels on the A5000.
Size aside, probably the biggest difference between the two cameras in terms of everyday use is the fact the A5000 only offers a screen for composition – there's no viewfinder built-in, nor any means to connect one as an accessory. In contrast as a DSLR, the 1200D / T5 offers composition either with its optical viewfinder, or using its screen in Live View. Personally, I'm a fan of viewfinders and I think this is a feature that scores heavily in the T5 / 1200D's favour, and it also allows the camera to enjoy a longer battery life. As I said before though, for those upgrading from a compact or a phone, a viewfinder might not be such an important feature. And it's worth mentioning the Live View experience on the A5000 is superior to that on the T5 / 1200D or D3300, so if you want to compose with the screen, the A5000 is actually the better choice.
The T5 / 1200D is fitted with a 3 inch, 460k LCD screen, the same resolution as on the Sony A5000. Ordinarily this displays exposure information, but switch to live view and, like the Nikon D3300, the T5 / 1200D's screen can be used for composition. Note the Canon's screen is fixed in position, unlike the A5000's, which tilts.
The EOS T5 / 1200D offers 1080p HD movies at 30, 25 and 24fps. Compared with 1080i50/60 on the A5000 in addition to 1080p at 25 or 24fps on the A5000, there's not much to decide it one way or the other. Both offer a range of other lower resolution modes, but the EOS T5 / 1200D's MP4 QuickTime files are easier to manage than the A5000's AVCHD format. The fact that the A5000 can offer continuous autofocus in movie mode or the option of focus peaking if you decide to focus manually is a definite advantage for those looking for a capable movie camera.
Finally, the Sony A5000's trump card is its built-in Wifi with NFC which not only allows connection to a smartphone or computer for downloading images, but remote operation of the camera. Like Nikon, Canon has decided that Wifi isn't an important option on its entry level DSLR and I think that's a decision that they'll most likely regret.
One final factor is cost. Currently the price of the EOS kit varies from roughly equivalent to the A5000 to around 25 percent more. Partly it's region dependent, but as usual, it pays to shop around. If price isn't an issue once again it boils down to being realistic about the kind of photography you do and what really matters in terms of handling and features.
Ultimately I believe if you're happy to compose with a screen alone, then models like the A5000 are more compelling at the entry-level end of the market. See my Sony A5000 review for more details.
Canon EOS T5 / 1200D final verdict
The Canon EOS T5 / 1200D is a entry-level DSLR that provides an entry point to the world of interchangeable lens photography for those on a limited budget. More than three years on from its predecessor, the T3 / 1100D, Canon has updated it with a higher resolution 18 Megapixel sensor, a slightly bigger higher resolution screen and improved video capabilities. Canon also throws-in a free smartphone app packed with interactive tutorials, but don't get too excited, there's no remote control or wireless image transfer available as the camera itself does not have Wifi.
If you've always longed for a DSLR but could never justify the expense then the T5 / 1200D makes it more affordable than ever. But sharing so many of the specifications of its 2011 predecessor, and so little that's new, it's hard to get excited. Sure, keeping the cost down means missing out on features like wifi, faster continuous shooting, a touch screen, or sophisticated AF. But what about some effects or the innovative new shooting modes we used to be able to rely on Canon to pull out of the hat for new models? I hate to say it, but it seems a little like Canon really doesn't feel it's worth the effort at this end of the DSLR market any longer. Buyers should also note there's two kits available, both with 18-55mm zooms, but only one is optically stabilised, identifiable by the IS on the lens.
None of this however changes the fact the T5 /1200D is a decent, if basic and somewhat uninspiring, DSLR and still a good choice for photographers on a tight budget looking to step up from a phone or point-and-shoot compact. It certainly deserves our Recommended award, but if you can live without a viewfinder, I believe more innovative mirrorless models like Sony's A5000 represent a more compelling choice at this end of the market – see comparison above.
Good points
Excellent image quality and noise performance.
1080p HD video with manual exposure.
3 inch 460k LCD screen.
Creative Auto mode.
Free interactive tutorials for your smartphone.
Bad points
Smallish optical viewfinder.
No effects filters.
No scene detect in Live View.
No continuous AF for movies.
No external microphone input.