Canon EOS Rebel T3 / 1100D
Verdict
The Canon EOS Rebel T3 / 1100D is an affordable entry-level DSLR from one of the biggest names in the business. At this price-point, it's not surprising to find Canon mostly sourcing components from past models rather than developing new ones from scratch, but while there's subsequently few surprises in the performance, the end result is a solid spec which will satisfy the first-time DSLR buyer.
The EOS T3 / 1100D also improves on most aspects of its predecessor. The sensor resolution has jumped from 10 to 12 Megapixels , the AF system from 7 to 9-points, the DIGIC image processor upgraded from version III to IV, and the screen size from 2.5 to 2.7in. The viewfinder and continuous shooting specifications are pretty much the same as before though. Arguably the two biggest changes are a new body which may be roughly the same size and weight as before, but employs a simpler construction with a card slot alongside the battery, and the presence of movie recording facilities which were absent on its predecessor.
It's amazing to think when the earlier EOS XS / 1000D was released two and a half years ago, it pre-dated the first video-equipped DSLRs by almost six months. Now the latest EOS T3 / 1100D finds itself in a market where every new DSLR can record video, so it's not surprising to find the feature here, albeit at a maximum resolution of 720p and with fully automatic exposures.
| | |
| --- | --- |
| | |
| | |
| | |
The image quality from a sensor which I reckon is around three years old (probably inherited from the EOS XSi / 450D) actually stands up very well today, aided no doubt by Canon's latest image processor. In my results pages you'll see the 12 Megapixel Canon essentially matching the new 14 Megapixel sensor from the Nikon D3100 both in terms of detail and noise levels. The main difference between them in image quality concerns their respective image processing styles using the default settings, the Canon going for punchier output which is arguably better-suited to its target audience, although the Nikon still enjoys the benefit of correcting coloured fringing automatically.
Ease-of-use is very important for a camera aimed at the entry-level market, and this is an area where Canon and Nikon clearly have very different ideas. Canon allows its four-way button control to directly access settings including the ISO, AF mode, Drive mode and White Balance, whereas Nikon keeps this control for navigation only. Canon's on-screen user interface allows you to move a highlighter around in any direction to adjust the desired setting, whereas Nikon's user interface constrains you to moving along a list of options in one of two directions. Canon offers popup captions explaining what certain settings do as you highlight them, whereas Nikon offers help at any point by pressing the question mark button. In addition to the usual PASM, Auto and scene presets, Canon offers a Creative Auto, a kind of beginner-friendly version of Aperture Priority, whereas Nikon has a GUIDE mode which hand-holds you through achieving actual photographic goals.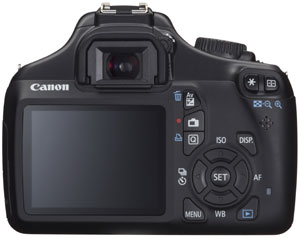 Phew, that's quite a few differences there. For my money, I personally preferred the interface on the Canon as I found it quicker and easier to change a wide variety of settings. It seems trivial, but I was also quite fond of the chunky buttons and large labelling on the Canon. But remember my job involves changing lots of settings quickly, which probably doesn't apply to most of the target audience of these cameras. If you think you will change lots of settings frequently, then you'll prefer the Canon T3 / 1100D, but if you're a beginner, the constrained interface of the D3100 along with its excellent GUIDE mode will be the better choice.
When set to auto, both cameras are capable of taking great quality photos. Both also enjoyed effective metering, and I didn't notice any benefit to the D3100's 11-point AF system over the T3 / 1100D's 9-point system in general use, although the Nikon had a small edge when it came to tracking subjects.
In terms of movies, Canon's opted to keep things simple on the T3 / 1100D, or perhaps a better word would be basic. There's no 1080p option here, nor any standard definition options, only 720p at 25 or 30fps. Exposures are fully automatic, and like all Canon DSLRs to date, there's no continuous autofocusing while filming. Suffice it to say there's no external microphone input either, only audio recorded by a built-in mono mic.
The Nikon D3100 outclasses the T3 / 1100D in several respects here, offering 1080p and standard definition options along with 720p, and attractively for the target market, claims of continuous AF while filming. To be fair, continuous AF on the D3100 is actually more accurately a single AF process triggered every few seconds, and it can be audibly and visibly distracting; indeed so much so I generally turned it off and reverted to manual focusing, but at least it was trying. As I said in the main review though, if you want true continuous AF while filming video, you'll need to go for a mirror-less EVIL camera like the Sony NEX or Panasonic G-series.
Turning to other downsides of the T3 / 1100D, the popup flash is fairly weak compared to most DSLRs, the body feels quite plasticky and really misses any rubber-coated surfaces, the screen is looking a bit small at just 2.7in, RAW continuous shooting is both slow and limited in buffer depth, and the cheapest lens kit isn't stabilised; if you want the stabilised version, make sure it comes with the EF-S 18-55mm IS II, not the EF-S 18-55mm III.
Now before my final verdict, let's take a closer look at how the T3 / 1100D compares against its rivals.
Canon EOS Rebel T3 / 1100D vs Nikon D3100

The D3100 is Nikon's entry-level DSLR and as such is the main rival for the Canon T3 / 1100D. But where Canon has aimed at a low price-point, Nikon has once again opted to upsell potential buyers with a more sophisticated package at a correspondingly higher price. At the time of writing, the standard Nikon D3100 kit cost around 20% more than the cheapest Canon T3 / 1100D bundle, which is quite a difference at this end of the market. So what do you get for the extra money, and crucially, is it worth it?
In its favour, the D3100 features bigger numbers than the Canon, some of which make a difference, some of which don't. The sensor has 14 Megapixels compared to 12 on the Canon, but in my tests it didn't deliver noticeably higher detail, but at least noise levels weren't any worse. The AF system has 11 points to the Canon's nine, but again this rarely gave it a real advantage in general-use, although the subject tracking options were a little more sophisticated. The metering system has 420 segments compared to 63 zones on the Canon, but both seemed to cope with the situations I threw at them.
So far so similar, so where does the D3100 really score? First of all in movies where there's 1080p and standard definition options in addition to 720p. There's also a brave stab at continuous AF while filming, although I preferred to switch this off as the searching process is visibly and audibly distracting. Then there's the screen which may share the same basic 230k resolution, but looks noticeably larger at 3in compared to 2.7in. The D3100's continuous shooting speed for JPEGs was roughly the same as the T3 / 1100D, but it could shoot for longer bursts and also match the speed for RAW, where the Canon slowed down. That said, neither are ideal for action photography with sub-3fps rates.
The D3100 doesn't have much in the way of a rubber coating on its grip areas, but there's more than the on the 100% plasticky Canon body. The D3100's popup flash is a little more powerful too. As described earlier, the D3100 also features a dedicated GUIDE mode, which hand-holds you through taking creative photos, which is great for beginners. The D3100 additionally removes coloured fringing from photos automatically, which makes images straight from the camera look cleaner than the Canon. It's also worth noting the D3100 kit comes with a stabilised lens, whereas the Canon is available in two kits, one with a stabilised lens and one without.
It's not all one-sided though. The Canon T3 / 1100D features a better Live View system with bigger and sharper magnified assistance, a live histogram and exposure simulation. It also offers quicker and easier access to settings for those familiar with DSLRs. And crucially the Canon comes in cheaper, although make sure you're comparing apples with apples by ensuring the Canon kit you're looking at has a stabilised lens.
So in terms of specification, the Nikon D3100 certainly trumps the T3 / 1100D in many respects, but in practice only a handful of them make a noticeable difference. I'd say the choice boils down to how confident and experienced you are with DSLRs. The Nikon D3100 is much easier to use and learn with thanks to its clever GUIDE mode, so if you're starting out with DSLRs and want a camera which teaches you as you go along, then I'd go for the Nikon. See my Nikon D3100 review for more details.
Canon EOS Rebel T3 / 1100D vs Sony Alpha DSLR-A290

The Alpha A290 is Sony's latest entry-level DSLR and thanks to the absence of Live View and movie mode, not to mention a mid-2010 launch, hits a lower price-point than the Canon. It also enjoys the benefit of built-in stabilisation that works with any lens you attach. If you're on a tight budget and don't want Live View or movies, it's well worth considering.
Canon EOS Rebel T3 / 1100D final verdict

Canon's EOS Rebel T3 / 1100D is a solid entry-level DSLR which ticks the boxes of most first-time buyers without breaking the bank. By employing numerous parts from previous models, there's no surprises in terms of performance, but the 12 Megapixel sensor with Canon's latest metering system deliver good-looking images, and you also get a decent Live View mode and the opportunity to film 720p HD video, albeit with auto exposures and manual focusing only.
Unlike some entry-level models, the T3 / 1100D also presents several ways to directly access settings like the ISO, white balance and AF area. If you're an enthusiast on a budget, you'll definitely appreciate being able to access these quickly and easily, although on the flipside, if you're a beginner, you'll find the hand-holding GUIDE mode of the rival Nikon D3100 much more friendly.
For me, this is the big difference between these two cameras: sure there's a number of specifications where numerically the Nikon comes out on top, but in my tests only a handful made any difference in real-life conditions. But where the cameras significantly differ are in their approach to controls and beginners. The Canon is better for those who know what they want to adjust, whereas the Nikon is better for those who want more guidance.
Of course the decision could simply be made on price. The Nikon D3100 may be classier in a number of respects (and addresses most of the negative points below), but you'll be paying more for it, and again if you need to quickly change lots of settings you might find it frustrating over time. Close to the D3100's price you could alternatively go for a mirrorless 'EVIL' model like the Panasonic Lumix G3, which with full-time live view and effective face and scene detection is arguably superior for beginners shooting in Auto. Heading in the other direction, there are a handful of DSLRs which are cheaper, including the Sony Alpha A290, but while it does sport built-in stabilisation, it's lacking Live View and movies which many entry-level buyers want.
Ultimately while some of the EOS Rebel T3 / 1100D's specifications are fairly basic, it does offer good image quality, Live View and 720p HD movies from a big-name at an affordable price. As such it represents a good choice for entry-level DSLR buyers, but if you want anti-shake, make sure you go for the kit with the IS lens.
---


Good points
Good image quality that's similar to modern 14 Mpixel rivals.
Quick and easy access to many settings.
Live View and HD video recording (albeit at 720p only).
Supplied with decent RAW and remote control software.


Bad points
Plasticky body with no rubber surfaces – feels cheap.
Continuous shooting buffer small. Slows down for RAW.
Relatively small 2.7in screen.
Weaker popup flash than many rivals.


Scores
(relative to 2011
budget DSLRs)


Build quality:
Image quality:
Handling:
Specification:
Value:

Overall:



16 / 20
18 / 20
15 / 20
14 / 20
17 / 20

80%