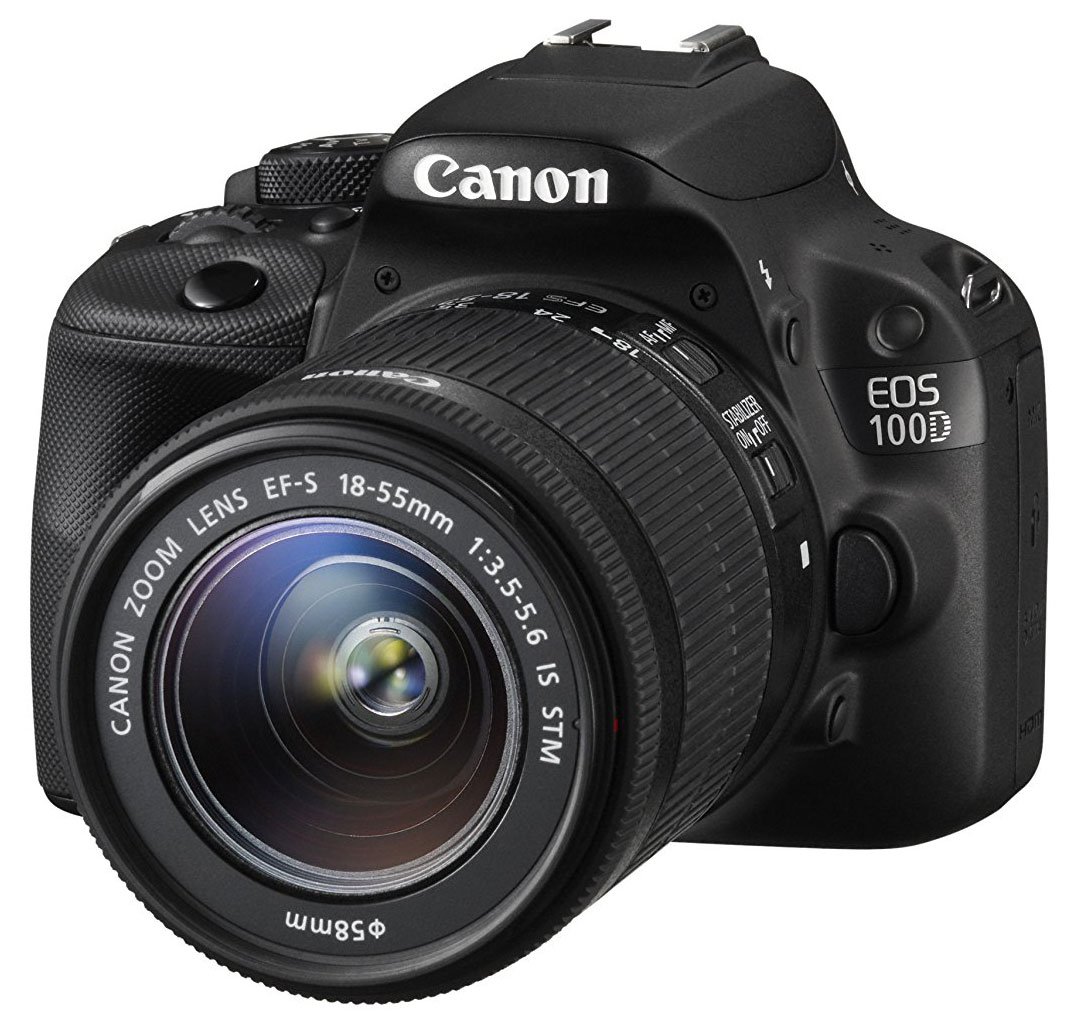 Canon EOS Rebel SL1 / 100D review
Intro
Canon's EOS Rebel SL1 / 100D is a very interesting DSLR which takes-on the rise of mirror-less models with its compact and lightweight body. At the time of writing, this was the World's smallest DSLR with an APS-C sensor, shaving a comfortable centimeter in every dimension from Canon's previous smallest models to produce a camera that's roughly the same size as mirror-less models equipped with viewfinders, like the Panasonic G6.
It's obviously a very small body in DSLR terms, but rarely felt cramped or compromised in my tests, although those with larger hands may find it a step too far. The optical viewfinder is roughly the same size as those on other entry-level DSLRs, so is fairly small, but it's still very usable. The screen may not flip-out but the touch-interface is a triumph, allowing you to not only adjust common settings, tap to focus for stills or movies and swipe through images in playback, but also to navigate the entire menu system; although if you prefer you can entirely operate the camera with physical controls. The image quality is very good, although unsurprisingly similar to earlier 18 Megapixel Canon APS-C models.
The broader coverage of the hybrid AF system brings genuine benefits to focusing in Live View and movies, but it's the new kit lens which is the real star of the show, focusing swiftly in almost complete silence, and not rotating the front section in the process; it's a big upgrade over the older kit lens, even if it is a bit longer. It's so nice to be able to pull-focus smoothly, quietly and with confidence in movies using the new kit lens, hybrid AF system and touch-screen interface. It's finally a movie mode on a consumer DSLR that's useful to casual shooters, although pros can still set the exposure manually and connect an external microphone if desired.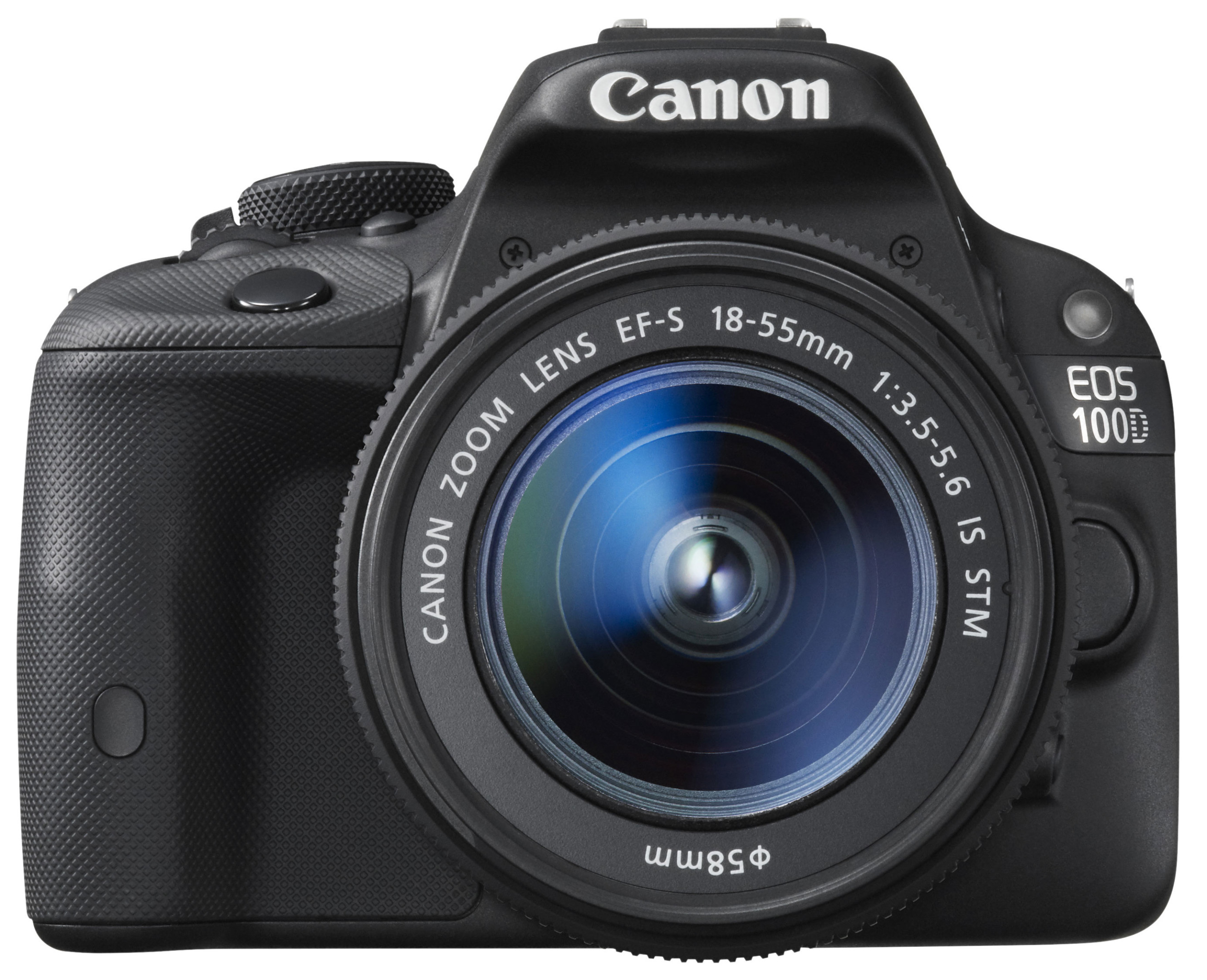 The supplied EOS Utility remains a highlight of owning a Canon DSLR, allowing you to completely remote control the camera over USB using a powerful interface that runs on Windows or MacOS. It is however disappointing not to be able to remote control the camera using an iOS or Android device. Canon does offer mobile software but only for cameras equipped with Wifi or which have an official Wifi accessory, which rules out the EOS SL1 / 100D on both counts. The absence of Wifi is a disappointment on the SL1 / 100D; sure you can equip it with an Eye-Fi card, but these are mostly for image transfer, not remote control. Canon really needs to keep an eye on Panasonic which appears to now be equipping all but its cheapest cameras with Wifi coupled with NFC for easy connection.
It's also disappointing not to find an auto panorama mode on the SL1 / 100D when it's become a standard feature on so many other cameras, although at least you can now apply a configurable miniature effect to movies. And while Canon reserves deeper bracketing and faster continuous shooting for its higher-end models, it doesn't stop rivals from offering these useful capabilities on cameras at a similar price point. I'm also perplexed why you can't adjust the AF area size for precision focusing in Live View.
Ultimately the EOS SL1 / 100D's quality, handling and feature-set is what we'd expect from an entry-level DSLR from Canon. The big difference is the size, so the important question is whether a tiny DSLR is the answer to entry-level buyers in 2013 when mirror-less cameras become increasingly popular.
It will be very interesting to see the consumer response to this proposition. Much of the drive to mirror-less cameras has been down to their portability, but now the EOS SL1 / 100D delivers something similar in size with the reassuring presence of an optical viewfinder and native compatibility with the vast EF lens catalogue. This could be all some people need to know, as it was the 100% Live View of mirror-less models and often limited selection of native lenses which put them off.
But mirror-less cameras are about more than body size. There's lens size to take into account too, and while the EOS SL1 / 100D can natively exploit the entire EF lens catalogue, very few of the options are truly compact – even the new kit lens is larger than the old one, although I'll forgive it for the quiet focusing and end section which no longer rotates. The bottom line though is the combination of a mirror-less camera and a native lens can achieve a smaller and lighter system, especially if the sensor is a little smaller as in the case of Micro Four Thirds.
It's also important to note that Live View on a mirror-less camera is far from the compromised experience delivered by most DSLRs. The contrast-based or hybrid AF systems of Panasonic, Olympus, Sony and Nikon all remain faster than the EOS SL1 / 100D for single-AF acquisition, although at least the new Canon now enjoys a decent stab at continuous AF for movies. Ironically the only really slow mirror-less system is Canon's own EOS M.
As for viewfinders, there's pros and cons to optical and electronic systems. Optical viewfinders undoubtedly work better in very low light, avoiding the noise and lag of electronic models. With nothing but the speed of light to slow them down, they're also better for following action. But countering this is the ability for electronic viewfinders to offer superimposed graphics like grids and histograms, magnified views, genuine previews of things like White Balance and also allow you to compose movies. Most electronic viewfinders also deliver a larger apparent view with 100% coverage.
You could however boil it down to this: if you mostly shoot with the screen, you'll be better-off with a mirror-less camera – so long as it's not a Canon EOS M. If however you prefer an optical viewfinder and native compatibility with the biggest lens catalogue from the smallest possible body, then the EOS SL1 / 100D is for you.
I'll now make some comparisons before wrapping-up in my final verdict.
Compared to Panasonic Lumix G6
Canon's EOS SL1 / 100D is undoubtedly aimed at the increasingly popular mirror-less market, and one of its biggest rivals will be Panasonic's Lumix G6. Both cameras sare a fair amount in common, including similar body dimensions, similar image quality, the choice of viewfinder or 3in touch-screen for composition and Full HD video capabilities. But look a little deeper and there are numerous key differences beyond the fact one is a traditional DSLR and the other is a mirror-less design.
But I'll cover that first. As a traditional DSLR, the Canon EOS SL1 / 100D employs a mirror to reflect light from the lens through an optical viewfinder. These have the benefit of zero lag, clear views even in extremely low light and the same tonal range as your eyes. As a mirror-less camera, the Lumix G6 employs 100% electronic composition for both its screen and viewfinder, which equally enjoy the benefits of 100% coverage, superimposed graphics like guidelines and live histograms and live previews of white balance or other effects; in addition the view through the G6's electronic viewfinder is larger than the optical viewfinder on an entry-level DSLR like the SL1 / 100D.
Now you could argue that the EOS SL1 / 100D enjoys the best of both worlds, offering an optical viewfinder along with Live View on its screen, but the fact remains that live view on a good mirror-less camera like the G6 is a far superior experience to live view on even a modern DSLR, primarily thanks to much faster focusing. The SL1 / 100D may have faster and more confident focusing in live view than earlier Canon DSLRs, but it's still not as quick as mirror-less cameras from Panasonic, Olympus and Sony, and the G6 will also focus in dimmer conditions than the SL1 / 100D. The bottom line is to ask yourself whether you'll mostly compose with the screen or not. If you will, then you'll be better off with a decent mirror-less model like the G6. If however you prefer optical viewfinders, then you'll simply want a DSLR. But do remember there's pros and cons to both optical and electronic composition – it's by no means a one horse race.
Moving on, the Canon has an 18 Megapixel APS-C sensor compared to a 16 Megapixel Micro Four Thirds sensor on the Panasonic. This may imply an advantage to the Canon but as you can see in my results pages (against an older rival) it makes virtually no difference in practice. The Canon may enjoy a tiny edge, but really that's all it is. I certainly wouldn't make a buying decision based on their sensors.
In terms of size, both bodies are very similar in their dimensions, although once you fit a lens, the Panasonic enjoys a more compact form. If small size is important, then a mirror-less camera, especially one employing the Micro Four Thirds standard, will be smaller.
Both models have 3in touch-screens, but the Lumix G6's is fully-articulated, allowing you to easily compose at high or low angles, not to mention flipping it forward to face the subject for self-portraits. This is a big advantage over the fixed screen of the SL1 / 100D for those who shoot movies or stills in Live View, but it would be remiss of me not to mention the fact that Canon's touch-screen interface is superior to Panasonic's, allowing you to navigate menus and enter text along with the usual swiping and pinch zooming in playback, or tap to focus which both have in common.
Both offer Full HD 1080p video capabilities with continuous AF and the chance to pull focus by tapping the screen. Thanks to its updated Hybrid AF system and new quieter kit lens, I'd also say the SL1 / 100D finally matches the Lumix G6 in this respect. Both also have external microphone inputs and full manual control over exposures. Both also have a choice of frame rates, although the Canon tops-out at 30p for 1080 video, whereas the Panasonic offers 50p or 60p depending on region.
Both cameras offer remote control via external devices, but differ significantly in their implementation. The SL1 / 100D comes with the EOS Utility which runs on Windows or MacOS computers and allows you to remote control almost any aspect of the camera over a USB connection. The Lumix G6 features built-in Wifi which allows it to be wirelessly remote-controlled by the Lumix Image App which runs on iOS or Android devices, although the degree of control is much more basic than the EOS Utility. Even though the options are much more limited in the current Lumix app, it's impossible to overlook the benefits of Wifi, allowing you to not only remote control the camera with your phone or tablet, but also wirelessly browse, transfer, backup or share images, not to mention exploit the GPS in your phone. Panasonic even makes it easier to setup the Wifi with NFC for compatible devices. Sadly the EOS SL1 / 100D not only doesn't come with built-in Wifi, but doesn't have an official Wifi accessory either, leaving you to the limited functionality of an optional Eye-Fi SD card.
Wrapping-up some other features, the Lumix G6 also enjoys faster continuous shooting, in-camera panoramas, focus-peaking for video and deeper bracketing with seven frames to the SL1 / 100D's three.
So far it should be clear the Lumix G6 is a better-featured camera than the SL1 / 100D, but this would be ignoring Canon's trump card: native compatibility with the biggest lens catalogue in the world without adapters or compromised AF, at least when composing through the viewfinder. Micro Four Thirds may now enjoy over 40 native lenses, but the Canon EF catalogue boasts more than double that. Couple this with an optical viewfinder in the smallest possible body and that's all many potential owners will need to know. But you do have to ask yourself whether you'd exploit the extra lenses and again if you really prefer an optical viewfinder over electronic composition. If you're happy with the lens selection of Micro Four Thirds and don't mind – or even prefer – electronic composition, then I'd say the Lumix G6 is a more compelling camera at this end of the market.
See my Panasonic Lumix G6 preview for more details.
Canon EOS SL1 / 100D final verdict
As someone who's been using mirror-less cameras a great deal over the past year I admit to approaching the EOS SL1 / 100D with some skepticism. But once you get it in your hands it really is a very enjoyable camera to use, delivering the quality, handling and control of a larger EOS body but in a smaller, cuter package. Is it too small? Maybe for those with bigger hands, but I found it perfectly comfortable to use and liked the miniaturization.
Did the smaller body make it much more portable though? Sadly not in the standard kit, as while the new EF-S 18-55mm IS STM is much quieter than its predecessor, it is longer and makes for a camera package that's simply larger than most mirror-less rivals. Indeed not only are models like the Panasonic Lumix G6 smaller overall when fitted with a similar lens range, but you could equip the G6 with Panasonic's new 10x zoom and still end up with a camera that's roughly the same size and weight as the SL1 / 100D kit while delivering similar image quality but with the key advantage of a much longer zoom range.
So mirror-less cameras still enjoy a size and weight advantage, especially if they employ a smaller sensor format like Micro Four Thirds, or of course ditch the viewfinder. But deciding between a DSLR and a mirror-less camera is more than about just size and weight. For me it's as much about composition and how you feel about using a screen or an electronic viewfinder to frame your shots. I went into detail earlier on this page so won't repeat myself except to say if you mostly compose with a screen, you should really be using a mirror-less camera (so long as it's not an EOS M).
But the EOS SL1 / 100D will certainly give the traditional entry-level DSLR form factor a new lease of life, satisfying those who simply want EF lens compatibility and an optical viewfinder in the smallest possible package. I reckon it'll be a popular backup body for owners of larger EOS DSLRs too, along with proving ideal for specialist applications like astro-photography where a light body can be beneficial. I can also see movie or special effects companies deploying it in situations where a larger body just wouldn't fit.
I also see it affecting sales of Canon's own EOS M. After all, the EOS SL1 / 100D gives you native EF lens compatibility without the need for an adapter or compromised AF in a body that's not much larger while also packing an optical viewfinder. What's not to like in that comparison? I'm also impressed Canon's not compromised the controls, connectivity or composition on the EOS SL1 / 100D despite its small size.
Downsides? Once again I'd have liked Wifi, in-camera panoramas, deeper bracketing, faster continuous shooting and an articulated screen in a similar form factor. Hang on, that's the Lumix G6! But again it boils down to how much you want an optical viewfinder and native EF lens compatibility.
Overall I'm going to give the EOS SL1 / 100D a Recommended rating. It misses out on our top award as I honestly think most people buying an entry-level DSLR would be better-served by a mirror-less camera these days. But for those who understand the differences and would genuinely prefer a traditional DSLR, the EOS SL1/ 100D represents a compelling option and a decent upgrade over the company's previous entry-level model, the EOS T3 / 1100D. It really is a fully-fledged Canon DSLR with essentially the same control, handling, quality and lens compatibility as a larger model, but now in miniature with – hallelujah! – a new kit lens that's quiet and doesn't rotate its front element. It's also important to give credit to Canon for finally delivering a DSLR that boasts a movie mode that's genuinely as easy and consumer-friendly as any mirror-less camera. The entry-level DSLR still has life left in it.
Good points
World's smallest DSLR. Truly compact body.
Good photo and video quality.
1080p movies with respectable continuous AF.
Excellent touch-screen interface.
Microphone input.
Remote control over USB using PCs or Macs.
New kit lens with very quiet AF and non-rotating barrel.
Bad points
Modest continuous shooting speed at 4fps.
No built-in Wifi and no Canon accessory either.
Screen doesn't flip-out, it's fixed in position.
Basic auto exposure bracketing of three frames.
No auto-panorama mode in-camera.
Non adjustable AF area size in Live View.
Loses size advantage once you fit most Canon lenses.