Canon EOS 500D / Rebel T1i
Canon EOS 500D / T1i vs vs 450D / XSi vs Nikon D5000 High ISO Noise
Support this site by
shopping below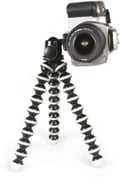 To compare noise levels under real-life conditions we shot this scene with the Canon EOS 500D / T1i, EOS 450D / XSi and Nikon D5000 within a few moments of each other using each of their ISO settings. Each camera was fitted with its respective kit lens (see details below) and adjusted to deliver the same vertical field of view. The images were focused in Live View and taken in Aperture Priority at f8 with Auto White Balance.
The image above was taken with the Canon EOS 500D / Rebel T1i at a sensitivity of 100 ISO with the kit lens set to 23mm f8; the original Large Fine JPEG file measured 4.88MB. The crops below are taken from an area marked by the red square and presented at 100%.
We used the default high ISO noise reduction settings for each camera: 'Standard' on the 500D / T1i, 'Off' for the 450D / XSi and 'Normal' on the D5000. The Auto Lighting Optimizer on the 500D / T1i and Active D-Lighting on the D5000 were also disabled to avoid noise from being introduced.
Throughout its sensitivity range, the EOS 500D / T1i resolves finer details than the earlier 450D / XSi, but the difference is perhaps more subtle than you'd think given the three Megapixel advantage of the former.
A bigger difference concerns noise, particularly their type of noise artefacts. We've long-commented on the chroma noise artefacts of the 450D / XSi at its highest sensitivities, and they're quite obvious here at 800 and 1600 ISO – but compare the crops from both Canons closely, and the chroma artefacts of the 450D / XSi reveal themselves subtly at lower sensitivities too. They're apparent at 400 ISO and even at 200 ISO if you're really looking.
Of course the 500D / T1i isn't perfect regarding noise, and there's visible textures from 200 ISO upwards, but at least it's not plagued by the coloured artefacts of its predecessor. So while we wouldn't describe the 500D / T1i as a huge leap forward in image quality over its predecessor, the noise artefacts are preferable, looking more natural and less electronic.
As on the previous page though, the Nikon D5000 remains the overall winner here. Despite sharing essentially the same resolution and sensor size as the Canon 450D / XSi, the D5000 avoids its undesirable chroma noise artefacts while also delivering a pretty respectable result at 3200 ISO. For our full analysis of the 500D / T1i against the D5000 (and Olympus E-620), see our previous Noise Results page.
Now let's take a look at some more real-life examples across the sensitivity range in our Canon EOS 500D / T1i gallery.
Canon EOS 500D / T1i
with Canon EF-S 18-55mm IS

Canon EOS 450D / XSi
with Canon EF-S 18-55mm IS

Nikon D5000
with Nikkor DX 18-55mm VR

100 ISO

100 ISO

L1.0 (100 ISO)

200 ISO

200 ISO

200 ISO

400 ISO

400 ISO

400 ISO

800 ISO

800 ISO

800 ISO

1600 ISO

1600 ISO

1600 ISO

3200 ISO

3200 ISO not available

3200 ISO

6400 ISO

6400 ISO not available

H1.0 (6400 ISO)

12800 ISO

12800 ISO not available

12800 ISO not available