Canon EOS 1000D / Rebel XS - Canon EOS 1000D / Rebel XS lens and stabilisation
Canon EOS 1000D / Rebel XS lens and stabilisation
The Canon EOS 1000D / XS employs an EF lens mount and is fully compatible with both Canon EF and EF-S lenses. Thanks to its APS-C sensor size, all lenses effectively have their field of view reduced by 1.6 times.
The EOS 1000D / XS is typically available in a kit with Canon's EF-S 18-55mm f/3.5-5.6 IS lens. This lens may have the same 29-88mm equivalent focal range as the kit model supplied with its predecessor, but now features Image Stabilisation which crucially allows Canon to compete against other stabilised DSLR kits. The build quality is ok for a budget bundle, but like most kit lenses, there's not much of a manual focusing ring to speak of, and both it and the end element rotate while focusing which is annoying for users of polarising filters.
Support this site by
shopping below
Note: the EF-S 18-55mm IS lens supplied with our 1000D / XS sample was made in Taiwan, whereas the EF-S 18-55mm IS supplied with our 450D / XSi was made in Japan. The build quality appears to be the same though, and in our tests, the copy supplied with the 1000D / XS performed slightly better than the one with our 450D / XSi. This could of course just be variations between copies though rather than an endorsement of one factory over another.
If you fancy equipping the 1000D / XS with a higher quality option from day-one, check out our Canon general purpose lens group test which compares the EF-S 17-85mm, EF-S 17-55mm f2.8 and the EF 17-40mm. You may also be interested in our Canon EF 24-105mm review specifically for Canon bodies with APS-C sensors. If you're into wide angle photography, a great option is the Canon EF-S 10-22mm. And if you're happy with the build and optical quality of the EF-S 18-55mm IS kit lens, a great budget option to complement it at the long end is the EF-S 55-250mm IS telephoto zoom.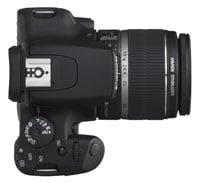 But back to the kit lens. Image Stabilisation on the EF-S 18-55mm IS is enabled using a switch on the side of the lens barrel, after which it'll kick-in with a half-press of the shutter release, whether you're composing with the optical viewfinder or in Live View – and as an optical system, you'll see the stabilising effect in both. Even with the lens fully zoomed-into its maximum 55mm though, you won't be seeing much shake through the viewfinder, but it's quite fun to watch it kick-in by switching into Live View and using the 10x manual focus assist mode.
To test the effectiveness of the EF-S 18-55mm IS's stabilisation we took a serious of photos with it zoomed-into an equivalent of 88mm where traditional photographic advice would recommend a shutter speed of approximately 1/80 to eliminate camera shake. Our sequence therefore started at 1/80 and reduced by one stop each time until 1/ 2.5.
Canon EOS 1000D / XS with EF-S 18-55mm Image Stabilisation off / on

100% crop, 18-55mm IS at 55mm, 1/5, 100 ISO, IS off

100% crop, 18-55mm IS at 55mm, 1/5, 100 ISO, IS on
Without the lens stabilisation enabled, the slowest shutter speed with which we could achieve a sharp image (at an equivalent of 88mm) was 1/80, whereas with IS enabled we achieved sharp results down to shutter speeds of 1/5. You can see 100% crops taken from the 1/5 samples above.
A shutter of 1/5 corresponds to four stops of compensation over the 1/80 non-stabilised shot and what would be suggested by traditional advice. As always, the lens, conditions and the photographer themselves can produce different results. Achieving four stops of compensation in real-life though is a very respectable result for the lens.
Canon EOS 1000D / Rebel XS focusing

The Canon EOS 1000D / XS is equipped with a 7-point AF system which appears to share the same sensor and arrangement as the much earlier EOS 350D / Rebel XT. This has been viewed by many as a disappointment as it's a step-down from the 9-point system of the 400D / XTi.
While it is indeed a downgrade, Canon is keen to point out it's not exactly the same AF system as the 350D / XT. It uses the latest algorithm developed for the EOS 450D / XSi and Canon claims the predictive AF speed is the same as the EOS 450D / XSi and EOS 400D / XTi. So really the only downgrade is the actual number of AF points.
In practice we found it happily locked onto our test subjects and tracked those in motion. It may not have the frame coverage of 9-point systems (or higher), but it remains much more sophisticated and flexible than the basic 3-point AF systems found in Nikon and Olympus entry-level DSLRs. Ultimately while it is disappointing to see a successor's specifications being downgraded, it only really bothers enthusiasts or owners of the previous model. Anyone coming new to the 1000D / XS is unlikely to be disappointed, and if they need something a bit more sophisticated from Canon they should go for the 450D / XSi.
As before you can manually select a focusing point or let the camera choose from all seven. There's also the usual three AF modes: One Shot for use with still subjects, AI Servo for moving subjects, or AI Focus which lets the camera decide between the two.

Canon 1000D / Rebel XS metering

The Canon EOS 1000D / XS offers the same three metering modes as its predecessor: 35-zone TTL Evaluative, Partial (10% of v/f area here) and Center-weighted. Sadly it doesn't feature the Spot Metering option added to the 450D / XSi, but at least this isn't a downgrade from the 400D / XTi. It's just another aspect where Canon's saying if you want a bit more, spend the extra on the 450D / XSi. Again few entry-level DSLR buyers will be that concerned by its absence.
We used Evaluative metering for all our sample images and found it generally did a good job, although the spectre of its predecessor's underexposures has not been entirely exorcised. We found several occasions where we felt the 1000D / XS had underexposed the image and required a small degree of positive exposure compensation. Interestingly the 450D / XSi doesn't suffer in the same regard. So like the 400D / XTi before it, you may prefer to leave the 1000D / XS with, say +0.3 EV permanently dialled-in.
Canon 1000D / Rebel XS anti dust

The EOS 1000D / XS offers the same three techniques as the EOS 450D / XSi to combat dust: anti-static coatings and materials to reduce it sticking in the first place, a vibrating filter which tries to shake-free the more stubborn particles, and a software-based solution which maps the position of any pesky marks and appends them to images for automatic removal later using the supplied Digital Photo Professional software.
Following our usual DSLR torture-test we left our 1000D / XS face-up without a lens, inside and outside for ten minutes each; we can't know how much dust entered the body during this time, nor even how much was present to start with, but we know such a process would result in dust being a problem for most models. We then updated the 1000D / XS's Dust Delete Data and powered the camera on and off twice to vibrate the filter.
We then took a series of photos at every aperture setting of a plain white surface at close range with the EF-S 18-55mm IS lens zoomed-into 55mm and manually focused to infinity. Dust marks normally become most apparent at the smallest apertures (eg f16 and f22), but it's also important to test at more common apertures.
Support this site by shopping at Amazon Canon EOS 1000D / XS dust example at f22 / f8

100% crop, 18-55mm at 55mm, f22

100% crop, 18-55mm at 55mm, f8

At f22, three dust marks were faintly visible on the image and we've cropped the darkest of them above on the left. At f16, they grew fainter but remained visible. At f11 though they had all effectively become almost invisible. At f8, there was no sign of any, and to illustrate this we've cropped the exact same area from the f8 sample and shown it above right. If you save this image to your computer and apply Auto Levels, you'll see the dust mark towards the bottom of the frame.
Unlike the EOS 40D and 450D / XSi, we also managed to apply the camera's Dust Delete Data in the supplied Digital Photo Professional software. This comes up as an option when you start the Stamp tool, and immediately wiped-out two of the dust marks, although left one untouched. Still, two out of three ain't bad.
So like most DSLRs, dust can remain in the 1000D / XS even after its filter has vibrated. But we've seen worse examples and the fact they're hard to spot even at f11 and removed with a fair degree of effectiveness by the DPP software, is certainly some consolation. That said, if you change lenses regularly, you'll still need to occasionally rely on the manual cleaning technique of opening the shutter and using a blower.
Canon 1000D / Rebel XS sensor and processing

The Canon EOS 1000D / XS is equipped with the same 10.1 Megapixel CMOS sensor as its predecessor, the 400D / XTi. This measures 22.2×14.8mm and generates 3:2 aspect ratio images with a maximum resolution of 3888×2592 pixels. There's the choice of two lower resolutions, and all three sizes can be recorded with either Fine or Normal JPEG compression. Alternatively you can record RAW files either with or without a Large Fine JPEG.
Unlike the 450D / XSi which boasts 14-bit RAW files, the new 1000D / XS employs the more common 12-bits of its predecessor; this means the Highlight Tone Priority of the 450D / XSi and EOS 40D is also missing here. That said, the 1000D / XS RAW files do still contain greater latitude for tonal adjustments than its JPEGs.
Best quality Large Fine JPEGS typically measure between 3.5 and 4 MB each, while RAW files measure around 10MB each. There's no dedicated button for the quality settings, but it is the top option on the first menu page.
Like all Canon's consumer DSLRs, the sensitivity runs between 100 and 1600 ISO; sadly there's no 3200 ISO option, even on the 450D / XSi.
Like the 450D / XSi, the 1000D / XS's Auto ISO mode appears to choose from a range between 200 and 800 ISO – we couldn't persuade it to select either 100 or 1600 ISO in Program or Auto modes even when pointing at the Sun or in dark conditions respectively. The exception is when you're in Shutter or Aperture Priority under extreme conditions, at which point the camera has no choice but to go for 100 or 1600 ISO to avoid an incorrect exposure. Additionally when the sensitivity is set to Auto and the shooting mode set to Manual, the ISO is locked at 400 ISO.
On the upside, the 1000D / XS inherits the 450D / XSi's useful ability to always show the current ISO value in the viewfinder, and both cameras will also reveal what sensitivity they're going to use in Auto when the shutter release is half-pressed. While this prevents any nasty surprises, you may still wish to manually set the ISO to get exactly the result you're after.

Like the 450D / XSi, two noise reduction modes are available in the Custom Functions: High ISO Noise Reduction is actually applied throughout the range, but particularly at higher sensitivities, while Long Exposure Noise Reduction uses dark-frame subtraction. Both are disabled by default.
Pressing the White Balance button allows you to choose from Auto, Daylight, Shade, Cloudy, Tungsten, White Fluorescent, Flash and Custom – there's no option to manually select a colour temperature in Kelvin, but there are White Balance shift and bracketing options available.
Sharpness, Contrast, Saturation and Colour Tone are applied using a number of Picture Styles: for colour photography, you have the choice of Standard, Portrait, Landscape, Neutral and Faithful, while a further Monochrome option offers four filter and four toning effects. Contrast, Saturation and Colour Tone can be adjusted in a range of +/-3, while Sharpness is offered from 0 to 7. While it's possible to tweak these presets or configure your own with the three custom modes in-camera, software supplied with 1000D / XS lets you create and edit precision Picture Styles to your absolute requirements – just like the 450D / XSi and EOS 40D.
We used the default Standard Picture Style for most of our sample images, and found it delivered very smooth images, albeit ones which could handle a little additional sharpening. This is bucking the trend for punchy output from entry-level DSLRs, but you can easily boost the settings in-camera, or shoot in RAW for the best results, as shown in our Results pages.
As mentioned above, the absence of 14-bit processing on the 1000D / XS means it can't offer the Highlight Tone Priority option of the 450D / XSi or EOS 40D, but it does share their Auto Lighting Optimiser mode. This adjusts the brightness and contrast, and is applied all the time in the Auto and Scene Preset modes.
It's also applied by default when you're shooting in PASM or A-DEP modes, although a Custom Function allows you to disable it in these modes if you prefer. Since it's enabled by default though, you'll see it in action in all our sample images; note, it is not applied to any RAW images.
To put the Auto Lighting Optimiser to the test we shot one of our standard Gallery compositions first Enabled, then Disabled using the custom function. Reduced versions of each image are shown below, along with their histograms measured in Adobe Photoshop.
Canon EOS 1000D / Rebel XS Auto Lighting Optimiser on (default) / off

Auto Lighting Optimiser on (default): 100 ISO, f3.5, 0.5 sec

Auto Lighting Optimiser off: 100 ISO, f3.5, 0.5 sec
In the composition above, Auto Lighting Optimiser makes no discernable difference to the version without. The shadowy roof areas are equally dark, and the bright window highlights are equally saturated. In other examples though we've seen Auto Lighting Optimiser deliver slightly punchier images compared to those without but it's generally a small boost in contrast. It also employs face detection behind the scenes to brighten people's faces in strongly backlit compositions.
Canon 1000D / Rebel XS drive modes and remote control

The Canon EOS 1000D / XS offers one continuous shooting option, rated at the same 3fps as its predecessor, although there are some important differences. On the upside, the 1000D / XS can now keep shooting JPEGs until you run out of memory – that's an improvement over the 400D / XTi. But switch the 1000D / XS to RAW mode and the continuous speed drops to a disappointing 1.5fps with a quoted maximum of just five frames. This is due to a smaller buffer.
To put this to the test we fitted the 1000D / XS with a formatted 1GB SanDisk Ultra II SD card and set the camera to a shutter speed of 1/500 at 100 ISO. Set to Large Fine JPEG mode, the 1000D / XS fired-off 78 frames in 25.8 seconds before stuttering slightly. This confirms the rate of 3fps, and by recording the images as it took them, there was only a delay of a second or so to complete the writing once the long sequence ended.
Set to RAW though, our 1000D / XS managed just four frames in 2.3 seconds before greatly slowing down. This corresponds to a faster rate of 1.7fps than advertised, but one that remains too slow to be of any real use.
So continuous RAW shooting is another aspect of the 1000D / XS which has been downgraded from the 400D / XTi and another which will annoy enthusiasts or owners of that model. But again how many entry-level buyers will it really affect in practice? The continuous JPEG speed remains 3fps, and faster processing means you can keep shooting for much longer. So while it's easy to become pre-occupied by another downgrade, we don't believe it's that big an issue for the target market. Again if you want more from a Canon DSLR, go for the 450D / XSi which shoots at 3.5fps with no RAW compromise.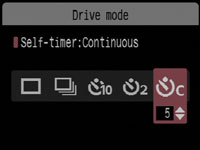 Anyone familiar with the EOS 400D / XTi will however be pleased to find the new model inheriting the self timer options of the 450D / XSi. So the basic 10 second self timer is now complemented by a 2 second timer and a custom timer option which counts-down from 10 seconds, but then takes your choice of one to ten photos in quick succession – handy to stop you returning to the camera for a second or third attempt. You can also set Mirror-lockup from the Custom menu.
Like the 450D / XSi and 40D models, the EOS Utility software supplied with the 1000D / XS additionally allows you to remote control the camera over a USB connection and record images direct to your computer's hard disk. This lets you use your PC or Mac as an inter-valometer, pre-program long exposures in Bulb mode, and even both focus the lens and preview the image or depth-of-field on your monitor thanks to Live View.
You can remote control and adjust pretty much any setting that doesn't involve a physical dial or switch. So you can't change the exposure mode from, say, Aperture to Shutter Priority using the software, but you can adjust the aperture or shutter value, the image quality, white balance, metering or sensitivity for example. It's particularly fun to adjust the focusing remotely on your computer screen using the Live View, especially fine-tuning with the magnified option. Then when you're ready, just click the 'button' in the top right of the EOS Utility window to take the shot. These can be recorded direct to your hard disk, onto the camera's memory card or both for additional security.
This is a wonderful feature to have, especially for an entry-level DSLR, and if you have a laptop handy, it could even eliminate the need for certain photographers to invest in a cable release. In fact the only downside we could find was the inability for the USB port to power the camera itself, thereby making an AC adapter mandatory for serious unattended time-lapse photography. See our 1000D / XS video tour for a demonstration or head straight to our 1000D / XS results.