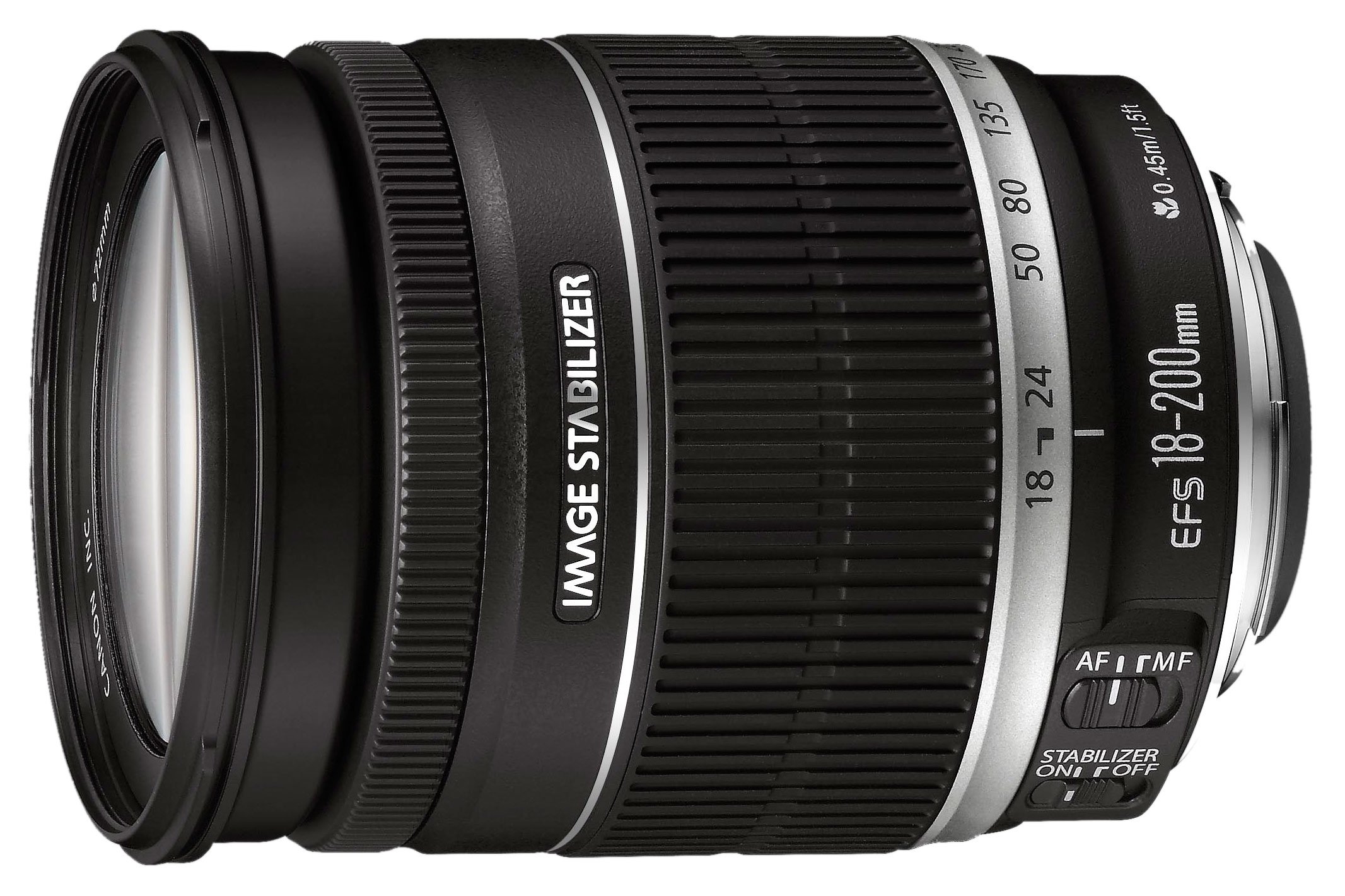 Canon EF-S 18-200mm f3.5-5.6 IS - Canon EF-S 18-200mm IS coverage
Canon EF-S 18-200mm IS coverage
Canon EF-S 18-200mm IS coverage
Canon's EF-S 18-200mm IS is designed as a powerful all-round lens with an 11.1x super-zoom range. With the 1.6x field-reduction factor of Canon's APS-C DSLRs, the EF-S 18-200mm IS delivers equivalent coverage of 29-320mm, taking you from wide angle all the way to pretty respectable telephoto coverage. To illustrate this significant range in practice we mounted the lens on an EOS 50D body, attached it to a tripod and shot the same scene fully zoomed-out, then fully zoomed-in.
Canon EF-S 18-200mm IS coverage

EF-S 18-200mm at 18mm (29mm equivalent)

EF-S 18-200mm at 200mm (320mm equivalent)
It's clear from the images above the degree of flexibility such a lens provides. You could be shooting an expansive landscape at one moment, spot an unusual bird or animal in the distance and within a second or two twist the zoom ring around to capture a tight close-up view. Such a range is equally useful when shooting in urban environments, allowing you to capture wide architectural views, before zooming-in for some interesting street shots. Suffice it to say the ability to zoom from wide to decent telephoto is also ideal when you're attending weddings or sporting events.
Of course you can achieve the same range with multiple lenses, and also generally enjoy superior performance while you're at it, but the convenience of having it all in one lens cannot be underestimated. You don't need to lug multiple lenses around with you, waste time changing them while running the risk of missing your photo opportunity, and of course by not removing lenses, you'll also minimise the risk of dust entering the body. All these reasons make super-zooms ideal for travel photography, and are responsible for existing models from rival manufacturers topping the best-seller lists.
Once again, going for multiple lenses provides the opportunity to buy specialist models which may be wider, longer, sharper, brighter or quicker, but for many people, a 29-320mm equivalent range could be all they ever need. It's certainly a compelling prospect.
Canon EF-S 18-200mm IS stabilisation
The Canon EF-S 18-200mm IS is equipped with Image Stabilisation to counteract camera shake. Like all of Canon's IS lenses to date, this employs an optical system which means you see the stabilising effect while composing through the optical viewfinder. Seeing the image suddenly steady itself when you half-press the shutter release button is very reassuring, especially when you're shooting at longer focal lengths.
IS is enabled by flicking a switch on the side of the lens barrel. Canon claims the lens has four stops of compensation and automatically detects any panning movement to temporarily deactivate one axis. To put its effectiveness to the test we took a series of photos with it zoomed-into an equivalent of 320mm, where traditional photographic advice would recommend a shutter speed of at least 1/320 to eliminate camera shake.
Our sequence therefore started at 1/320 and reduced by one stop each time until 1/5. We performed this sequence twice, first without IS enabled, and secondly with IS enabled. Below are 100% crops taken from the non-IS and IS images at a shutter speed of 1/20.
Canon EF-S 18-200mm IS Image Stabilisation off / on

100% crop, EF-S 18-200mm IS at 200mm, 1/20, IS off

100% crop, EF-S 18-200mm IS at 200mm, 1/20, IS on
The fastest we could handhold a sharp result when fully zoomed-in without any stabilisation was at 1/160; anything slower than this suffered from camera shake. With IS enabled though, we could match the sharpness under the same conditions at a shutter speed of 1/20. You can see examples taken at 1/20 with and without stabilisation above, and it's clear how the version with IS is much steadier.
This corresponds to three stops in practice over our 1/160 shot, or four stops over conventional wisdom at 1/320. So while we didn't quite achieve four stops in person, having three at your disposal is still very respectable and makes the EF-S 18-200mm IS usable in a variety of environments even when fully zoomed-in. Just remember though, image stabilisation cannot do anything about freezing a subject in motion – for that you'll simply need a sufficiently quick shutter speed.
Now it's time to see how the lens performs against alternative general purpose zooms in our Canon EF-S 18-200mm IS results pages.