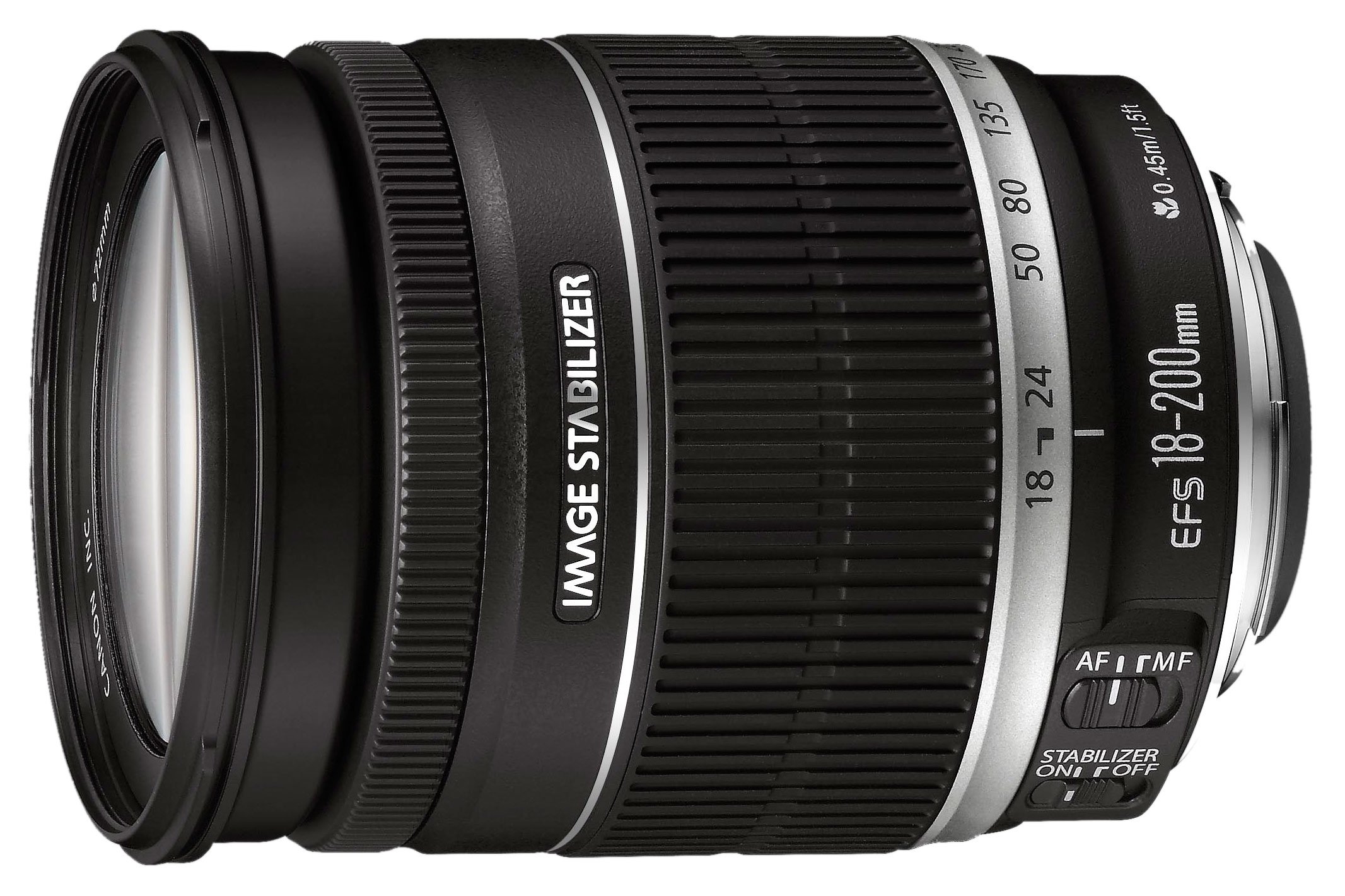 Canon EF-S 18-200mm f3.5-5.6 IS - Canon 18-200mm design and build quality
Canon 18-200mm design and build quality
The Canon EF-S 18-200mm IS is pictured below on the far right, with the EF-S 18-55mm IS kit lens on the left and the EF-S 17-85mm IS in the middle. Measuring 102mm in length with a maximum diameter of 79mm, Canon's super-zoom is clearly larger than the 92x78mm of the EF-S 17-85mm IS, although a little smaller than the 111x84mm of the EF-S 17-55mm f2.8 IS.
In terms of weight, the EF-S 18-200mm IS is heavier than it looks at 595g; this places it closer to the 645g heft of the optically bright EF-S 17-55mm f2.8 and comfortably more than the 475g of the EF-S 17-85mm IS. If you're used to the EF-S 18-55mm IS, almost anything you fit will feel large and heavy as the kit model weighs just 200g.
In terms of design, the EF-S 18-200mm is a departure from existing Canon EF-S general purpose models, looking and feeling closer to the recent EF-S 55-250mm IS telephoto zoom. The build quality is also roughly in the middle of the EF-S range, so while a step-up from the EF-S 18-55mm IS kit lens, it's not up to the EF-S 17-55mm IS.
There's a metal lens mount, but like other models of its class, sadly no rubber environmental sealing. Unlike both the EF-S 17-85mm IS and EF-S 17-55mm IS, there's also no window indicating focusing distance. As mentioned above though, the lens is heavier than it looks, which lends it an air of greater confidence.
In use, your left hand naturally supports the lens on its wide zoom ring, which when turned to the maximum 200mm focal length extends the barrel in two sections by 60mm. Our sample suffered from a little creep between focal lengths of 80 and 35mm, where the lens could gradually retract or extend under its own weight when pointed vertically up or down respectively. We have a demonstration of this in our video tour.
Our lens was also a new sample, so this could become looser over time, although to be fair we've also experienced creep with the Nikkor 18-200mm VR and this has varied between samples. To prevent the Canon's barrel from extending when not in use though, a small switch can lock it at the 18mm position.
| | | |
| --- | --- | --- |
| Canon 18-200mm with popup flash on EOS 450D | | Canon 18-200mm with popup flash on EOS 50D |
| | | |
| EF-S 18-200mm at 18mm (29mm equivalent) | | EF-S 18-200mm at 18mm (29mm equivalent) |

A quick note about using the popup flash with the EF-S 18-200mm IS. We tried it with the EOS 450D and EOS 50D bodies and found a tiny shadow was cast by the lens barrel when fully zoomed-out. It's fairly minimal though, and disappears when the lens is zoomed-into just 20mm or beyond. As such, you're unlikely to notice it when using the built-in flash, but to be sure, just twist the dial slightly.
Canon EF-S 18-200mm IS optical design notes
The Canon EF-S 18-200mm IS employs 16 elements in 12 groups, including UD glass and aspherical lenses. The focal ratio is f3.5 when zoomed-out to 18mm and f5.6 when zoomed-into 200mm. The closest focusing distance is 45cm and we have an example in our sample images gallery.
Canon EF-S 18-200mm IS focusing
Towards the end of the lens barrel you'll find a narrow manual focusing ring. This feels similar in use to those on other EF-S lenses, although annoyingly the absence of full-time manual focusing means you'll need to switch the lens from AF to MF before you can turn it. The manual focusing ring also turns while the lens auto-focuses, although this isn't as big a deal as it sounds as your grip is normally much further back on the zoom ring. At the end of the barrel is a 72mm filter thread, which thankfully remains static during the auto-focus process – good news for users of polarising and other directional filters.

Canon's encyclopaedic Lens Work book states the company intends to eventually equip all its lenses with quick and quiet USM focusing motors, so it's a surprise and disappointment not to find one here. Despite its not insignificant price tag, the EF-S 18-200mm IS is auto-focused by a gear-driven DC motor which is quite audible in practice – you can hear it in our video tour – and again you need to disengage it to manually focus.
To be fair though, the EF-S 18-200mm IS can be quite swift at focusing. The lens can rapidly focus from one end of its range to the other and we didn't find any situations where its focusing was insufficiently quick to keep up with moving subjects – this included our standard DSLR auto-focusing test where we track vehicles approaching face-on at 50kph.
So in terms of speed we have no complaints with the EF-S 18-200mm IS, but every time you hear the gears grind or are prevented from tweaking the manual focus ring without first flicking a switch, you curse Canon for not equipping it with USM. It's a bizarre decision, especially when the similarly-priced Nikkor DX 18-200mm VR features one of the company's SWM focusing systems.
Now let's take a look at the coverage and stabilisation in our Canon EF-S 18-200mm IS features page.