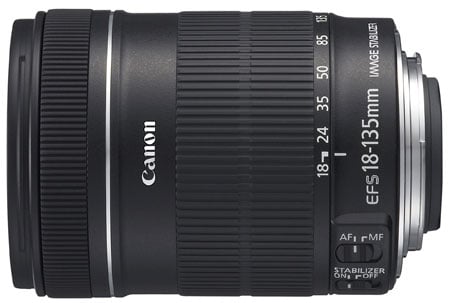 Canon EF-S 18-135mm f3.5-5.6 IS
Canon EF-S 18-135mm IS coverage and stabilisation
Canon's EF-S 18-135mm IS is designed as a general-purpose lens for cropped-frame bodies delivering equivalent coverage of 29-216mm. To illustrate this range in practice we fitted the lens to an EOS 7D body, mounted it on a tripod and shot the same scene fully zoomed-out, then fully zoomed-in.
Canon EF-S 18-135mm IS coverage

EF-S 18-135mm at 18mm (29mm equivalent)

EF-S 18-135mm at 135mm (216mm equivalent)
Zoomed-out, the EF-S 18-135mm IS delivers fairly standard wide-angle coverage that's equivalent to 29mm. This matches the capabilities of the basic EF-S 18-55mm IS kit lens, so if you're upgrading from that model, you won't be enjoying anything wider. Likewise if you were considering upgrading to the EF-S 18-200mm IS.
For wider coverage in a general-purpose zoom, you'll need to go for the EF-S 15-85mm IS USM, or its predecessor, the EF-S 17-85mm IS USM. A few millimetres may not sound like a huge difference, but both these lenses capture a noticeably wider field-of-view than any of the Canon zooms which start at 18mm, and you can see examples of this in our Canon EF-S 15-85mm IS USM review. For a really significant difference though and to achieve very dramatic wide-angle effects, you'll need an ultra-wide zoom, like Canon's excellent EF-S 10-22mm IS USM.
Where the EF-S 18-135mm IS really scores though is when zoomed-in, where, in Canon's general-purpose range, it's only out-gunned by the EF-S 18-200mm IS super-zoom. At 135mm, or an equivalent of 216mm when mounted on a compatible body, the EF-S 18-135mm delivers two and a half times the reach of the basic kit zoom, or over 50% more than the EF-S 15-85mm IS USM. This allows it to get much closer to distant subjects and reveal details which are lost on shorter lenses.
To put the longer reach of the EF-S 18-135mm IS into perspective, we took the same view with the EF-S 18-55mm IS (below left) and the EF-S 15-85mm IS USM (below right), with both lenses fully zoomed-into their maximum focal lengths – so what you see below are their maximum magnifications. The red frames super-imposed on each image shows what you'd capture with the EF-S 18-135mm IS when fully zoomed-in from exactly the same position.
These frames do not represent theoretical comparisons which have been generated mathematically. Instead they were created by superimposing actual photos taken with each lens just moments apart, and scaling them in Photoshop until the details lined-up (taking geometric distortion into account). So the differences you see here really are what you'd experience in practice. Note, the exact coverage is indicated by the outside edges of each frame.
Canon EF-S 18-135mm IS telephoto coverage comparison

EF-S 18-55mm at 55mm (88mm equivalent)
Red frame represents actual coverage of EF-S 18-135mm at 135mm

EF-S 15-85mm at 85mm (136mm equivalent)
Red frame represents actual coverage of EF-S 18-135mm at 135mm
It's clear from the images above how much closer the EF-S 18-135mm IS will reach than either the EF-S 18-55mm IS or the EF-S 15-85mm IS USM when all models are fully zoomed-in. The field-of-view is considerably tighter than the EF-S 18-55mm IS, and if you're upgrading from that model, you'll enjoy much closer views of distant subjects. The difference between it and a lens zoomed-into 85mm is less dramatic, but still quite noticeable. Of course you could always achieve the same field-of-view by cropping an image around the red frames, but by doing so, you'd lose a lot of resolution. A lens like the EF-S 18-135mm IS allows you to concentrate the entire resolution of your DSLR into that smaller area.
The range also covers most of the popular focal lengths for portrait photography, allowing you to capture flattering views of people. Zoomed-in and with the aperture wide-open, you can also achieve fairly attractive out-of-focus effects, and you can see an example in our Gallery. If you're really into blurred backgrounds and portrait photography though, you should consider the EF-S 17-55mm IS USM instead as its constant f2.8 aperture can deliver a much shallower depth-of-field with better-looking out-of-focus 'bokeh' effects. If this is way beyond your budget but you still want those blurred backgrounds, consider one of Canon's 50mm lenses instead – the EF 50mm f1.8 represents particularly good value. See our Canon portrait lens guide for details.
While the maximum focal length of 135mm is comfortably longer than the kit lens or most general-purpose options, it does however fall short of what you'll want for distant wildlife or sports. It'll suffice for subjects which are fairly close, but anything further away and you'll really want 300mm or more. See our Canon telephoto lens guide for details.
Canon EF-S 18-135mm IS Stabilisation
The Canon EF-S 18-135mm IS is equipped with Image Stabilisation capabilities to counteract camera shake. Like all of Canon's IS lenses to date, this employs an optical system which means you see the stabilising effect while composing through the optical viewfinder. Seeing the image suddenly steady itself when you half-press the shutter release button is very reassuring, especially when you're shooting at longer focal lengths.
IS is enabled by flicking a switch on the side of the lens barrel. Canon claims the lens has four stops of compensation and automatically detects panning to temporarily deactivate one axis. In operation, the IS motor is very quiet.
To put its effectiveness to the test we took a series of photos with it zoomed-into an equivalent of 216mm, where traditional photographic advice would recommend a shutter speed of at least 1/216 to eliminate camera shake.
Our sequence started at 1/200 and reduced by one stop each time until 1/6. We performed this sequence twice, first without IS enabled, and secondly with IS enabled. Below are 100% crops taken from the non-IS and IS images at a shutter speed of 1/13.
Canon EF-S 18-135mm IS USM Image Stabilisation

EF-S 18-135mm at 135mm (216mm equivalent) IS off, 1/13

EF-S 18-135mm at 135mm (216mm equivalent) IS on, 1/13
On the conditions of the day, the fastest we could handhold a sharp result when fully zoomed-in without any stabilisation was at 1/100; anything slower than this suffered from camera shake. With IS enabled, we could match the sharpness under the same conditions at a shutter speed of 1/13. You can see examples taken at 1/13 with and without stabilisation above, and it's clear how the version with IS is much steadier.
This corresponds to three stops in practice over our 1/100 shot, or four stops over conventional wisdom at 1/200. So while we didn't achieve four stops in person, having three at your disposal is still very respectable and makes the EF-S 18-135mm IS usable in a variety of environments even when fully zoomed-in. Just remember though, image stabilisation cannot do anything about freezing a subject in motion – for that you'll simply need a sufficiently quick shutter speed.
Now it's time to see how the lens performs against alternative general purpose zooms in our Canon EF-S 18-135mm IS results pages.