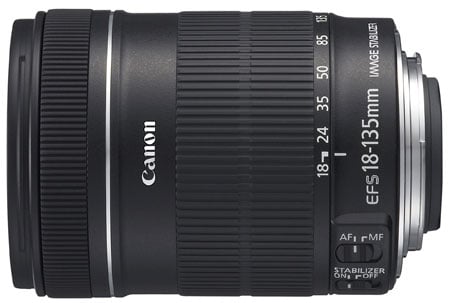 Canon EF-S 18-135mm f3.5-5.6 IS
Intro
Canons EF-S 18-135mm f/3.5-5.6 IS is the company's new kit lens for up-market bodies, or those wanting to upgrade from the basic EF-S 18-55mm IS to something longer without breaking the bank. Announced in September 2009 alongside the EOS 7D and the up-market EF-S 15-85mm IS USM lens, the new kit zoom features a powerful 7.5x range and Image Stabilisation to iron-out any wobbles. It'll work with any EF-S compatible DSLR, which means all bodies apart from the ancient EOS 10D or those belonging to the EOS 5D or EOS 1D series.The headline feature is of course the 7.5x optical range which allows the lens to zoom over two and a half times closer than the basic EF-S 18-55mm IS, allowing it to get much closer to distant detail. Mounted on a compatible DSLR, the EF-S 18-135mm IS delivers an equivalent focal length of 29-216mm, taking you from wide-angle to mid-telephoto, while including all the classic focal lengths for portrait work. The longer focal length also allows you to more easily blur backgrounds on portraits than the basic kit lens.The EF-S 18-135mm IS also features Image Stabilisation to counteract camera-shake, with Canon claiming up to four stops of compensation, along with detection of panning and tripod use. The lens additionally features what Canon describes as an improved look and feel with a textured finish which matches their recent higher-end bodies.
In our full review of Canon's latest kit lens, we'll compare its build, focusing and optical quality against the budget EF-S 18-55mm IS zoom to see what you can expect when upgrading, or opting for the longer lens with a new body from day-one.
We've also compared it against the more up-market EF-S 15-85mm IS USM, along with the earlier EF-S 17-85mm IS USM, again to see what you can expect in terms of build, focusing and optical quality. You'll also find a number of results which include the EF-S 18-200mm IS super-zoom for comparison. So if you're in the market for an affordable kit zoom lens, or are wondering what exactly you get when paying double the price, you've come to the right place!
Testing notes
We tested a final-production EF-S 18-135mm IS lens (serial number 5902504695) with various Canon bodies including the EOS 7D and EOS 450D / XSi. The EF-S 18-135mm IS will work with all EF-S compatible Canon DSLRs, which includes all but the 1D and 5D series. It is not compatible with bodies employing larger sensors such as full-frame or APS-H models, nor those which predate the EF-S standard, such as the EOS 10D.