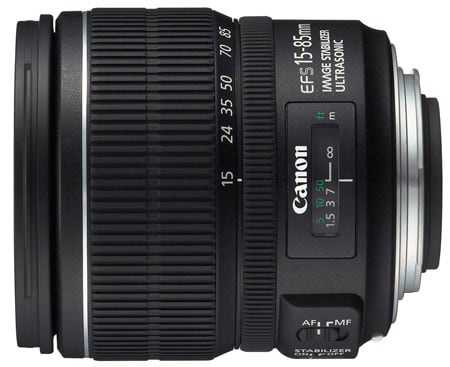 Canon EF-S 15-85mm f3.5-5.6 IS USM - Canon EF-S 15-85mm IS USM design, build quality and focusing
Canon EF-S 15-85mm IS USM design, build quality and focusing
The Canon EF-S 15-85mm IS is pictured below, second from the left, flanked by the standard EF-S 18-55mm IS kit lens on the far left and the EF-S 17-85mm IS to its right. On the far right is the EF-S 18-135mm IS. From the photo below, the EF-S 15-85mm IS appears roughly the same size as the EF-S 17-85mm IS, but looks can be deceptive as there are significant differences with both lenses in your hands.
Measuring 82x88mm, the EF-S 15-85mm IS is a little shorter, but fatter than the 79x92mm of the EF-S 17-85mm. This may only make it 3mm wider and 4mm shorter, but if you're used to the earlier model, the new one can look quite stubby in comparison, albeit in quite an appealing way like a larger aperture lens. The EF-S 18-135mm is unsurprisingly the longest here at 101mm, which coupled with its 75mm maximum diameter lends it a slimmer appearance to its pricier counterpart. All of course dwarf the standard kit lens which measures just 69x70mm.
The most noticeable difference in your hands though concerns the weight. At 575g, the EF-S 15-85mm IS weighs exactly 100g more than the EF-S 17-85mm IS and you really feel a difference when swapping between them on a lower-end body. Mount them on a higher-end model like the EOS 50D or EOS 7D though and the EF-S 15-85mm IS feels perfectly-balanced. The extra weight also lends it an air of confidence that's lacking from some of the lighter EF-S lenses, although the EF-S 17-55mm f2.8 unsurprisingly remains the heaviest general-purpose zoom in the range at 645g thanks to its constant f2.8 aperture.
In the meantime, at 455g the EF-S 18-135mm IS is just a little lighter than the EF-S 17-85mm IS, and again all are much heavier than the 200g of the EF-S 18-55mm IS kit lens.
So if you're upgrading from this kit lens to any of those pictured here, be prepared for a noticeable increase in size and weight. Interestingly the Canon EF-S 15-85mm IS is also larger and heavier than its equivalents from Nikon and Sony despite sharing the same aperture and almost identical ranges: the Nikkor DX 16-85mm VR weighs 485g and measures 72x85mm, while the Sony DT 16-80mm weighs 445g and measures 72x83mm, although to be fair the latter doesn't have built-in stabilisation.
Interestingly while both the EF-S 15-85mm IS and its predecessor share the same maximum focal length, the new model physically extends much further when zoomed-in: by 40mm compared to 26mm, making it longer overall in this position. The EF-S 18-135mm IS extends by a similar 39mm, although with a single barrel rather than the twin-barrel design of the EF-S 15-85mm IS and EF-S 17-85mm IS.
Support this site by
shopping below

In terms of build-quality, the EF-S 15-85mm IS felt a little more solid than the EF-S 17-85mm IS, although much of that could simply be due to the age of the latter sample, not to mention the additional weight of the former. The manual focusing and wider zoom rings on the new model felt a little smoother and stiffer though, even taking wear into consideration.
Despite being a brand new sample with a relatively stiff zoom ring and short barrel extension, the EF-S 15-85mm IS is not immune to lens creep. When pointed directly up or down, our sample suffered from creep between 24 and 50mm where the barrel could gradually retract or extend under its own weight. It's not as bad as some super-zoom lenses we've tested, but it's certainly present.
Thankfully with the lens set to 15 (or 85mm) though, our sample avoided any creep, making a transport lock unnecessary. So unlike some of the worse-offenders, you won't find the EF-S 15-85mm IS annoyingly extending by itself when mounted on a camera slung around your neck or carried in a bag.
Canon claims the EF-S 15-85mm IS features a 'new exterior design, with a textured finish for a high quality look and feel, that matches your EOS camera', and while it is a little less shiny and plasticky than some earlier models, it's a pretty subtle difference as you can see from our photos above.
For all its improvements though, the EF-S 15-85mm IS remains a long shot from the build and mechanical quality of one of Canon's L-series models. It may have a metal lens mount, but there's no environmental sealing. The zoom and focusing rings may be smoother than earlier models, but both feel a world apart from the silky operation of those on L models. And continuing Canon's misguided tradition, the L models remain the only lenses in the range to include a lens hood as standard.
It's a real shame EF-S lenses continue to be excluded from the L-club, especially with higher-end bodies like the EOS 7D physically out-performing models like the EOS 5D Mark II. Is it really too much to ask for a general-purpose EF-S zoom for these higher-end bodies which matches the physical, environmental and mechanical quality of models like the EF 24-105mm IS?
Canon EF-S 15-85mm IS USM
with popup flash on EOS 450D / XSi

Canon EF-S 15-85mm IS USM
with popup flash on EOS 7D

EF-S 15-85mm at 15mm (24mm equivalent)
EF-S 15-85mm at 15mm (24mm equivalent)

A quick note about using a popup flash with the EF-S 15-85mm IS. We tried it with the EOS 450D / XSi and EOS 7D bodies and found their built-in flashes managed to clear the lens barrel when zoomed-out, avoiding any shadows at distances above 50cm. Note the EOS 7D's built-in flash features broader coverage to better match the wider coverage of this lens – evident in the samples here.
Canon EF-S 15-85mm IS USM optical design
Like the EF-S 17-85mm IS before it, the Canon EF-S 15-85mm IS employs 17 elements in 12 groups, and a closest focusing distance of 35cm. Both lenses share a focal ratio of f5.6 when zoomed-into 85mm, but the new model is a little brighter when zoomed-out: f3.5 at 15mm compared to f4 at 17mm on the older model.
The combination of a slightly brighter focal ratio and wider coverage is responsible for the larger elements at the front-end of the lens, not to mention its increased weight. As we'll detail below, this also results in a wider filter thread.
The EF-S 15-85mm IS also features seven aperture blades to the six on its predecessor which should allow it to deliver more pleasing out-of-focus effects. You can see an example portrait shot with the aperture wide open in our Gallery.
According to data supplied by the lens, the maximum apertures operate within the following focal ranges: at f3.5 between 15 and 17mm, at f4.0 between 18 and 26mm, at f4.5 between 27 and 37mm, at f5.0 between 38 and 60mm, and finally at f5.6 between 61 and 85mm.
Canon EF-S 15-85mm IS USM focusing
Like the EF-S 17-85mm IS before it, you'll find a narrow manual focusing ring alongside a window indicating focusing distance, although both have now been shifted closer to the mount-end of the lens.
From the photos here, the manual focusing rings may look similar, but even taking wear into account, the one on the new model is stiffer and smoother which makes fine adjustments easier. As described above, it's not in the L-class, but an improvement over existing EF-S lenses. Like other models with USM motors, it also offers full-time operation without having to switch the lens to MF first; sadly the EF-S 18-135mm IS and EF-S 18-200mm IS lack USM and need to be switched to MF for manual focusing.
Set to AF, the EF-S 15-85mm IS focuses fairly quickly and quietly, and was roughly similar to the EF-S 17-85mm IS in this respect. Don't expect the lightening speed of some of Canon's top-end telephotos, but it's certainly quicker (and quieter) than non-USM general-purpose zooms like the EF-S 18-135mm IS and EF-S 18-200mm IS. As such, it generally takes less than a second to focus from a meter to infinity or back again, and is sufficiently quick to track most approaching or receding subjects.
As you'd expect, the barrel doesn't rotate while focusing which is good news for users of polarising filters, although the actual filter mount itself is now bigger than the older model: 72mm compared to 67mm on the EF-S 17-85mm IS. For comparison, the EF-S 18-135mm IS and EF-S 18-200mm IS employ 67 and 72mm threads respectively.
Now let's take a look at the coverage and stabilisation in our Canon EF-S 15-85mm IS features page.