Outdoor scene - Canon EOS 30D vs EOS 5D with 17-40mm f4.0L
Support this site by shopping via these links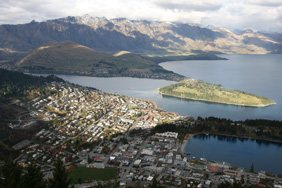 To compare real-life performance we shot the same scene with the Canon EOS 30D and EOS 5D using the EF 17-40mm f4.0L USM lens within moments of each other; the focal length was adjusted on each camera to match the coverage.

The cameras were set to their best quality JPEG settings (Large, Fine) and the aperture to f8 using Aperture Priority mode. Both were using Evaluative metering and set to their Standard Picture Style.

The image above was taken with the Canon EOS 30D using the EF 17-40mm f/4.0L USM at 21mm; the original JPEG measured 3.43MB. The 5D image used for comparison was taken with the same lens at 33mm, with the JPEG measuring 4.81MB. The crops below are taken from left, center and right portions of the originals from each camera and presented here at 100% for comparison. The 5D crops represent a smaller area because of its higher resolution sensor.
The first and third crops immediately illustrate one of the potential benefits of using a body with a cropped APS-C sensor, such as the 30D, compared to one with a full-frame sensor, such as the 5D. If both are using a lens designed for a full-frame body, the former avoids the outer areas of the lens where it doesn't perform as well.
This is seen clearly here. Both cameras were fitted with the EF 17-40mm f/4.0L lens, with its focal length adjusted to deliver the same field of view. While the 5D was forced to use the outer edges of the lens for its full frame, the 30D's smaller sensor avoided them, using only the better-corrected central area. As a result, the 30D inevitably delivers a sharper result towards the edges of its frame than the 5D.
Of course this benefit only applies when using full-frame-corrected lenses on a cropped body. If you were to fit an EF-S lens on the 30D which is only corrected for the smaller APS-C frame, then it too would most likely become softer in the extremities. While most wide angle zooms used with cropped bodies like the 30D will generally be EF-S versions, the option of using a full-frame-corrected lens for improved edge performance is always an option – and becomes more practical with longer focal lengths. To see how EF-S wide zooms compare to a full-frame EF wide zoom on a cropped body, check our Canon 17-85mm review.
In the meantime, when you compare crops taken from the middle of the image where the lens performs equally well for both cameras, the higher resolution 5D clearly enjoys the advantage. In the middle crops here, it unsurprisingly resolves greater detail than the 30D. Had the 30D been using an EF-S lens, the 5D would probably have enjoyed an advantage on all three crops.
Canon EOS-30D
Using Canon EF 17-40mm f/4.0L USM

Canon EOS-5D
Using Canon EF 17-40mm f/4.0L USM

1/125, f8, 100 ISO

1/125, f8, 100 ISO

1/125, f8, 100 ISO

1/125, f8, 100 ISO

1/125, f8, 100 ISO

1/125, f8, 100 ISO