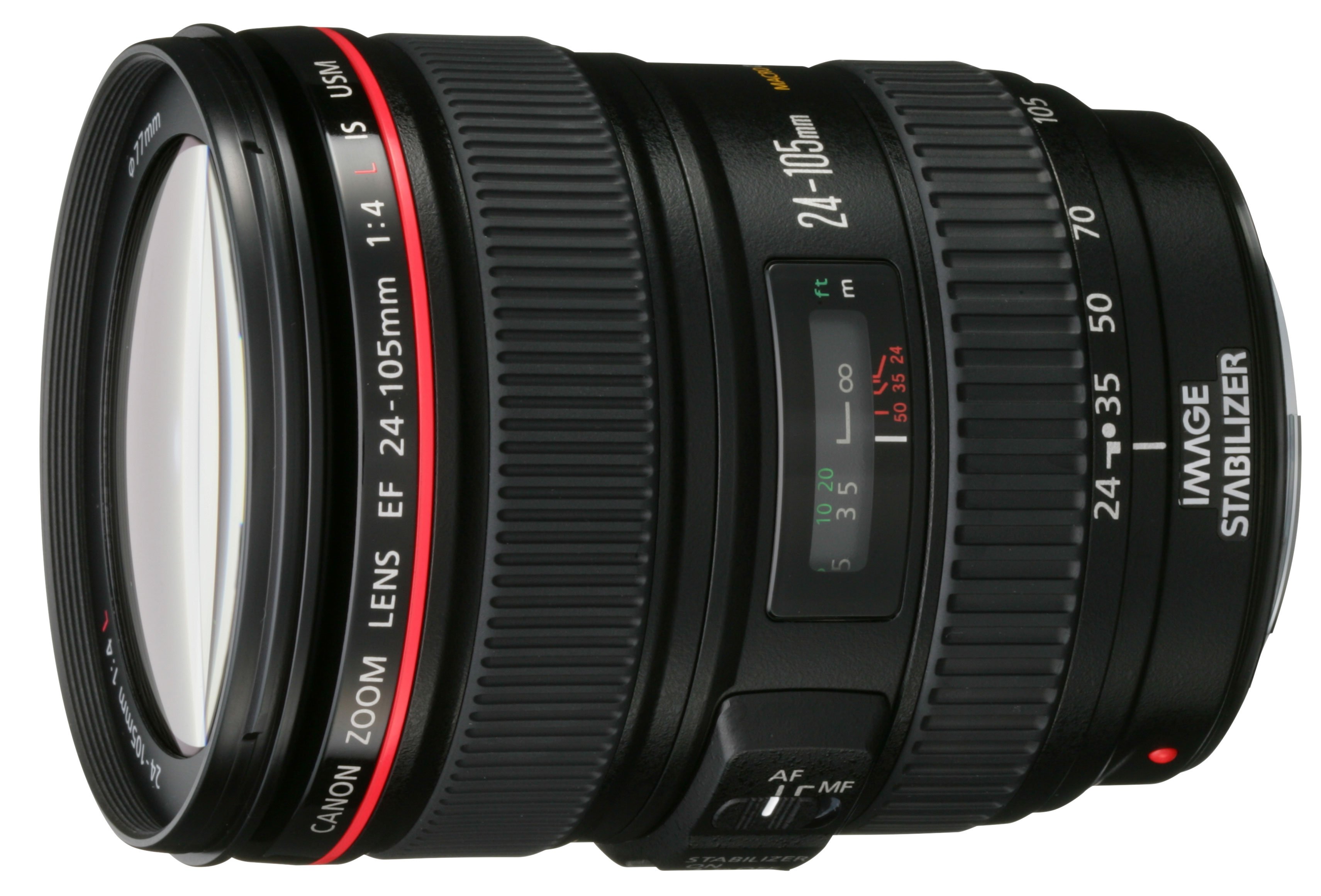 Canon EF 24-105mm f/4L IS USM, (tested with cropped-frame APS-C body) - In depth
In depth
Canon EF 24-105mm f4L design, build and focusing
The Canon EF-S 18-55mm, EF-S 17-85mm and EF 24-105mm lenses are pictured below from left to right in their shortest configurations. Here the lenses measure 66x69mm, 78x92mm and 83x107mm respectively (diameter x length). Zoomed-in, the EF 24-105mm's barrel extends with one section by 33mm – see photo lower down the page.
Clearly the EF 24-105mm is the biggest of the three lenses pictured here, and the heaviest too at 670g compared to the 475g of the EF-S 17-85mm and the feather-light 190g of the kit zoom.
So the EF 24-105mm is a noticeably bigger and heavier lens than the popular EF-S 17-85mm, and both dwarf the kit lens in size and weight. Like most quality products though, the extra weight of the EF 24-105mm lends it an air of physical confidence which is so far missing from existing EF-S lenses.
Compare it side by side with the EF-S 17-85mm (or even the EF-S 17-55mm) and the EF 24-105mm's superior build quality makes it feel like a much more serious product. It also sports better protection against the elements with a rubber sealing on the mount.
That said, the EF 24-105mm can look and feel front-heavy when mounted on Canon's smaller and lighter DSLRs like the 400D / XTi, and is much better balanced on the EOS 40D. As always, we'd recommend trying it in person to see how it looks and feels to you on your own DSLR.
The EF 24-105mm's optical design consists of 18 elements in 13 groups with both Super UD (ultra low dispersion) and aspherical glass to combat chromatic and spherical aberrations respectively.
It offers a constant f4.0 aperture throughout its zoom range, which makes it a tad slower than the EF-S kit lenses above when zoomed-out, but a little quicker when zoomed-in. A constant aperture is preferred by professionals because the exposure won't change as you adjust the focal length.
There's two switches on the side of the barrel for the autofocus and Image Stabiliser. The latter offers on or off, with no specific mode for panning. See the following page for results showing the effectiveness of the stabilisation.
Like most Canon L zoom lenses, the zoom ring is closest to the DSLR body, while the manual focusing ring is positioned towards the end of the barrel. Both are very smooth in operation and again like other L lenses, you can make very fine adjustments without catching. This really comes into its own when using the full-time manual focusing which lets you manually tweak the focusing at any time.
If you've only used EF-S models, the mechanical performance of an L model really does feel a world apart. Unlike existing EF-S lenses, the manual focusing ring is also generously proportioned and much more usable.
As you'd expect, the focusing takes place internally with the front section of the lens remaining static – good news for users of polarising filters, although the thread diameter of 77mm means they won't be cheap. As an L lens, the EF 24-105mm is supplied with lens hood and pouch; annoyingly these remain optional extras on Canon's non-L models.
In terms of auto-focusing, the EF 24-105mm's USM motor is quick and quiet, locking onto subjects easily under most conditions. It's certainly as good as other USM lenses of a similar aperture, but we felt the EF 24-70mm f2.8 and EF-S 17-55mm f2.8 both had a slight edge in very low light due to their brighter apertures. That said, most people won't have any complaints with the EF 24-105mm's focusing performance.
On the next page we'll show examples of the coverage and Image Stabilisation in action.
Canon EF 24-105mm f4L coverage for cropped-frame
The Canon EF 24-105mm is designed as a general-purpose zoom lens for full-frame DSLR bodies. Mounted on a full-frame body like the EOS 5D it will deliver decent wide angle to short telephoto coverage. Mounted on a cropped-frame APS-C body like the EOS 400D / XTi or EOS 40D though, the effective range is multiplied by 1.6 times to deliver an equivalent of 38-168mm.
This is noticeably less wide than most general purpose lenses that are designed for cropped-frame bodies, but remains sufficiently wide for many photographers. To illustrate the coverage of the EF 24-105mm we fitted it on an EOS 400D mounted on a tripod and took photos fully zoomed-out, then fully zoomed-in. We then repeated the process with the standard EF-S 18-55mm kit lens. Below are the coverage shots with each lens zoomed-out to their shortest focal lengths.
| | |
| --- | --- |
| Canon EF 24-105mm f/4L IS USM | Canon EF-S 18-55mm f/3.5-5.6 |
| | |
| 24-105mm at 24mm, f8 (38mm equivalent) | 18-55mm at 18mm, f8 (29mm equivalent) |
It's clear to see from the photos above that the EF-S 18-55mm delivers a much wider field of view when zoomed-out. This is useful not just for capturing sweeping landscapes, but also large buildings, cramped interiors or simply big group shots.
In contrast, the EF 24-105mm doesn't capture as large a field of view, but it's more than you'd get with a zoom starting at 28mm, and in technical terms, an equivalent of 38mm could still be classified as wide angle. The ultimate question for potential owners of this lens though is if it will be wide enough for them, although you could of course supplement it with an additional, wider lens like the excellent Canon EF-S 10-22mm.
Where the EF 24-105mm scores in coverage is when zoomed-in. The examples below show it clearly zooming-in much closer than the kit lens – indeed it gets almost twice as close. The EF 24-105mm also gives a longer reach than the popular EF-S 17-85mm.
| | |
| --- | --- |
| Canon EF 24-105mm f/4L IS USM | Canon EF-S 18-55mm f/3.5-5.6 |
| | |
| 24-105mm at 105mm, f8 (168mm equivalent) | 18-55mm at 55mm, f8 (88mm equivalent) |
So the range when mounted on a cropped-frame body is ideal for anyone who's willing to sacrifice a little on the wide-angle end for more powerful telephoto facilities. That said, it still doesn't get really close, so if you're into sports or wildlife photography, you'll want something longer like a 70-200mm or a 70-300mm.
To see how the range compares to other general purpose zooms, see our Canon lens group test.
Canon EF 24-105mm Image Stabilisation for cropped-frame
The Canon EF 24-105mm is equipped with Image Stabilisation (IS) technology to reduce camera-shake. Canon claims its latest IS system offers three stops of compensation, which should allow you to handhold shutter speeds eight times slower than normal. For example, if the slowest exposure you could confidently handhold at a certain focal length was, say, 1/60 of a second, three stops of compensation should enable you to enjoy the same result at 1/8 (or more accurately, 1/7.5).
Like other Canon wide zooms with IS, there's only one mode available with a switch on the side of the lens to switch it on or off; there's no panning mode here. The IS system kicks in with a faint click when you depress the shutter halfway after which you'll see the reassuring stabilising effect through the viewfinder. The system stays on for a few seconds before deactivating to save power.
To test its effectiveness we shot the same scene zoomed-into 105mm with and without IS enabled. We used a Canon EOS 400D / XTi which effectively multiplied the 105mm focal length to 168mm. Traditional photographic advice would recommend a shutter speed of one over the effective focal length to avoid camera shake, so without IS, you'd really need something between 1/160 and 1/200 to be safe.
Canon EF 24-105mm f/4L IS USM Image Stabilisation off / on

24-105mm at 105mm (168mm equivalent), 1/25, IS off
24-105mm at 105mm (168mm equivalent), 1/25, IS on
Above are 100% crops from two examples taken at 1/25 with the EF 24-105mm fully zoomed-in, one without IS and the other with IS enabled. Without stabilisation we found we needed a shutter speed of 1/100 or faster to eliminate camera shake, whereas with IS enabled, we could achieve similar results at shutter speeds of 1/25. In this particular example, this gives the lens two stops of compensation, or around three compared to traditional advice.
As always, optical stabilisation allows you to handhold at slower shutter speeds than normal, but this will only be effective if the subject is stationary – unless of course if you want to show motion blur. Either way, it's a valuable facility on the EF 24-105mm.
Outdoor scene, Canon EF 24-105mm versus EF-S 18-55mm with EOS 400D / XTi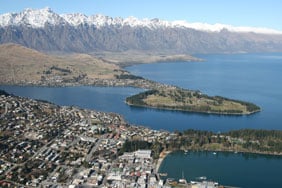 To compare real-life performance on a cropped-frame body, we shot the same scene with the EF 24-105mm and EF-S 18-55mm lenses within moments of each other using a Canon EOS 400D / XTi at f8 in Aperture Priority mode.The 400D / XTi was set to Large Fine JPEG mode and the Standard Picture Style. The crops are taken from the originals and presented here at 100%.
The image left was taken with the Canon EOS 400D / XTi using the EF 24-105mm at 24mm f8; the original JPEG measured 4.46MB.
You might expect a premium Canon L zoom to thrash a cheap kit lens, but that's not the case in every situation. As seen from the crops below, with both lenses zoomed to 24mm and focused at infinity with their apertures at f8, the results can be remarkably close. Indeed the high contrast areas on the mountain ridge show the EF 24-105mm exhibiting arguably worse coloured fringing, despite being corrected for a full-frame body.
The second row of crops, taken from the middle of the image, essentially look identical. The third row of crops showing the golf course to the far right of the image reveals an advantage in sharpness for the EF 24-105mm, whereas the kit lens is quite soft at the far edge. Finally, the fourth row of crops, taken from the lower left area are again virtually identical, but if you're really pixel-peeping, the EF 24-105mm has a fractional lead in sharpness – but it's very slight.
So a surprise result here for anyone expecting the EF 24-105mm to race ahead of the EF-S 18-55mm kit lens in all respects. Zoom both lenses to 24mm and close their apertures down to f8 and they can perform very similarly in terms of real life detail. Of course there's much more to evaluating both lenses and over the following pages you'll see how the EF 24-105mm measures-up in terms of corner sharpness, studio resolution, fringing, macro, distortion and vignetting. There are also physical aspects to weigh-up which we've covered on the previous pages. But now let's continue with the optical benchmarking and our studio resolution results.
| | | |
| --- | --- | --- |
| Canon EF 24-105mm f/4L IS USM | | Canon EF-S 18-55mm f/3.5-5.6 |
| | | |
| f8, 100 ISO | | f8, 100 ISO |
| | | |
| | | |
| f8, 100 ISO | | f8, 100 ISO |
| | | |
| | | |
| f8, 100 ISO | | f8, 100 ISO |
| | | |
| | | |
| f8, 100 ISO | | f8, 100 ISO |