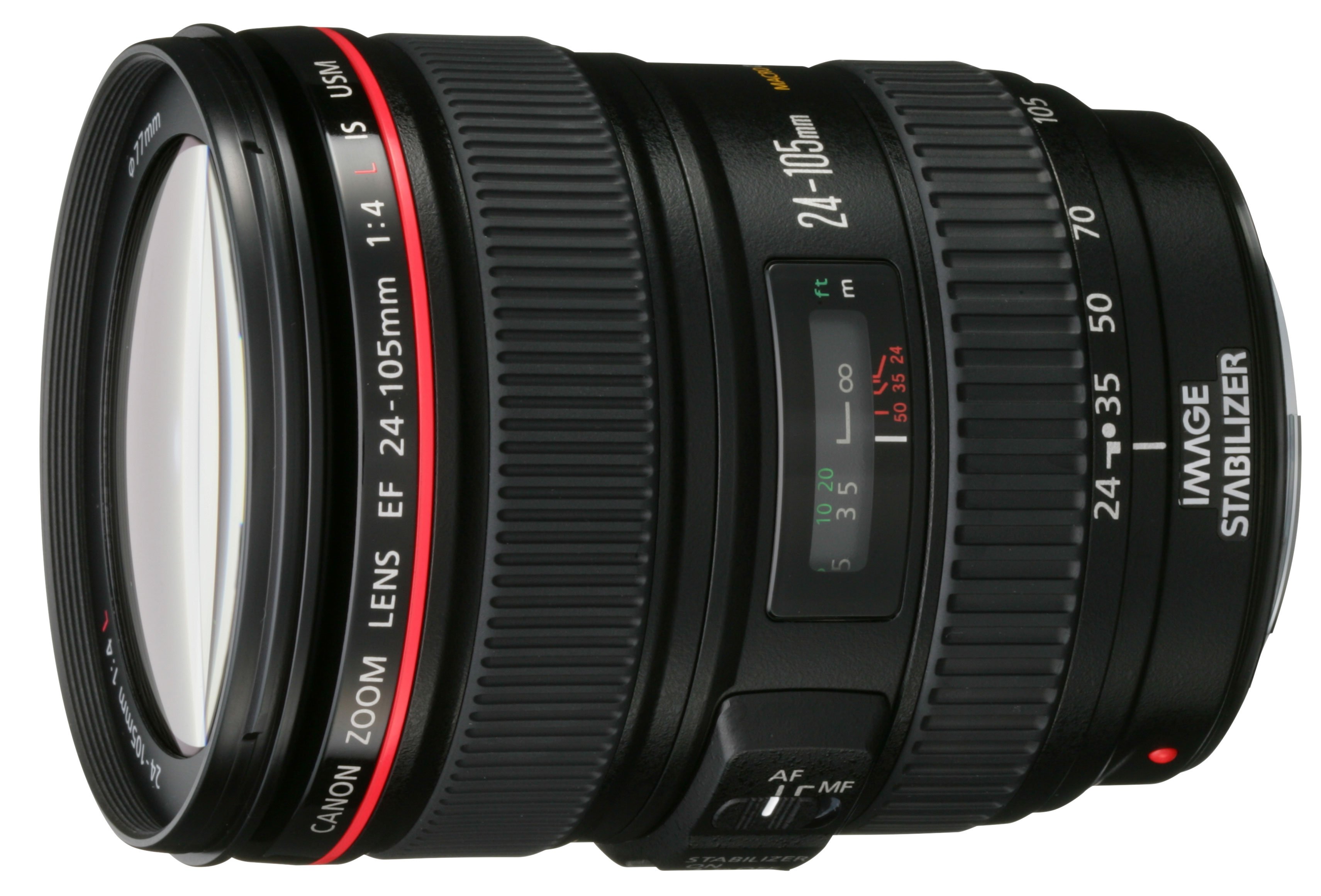 Canon EF 24-105mm f/4L IS USM review
Verdict
Offering decent wide-angle to short telephoto coverage, Canon's EF 24-105mm f/4L IS USM is an ideal general purpose lens for full-frame bodies. Indeed, many stores sell it as a bundle with the EOS-5D, making it one of the classiest 'kit' lenses around.
The lens did however have a rocky start, with early models suffering from an internal flare problem, forcing returns and delaying wider distribution. These issues seem to have been solved now though, and certainly the versions we've tested exhibited no problems in this regard.
The EF 24-105mm performed well across its range, particularly in terms of corner sharpness at wide angle, while essentially matching our EF 85mm f1.8 prime in terms of resolving power when both were mounted on an EOS 5D body. We were also impressed with the Image Stabilisation which allowed us to handhold at much slower shutter speeds than normal. Compared to lenses designed for bodies with smaller sensors though, it suffered from a worse degree of light fall-off, but this is par for the course for wide-angle lenses designed for full-frame bodies.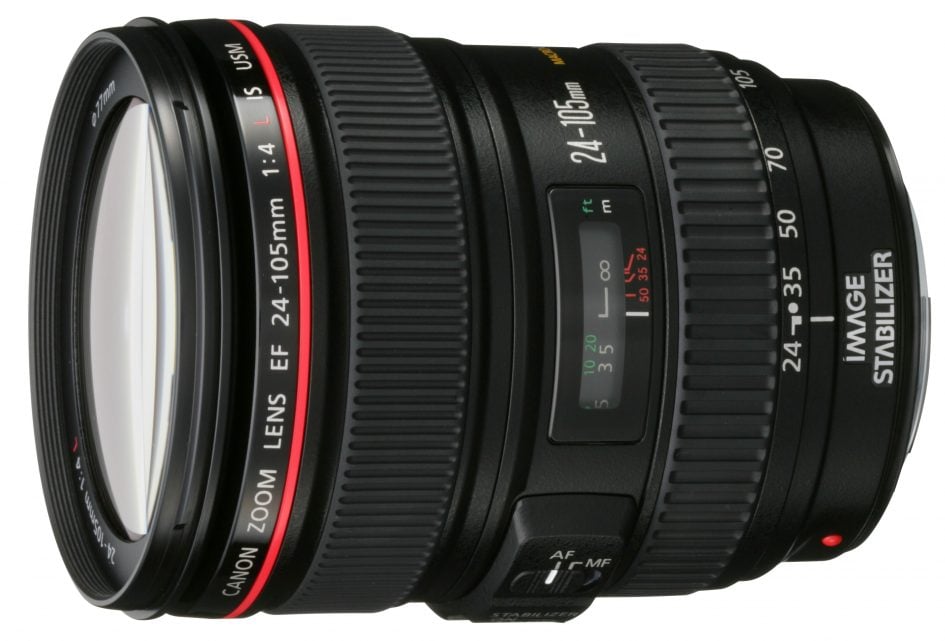 Many Canon pros may be wondering how it compares to the EF 24-70mm f/2.8L USM, which has become somewhat of a benchmark lens and costs roughly the same from internet dealers.
Most obviously the range of the new EF 24-105mm is longer and more useful, and there's the addition of effective Image Stabilisation facilities, although crucially the aperture is a stop slower.
In our tests, the EF 24-70mm was quite soft in the extreme corners compared to the EF 24-105mm at wide-angle, although their positions swapped when zoomed-in, with the EF 24-70mm delivering a better result. Interestingly, the EF 24-70mm at 24mm also exhibited impressively low geometric distortion.
In terms of build quality, the EF 24-70mm featured more metal body parts, giving the impression of a tougher, albeit heavier overall product. And while the EF 24-105mm was no slouch when it came to focusing, the EF 24-70mm was noticeably quicker – and its brighter aperture would certainly help when conditions became dim.
Ultimately each lens has its pros and cons. If you're into portraiture or wedding work, shooting mostly at the telephoto end and requiring quick focusing and a small depth-of-field, the older EF 24-70mm has the edge over the EF 24-105mm. If you're an existing owner of the EF 24-70mm, we'd also say unless you desperately want longer coverage from the same lens and yearn for Image Stabilisation, it's probably not worth making the swap.
But if you don't already own a high quality standard zoom for a full-frame body, the EF 24-105mm is a great choice. It's particularly well-suited for new 5D owners, although equally applicable to other full-frame or indeed 35mm Canon bodies.
Our only reservation is the list price: if you're paying the full whack for the EF 24-105mm, it's a relatively expensive option, and while Canon's L lenses carry high price tags, it's still worth considering other models in the range. The EF 17-40mm is a particular favourite of ours, covering all wide-angle requirements, while delivering surprisingly good quality for its extreme nature, especially at the longer end. Best of all though, the EF 17-40mm can be bought for around two thirds the internet price of the EF 24-105mm, which makes it an affordable proposition.
Of course if you buy the EF 17-40mm and a telephoto zoom, you'll inevitably be missing an important range between 40 and around 70mm, but it's still an option you may prefer.
Canon EOS 5D owners looking for a standard zoom could of course always fit a cheaper lens, but the camera's high resolution and full-frame coverage is unforgiving. It really demands L glass, especially from a zoom, and the EF 24-105mm f/4L IS USM will certainly deliver the goods. Its relatively high list price and the compelling advantages of the quicker EF 24-70mm and cheaper EF 17-40mm ultimately prevent us from awarding it a Highly Recommended, but it remains the best overall choice for most new 5D owners looking for a standard zoom.
NEW: For an overview of the headline features of this lens, check our Canon EF 24-105mm lens video tour. Look out for a new and separate review of this lens for owners of cropped bodies including the EOS 400D / XTi, coming soon!
Good points
Useful wide to short telephoto range
Effective anti-shake IS capability
Fast and quiet USM focusing motor
Polariser-friendly internal focusing
Bad points
Relatively expensive (at list price)
Corners slightly soft at telephoto end
24-70 f/2.8L has better build and focusing
17-40mm f/4L an affordable alternative
Canon EF 24-105mm video tour with Canon EOS 5D
We're pleased to present a short video tour of the Canon EF 24-105mm using a Canon EOS 5D, demonstrating its build quality, coverage and features. There's no need to download any new software – just press the play button in the middle of the screen below and wait for the video to start; you may need to press the button twice. The quality and any delay before playing may vary depending on your internet connection.

Good points
Useful wide to short telephoto range
Effective anti-shake IS capability
Fast and quiet USM focusing motor
Polariser-friendly internal focusing

Bad points
Relatively expensive (at list price)
Corners slightly soft at telephoto end
24-70 f/2.8L has better build and focusing
17-40mm f/4L an affordable alternative