Canon EF-S 17-85mm f4~5.6 IS USM lens review
Verdict
On paper, the Canon EF-S 17-85mm promises to be the perfect general-purpose lens for owners of Canon DSLRs with compatible mounts. The longer 5x optical range is far more useful than the 3x range of the popularly bundled EF-S 18-55mm kit lens, especially at the telephoto end, and the Image Stabilisation features are genuinely useful. As such the 17-85mm seems ideal for anyone who wants to upgrade from a bundled 18-55mm, or who needs a versatile option for a new EF-S body alone.
In practice though, the Canon EF-S 17-85mm is a slightly mixed bag. On the upside, the range is considerably more useful than the basic 3x of the 18-55mm, squeezing in fractionally more at the wide angle end, and offering far more scope at the telephoto. Now you really can get closer to subjects and produce decent-looking portraits with a nice small depth of field.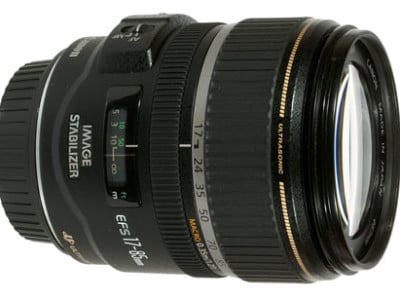 The Image Stabilisation facility is also very welcome, allowing you to genuinely handhold exposures at far slower shutter speeds than normal. The effectiveness will vary between different people, but we found IS allowed us to confidently shoot at 1/30th when fully zoomed-in and at just one quarter of a second at wide angle. IS may drain your batteries faster, but is a genuinely useful feature.
On the downside though there are several optical issues to be aware of, at least on the version we tested. Vignetting / light fall off is always going to be an issue with very wide lenses, but rarely have we actually seen it so obviously through the viewfinder and on images. Stopping down the aperture hardly made any difference at the 17mm end, and the only way to truly eliminate the dark corners was to zoom-in slightly. See our Gallery for examples.
Revealingly the humble EF-S 18-55mm also out-performed it in some of our tests, delivering sharper corner results at wide angle and open apertures, not to mention more useful macro close-up facilities.
Then there's the fact it's an EF-S lens which will never work on a full-frame body, which could prove to be a limited investment if you have your eye on a serious upgrade in the future. We also feel it could have been optically faster for the price, and that Canon's continued practice of not including the lens hood on non-L lenses is just plain tight.
Indeed one surprising outcome of this test is just how good value the 18-55mm looks compared to the 17-85mm. This popularly bundled kit lens may have basic build quality and specification, but it's small, light, performs surprisingly well and best of all is cheap, cheap, cheap.
But then the 18-55mm has a short zoom ratio, not to mention a slow and quite audible focusing mechanism which rotates the front element, thereby infuriating users of polarising filters. In contrast the EF-S 17-85mm has fast and quiet internal USM focusing, superior build quality, Image Stabilisation and of course, a far more useful zoom range.
Ultimately if you can accept its optical issues and the fact it will only ever work on EF-S compatible bodies, there's a lot going for the Canon 17-85mm. It's far from perfect and arguably over-priced, but none-the-less remains one of the best general purpose lenses for owners of Canon EF-S compatible bodies; as such it misses out on our top rating, but still comes Recommended.
UPDATE: we have now tested the Canon EF-S 17-55mm f/2.8 IS USM lens and compared it against the three lenses here using our latest charts. Visit our Canon EF-S 17-55mm review for the latest results. To see how these lenses also compare on an EOS 400D / XTi body, see our latest Canon lens group test.
NEW: For an overview of the headline features of this lens, check out our Canon EF-S 17-85mm video tour.
---


Good points
Useful 5x optical zoom ratio
Effective Image Stabilisation
Fast USM focussing motor
Polariser-friendly internal focusingBad points
Visible light fall-off at wide and tele
Relatively expensive for specification
Lens hood not included
Only compatible with EF-S bodies


Scores
(relative to wide zooms)

Build quality:
Optical quality:
Specification:
Value:
Overall:
20 / 25
17 / 25
20 / 25
17 / 25
74%
We're pleased to present a short video tour of the Canon EF-S 17-85mm, demonstrating its build quality, coverage and features. There's no need to download any new software – just press the play button in the middle of the screen below and wait for the video to start; you may need to press the button twice. The quality and any delay before playing may vary depending on your internet connection. If you receive the message 'the video is no longer available', please try again later.