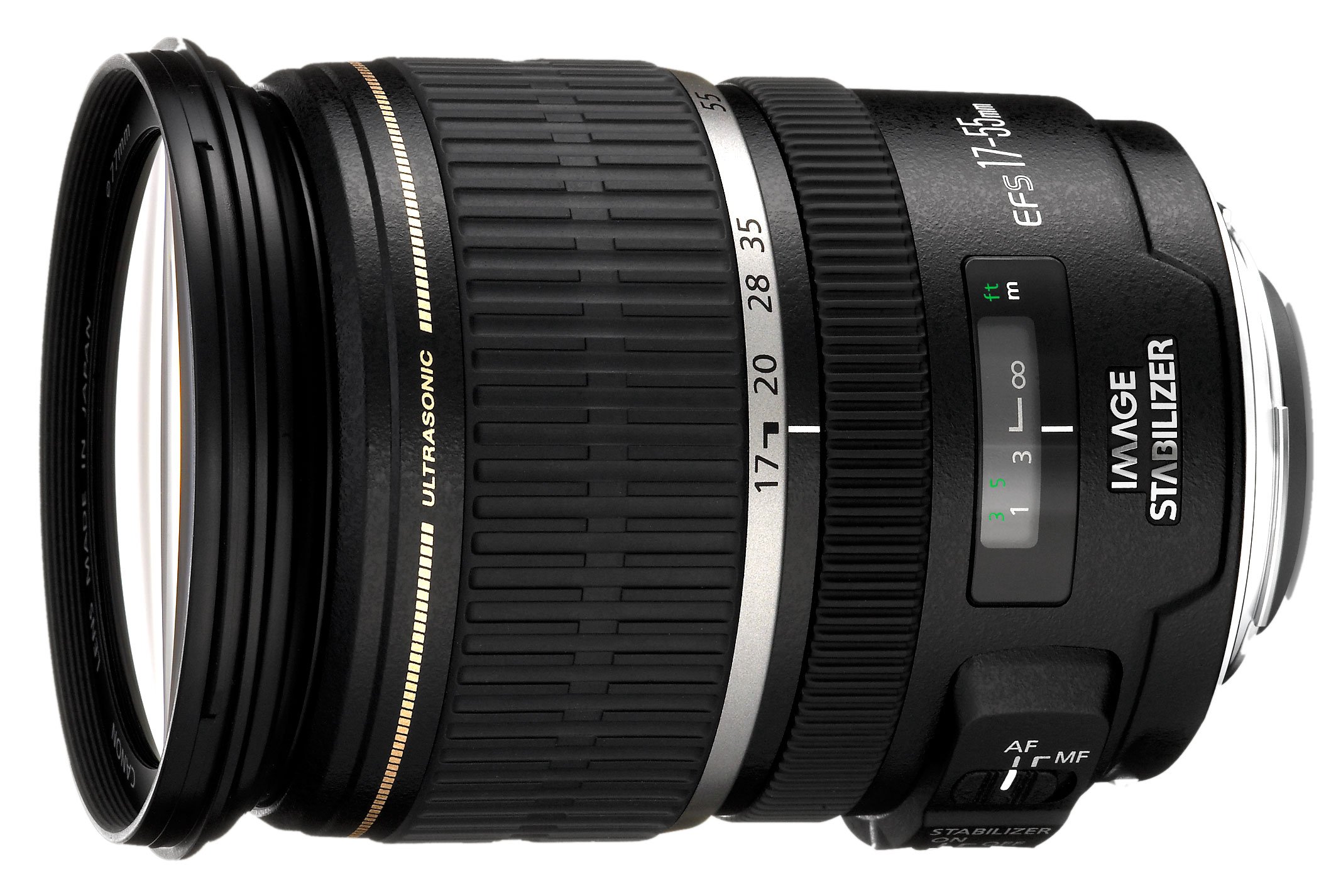 Canon EF-S 17-55mm f/2.8 IS USM - Canon EF-S 17-55mm design
Canon EF-S 17-55mm design
Pictured below from left to right are the Canon 17-55mm, 17-85mm and 18-55mm EF-S lenses, each zoomed-out to their widest focal lengths. With a diameter of 84mm and shortest length of 111mm, the 17-55mm is by far the largest of the three lenses here, and at 645g, the heaviest too. The 17-85mm and 18-55mm measure 78x92mm and 69x66mm, and weigh 475g and 190g respectively.
The larger size and weight of the 17-55mm is of course down to its bright constant f2.8 aperture, compared to the slower optics of the other lenses here. These barrel sizes are unsurprisingly reflected in their respective filter threads, which from left to right are 77, 67 and 58mm. Lens hoods and carrying pouches are available for the 17-55 and 17-85mm as optional extras, although not including them seems a little mean, especially considering the price of the 17-55mm. Hoods and pouches comes as standard with Canon's L models.
Pictured below are each lens zoomed-in to their longest focal lengths. Here the 17-55 and 17-85mm models both extend by 26mm, although the former does so with a single barrel, while the 18-55mm extends by 9mm. Clearly the 17-55mm remains the largest of the group.
Canon 17-55mm build quality and focusing
The exterior design and build quality of the 17-55mm and 17-85mm are very similar, although the additional weight of the former lends it an air of greater confidence. Both are considerably superior to the build quality of kit 18-55mm lens, but remain below that of Canon's L range of standard zooms. So while the 17-55mm f2.8 may comfortably be the most expensive EF-S lens yet, this range has not achieved L status so far – in terms of build anyway.
In terms of focusing, the USM motors of the 17-55 and 17-85mm are both much quicker and quieter than the budget 18-55mm. Both also employ internal focusing, whereas the 18-55mm rotates its front portion while focusing which will infuriate users of polarising filters.
Compared side by side with the 400D / Rebel XTi under normal conditions, the 17-55 and 17-85mm focusing speeds are virtually identical, although we'd say the former enjoys a very slight edge. Place both in dim light conditions though and the brighter aperture of the 17-55mm gives it a noticeable advantage over the 17-85mm. The former snaps into focus with ease, while the latter can search a little under darker conditions.