Canon RF 100-400mm f5.6-8 review so far
The Canon RF 100-400mm f5.6-8 is a low-cost telephoto zoom for the full-frame EOS R mirrorless system that's aimed at sports and wildlife. Announced in September 2021 alongside the RF 16mm f2.8, the RF 100-400 costs around $649 or 699 pounds and I had a brief chance to handle a pre-production model, although not yet shoot with it, so I'll keep this short.
First things first, the RF 100-400 is not the mirrorless version of the high-end EF 100-400. It's a smaller, lighter and optically dimmer model aimed at lower budgets – more like the EF 70-300mm USM in style. Canon's high-end mirrorless telephoto zoom is the RF 100-500mm, and I have a full review of that if you're interested.
The new RF 100-400 weighs 635g and measures 80x165mm. There's a customisable RF control ring, smooth manual focusing ring, and a broad zoom ring that can be locked at the shortest position. When zoomed to the longest focal length, the barrel extends in one section by around 76mm. As far as I know, it's not weather-sealed, but there is quick and quiet Nano-USM focusing, optical stabilisation good for 5.5 stops or 6 coupled with a body with IBIS, and a 67mm filter thread. If you want more reach, it's compatible with the 1.4x and 2x RF tele-converters.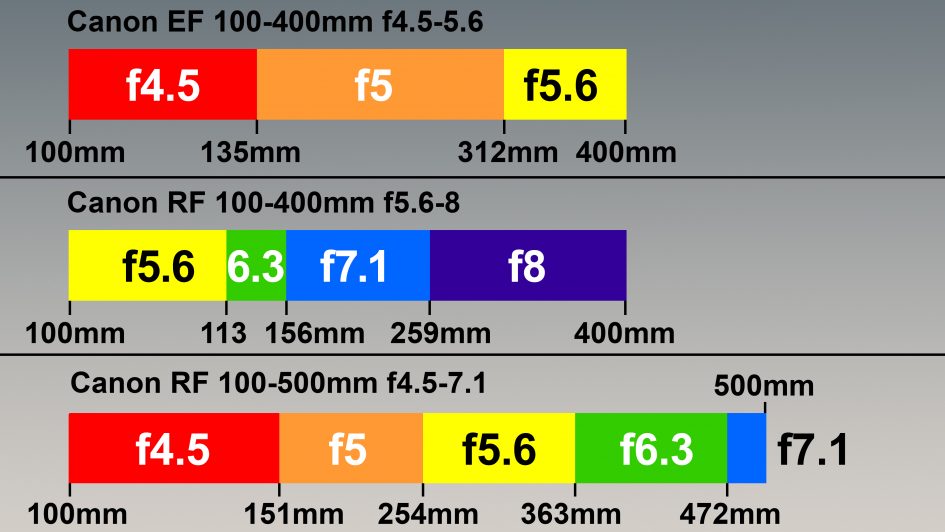 For me the most revealing specification of a zoom is where in the range the aperture changes, and I was able to measure the figures for the new model. So I've made this lovely chart for you showing the aperture changes for the old EF 100-400mm f4.5-5.6 at the top, the new RF 100-400 in the middle, and the RF 100-500 f4.5-7.1L at the bottom. The new RF 100-400 starts at f5.6 and dims to f6.3 at 113mm, then to f7.1 at 156mm, then to its minimum f8 from 259mm to 400mm. So during this last section, it's a stop slower than at 100-112mm.

This makes the new RF zoom dimmer than the two L models, but it's also considerably smaller, lighter and cheaper- in fact roughly one third the price of the EF 100-400 L and one quarter the price of the RF 100-500 L, so clearly it's a completely different proposition. While it lacks their glamour, I'm pleased Canon's also producing a number of more affordable native RF lenses and look forward to testing it. I'll link to my complete review here once it's ready, but in the meantime, check out my reviews of the other RF lenses including my preview of the new 16. Thanks for watching and see you again soon!

Check prices on the Canon RF 100-400mm USM at B&H, Adorama, WEX UK or Calumet.de. Alternatively get yourself a copy of my In Camera book or treat me to a coffee! Thanks!

\