Canon SX720 HS review - Verdict
Verdict
The Canon PowerShot SX720 HS is an easy proposition to get your head around. It's a PowerShot SX710 HS with a longer lens. The fact that Canon has put all its efforts into that one feature tells you all you need to know – this is a pocket super-zoom for people who really want that extra reach.
Don't underestimate the value of a really long zoom, particularly one that fits into a body that's actually smaller than its predecessor. Next to zoom range, the most important criteria for many is pocketability and the SX720 HS scores top marks in both those categories.
That said, a very long telephoto brings its own challenges not the least of which is framing and composing shots and while the SX720 HS has some clever features to help keep track of subjects when you're zoomed in, none of them makes up for the lack of a viewfinder, and the SX720 HS's biggest competitor boasts a very good one along with many other features the SX720 HS lacks. Though it offers PASM exposure modes the SX720 HS is very much a compact in the point-and-shoot mould. So if features like customisable buttons, RAW shooting and of course a viewfinder are as important to you as zoom range and compactness, the more expensive Lumix TZ80 / ZS60 might be a better fit for you. Below I compare the two models in a little more detail.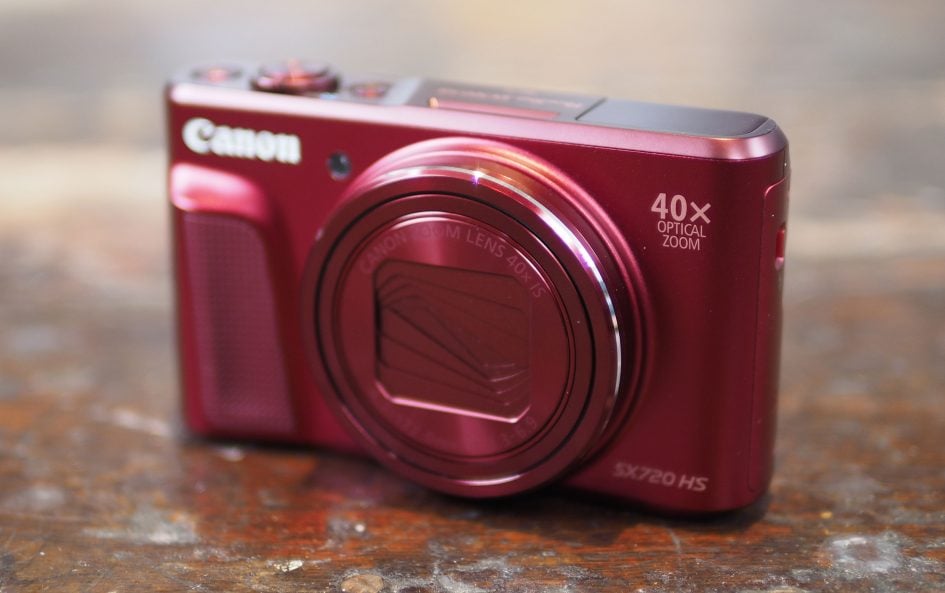 If zoom range is all you care about it's an easy decision – the PowerShot SX720 HS outguns the Lumix TZ80 / ZS60 by a significant factor and will get you closer to distant action. The numbers? 24-720mm for the Lumix, 24-960mm for the Canon. The focal ratios are pretty much equivalent throughout the range, so both start at f3.3 with the Lumix closing to f6.4 at 720mm and the Canon to f6.9 at 960mm. So not much in it in terms of low light performance or shallow depth of field. If those numbers aren't doing it for you, take a look at my field of view and depth of field comparison shots on the first page.
The PowerShot SX720 HS employs a 20 Megapixel sensor, against 18 Megapixels on the TZ80 / ZS60, so fairly similar there, except that there's no RAW support on the SX720 HS and therefore no opportunity, as on the TZ80 / ZS60, to tweak images for potentially better results – or at the least the chance to easily adjust things like the white balance after the event. In my noise tests the PowerShot SX720 HS was marginally noisier than the Lumix TZ80 / ZS60 at higher sensitivity settings, but not by enough for it to be a factor affecting your purchasing decision
The TZ80 / ZS60 scores over the SX720 HS with its electronic viewfinder and touch screen. The Canon model lacks a viewfinder and its screen isn't touch-sensitive. I reckon those two features alone will be enough to persuade many in the direction of the TZ80 / ZS60.
In terms of shooting modes, both offer the full PASM set as well as fully auto and a good range of feature modes and filters. The TZ80 / ZS60 has an edge in terms of full resolution continuous shooting with a 10fps (albeit for a limited 45 shots) against 6fps on the PowerShot SX720 HS. It also has a range of lower resolution continuous modes as well as 4k photo which effectively provides 30fps shooting at 8 Megapixel resolution.
Which brings us onto video. That the TZ80 / ZS60 offers 4k video will be a big pull for many consumers, but beware, the limitations of the smaller sensor mean that 4k video on the TZ80 / ZS60 is far from noise-free, even at lower sensitivities. But even if you only shoot video in 1080p on the TZ80 / ZS60, you can still take advantage of it's 4k capability to make use of the 4k Photo mode I've already mentioned for fast continuous shooting, and the Post Focus mode for effective focus bracketing. Beyond that, the PowerShot SX720 HS lacks manual exposure control for movies as well as any slow motion modes.
Overall, the Lumix TZ80 / ZS60 is a more sophisticated camera than the PowerShot SX720 HS. Both offer a long zoom in a compact form factor with easy to operate automatic modes, but the Lumix also has plenty to offer the more ambitious shooter who wants to take control when it suits them. The Canon has more of a point-and-shoot ethos and that's reflected in the price, depending on where you shop, the PowerShot SX720 HS was around fifteen percent cheaper than the Lumix TZ80 / ZS60 at the time of writing. See my Lumix TZ80 / ZS60 review for more details.
If you're comfortable with the simpler style of the SX720 HS and are looking for a bargain the earlier PowerShot SX710 HS is still available and is currently selling for around 20 percent less than its replacement. Sure it doesn't have the same reach as the newer model, but it'll still just outgun the Lumix TZ80 / ZS60 with its 25-750mm range. See my Canon SX710 HS review for more details.
In the meantime, the PowerShot SX720 HS rules the travel zoom roost. If it's a long zoom you're looking for, there's nothing to touch it in this form-factor. For that reason alone it's worthy of a Cameralabs Recommended award, but again if you're happy with a 30x range and can spend a little extra, the Lumix TZ80 / ZS60 comfortably out-features it in every other department.