Canon PowerShot SX530 HS review
Verdict
The Canon PowerShot SX530 HS is a new super-zoom camera that updates the SX520 HS released only six months earlier. The main difference is an increase in the zoom range – up to 50x with an equivalent range of 24-1200mm from the earlier model's 38x. Wifi, which was included on the older SX510 HS but dropped on the SX520 HS, makes a welcome return and is now augmented with an NFC chip that initiates a Wifi connection when you tap a suitably equipped smartphone against the side of the camera.
The SX530 HS now sits in the middle of Canon's bridge super-zoom line-up with the more basic and more compact 40x SX410 IS below it and the 65x SX60HS above it. The SX520 HS remains in the catalogue for now as does the SX400 IS.
The question for buyers is: does the SX530 HS hit a sweet spot, offering a great balance of features at price that makes it worth paying a little more than you would for a budget bridge super-zoom? Read on to find out how it compares with two budget competitors, Canon's own PowerShot SX410 IS and the Nikon COOLPIX L840.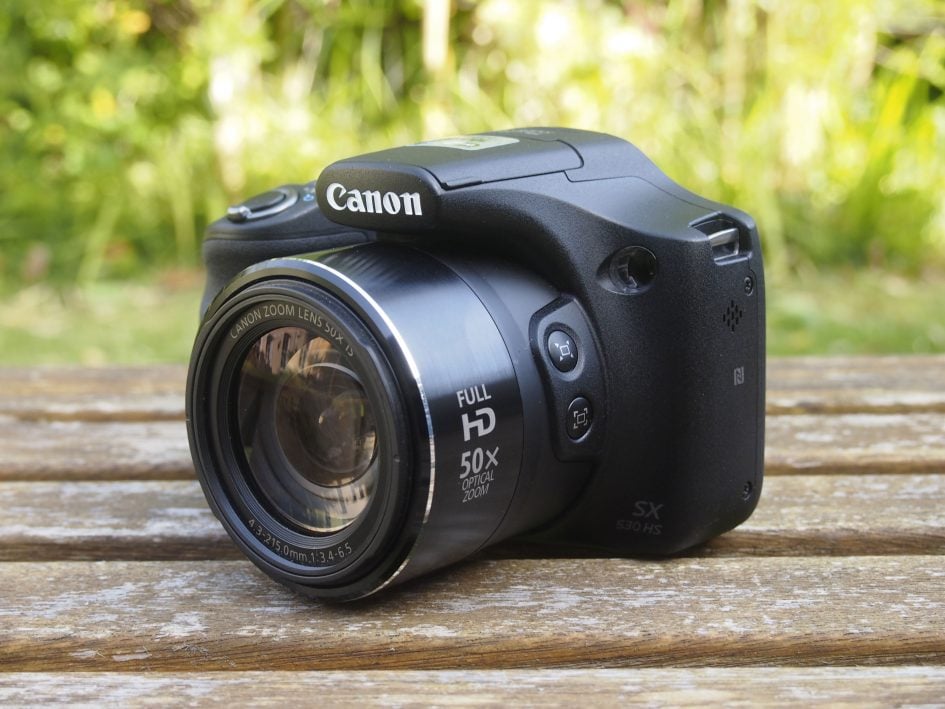 It's not all about the zoom, but clearly, if we're comparing super-zooms, the optical range and lens specifications in general, are important factors to consider. Here the SX530 HS scores highly with its 50x optical zoom spanning the range from 24 to 1200mm. In my view, this is the Goldilocks range for a bridge super-zoom model. Any shorter and you're left wishing you could get that little bit closer; any longer and you have issues with framing and stabilisation. The SX530 HS gets you that little bit closer in than the 960mm of the SX410 IS and a good bit tighter than the 855mm equivalent maximum on the COOLPIX L840. It's also worth remembering that while the SX530 HS's maximum aperture at the full extent of its zoom is comparable to the SX410 IS and COOLPIX L840, at around the 855mm equivalent mark (the maximum zoom on the COOLPIX L840) it's around half a stop brighter.
The next thing to consider is the screen. The SX530 HS's 3 inch LCD panel has a higher 461k dot resolution than the 230k dot screen on the SX410 IS and looks more detailed which is nice, but not really essential. The COOLPIX L840's screen is even more detailed, with 921k dots but it's real advantage over both Canons is that it can flip up or down – great for shooting from low and high angles, but also for keeping the sun off. None of these models has a viewfinder, which can make a big difference when shooting at longer focal lengths, but the SX530HS provides Seek Assist features to help with framing when zoomed in.
The SX530 HS is a more advanced model in terms of shooting modes with a mode dial that provides PASM shooting modes in addition to a fully auto mode with scene detection. On the SX410 IS and L840 you're limited to auto exposure modes. The SX530 HS also lets you focus manually, though it doesn't provide a moveable AF area Like on the COOLPIX L840. Another area where the L840 scores over the SX530 HS is continuous shooting with a better 7fps one-second burst at full resolution, compared with 1.6fps on the SX530 HS. And where the SX530 HS offers a 4 Megapixel 10fps mode, the COOLPIX has a much wider range of continuous shooting options at reduced resolution. The SX410 IS is one to avoid if you like to shoot action sequences, with nothing better than a 0.5fps full resolution mode.
The COOLPIX L840 's best quality HD video modes at 1080 / 25p and 1080 / 50i are on a par with the SX530 HS's 1080 / 30p mode. but it also offers a reduced resolution quarter speed slow motion mode at 640×480 reolution and a 2x speed HD mode. Against that, the SX530 HS has Hybrid auto mode which shoots a short clip prior to each photo you take and assembles them into a short movie.
To sum up; the SX410 HS is more compact, but other than that, and its lower price, it offers few advantages over the SX530 HS and lacks many of its advanced features including the longer zoom, higher resolution screen, manual shooting modes, Wifi and NFC, plus its higher resolution CCD sensor produces noisier images. See my Canon SX410 IS review for more details.
The COOLPIX L840 gives the SX530 HS a much closer run for less money. It falls well short of the SX530 HS's 1200mm equivalent telephoto, although it does have a slightly wider 22.5mm wide angle. Its screen is higher resoution and flips out, it has better continuous shooting and matches the SX530's Wifi capabilities. But it too lacks the SX530 HS's advanced shooting modes and manual focus. If you can live without those, and get by with a slighter shorter zoom range, you could make a substantial cost saving. See my upcoming Nikon L840 review for more details.
That said, I think the 50x zoom range and advanced shooting options available on the PowerShot SX530 HS are well worth the extra money. To answer my original question, it does hit a sweet spot and though you'll save money if you opt for one of the budget models, you'll also find yourself making compromises that you might regret. As always, you'll need to think carefully about the kind of photography you want to do and which model offers the most appropriate features. The PowerShot SX530 HS provides a great balance of features at an affordable price point and comes highly recommended.