Canon PowerShot Pro1 retro review
Canon's PowerShot Pro1 launched in February 2004 as the pinnacle of its fixed-lens prosumer camera series. It cost 1000 dollars or pounds, featured a top of the range 8 Megapixel sensor, flip-out screen, and the first – and only – PowerShot lens branded by the red ring of Canon's flagship L-series.
It was also the last of its kind, so in this review I'll take it out on almost its 18th birthday to see how it stands up today!
The Pro1 was the third and final model in the PowerShot Pro series which began in 1998 with the Pro70, followed three years later in 2001 by the Pro90 IS. All three models sported long zoom ranges (for the day) coupled with a wealth of controls to satisfy enthusiasts who couldn't stretch to the size or cost of a DSLR especially when fitted with an equivalent big lens.
While the Pro70 and 90 IS shared similar L-shaped designs with internal zooms, the Pro1 went for an extending lens, allowing a more compact body, at least when switched off for transportation. Canon didn't skimp on the grip though, making the Pro bodies more comfortable to hold than the flat-fronted G-series. The surprising heft of the body also felt reassuringly dense, albeit not too heavy to carry around.
Like the earlier Pro models, the Pro1 was packed with controls including a mode dial, joypad, front finger dial and hard keys to directly adjust things like the drive, metering, flash and macro modes. In Manual mode you could toggle between adjusting shutter and aperture by clicking the finger dial, with an exposure range of 15 seconds to 1/1600 at the maximum aperture of f2.4. Closing the aperture to f3.2 or f5.6 could boost the top shutter to 1/2000 or 1/4000 respectively.
If you preferred using longer exposures or large apertures in bright conditions, a built-in two-stop ND filter could be toggled on and off in the menus.
Like the G series, Canon included an upper LCD status screen with a wealth of shooting information and an orange backlight too. Meanwhile a collar control powered the camera up into either shooting or playback modes, with an off button in the middle.
For composition you'd either use the electronic viewfinder, actually Canon's first on a PowerShot since the Pro90 IS, or a side-hinged, fully-articulated 2in screen that could flip and twist to almost any angle including forward to face you or back on itself for protection.
Behind a small flap on the rear of the camera are the three ports: a standard USB connector, DC-input for use with an optional AC power supply, and a 3.5mm AV output for TV slideshows. Also note the fully-functional hotshoe which could support Canon's Speedlite flashes, ring-lights or macro light accessories.
The 7x optical zoom equivalent to 28-200mm was arguably the highlight of the Pro1, becoming the first – and still the only – PowerShot to sport the red ring denoting Canon's prestigious L-series, justified here by the use of fluorite and ultra-low dispersion elements. Until then, the L-branding was reserved for Canon's best full-frame lenses or flagship camcorders.
The Pro1's lens also employed USM, but for the motorised zoom. A twist of the smooth ring on the barrel adjusted the zoom, with labelling on the extending barrel indicating the current focal length. For me though it felt a bit detached – not to mention slower to startup – compared to the more responsive mechanical zooms of rivals like the Sony F828. The maximum aperture of f2.4-3.5 was also a tad slower than the Sony, but it did allow the body to be much more compact.
There was no filter thread on the barrel, but a bayonet mount supported a variety of accessories including a 58mm filter adapter, as well as an optional 1.5x teleconverter and closeup lens.
Behind the lens was Sony's latest 2/3in CCD sensor sporting 8 Megapixels, making the Pro1 Canon's highest resolution PowerShot to date, and also numerically ahead of the first 6 Megapixel DSLRs. As always, the same sensor made it into a number of key rivals at the same time with similar feature-sets, including the Nikon COOLPIX 8700, Minolta DiMage A2, Olympus C8080 and Sony's F828, albeit with a tweaked colour filter array. Canon let you choose between three JPEG compression levels, five image sizes or the option to record in RAW. Best quality JPEGs typically measured 3-4 MB each.
The Pro1 let you shoot between 50 and 400 ISO, but like most cameras of the day, the best quality was only achieved at the lowest value. 50 ISO looked great, 100 was just about ok, but at 200 there were visible losses, while at 400 ISO the quality took a big hit. This was sadly common at the time though.
You could also film video up to 640×480 pixel, VGA resolution at a slightly jerky frame rate of 15fps, albeit at a time when some of its high-end rivals were already offering smoother 30fps options at the same resolution. Clips were limited to 30 seconds, you could adjust the zoom before – but not during – filming, and while the screen flipped forward to face you for potential vlogging, the lens didn't have any optical stabilisation.
Behind a large flap on the grip side you'll find the battery and memory card slot. Canon stuck with Compact Flash on the Pro1, supporting both type-I and Type-II cards including the IBM MicroDrive. My old 1GB MicroDrive still works fine on it, albeit with slower access times and a bigger battery-hit than a solid state card. Canon supplied the Pro1 with a 32MB CF card, although it worked fine with my 1GB SanDisk Ultra card, giving me loads of fast storage.
In terms of power, the Pro1 uses the same BP-511 Lithium Ion pack that was widely deployed by Canon up to 2008, so while it is discontinued now, replacements remain readily available. So with easy to access or replace power and storage, the Pro1 remains quite usable today, so without further ado, here's a bunch of photos I took around Brighton, almost 18 years after I originally reviewed it.
Canon PowerShot Pro1 sample images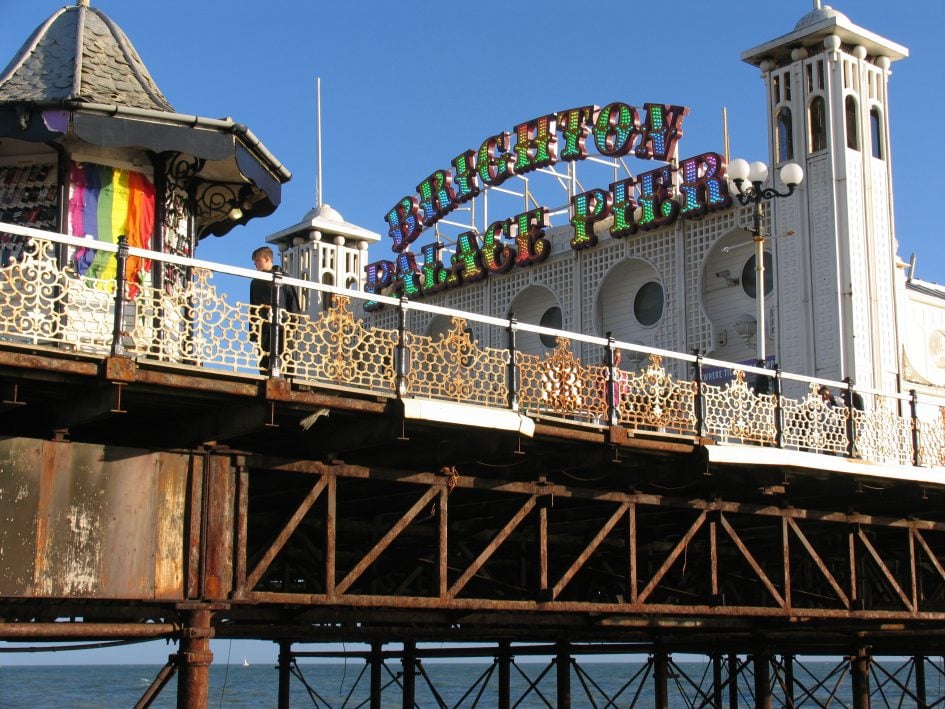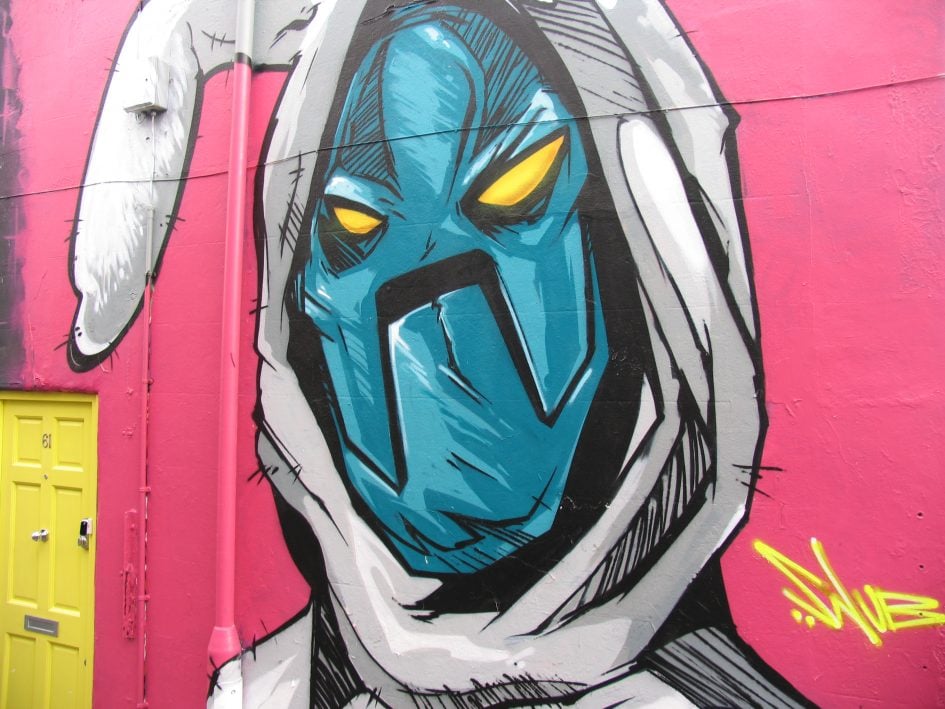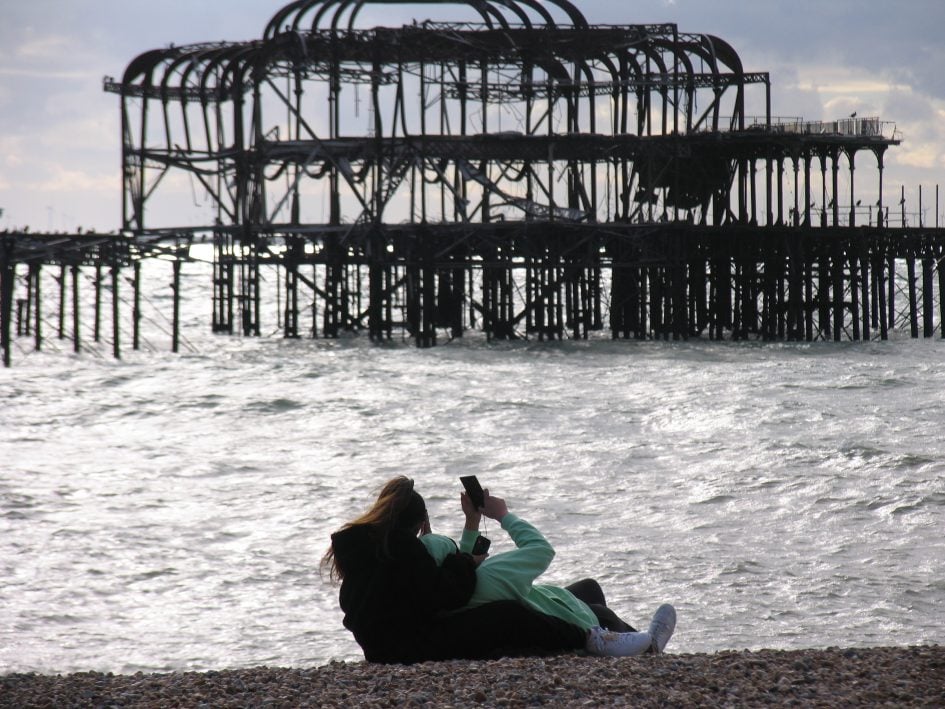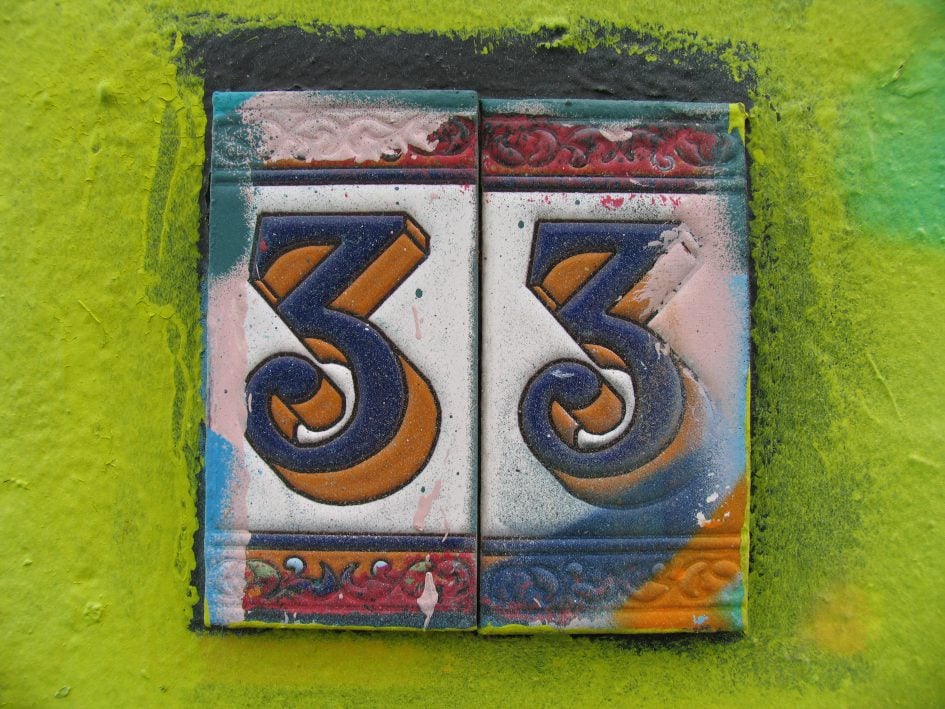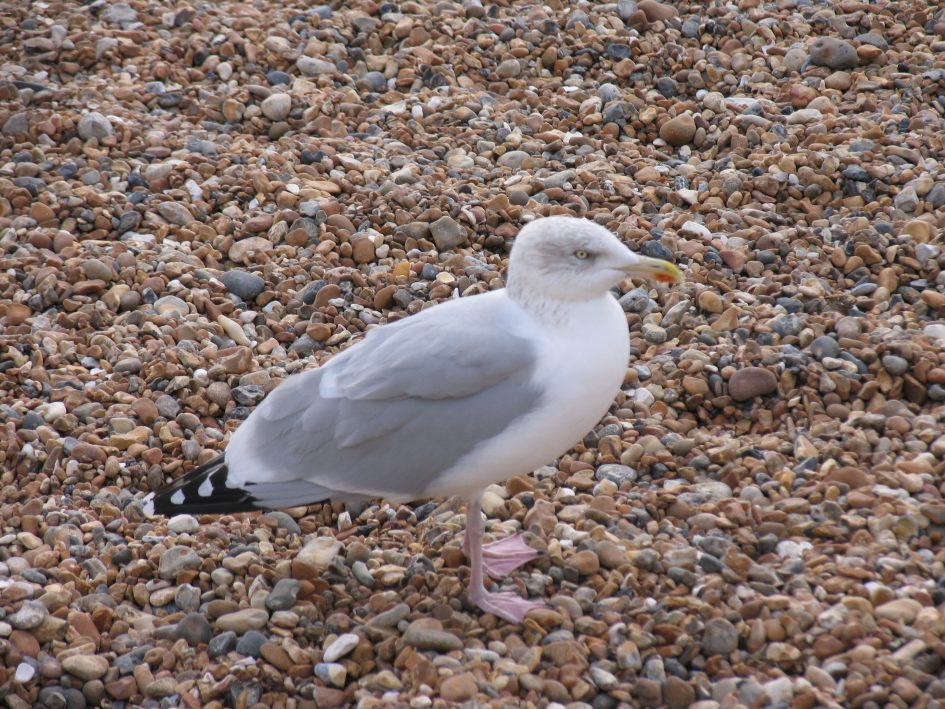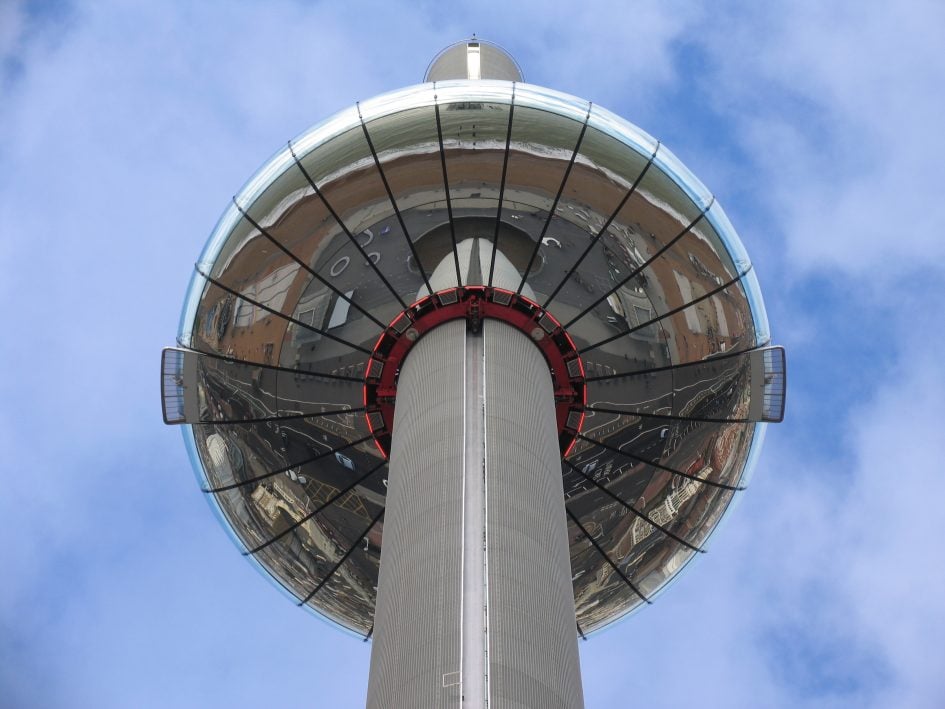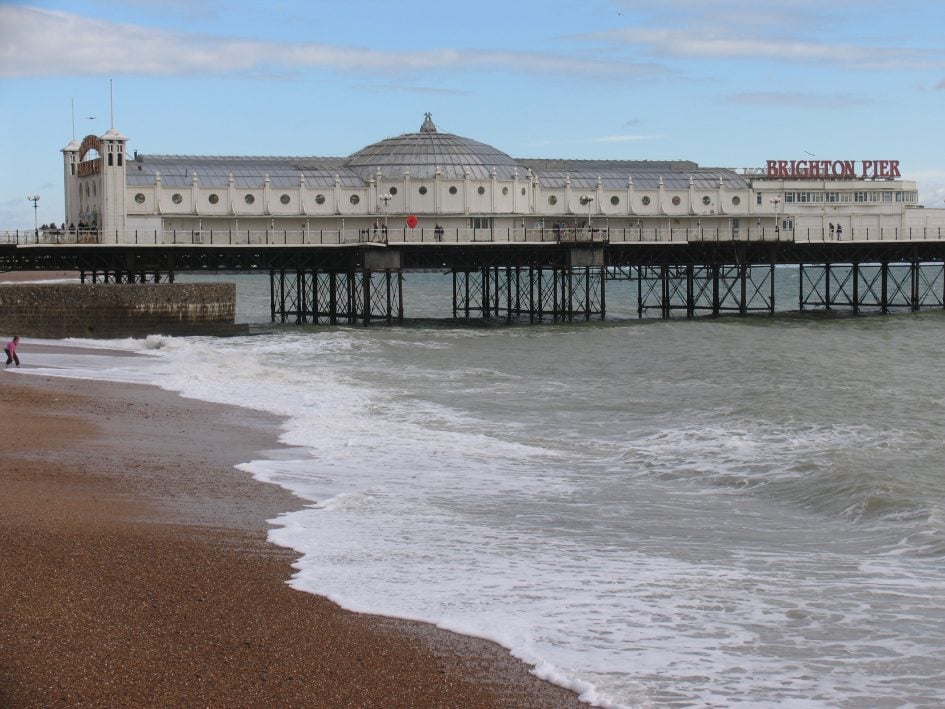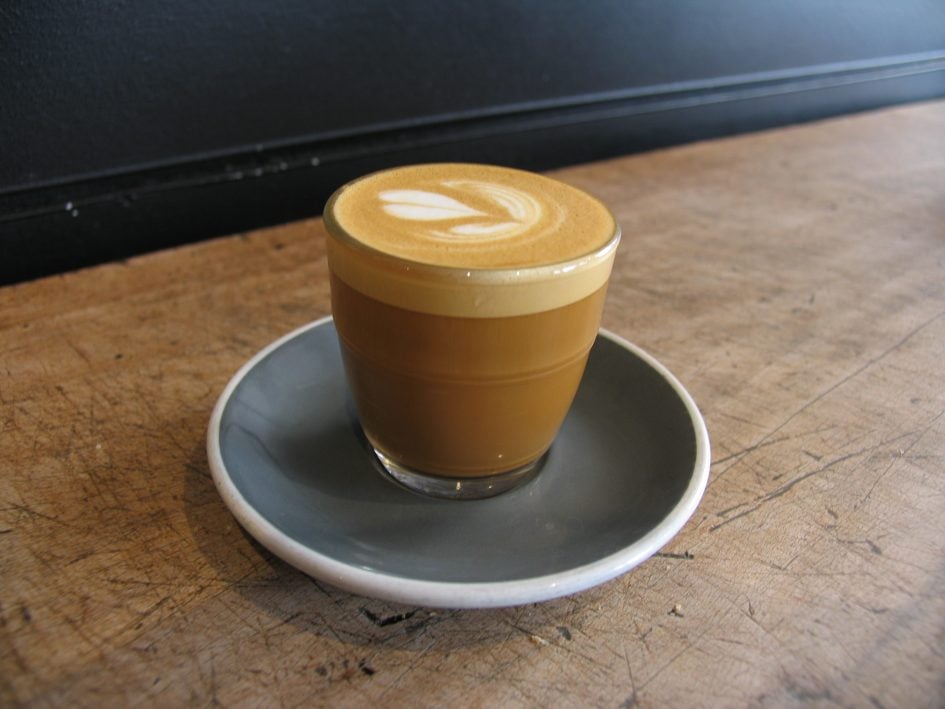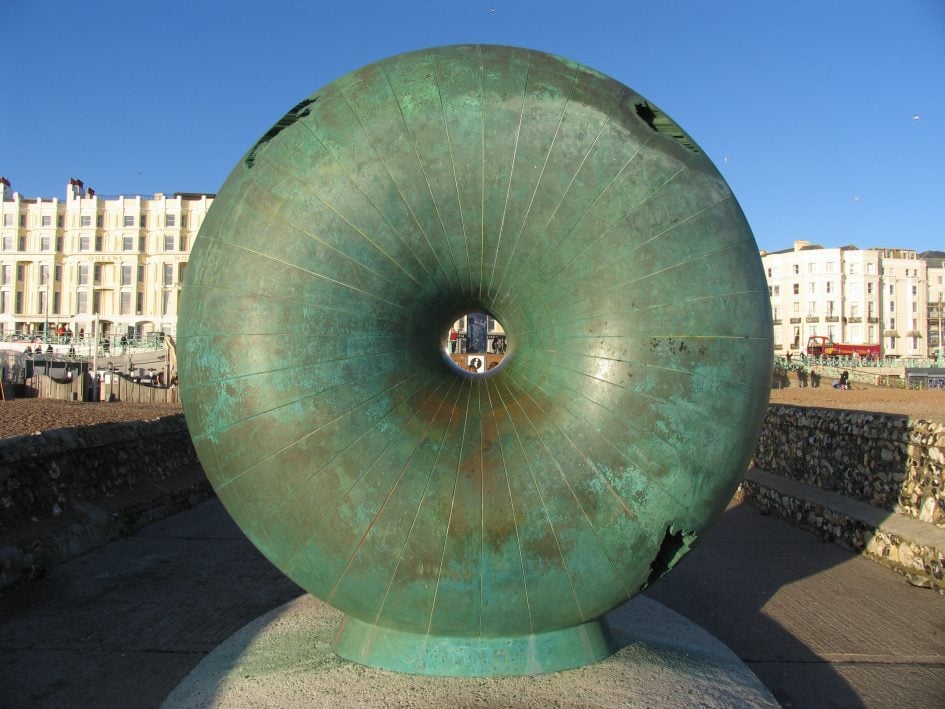 Canon PowerShot Pro1 verdict
There's no doubt the PowerShot Pro1 was an impressive camera and in my 2004 review for PC Advisor magazine in the UK I commented that despite falling behind on macro and movie modes, its images were still the best of the 8 Megapixel models I'd tested so far. The L-branded lens didn't hurt, although also didn't prove immune to some vignetting or coloured fringing which could be quite obvious at times.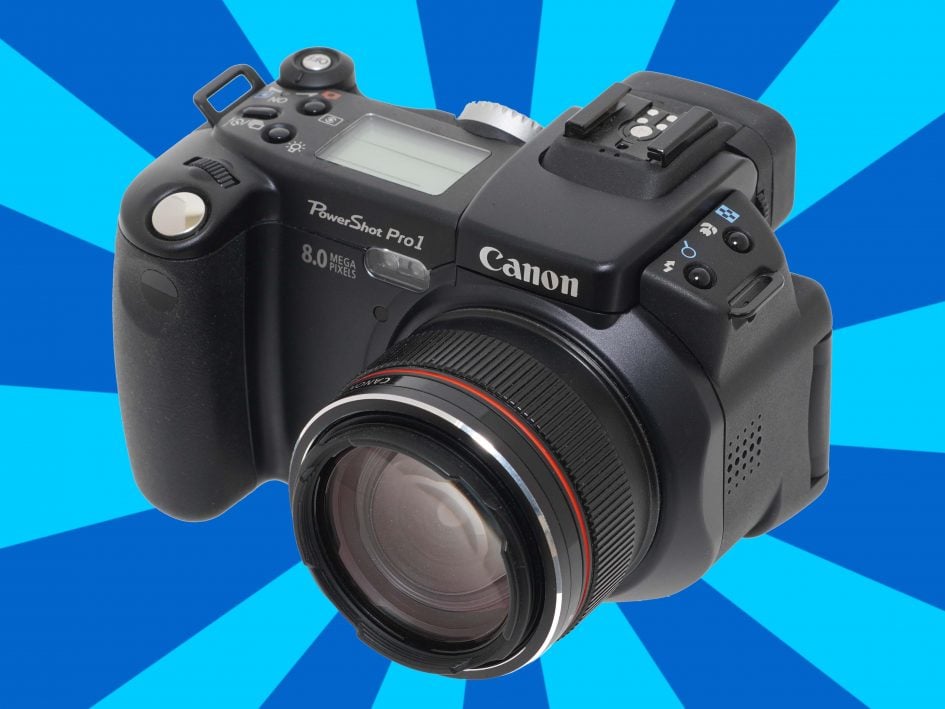 But despite ever-increasing feature-sets, the writing was on the wall for high-end bridge cameras. For the same money as the Pro1, or even less in some situations, you could alternatively buy one of the new entry-level DSLRs like the Nikon D70 or Canon EOS 300D, the first Digital Rebel. Sure, both came with shorter zoom ranges at that price, but the chance to swap lenses, compose with a true SLR viewfinder and capture images with a considerably larger sensor proved an unbeatable combination for the target market. Enthusiasts flocked to DSLRs, leaving the bridge camera market to rely on ever-increasing zoom ranges instead. So as the door closed on the PowerShot Pro series, another opened for the PowerShot SX super-zooms which sold well for multiple generations.

Back in the 2000's I had a soft spot for pro-sumer cameras like the PowerShot Pro or Sony F series, even as basic digital SLRs finally matched them on price. I loved how the manufacturers would not just throw everything they could think of into them, but also use them as testbeds for innovative new ideas or unusual body designs.

Check prices at Amazon, B&H, Adorama, eBay or Wex. Alternatively get yourself a copy of my In Camera book, an official Cameralabs T-shirt or mug, or treat me to a coffee! Thanks!