Canon PowerShot G7X Mark II review
Verdict
Canon's PowerShot G7X Mark II builds-upon its predecessor to become one of the most attractive pocket compacts for enthusiasts. It shares the same core premise as the original, delivering a comfortable step-up in quality and control over a typical point-and-shoot or phone, while still remaining pocketable.
Superficially the G7X Mark II may seem similar to its predecessor, but Canon's made a number of useful enhancements which make it a much more compelling camera overall. The body is essentially the same size with the same control layout as before, but the addition of a grip on the front makes it much more comfortable to hold. The lens may share the same 4.2x / 24-100mm range and f1.8-2.8 focal ratio, but there's now an Auto ND filter option for stills and the chance to de-click the lens ring for smooth or stepped adjustments – great for stills and movies. As before the lens is a little soft in the corners at 24mm, especially when focusing close, but the optical quality quickly improves as you zoom-in. The screen may be the same size with the same well-thought-out touch interface, but as well as tilting up to face the subject, it'll now also tilt down for easier composing at high angles. Meanwhile the camera can now be charged over USB, although Canon still supplies an AC battery charger if you prefer.
Inside the G7X II shares the same 1in / 20 Megapixel Sony sensor as its predecessor, but it's now coupled with Canon's latest DIGIC 7 processor. This brings a number of benefits including superior AF tracking, quicker continuous shooting (especially in RAW) and improved image stabilisation (all confirmed in my tests), a selection of timelapse movie options and in-camera processing of RAW files; to my eyes, the out-of-camera JPEGs also look a little better than before. And finally, the built-in Wifi is now accompanied by Dynamic NFC for more seamless negotiations with compatible phones, and Canon's latest Camera Connect app is much improved. It all adds up to a camera that's more confident and capable than before, although one that still lacks a built-in electronic viewfinder, slow motion video or 4k movies, not to mention in-camera panoramas.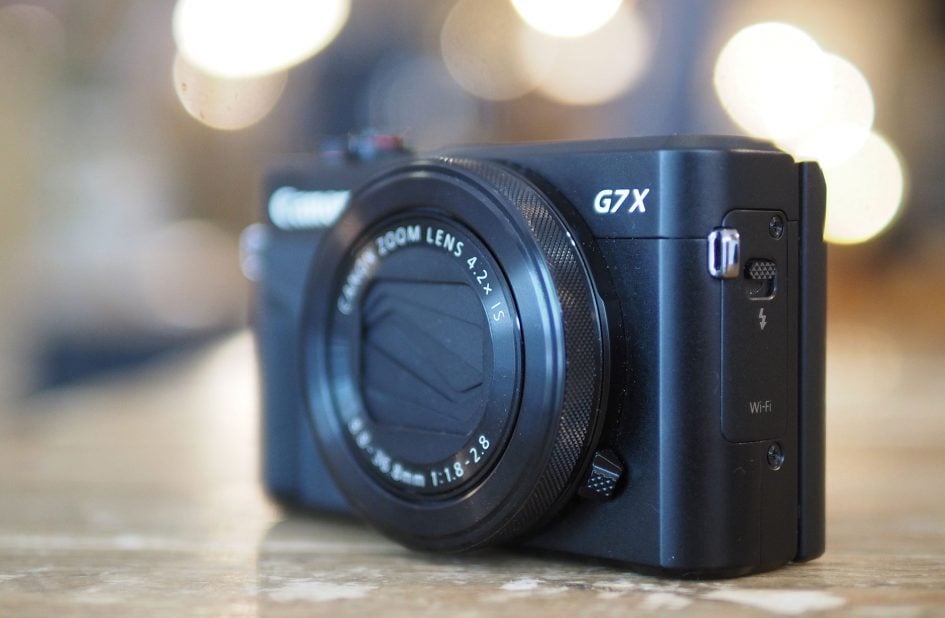 Revealingly most of the downsides to the G7X Mark II are addressed by its major rival, Sony's Cyber-shot RX100 Mark III, and both models now also face tough competition from Panasonic's Lumix TZ100 / ZS100. I'd love to tell you one stands out over the others to make the choice easier, but the fact is each has pros and cons you'll need to weigh-up. Depending on which features are most important to you though, one will take the lead.
Let's start with photo quality. All three share the same sensor and while each employs different optics and image processing, their ultimate quality is similar and I wouldn't choose one over the other in this regard.
The first big difference regards lenses. In terms of optics, the Sony RX100 III, Canon G7X II and Lumix TZ100 / ZS100 offer 24-70mm, 24-100mm and 25-250mm ranges, so all start at roughly the same wide-angle coverage, but each zooms progressively longer. There's already a noticeable difference between the Sony and the Canon, but if you want really long reach from a 1in compact that'll fit in your pocket, then the Lumix TZ100 / ZS100 is the one to go for. That said, the long 10x zoom comes at the cost of a slower focal ratio of f2.8-5.9 compared to f1.8-2.8 for both the Canon and Sony. So if you're shooting macro or portraits at typical distances, the Sony and especially the Canon for portraits give greater potential for blurring the background; the dimmer optics in the Lumix also means it needs to deploy higher ISOs under the same conditions.
Next comes composition. Both the Sony RX100 III and Lumix TZ100 / ZS100 feature built-in electronic viewfinders as an alternative to composing with their screens; they're easier to view in bright sunlight (equally useful for playback as well as composing), offer more privacy and allow you to hold the camera against your face for greater stability. Of the two, the Sony finder image looks better to my eyes, but requires you to manually pop it up and pull back the housing, whereas the Lumix is always available, making it more convenient. Whichever presentation you prefer though, the fact is the Canon G7X Mark II doesn't have a built-in viewfinder and this could be a deal-breaker for some.
Turning to the screen there are more differences to weigh-up: the Sony and Canon screens can tilt up to face the subject for selfies or filming pieces to camera, or tilt down for easier composing at high angles, while the Lumix screen is fixed in place. This for me is a major mark against the Lumix, but I should add the Lumix and Canon screens are both touch-sensitive while the Sony is not. So overall in terms of screens, the Canon G7X Mark II comes out on top.
In terms of video, all three will capture good-looking 1080p footage up to 60p, but both the Sony and Lumix offer 100fps options for slow motion capture (at 720p and 1080p respectively), and the Lumix goes even further by offering 4k video at up to 30p. Like all Panasonic 4k cameras, the Lumix TZ100 / ZS100 also offers a wealth of options which exploit the high resolution video to grab 8 Megapixel stills at 30fps or refocus after the event. So for video, the Lumix TZ100 / ZS100 takes the overall lead, although I should note the Canon G7X II is the only one of the three to offer a lens ring that can be set to smooth or clickable.
Drilling-down, there's even more which I've mentioned in my separate reviews of each camera, but for me the major differences are above. If you want the longest lens range in this form factor, you'll want the Lumix TZ100 / ZS100. If you want a built-in viewfinder, you should go for the Lumix TZ100 / ZS100 or Sony RX100 III. If you want a touch-screen, you'll need the Lumix TZ100 / ZS100 or Canon G7X II. If you want a tilting screen you'll need the Canon G7X II or Sony RX100 III. If you want 4k video, you'll need the Lumix TZ100 / ZS100.
Of course there are more than just three cameras with 1in sensors to consider. Sony's RX100 Mark IV takes the Mark III and equips it with 4k video and super slow motion modes, albeit for an even higher price, while Canon's own range includes an even smaller model (the G9X), one with a built-in viewfinder (the G5X) or a larger option with a 25x zoom (the G3X); each name links to my reviews. Like I said, there are a lot of options in this category, but again for me the biggest rivals for the G7X II are the RX100 III and Lumix TZ100 / ZS100.
There's one other factor to consider: the price. At the time of writing, the Canon G7X Mark II and Lumix TZ100 / ZS100 shared roughly the same price, while Sony's RX100 Mark III came in a little more expensive. Prices do fluctuate, especially over time, so do factor that into your choice, but at the time of writing, the Lumix TZ100 / ZS100 looked to offer the greatest bang for the buck. I said I wasn't going to side-towards one model, but if you're not bothered by its dimmer aperture and lack of a tilting screen, the Lumix is simply very hard to beat.
Canon PowerShot G7X Mark II final verdict
As I said at the start, the Canon PowerShot G7X Mark is a very attractive compact for enthusiasts, delivering excellent quality and control in a body that'll squeeze into most pockets. Canon's various enhancements over the original model make for a much more compelling camera overall, and if the feature-set still doesn't perfectly suit, there's three other options in the range to fit the bill.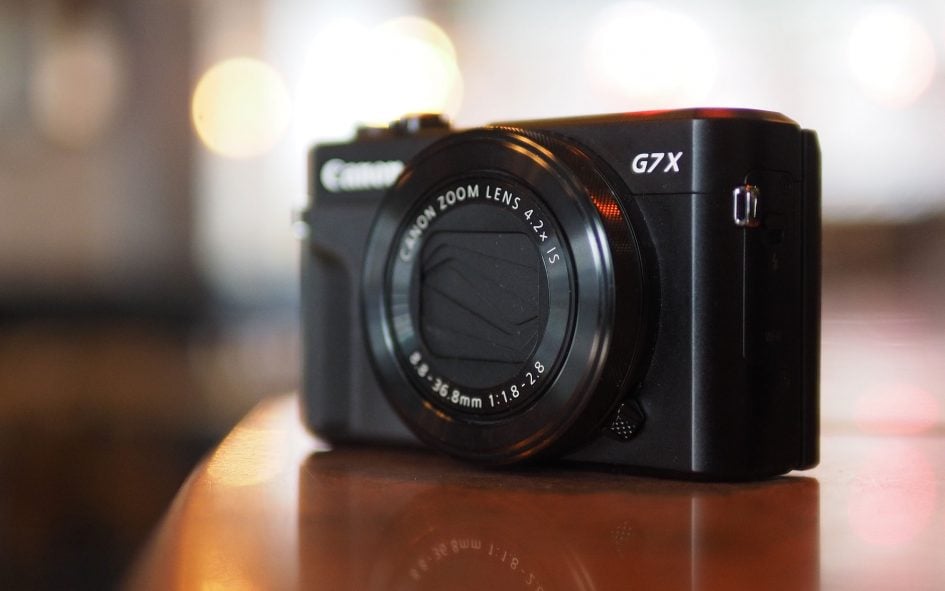 As before, there's tough competition from Sony's RX100 Mark III and the more recent Panasonic Lumix TZ100 / ZS100. None are perfect, but the presence of a built-in viewfinder on the Sony and Panasonic, not to mention 4k video and a 10x zoom on the latter are hard to ignore at much the same price. The Canon G7X Mark II fights back with a screen that's both touch-sensitive and tiltable, a lens ring that can be set to click or turn smoothly, a zoom that offers the greatest potential for blurring at typical portrait distances, and the most comfortable grip of the three. It's also worth remembering its predecessor, the G7X Mark I, gradually found itself sold at a comfortably lower price than rivals, which made it even more attractive over time.
Ultimately Canon's fixed most of the functional flaws of the original Mark I to deliver a camera I very much enjoyed using. Do compare the features of its rivals closely, but whichever ends up ticking the most boxes, I can Highly Recommend the G7X Mark II to anyone who wants a powerful pocket compact with great image quality.
Good points
Great image quality from 1in sensor and DIGIC 7.
Flexible 24-100mm zoom range with bright aperture.
Fast and confident AF system.
Tilting screen with touch capabilities.
Built-in Wifi with NFC and smartphone control.
De-clickable lens control ring.
USB charging.
Bad points
No built-in viewfinder, nor any means to connect one.
Lens a little soft in corners at 24mm.
No 4k video or slow motion movies.
No in-camera panorama mode.
Can't remote-trigger movie recordings over Wifi.