Canon PowerShot G5X review - Verdict
Verdict
Canon's PowerShot G5X is one of the most capable compacts around, delivering much of the experience of a larger camera in a smaller, lighter and often cheaper form factor. The really clever part is it's essentially based on the best-selling PowerShot G7X, but enhances it in a number of key respects to become a much more satisfying camera to shoot with.
The G5X may inherit the 4.2x optical zoom and 1in sensor of the G7X, thereby matching its quality and coverage, but is transformed in day-to-day use by the addition of an electronic viewfinder, fully-articulated screen, deeper grip and additional controls.
Composition is understandably the highlight here, with the G5X being the only model in the PowerShot G series to have a built-in viewfinder. Rather than compromise on size or availability though, Canon has simply perched it on top of the body in a traditional hump which may make the body taller than rivals, but means the view is large and ready for action as soon as you put your eye to it; no need to pop-up a housing like the Sony RX100 III and IV, which in turn makes it faster and more responsive to spontaneous situations. I also loved having a side-hinged fully-articulated screen which allowed me to comfortably compose at high or low angles in both the landscape and portrait orientations, another advantage over Sony, along with the excellent touch interface.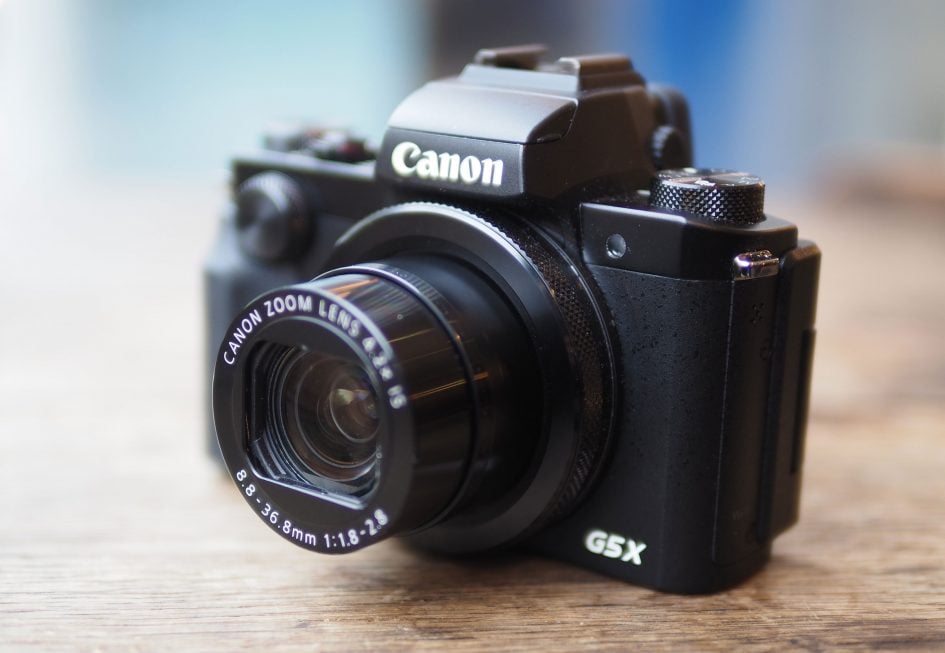 Canon's designers clearly thought that if they were going to enlarge the body with a viewfinder hump, they may as well fit a more substantial grip too, and this in turn makes the G5X very comfortable and secure to hold. It allows you to hold the camera very steadily too, enhanced further when composing with the viewfinder (when the camera is held to your face), or with the screen flipped-out and cupped in your left palm. You'll be able to avoid camera shake much more easily.
The addition of a third control dial is also a delight, allowing you to adjust a wealth of exposure settings without entering any menus, especially since there's also a dedicated exposure compensation dial. Of the three main dials, I really liked the feel of the new front-mounted option.
While these are the most obvious differences between the G5X over the G7X, there's a number of smaller upgrades worth noting. There's now a broader choice of movie frame rates, the chance to deploy the built-in ND filter automatically (at least for stills), manual focusing during movies, and the chance to charge the battery in-camera over USB; the latter is a real boon, allowing you to recharge or top-up wherever there's a USB port, such as laptops, portable batteries or vehicle ports, but considerately Canon still supplies the G5X with a traditional AC charger if preferred. I should also note Canon's greatly enhanced its mobile app since the G7X, bringing the degree of control and ease of use alongside the best of its rivals – plus the G5X now enjoys the benefit of Dynamic NFC which lets a tap from a compatible phone power it up for remote control and image transfer.
So far it's looking good for the PowerShot G5X and it's certainly become one of my favourites in the series so far, but it's important to note the always-available viewfinder, side-hinged screen and chunky grip also make it one of the largest 1in compacts to date with a basic zoom range. Unlike most of its key rivals, the G5X most certainly is no longer a pocket camera – at least not in the sense of a trouser or shirt pocket. You'll really need a larger coat pocket or a small bag to carry it around. Indeed much of the decision between it and the competition will boil down to size and what you're willing to carry around.
So how does it compare to other compacts with 1in sensors?
Canon PowerShot GX5 vs Sony RX100 III
Arguably the biggest rival for the G5X is Sony's Cyber-shot RX100 Mark III, the model prior to the latest Mark IV version. Both cameras cost roughly the same and share similar quality with what I believe is the same sensor. Both have built-in viewfinders, although on the Sony it needs to be popped-up and extracted in a two-step process which makes it slower to use than the G5X. But conversely it also makes it smaller. Likewise for the minimal grip and screen which only tilts vertically.
So in its favour over the RX100 III, the G5X has an always available viewfinder, a fully-articulated screen that's also touch-sensitive, a lens that zooms longer to 100mm vs 70mm, a hotshoe for mounting flashguns, more substantial grip and better controls. In its favour over the G5X, the Sony RX100 III is noticeably smaller – indeed pocketable, offers 720p at 120fps for slow motion, faster continuous shooting, longer recording times for single clips, and supports downloadable apps.
See my Sony RX100 III review for more details
Canon PowerShot G5X vs Lumix TZ100 / ZS100
Another major rival for the G5X is Panasonic's Lumix TZ100 / ZS100 which again costs in the same range, has a 1in sensor and built-in viewfinder, along with a touchscreen. What really sets the Lumix TZ100 / ZS100 apart from the pack though is its optical zoom range: not a paltry 3 or 4x, but an impressive 10x, equivalent to 25-250mm and impressively squeezed into a body that's actually shorter than the Canon G5X. The Lumix TZ100 / ZS100 is also the only pocket 1in compact which offers 4k video, which means it also enjoys Panasonic's 4k photo and post focus modes. The compromise compared to the G5X is a smaller viewfinder image, a screen that's fixed in place and a lens aperture that's at least one stop slower.
So in its favour over the G5X, the Lumix TZ100 / ZS100 has a much longer telephoto reach of 250mm vs 100mm, 4k video with the chance to grab stills from video, greater burst and slow motion options, and a body that's shorter. In its favour over the Lumix, the G5X has a larger viewfinder, brighter zoom, a fully-articulated screen vs one that's fixed in place, a hotshoe for mounting flashguns, more substantial grip, better controls and NFC for smartphone configuration by touch.
See my Lumix TZ100 / ZS100 review for details.
Canon PowerShot G5X vs G3X, G7X and G9X
Before concluding, it's also worth mentioning the other models in the PowerShot G range that share the same 1in sensor and touch-screen interface. The choice between them mostly boils down to lens range, body size and composition.
The G9X is the slimmest of the group – the most pocketable 1in compact to date, although the compromises are a shorter 3x zoom range, fixed screen and basic controls. The G3X is the super-zoom model with a 25x / 24-600mm range, albeit in a larger body. Then there's the G7X, upon which the G5X is based, but which as the oldest model – not to mention one that's been modestly updated in the recent Mark II – is now one of the most affordable 1in compacts on the market. Once again the G5X is the only one in the current line-up with a built-in viewfinder and a fully-articulated screen.
See my Canon G3X review, Canon G7X review and Canon G9X review for more details.
Canon PowerShot G5X final verdict
While it's easy to dismiss the G5X as a repackaged G7X, Canon's made significant additions to justify its position in the lineup. Indeed with the built-in viewfinder, fully-articulated screen, chunkier grip, better controls and USB-charging, it's a great all-rounder and become my favourite model in the G-series.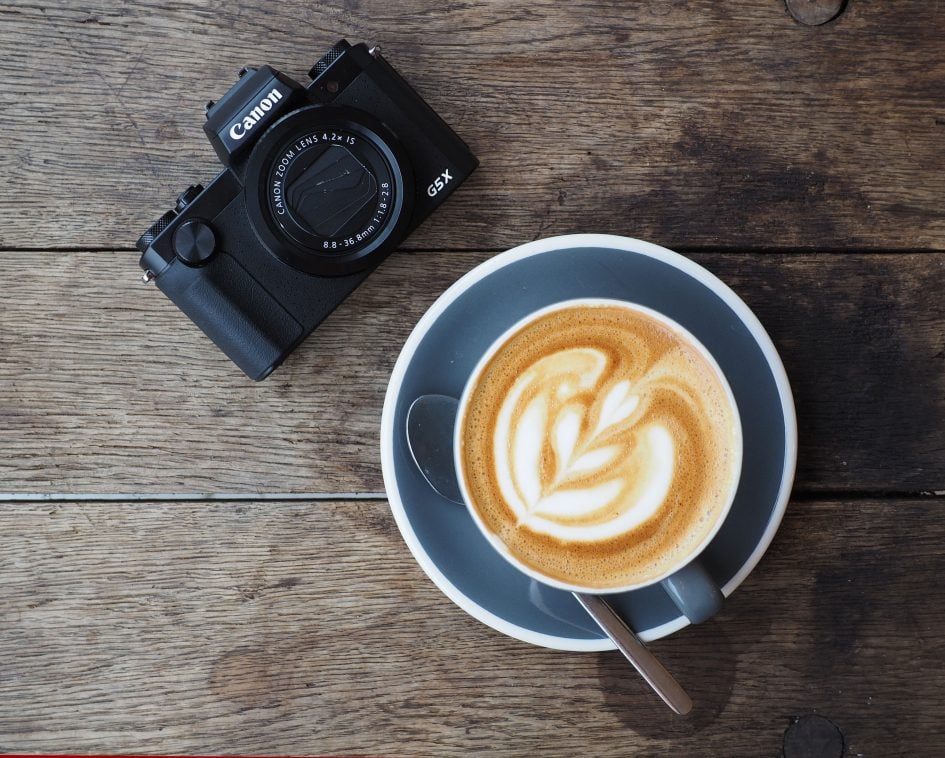 As noted earlier though, the viewfinder hump, side-hinged screen and deeper grip have all transformed the once pocketable G7X into a significantly larger camera. Not hefty by any means, but equally no longer able to squeeze into a trouser or shirt pocket. Lest we forget, both the Sony RX100 III and Lumix TZ100 / ZS100 pack viewfinders into bodies that are more pocketable. The Lumix also sports a lens that zooms two and a half times further and the benefit of 4k video.
Indeed the triple-whammy of a 10x zoom, 4k video and viewfinder in a more pocketable body at much the same price makes the Lumix TZ100 / ZS100 hard to ignore, but as explained above the G5X enjoys its own raft of benefits. The viewfinder image is larger, the lens brighter, the screen is fully-articulated, there's a hotshoe and superior controls. These all make the Canon nicer to handle and shoot with day-to-day, although again there's the larger size to contend with.
The bottom line is the choice of 1in compacts is steadily growing and there's now a model for pretty much anyone. Now that Canon has a standard and super-zoom model with the G7X and G3X, it has the luxury to explore other form factors with the slim G9X and the all-rounded G5X. These don't have to appeal to everyone, but will certainly attract certain photographers.
For me, the G5X is more of a standalone camera than one that would partner a larger system. It's a confident all-rounder I greatly enjoyed shooting with over an extended test period and one I can Highly Recommend if you're happy with the 1in quality and don't need pocket dimensions, 4k video or a longer zoom.
Good points
Large and detailed built-in viewfinder.
Fully-articulated screen with great touch interface.
1in sensor delivers a good balance of quality vs size.
Flexible 24-100mm f1.8-2.8 zoom with 5cm macro.
Built-in Wifi with NFC and good smartphone app.
Three control dials and a fourth for exposure compensation.
Comfortable grip and hotshoe for flashguns.
Bad points
Larger and less pocketable than rival models.
No 4k video, nor 1080p above 60p.
No panorama stitching mode.