Canon G1X Mark III review - Verdict
Verdict
The Canon PowerShot G1X Mark III is a unique camera, squeezing nothing less than a 24 Megapixel APSC sensor – the same found in the EOS 80D and EOS M5 cameras – into a relatively compact body coupled with a 3x zoom, viewfinder, articulated touchscreen, wealth of manual control and powerful wireless options. The use of an APSC sensor allows the G1X Mark III to join a very exclusive club of compacts including the Fujifilm X70 and X100 series, Ricoh's GR series and Nikon's long-departed COOLPIX A, but it's the only one to couple the large sensor with a zoom lens, and the only one to also offer confident phase-detect autofocus across most of the imaging area.
The majority of premium compacts employ smaller 1in sensors which, while offering a considerable step-up from smartphones or basic point-and-shoot cameras, remain comfortably smaller than APSC which boasts almost three times the surface area. This is what you're paying for on the G1X Mark III: the photo and video quality of much larger models like the EOS 80D and EOS M5, packed into a body that's considerably more compact. Sure the G1X Mark III isn't going to fit into a trouser or shirt pocket, but it will easily slip into a coat or small bag.
In use the G1X Mark III can certainly capture very good quality photos, with great out-of-camera JPEG processing delivering plenty of sharp details and very satisfying tones and colour. The lens is roughly comparable to a DSLR or mirrorless kit zoom in terms of sharpness and potential for background blurring so don't expect miracles, but on the whole it performed well and I enjoyed the benefits of a closer focusing distance (at wide angle anyway) and the built-in neutral density filter. Electronic noise became visible as a faint sprinkling at 800 ISO and with careful processing the camera was usable up to 6400 ISO. For me though, dynamic range was the highlight with minimal issues over blown highlights or crushed shadows, especially compared to compacts with smaller sensors. Once again the tonal range, colours and all-round in-camera processing was very satisfying for both stills and video.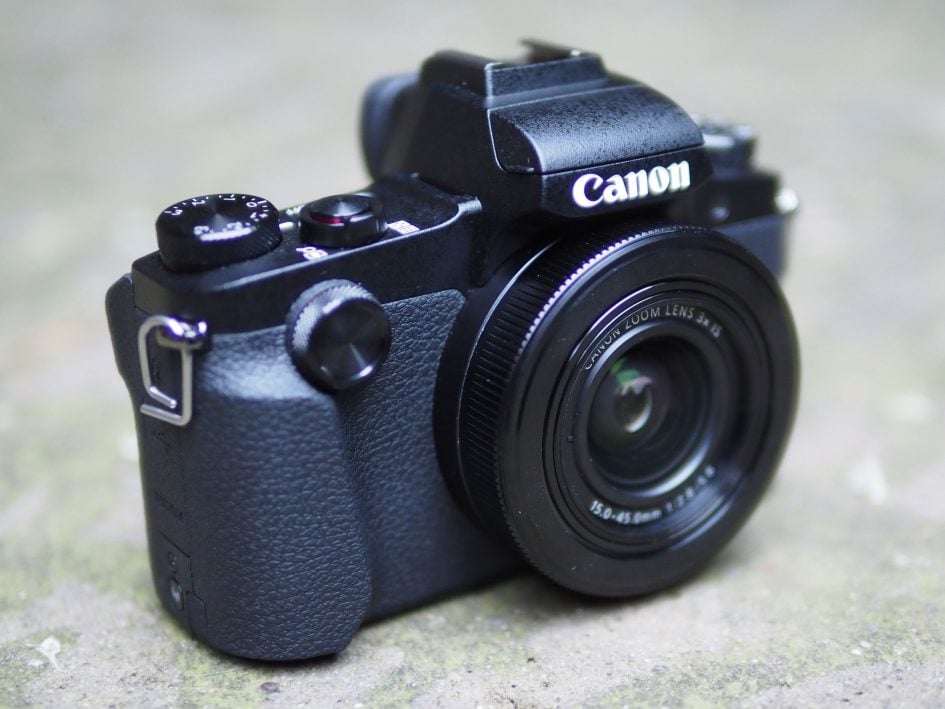 The G1X Mark III may not stretch to 4k capture nor include an external microphone input, but 1080p footage looked very good indeed, again with great colours and a tonal range that retained highlight and shadow detail more easily than smaller sensor models. Meanwhile the Dual Pixel CMOS AF on the sensor ensured smooth and confident refocusing, while the built-in stabilisation did a great job at ironing-out the wobbles, even when walking with the camera. Indeed with its fully-articulated screen, the G1X Mark III comes close to becoming the ideal vlogger's camera, so long as they don't need 4k or the ability to connect an external microphone. Here's a compilation of video clips to demonstrate the movie capabilities of the camera.
The camera itself is also a joy to use with a small but crisp electronic viewfinder, a great touchscreen interface, lots of manual controls and customization, and a body that may be compact but which feels great in your hands. I should also give a respectful nod to the weather-sealing which survived a direct splash of sea-water while I was testing on a stormy beach. And while Canon came late to the Wifi party, it now sports one of the best wireless experiences of any system, with Bluetooth now effortlessly handling Wifi connections, a responsive remote control and seamless location tagging.
So yes, the G1X Mark III is a very nice camera, but one that sits a little uncomfortably between smaller rival compacts with 1in sensors and larger interchangeable lens models. It's especially important when most 1in compacts feature brighter lenses that eliminate many of the benefits of the G1X Mark III's bigger sensor, and of course if you're coming from the other end, you have to ask yourself if you'll be satisfied with the 3x zoom being your only lens. Which will be best for you requires some careful thought, so before my final verdict, I've made detailed comparisons with a key rival in each camp: Sony's RX100 Mark V representing the best of the 1in models and Canon's own EOS M5 representing the APSC mirrorless line.
Canon G1X Mark III vs Sony RX100 Mark V
If you're looking for a premium compact with a premium feature-set, arguably the biggest rival for the G1X Mark III is Sony's RX100 Mark V. Both cameras feature almost identical zoom ranges, built-in viewfinders, stacks of control, screens that can face-forward, confident phase-detect autofocus, and Wifi with NFC. And while the Sony was around 15% cheaper at the time of writing, they are in roughly the same ballpark price-wise. So lots in common, but equally, lots to differentiate them too. I filmed the following video to discuss and demonstrate their differences.
In its favour, the G1X Mark III's body is much more comfortable to hold and use with a decent grip vs none at all, and also sports weather-sealing; anecdotally, both cameras shared a splash of sea water while I was comparing them side-by-side and while the RX100 V's battery died as a result, the G1X Mark III emerged unscathed. The G1X Mark III's screen is side-hinged and fully-articulated, allowing it to flip and twist to almost any direction whereas the Sony's will only tilt vertically; Canon's screen is also touch-sensitive allowing you to tap, swipe and pinch through the user interface. The G1X Mark III also offers Bluetooth which enables a responsive smartphone remote trigger and seamless GPS location tagging, a process that's convoluted on the Sony.
In its favour, the Sony RX100 V is considerably smaller and lighter – it'll squeeze into a trouser or shirt pocket, whereas the Canon G1X Mark III is more of a coat pocket camera. The Sony may be smaller but outguns the Canon in video quality, boasting 4k video (albeit only for clips up to five minutes long and with less effective stabilisation) and S-Log profiles for subsequent grading. There's way more opportunities for slow motion with 1080p available up to 120p along with High Frame Rate modes that can capture at 240, 480 or even 960fps. It also shoots roughly three times faster at up to 24fps, boasts a huge buffer and an electronic shutter option up to 1/32000, as well as a built-in sliding lens cover.
The major differences though, other than physical size, relate to their respective sensors and lenses. The G1X Mark III wins the sensor crown with a much larger APSC sensor and four extra Megapixels too. But countering this is a brighter lens on the Sony RX100 V, that's over twice as bright at the wide-end (f1.8 vs f2.8) and four times brighter at the long-end (f2.8 vs f5.6). This means when both cameras are zoomed-wide, the Sony will be able to use a sensitivity over one stop slower, or two stops slower when zoomed to telephoto; in the case of the latter, that's like the Canon having to shoot at 1600 ISO when the Sony can use 400 ISO under the same lighting conditions. It's this difference in aperture that makes the decision more complicated as it negates much of the benefit of the bigger sensor in the Canon, especially as the lenses are zoomed to telephoto. It also means the effective depth-of-field – or the opportunity to blur the backgrounds on portraits and macro shots – is actually quite similar on both cameras.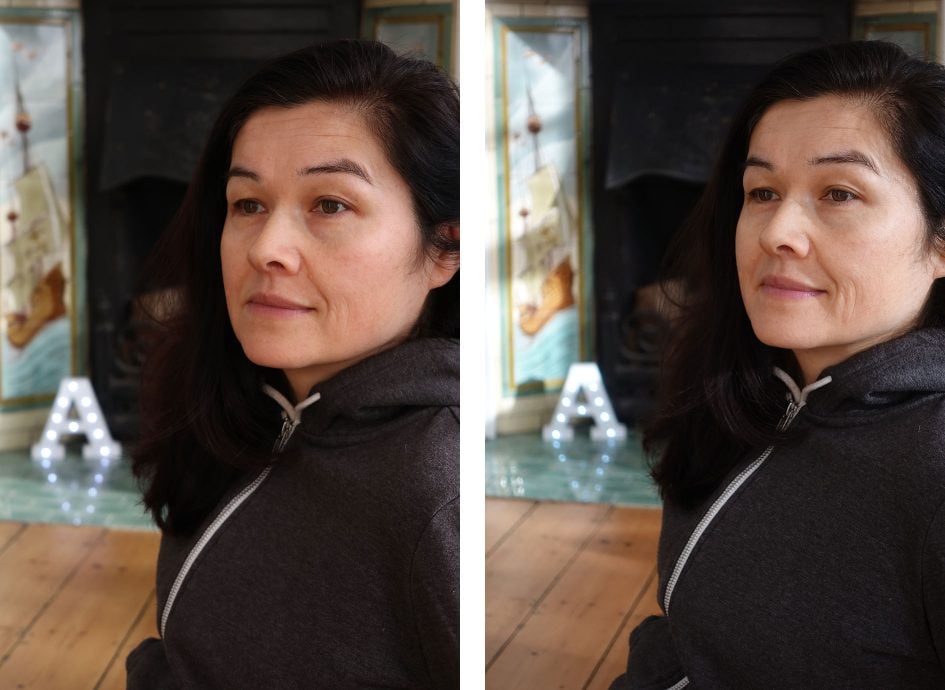 Indeed in my tests directly comparing both cameras side-by-side, they shared a similar potential for blurring backgrounds (although if you can exploit the Sony's closer focusing distance you can achieve even more at close range), their resolving power was similar (the Canon lens enjoyed the edge at telephoto, but the Sony edged ahead at wide-angle), and noise levels were also roughly similar at all but the very highest ISOs. Indeed the only major benefit I found to the larger sensor in the Canon was increased dynamic range, in turn allowing more natural tones and colours than the Sony; this was particularly apparent on video, especially when some areas of the frame were much more brightly lit than others, or when wrangling the tonal range on stills. If you think you'd exploit this benefit, then sure the larger sensor is worth paying extra for, but don't kid yourself you'll see much difference from most 1in rivals in terms of resolution, noise and depth-of-field – this also applies to Canon's and Panasonic 1in sensor compacts although none of these to date enjoy the embedded phase-detect autofocus or super slow motion modes of the Sony RX100 Mark V.
See my Sony RX100 V review for more details.
Canon G1X Mark III vs EOS M5
One of the biggest rivals for the G1X Mark III comes from Canon itself: the EOS M5. The M5 is Canon's flagship mirrorless camera and shares a great deal with the G1X Mark III, most notably the same 24 Megapixel APSC sensor with Dual Pixel CMOS AF and the same photo and video quality, not to mention the same burst shooting speed. The OLED viewfinders are also similar and both also sport touchscreens that can face-forward (albeit in different ways). Both offer Wifi with NFC and Bluetooth, hotshoes for external flashes, plus the standard kit zoom for the EOS M5 shares the same 15-45mm focal range as the G1X Mark III's built-in lens.
While the physical styling looks very similar, the G1X Mark III is actually noticeably smaller in the flesh, and also sports weather-sealing that's absent on the M5. The screen on the G1X Mark III may be slightly smaller (3in vs 3.2in), but is fully-articulated with a side hinge, allowing it to flip and twist to almost any position, whereas the M5's screen only angles vertically and when facing the subject has to flip down, ruling-out tripod use. The G1X Mark III's built-in lens may share the same 15-45mm focal range as the M5's kit zoom, but it's two thirds of a stop brighter at the wide-end, one third brighter at the long-end, focuses two and half times closer at the wide-end, and offers a built-in three-stop ND filter. The G1X Mark III also employs a leaf shutter that's very quiet and allows the built-in flash to sync at shutter speeds up to 1/2000 (although external Speedlites are restricted to the usual 1/250), and also offers a panorama mode.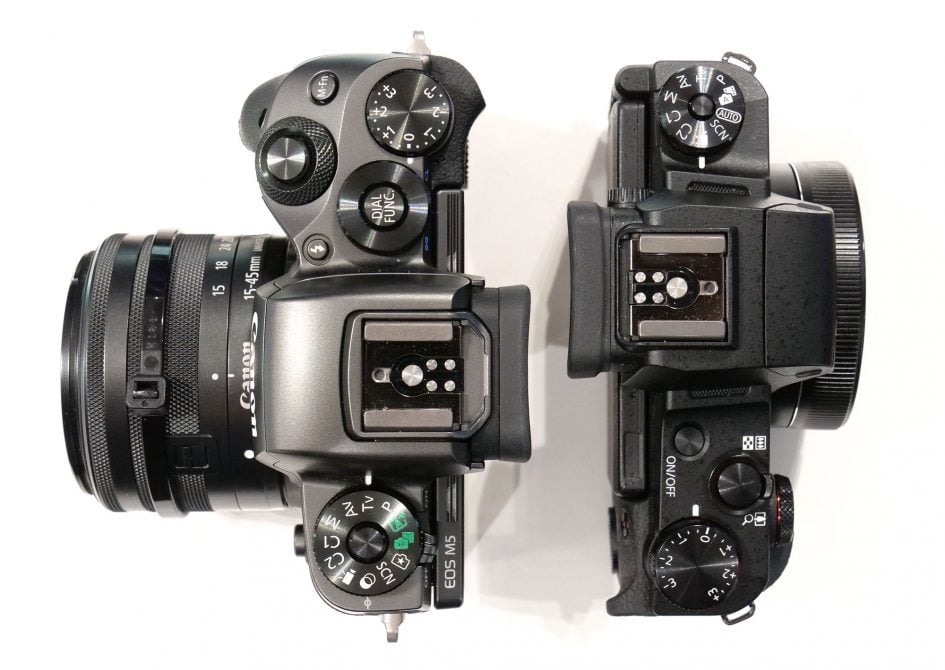 In its favour, the EOS M5's chunkier body accommodates a larger grip, it offers a 3.5mm input for connecting external mics, a faster shutter speed of 1/4000, a larger 3.2in screen (albeit only able to tilt vertically), a third control dial, and of course most importantly the ability to swap lenses with its EF-M lens mount; indeed with an adapter you can also mount any of Canon's enormous EF lens catalogue. This is the big question you need to ask yourself: do you want or need to swap lenses, and will you exploit the ability to connect an external microphone? Both may seem pre-requisites for vlogging, but don't forget the M5's tilting screen prevents tripod-mounting when the screen's faced-forwards and the built-in mics of the G1X III are actually quite respectable as I demonstrated in my video compilation. The built-in ND on the G1X III is also very convenient, but equally you are stuck with that lens with no chance to change the focal range, aperture or macro capabilities. I should also add the EOS M5 with the 15-45mm kit zoom was around 10% cheaper than the G1X Mark III at the time of writing.

See my Canon EOS M5 review for more details.

Canon G1X Mark III final verdict

The Canon G1X Mark III is a unique camera, squeezing a large APSC sensor – the same found in the EOS 80D and EOS M5 models – into a relatively compact weatherproof body with a 3x optical zoom, built-in viewfinder, fully-articulated touchscreen, plenty of manual control and excellent wireless capabilities. The sensor also boasts Dual Pixel CMOS AF, allowing it to smoothly and confidently refocus for stills or movies. These all make the G1X Mark III one of the most powerful compacts to date, but there's still no 4k video, nor microphone input, and the big sensor also makes it one of the most expensive compacts around. Revealingly its rivals with smaller 1in sensors typically couple them with brighter lenses, allowing them to roughly match the G1X Mark III on resolution, noise and potential for background blurring, but there's no arguing with the APSC sensor's superior dynamic range, allowing the G1X Mark III to capture a greater tonal range and more saturated colours. Don't underestimate the appeal of squeezing the photo and movie quality of the EOS 80D into a compact weatherproof body weighing less than 400g either. The G1X Mark III may have some annoying omissions for movie shooters, but remains one of Canon's most compelling compacts appealing as a standalone camera or a companion to larger DSLRs.

Check prices on the Canon G1 X Mark III at Amazon, B&H, Adorama, or Wex. Alternatively get yourself a copy of my In Camera book or treat me to a coffee! Thanks!