Canon G1X Mark III review
In depth
The Canon PowerShot G1X Mark III is a premium compact camera aimed at those who desire DSLR quality in a smaller, fixed lens body. Announced in October 2017, it comes three and a half years after its predecessor, the G1X Mark II, and now represents the flagship in the PowerShot G range. The previous G1X Mark II stood out in the series thanks to its larger 1.5in type sensor, which the Mark III now trumps with an even larger APSC sensor. This is essentially the same sensor employed in the EOS 80D and Canon's 24 Megapixel mirrorless cameras, featuring Dual Pixel CMOS AF for smooth and confident focusing in stills and movies.

The PowerShot G1X Mark III couples the 24 Megapixel APSC sensor with a 3x / 15-45mm zoom lens equivalent to 24-72mm, with an f2.8-5.6 focal ratio, closest focusing distance of 10cm at wide angle, four-stop optical stabilizer, and a built-in 3-stop ND filter. These are squeezed into a drip and dustproof body with a built-in 2.36 Million dot OLED electronic viewfinder and a fully-articulated 3in touchscreen. There's no 4k video nor a microphone input, but the Mark III's 1080p video (up to 60p) benefits from the confident focusing of Dual Pixel CMOS AF and the ability to tap the screen to pull-focus; the AF system also supports burst shooting at 7fps or with fixed focus at 9fps. There's also built-in Wifi accompanied by NFC and Bluetooth to ease connectivity, while the latter allows seamless GPS location tagging. The Mark III even becomes Canon's first model to finally stitch panoramas in-camera.

Impressively Canon's managed to pack all of this into a body that's comfortably smaller and lighter than the previous G1X Mark II – indeed it's virtually the same size – and design – as the PowerShot G5X, but with a much larger sensor boasting almost three times the total surface area, not to mention one with phase-detect autofocus. Of course by employing a larger sensor, the G1X Mark III's lens range can't help but be shorter and optically dimmer than other models, but the fact you're essentially carrying EOS 80D quality and focusing in a body that weighs just under 400g including a lens makes it a highly compelling prospect, whether used as a standalone camera or a companion to a larger body. In my review, I'll put the G1X Mark III through its paces and compare it to key rivals including the Sony RX100 Mark V and EOS M5 to help you choose the right premium compact camera! I'll start with a video overview of the headline features.

Check prices on the Canon G1 X Mark III at Amazon, B&H, Adorama, or Wex. Alternatively get yourself a copy of my In Camera book or treat me to a coffee! Thanks!

Next up, my in-depth review of the G1X Mark III with Doug Kaye. The audio podcast version is below and it's fun to have this audio playing as you scan through the review and sample images!

Canon PowerShot G1X Mark III design and controls

Canon's PowerShot G1X Mark III breaks from the design of its predecessor to share more of the mini-DSLR styling of more recent models like the PowerShot G5X; indeed at first glance the G1X Mark III could be mistaken for the G5X as both are virtually the same size and share essentially the same design and control layout.

Measuring 115x78x51.4mm and weighing 398g including battery, the Mark III is only a few grams heavier and fraction wider and taller than the G5X, with the only noticeable physical difference being a lens barrel that protrudes a little further. But even side-by-side, the similarity is striking, see below.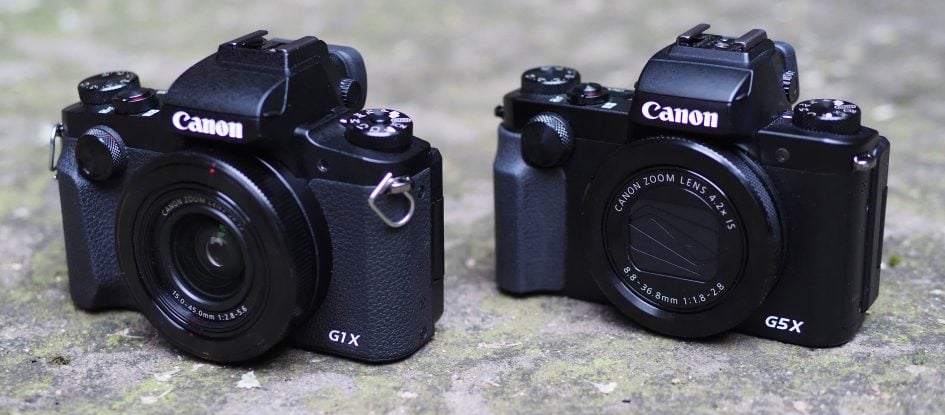 This makes the G1X Mark III comfortably thinner and noticeably lighter than its predecessor, the G1X Mark II, which measured 116x74x66.2mm and weighed 558g – an impressive feat considering the presence of a larger sensor, a built-in viewfinder and a fully-articulated screen on the new model.
If you're after something smaller and lighter with similar capabilities, the most obvious rival is Sony's RX100 Mark V which measures 102x58x41mm and weighs 299g including battery; that's truly pocket-sized, although nowhere near as comfortable to hold and use as the Canon. The RX100 V manages to squeeze-in a small popup viewfinder, tilting screen (albeit not fully articulated or touch-sensitive), and while the 1in sensor's smaller, it's coupled with a brighter lens that essentially compensates for it. Both cameras also boast phase-detect autofocus to which the Sony adds 4k video and super slow motion options, although the Canon features a hotshoe.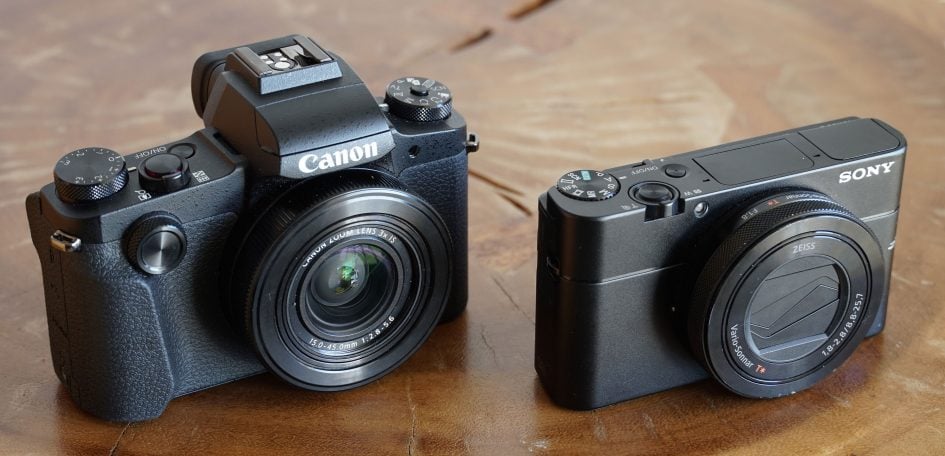 It's also interesting to compare the G1X Mark III against the EOS M5, Canon's flagship mirrorless camera at the time of writing; I've pictured them side-by-side below. The EOS M5 is roughly the same width, but noticeably taller and thicker, measuring 116x89x61mm for the body alone. Add the EF-M 15-45mm kit zoom to match the built-in coverage of the G1X Mark III and the M5 grows by around 40mm in overall thickness and to 557g in total weight.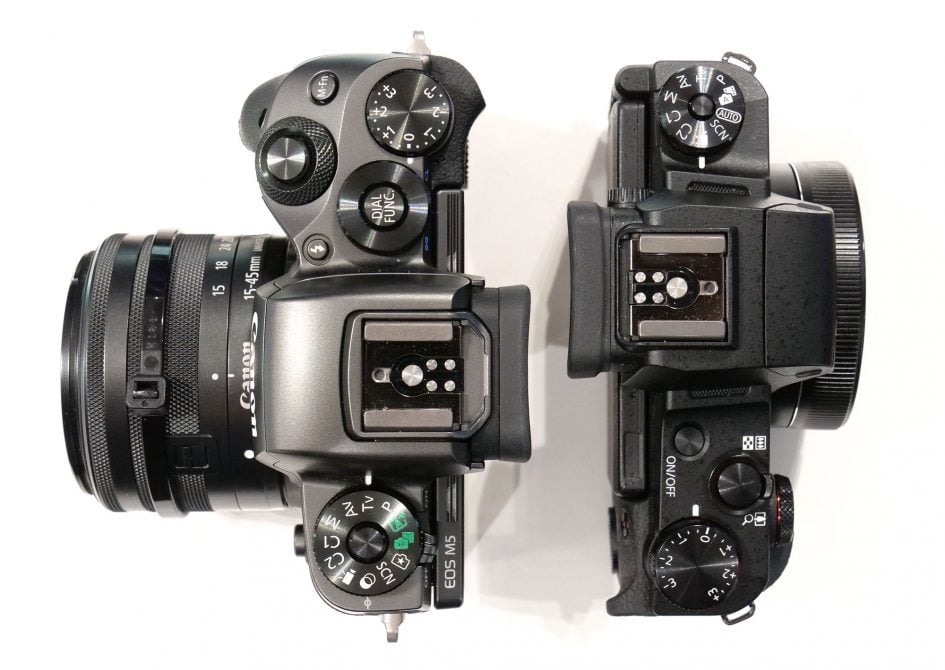 The EOS M5 may be comfortably smaller and lighter than, say, the EOS 80D, but the G1X Mark III is comfortably smaller and lighter still. Fit the M5 with a kit zoom and it's not going to fit in any pocket outside of a large coat, whereas the G1X Mark III could squeeze into cargo pant pockets. Both the M5 and G1X Mark III share a similar viewfinder, but while the M5's touchscreen is larger, it only tilts vertically compared to the full articulation of the G1X Mark III. That said, the M5 boasts a microphone input and of course the critical advantage of interchangeable lenses, so there's lots to weigh-up.
You'll notice the EOS M5 also sports a deeper grip than the G1X Mark III, but I have no complaints over the comfort of the latter. Like the G5X, the Mark III sports a small but comfortable rubber-coated grip, well-defined for your middle two fingers, leaving your index finger hovering above the front control dial or soft-touch shutter release; the latter is a classy touch inherited from higher-end EOS DSLRs.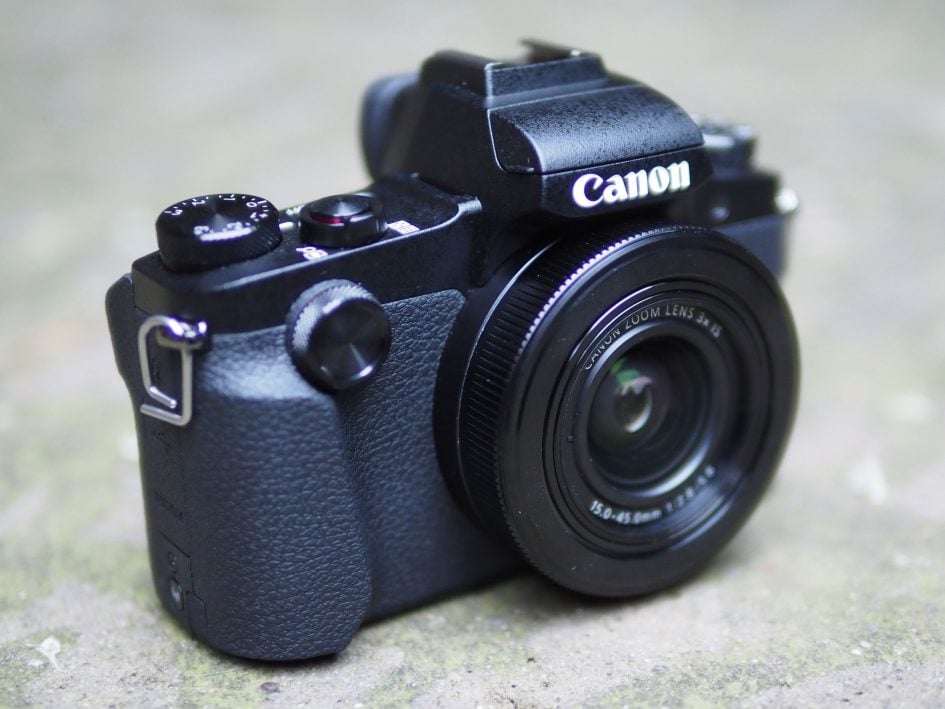 In my hands the G1X Mark III felt very secure and comfortable, and I was actually struck by the build quality which feels very confident; indeed it's like holding a mini pro body. I'm particularly pleased to report the G1X Mark III is weather-sealed, with a dust and drip proof construction similar to the G3X and EOS 80D – this already takes it beyond most compacts, not to mention the M5. I was able to put this to the test when an unexpected wave crashed into my camera bag during a beach shoot, soaking the contents. I quickly wiped dry my electronic devices and the G1X Mark III emerged unharmed. If you want to stay submerged Canon also offers an optional underwater housing that will protect it to depths of 40m.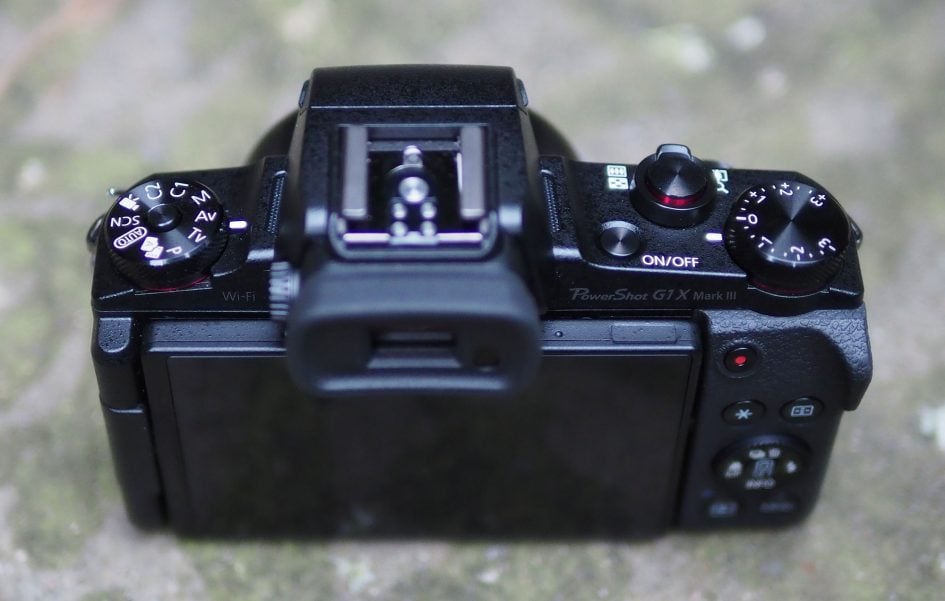 The vertically-mounted front finger dial is one of several physical controls on the body. Like the G5X, the G1X Mark III also features a small thumb wheel on the rear and a dedicated dial for exposure compensation. The mode dial on the G1X Mark III does however now feature a locking button which must be held down to allow rotation; holding this button while turning the dial felt a little fiddly to me, but it did ensure the dial didn't turn by mistake.
Which such a similar body, it's not surprising to learn the G1X Mark III shares the same compositional options as the G5X, so you get the choice of a 2.36 Million dot OLED viewfinder and a fully-articulated 3in touch-sensitive screen. While both are available on the G5X, it's important to remember they represent a big upgrade over the previous G1X Mark II who's screen only tilted vertically and which didn't include a viewfinder as standard. If we're being picky, the viewfinder magnification is smaller than I'd like on the G1X Mark III, but there's nothing wrong with the clarity, nor the flexibility of the articulated touchscreen. I should also mention again that the viewfinder on the G1X Mark III is essentially the same as the EOS M5, although it features a slightly larger 3.2in screen, albeit one that only tilts vertically. For the record, the Sony RX100 V electronic viewfinder image is virtually the same magnification as the G1X Mark III, although thanks to its simple popup housing, you will often need to shield the sides from stray sunlight with a finger.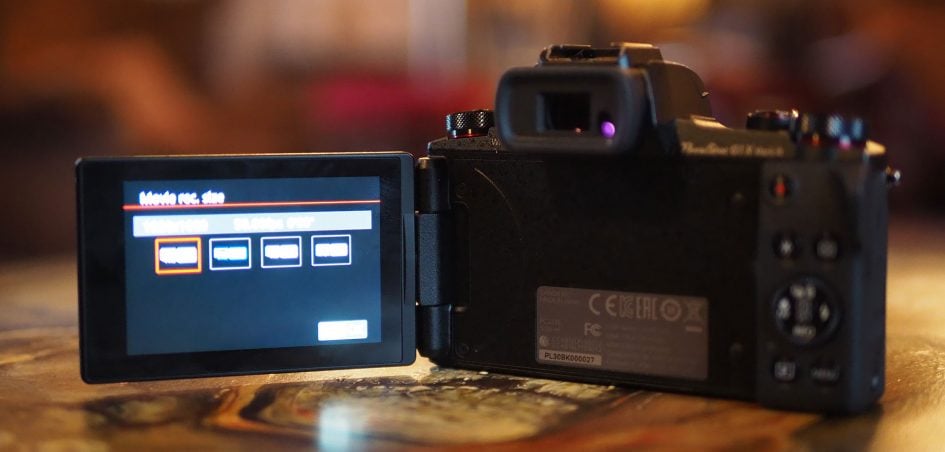 In terms of connectivity, the G1X Mark III is equipped with USB and HDMI ports, the former used for in-body charging as well as data transfer. There's a hotshoe for mounting external flashguns, as well as a popup flash. Infuriatingly despite making room for a remote cord jack, there's no microphone input on the G1X Mark III which reduces its usefulness for videographers and vloggers alike – a shame since the screen can flip to face the subject, there's a hotshoe for mounting accessories, and the Dual Pixel CMOS AF sensor is so good at autofocusing during video.
If you're into remote control, you can use the optional RS-60E3 or timer remote TC-80N3, the latter with the RA-E3 adapter.
In terms of wireless connectivity, the G1X Mark III is equipped with Wifi, complemented by NFC and Bluetooth to ease the initial negotiation. Bluetooth in particular works a treat on Canon's latest bodies, able to maintain a low-power connection with your phone for seamless geo-tagging, responsive remote triggering, and allowing the app to wake-up the camera to browse and transfer images, as well as reconnecting the Wifi for full remote control with live view. I'll describe this later in the review.
Finally in terms of battery, the NB-13L battery pack should be good for about 200 shots, and again you can charge it in-camera over USB; I successfully tried this with third party AC-USB chargers and USB battery packs, although had less luck with the port on my laptop. In terms of filming video alone, I managed 72 minute's worth on a single charge.
Canon PowerShot G1X Mark III lens
The PowerShot G1X Mark III employs a 3x zoom lens with a 15-45mm focal length and f2.8-5.6 focal ratio; the 1.6x field-reduction of the APS-C sensor means it's equivalent in coverage to 24-72mm.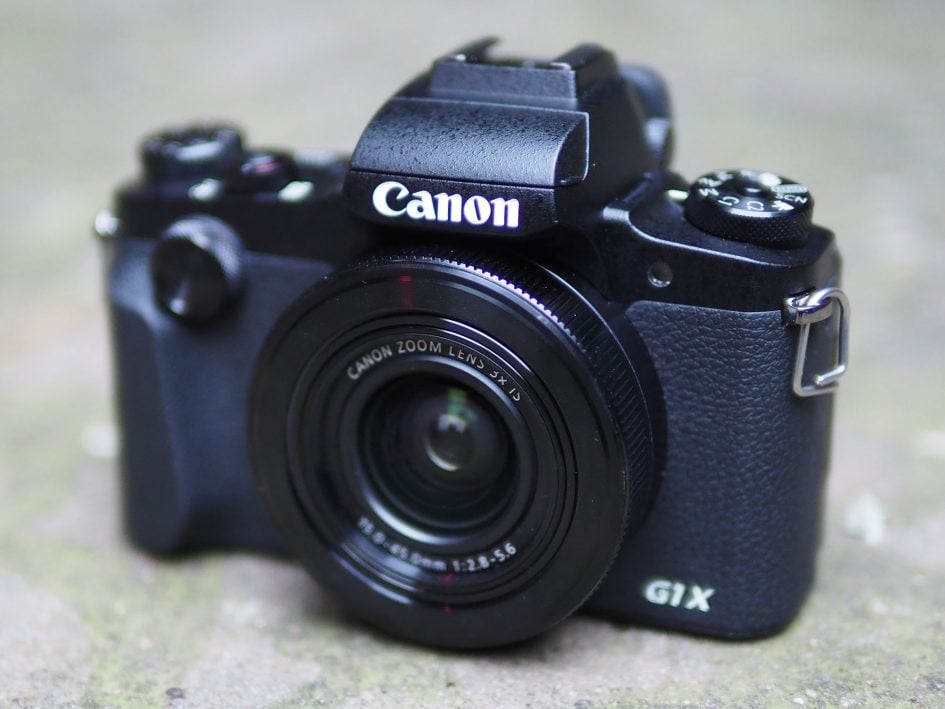 The lens extends by about 2cm during power-up and is ready for action in less than two seconds. Like most compacts with larger sensors, the lens employs a removeable cap, as opposed to a sliding cover; so it's a little slower and less convenient than smaller compacts with their automatic lens covers – like the Sony RX100 and Canon's own G5X / G7X – but that seems to be the price you have to pay. Here's the coverage in practice.

The lens features five axis optical stabilisation good for four stops of compensation and also features an optical 3-stop ND filter which can be set to On, Off or Auto for stills, or On or Off for movies. The closest focusing distance is 10cm when zoomed-wide or 30cm at the telephoto end. Meanwhile the aperture system employs nine blades.
Most compacts with smaller sensors sport longer zoom ranges and or brighter apertures – especially at the long end – and often closer focusing distances too. Canon's PowerShot G1X Mark II has a smaller 1.5in sensor (18.7×12.5mm) with a 5x / 24-120mm equivalent range, f2-3.9 focal ratio and a closest focusing distance of 5cm at wide angle. Canon's PowerShot G5X has an even smaller 1in sensor (13.2×8.8mm) with a 4.2x / 24-100mm equivalent range, f1.8-2.8 focal ratio and a closest focusing distance of 5cm at wide angle; this spec is also shared with the G7X Mark II. Panasonic's Lumix LX10 / LX15 has a 1in sensor with a 3x / 24-72mm equivalent range, f1.4-2.8 focal ratio and a closest focusing distance of 3cm at wide angle. Sony's RX100 Mark V has a 1in sensor with a 2.9x / 24-70mm equivalent range, f1.8-2.8 focal ratio and a closest focusing distance of 5cm at wide angle.
Compared to these models, the G1X Mark III's lens starts at the same 24mm equivalent, but is beaten in telephoto length by two of them. Meanwhile all of the models above focus twice as close or closer still, and also boast focal ratios that are one to two stops brighter at the wide-end, not to mention one to two stops brighter at the long end too. So while the G1X Mark III's sensor is larger than the 1.5in type in the G1X Mark II and the 1in type in the G5X / G7X II, RX100 V and LX10 / LX15, you will need to deploy sensitivities one to two stops higher to match the shutter speed under the same light conditions.
Since the G1X Mark III employs an APSC sized sensor, it's completely fair to compare its built-in lens to Canon's various EF-S and EF-M lenses for EOS bodies in terms of coverage, aperture, focusing, rendering and depth-of-field. Most obviously the ubiquitous EF-S 18-55mm f3.5-5.6 models for its DSLRs and in particular the EF-M 15-45mm f3.5-6.3 for its mirrorless cameras.
Compared to the EF-S 18-55mm, the G1X Mark III's lens starts a little wider, but ends a little shorter, gathers two thirds of a stop more light at the wide-end but the same at the long-end, and focuses two and a half times closer while also sporting a built-in ND filter. So apart from the slightly longer reach of the EF-S 18-55mm, I'd say the G1X Mark III's lens is preferable, starting wider and brighter and focusing close; it's also worth noting the 75.2mm length of the EF-S 18-55mm is thicker than the entire body of the G1X III.
Compared to the EF-M 15-45mm, the G1X Mark III's lens shares exactly the same coverage, but is two thirds of a stop brighter at the wide-end, one third brighter at the long-end, and again focuses two and half times closer at the wide-end while also sporting a built-in ND filter. And again the length of the EF-M lens alone is similar to the overall thickness of the G1X III body.
So how much background blurring can you expect from the PowerShot G1X Mark III? To find out I shot a number of examples, first in isolation, and then against the Sony RX100 V.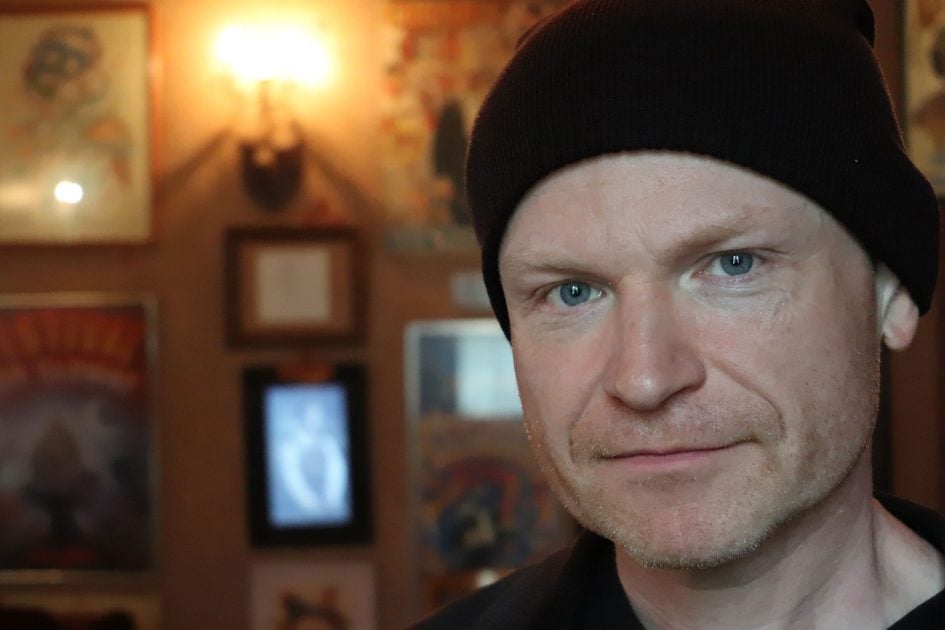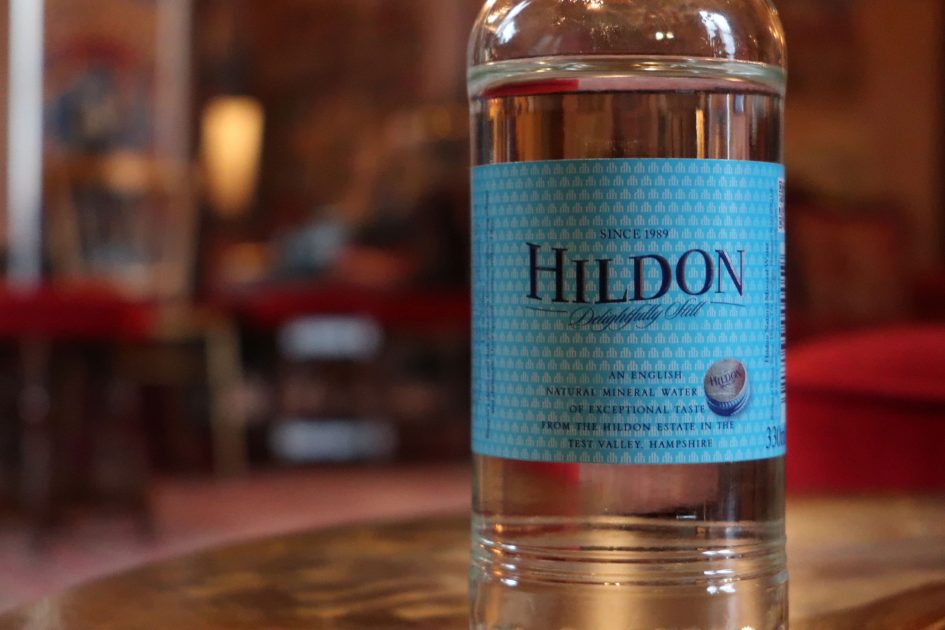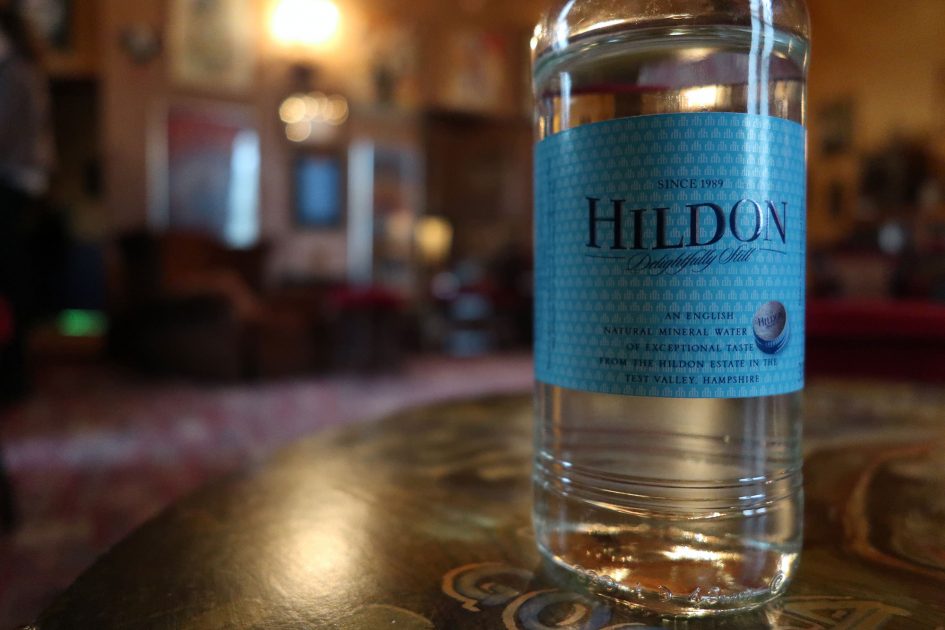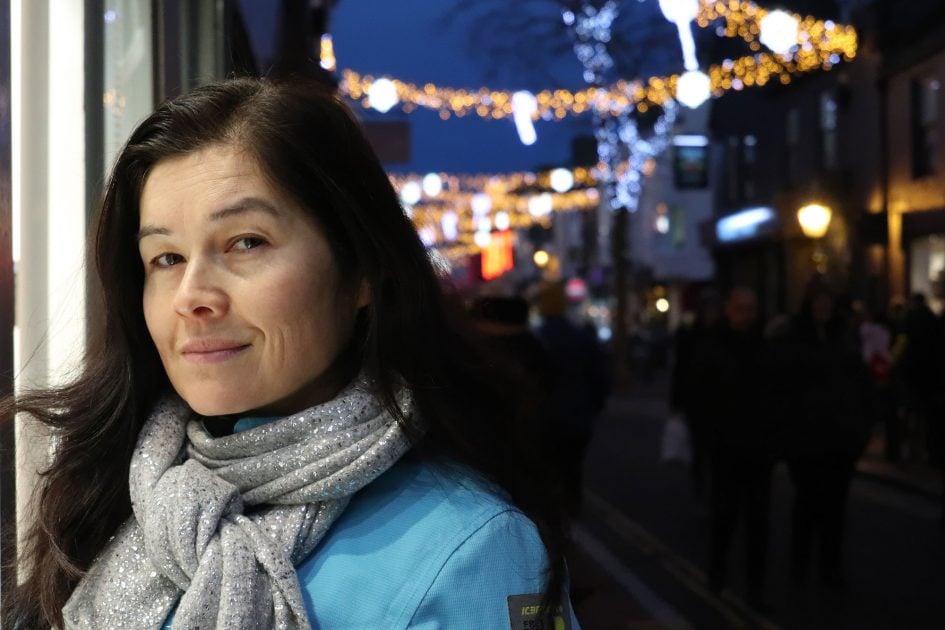 But don't assume having a bigger sensor means the G1X Mark III beats rival compacts in terms of potential for a shallow depth-of-field. As noted earlier, the typical 1in sensor compacts feature brighter lenses and closer focusing distances, at least at the wide-end. To find out how the G1X Mark III compared to the Sony RX100 Mark V in a real-life, I shot a portrait from the same distance at their longest focal lengths and maximum apertures, followed by a macro shot at the wide-end of their lenses, but focused as close as each model would allow.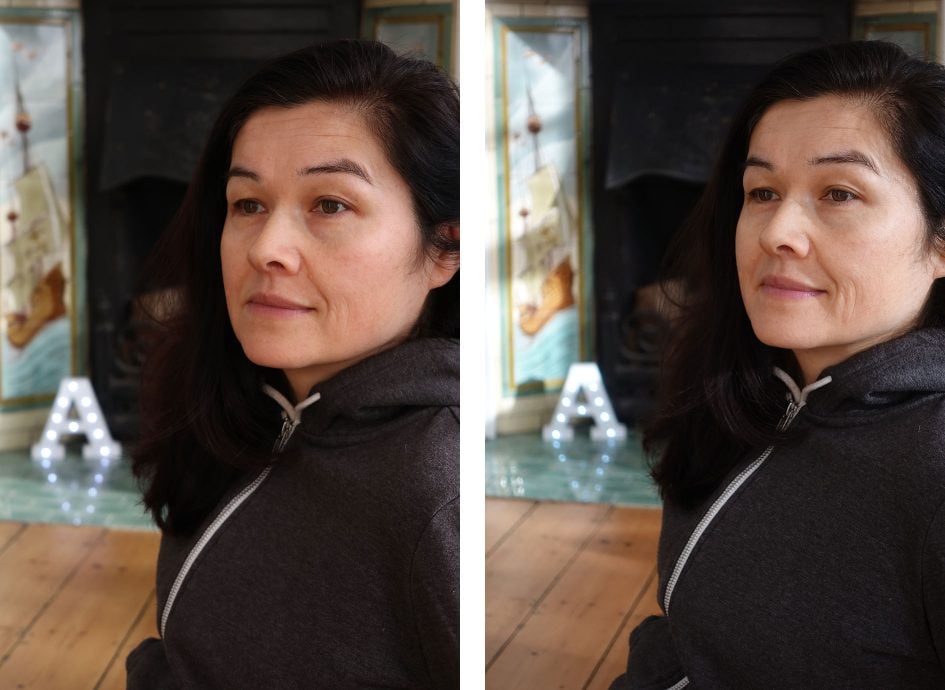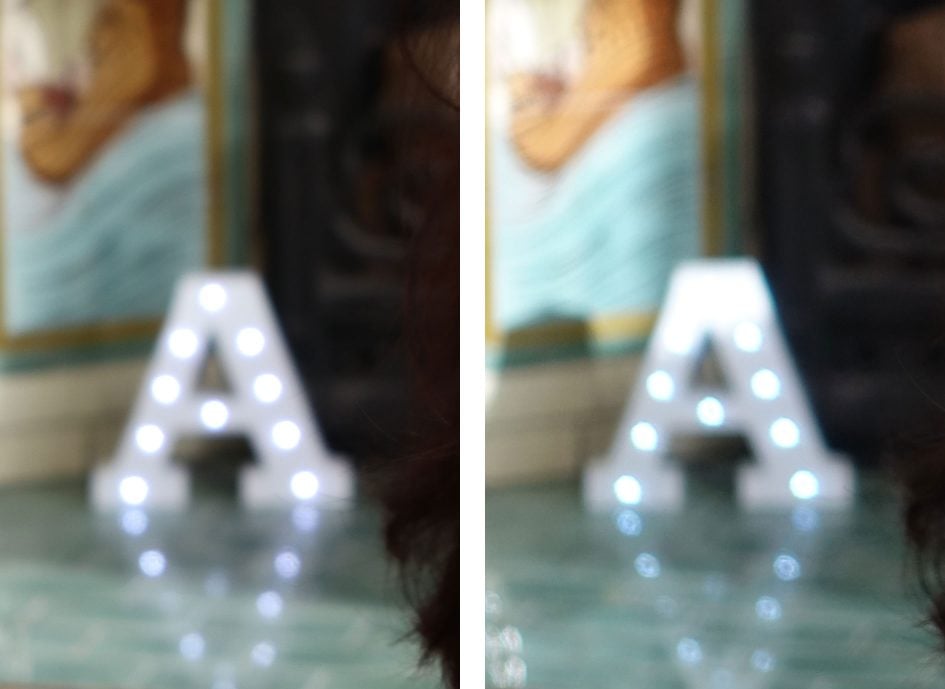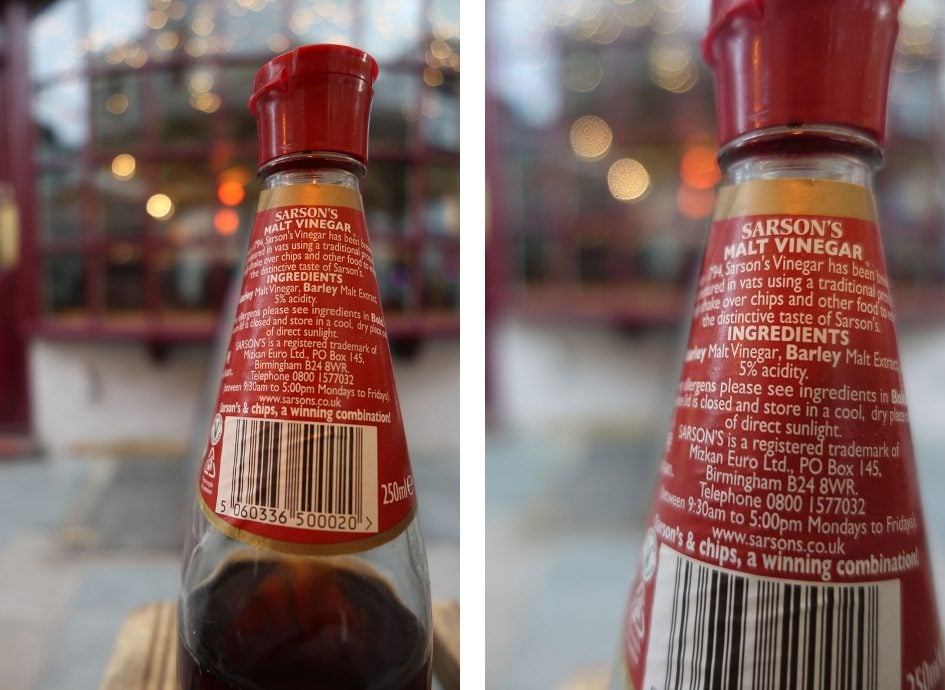 So as illustrated above, it's possible to match or even beat the potential blurring with a smaller sensor camera, if you can exploit the brighter lens. That said, the effect is still fairly modest from either type of camera, so if you want more significant blurring, you'll need to go for an interchangeable lens camera and fit it with something like a 50mm f1.8 lens.
It's always interesting to note where the aperture on a zoom lens begins to decrease throughout its range. The G1X Mark III's lens starts at f2.8 when zoomed wide to 24mm equivalent, but like most compacts the aperture begins to close with the merest nudge of the zoom collar. It closes a notch to f3.2 at 26mm, then to f3.5 at 29mm, then to f4 at 33mm; so it loses a stop by the time you're at 33mm. Then it closes to f4.5 at 39mm, f5 at 48mm and finally reaches the minimum value of f5.6 between 57mm and 72mm. So between 57 and 72mm, the lens is two stops dimmer than at 24mm. Note all these focal lengths are equivalent values, multiplied by 1.6 times over the actual focal lengths due to the sensor size.
Canon PowerShot G1X Mark III shooting modes
The G1X Mark III's lockable mode dial offers the traditional Program, Aperture Priority, Shutter Priority and Manual modes, along with Smart Auto (choosing from 58 scenes), Hybrid Auto (capturing stills and video), two Custom modes, a selection of effects and presets gathered under SCN, and finally Movie.
The leaf shutter offers speeds from 30 seconds to 1/2000 and while there's no completely silent electronic shutter option, the mechanism is already extremely quiet making little more than a faint click when you push the shutter release. A bulb mode is also available and in my tests I managed an exposure of over 30 minutes with the camera seemingly happy to stay open even longer; there's no Bulb timers in the menus, but you can simply start an exposure with a tap using the Bluetooth remote app on your phone and stop it with a second tap.
A fastest shutter speed of 1/2000 may seem a tad slow to combat bright conditions with an open aperture, but a built-in 3-stop ND filter can be applied manually or automatically when shooting stills to reduce in-coming light. The ND filter is also handy for extending long exposures to further blur motion in skies or on water. Note the ND filter is also available for shooting movies, where it makes it much easier to deploy motion-friendly shutter speeds in daylight, but there's no auto option, only on or off.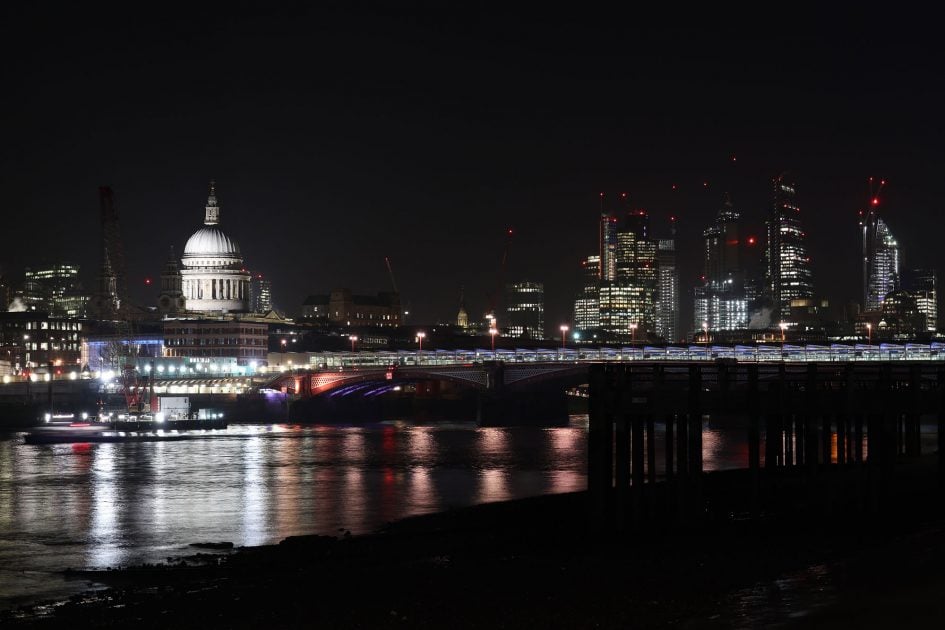 With its leaf shutter, the G1X Mark III is able to synchronise its built-in flash at all shutter speeds, right up to 1/2000. I confirmed this with the small popup flash in the head, although when I fitted an external Speedlite 320EX, the maximum sync speed fell to 1/250. That said, the ability to sync the internal flash at very fast shutter speeds gives the G1X Mark III a key advantage for strobists over focal plane models like the EOS M5, and the fact it has a hotshoe at all is an advantage over smaller models like Sony's RX100 V.
For metering you can choose from spot, center-weighted or evaluative, the latter considering the whole frame and linked to face detection if enabled. I found the G1X Mark III generally did a good job of exposing, although in some situations I did need to apply a generous dose of compensation using the dedicated dial which offers a range of +/-3EV.
As noted above, Canon gathers pretty much all of its effects and presets under the SCN position on the dial. There you'll find Self Portrait, Portrait, Smooth Skin, Panorama, Panning, Star (with sub-options for Star Nightscape, Star Trails and Star Timelapse movie), Handheld Nightscene, Grainy B&W, Soft Focus, Fish-eye, Art Bold, Water Painting, Toy Camera, Miniature, HDR, Underwater and Fireworks. Several of these offer additional options adjustable by the front and rear wheels. Here's a selection of effects.



Like other recent Canon compacts, the G1X Mark III offers a preset specifically for easy astrophotography. The Star mode offers three options: Star Nightscape takes a single 15 second exposure at 24mm f2.8 and 800 ISO to capture a basic starfield. Star Trails keeps the lens at 24mm f2.8, but captures and composites a number of shorter exposures to create trails; the longer you can commit, the longer the trails! And finally, the Star Timelapse mode again captures a series of exposures before compositing them into a movie revealing the movement of the sky relative to the Earth; I have examples of the stills below and a demo of the timelapse in the movie section later in the review.

Amazingly the G1X Mark III becomes Canon's first camera to offer a panorama mode that stitches together images in-camera after taking a burst in a sweeping motion – it's a feature long-available on pretty much every other camera, but long overdue here. Like most cameras with a panorama facility, the G1X Mark III lets you choose the panning direction, allowing you to turn the camera on its side for a higher quality result. After that, simply pan in the quoted direction with the shutter button depressed and let go when you've either reached the desired point or when the image is at its maximum width. Here are a couple of examples.


The autofocus system employs Dual Pixel CMOS AF, where up to 80% of the sensor's pixels can temporarily be redeployed as phase-detect AF points, before returning to imaging duties at the time of capture. Dual Pixel CMOS AF is one of Canon's best technologies and it's undoubtedly a highlight of the G1X Mark III, allowing it to smoothly and confidently refocus onto the subject with minimal or no hunting whether shooting stills or movies. The only other camera that comes close in the premium compact category is Sony's Cyber-shot RX100 Mark V which features an array of embedded phase-detect AF points. Both cameras share roughly the same degree of confidence when focusing, but the G1X Mark III enjoys the benefit of being able to use a touchscreen to reposition the AF area, a feature sorely missing on the RX100 V.
If not instructed otherwise, the G1X Mark III chooses the focusing area from a 7×7 grid, although if face detection is enabled and a human face enters the scene, it'll take priority. You can also reposition a single AF area or smaller 3×3 grid using the buttons, or again by touch. Like many cameras with touchscreens these days, you can also configure the G1X Mark III's to work as a touchpad while composing through the viewfinder; this works a treat, allowing you to drag the AF area around with your thumb while looking through the viewfinder, and you can limit the active region of the screen to avoid unwanted operation by your nose.
The autofocus itself feels pretty swift and presented no issues in lower lighting conditions during my tests, although if you want to take further control you can set the camera to manual focus and use magnification and or focus peaking to set the desired distance.
Continuous shooting is available up to 7fps with autofocus or 9fps with focus fixed at the first frame. I tested the combination of burst shooting with continuous autofocus by photographing Ben cycling towards me on his bike, while the camera was fully zoomed-into its maximum focal length and with the aperture wide-open. While this represents the toughest scenario for the G1X Mark III, the lens specification is never going to give it much of a challenge with a fairly forgiving depth-of-field at 72mm f5.6. So here's nine images from the burst sequence which started with Ben more distant, with 100% crops below each frame; it's clear the Dual Pixel CMOS AF has kept the subject almost always sharp as he approached, but again it's not that tough at this effective focal length and aperture.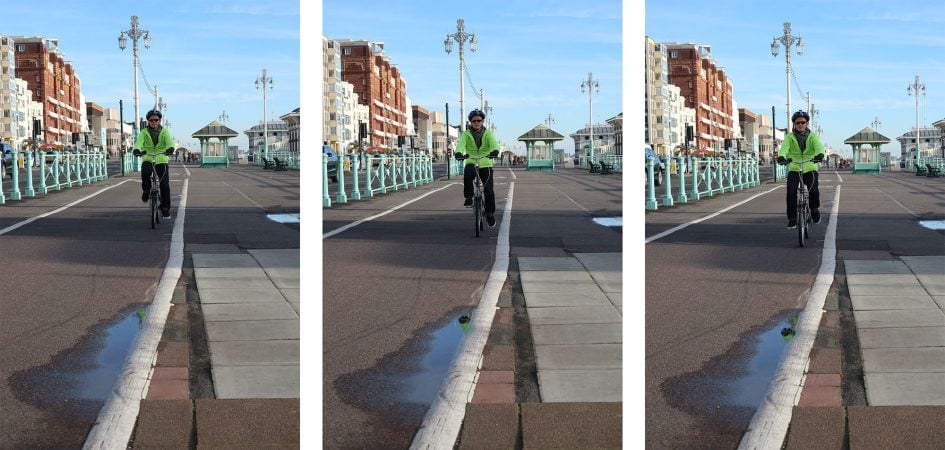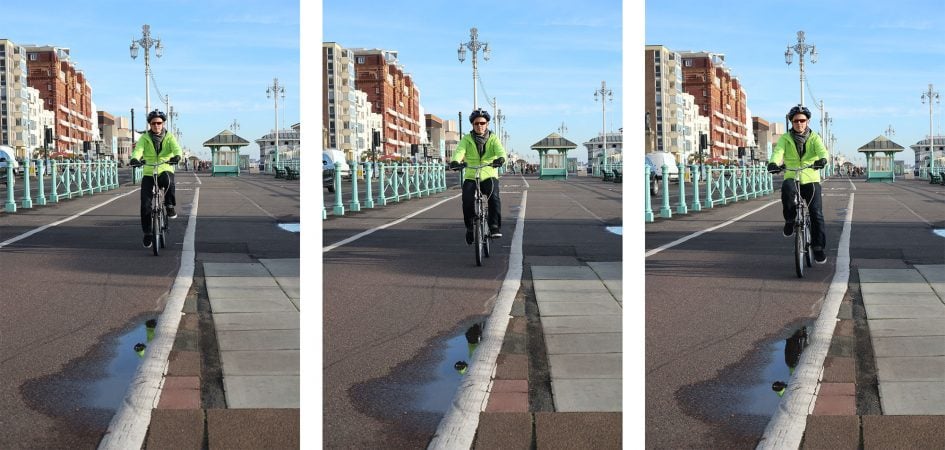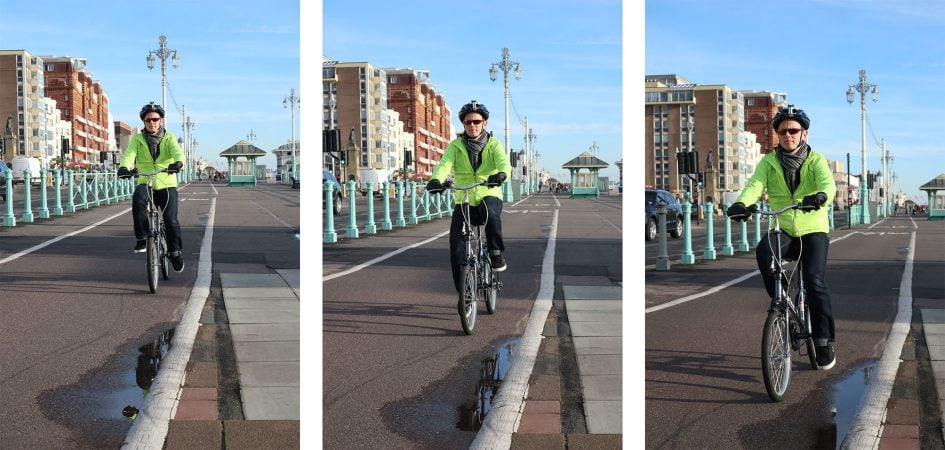 I also shot a test with single AF at 9fps to capture waves crashing onto Brighton pier during a storm. With around two and a half seconds worth of JPEGs available in the buffer at 9fps, I sometimes had to be careful when I'd start the burst, but it was still possible to grab the moment of greatest impact with ease – plus the G1X Mark III's body seemed to shrug-off any sea spray.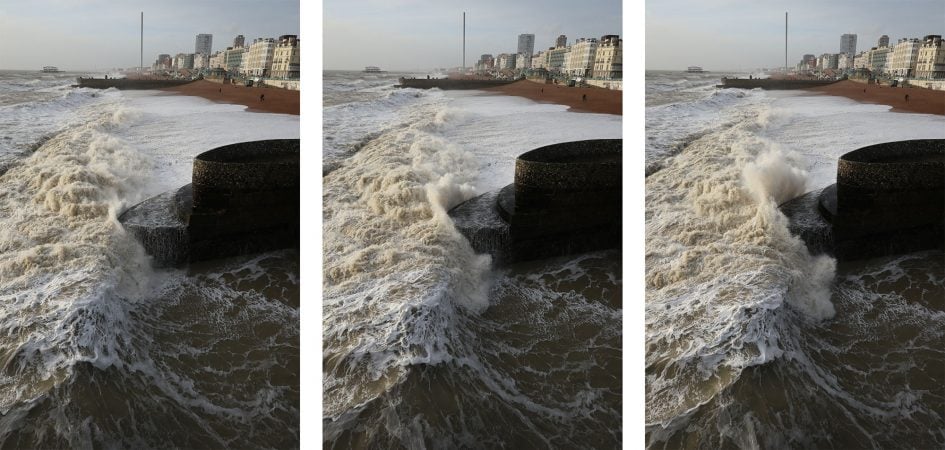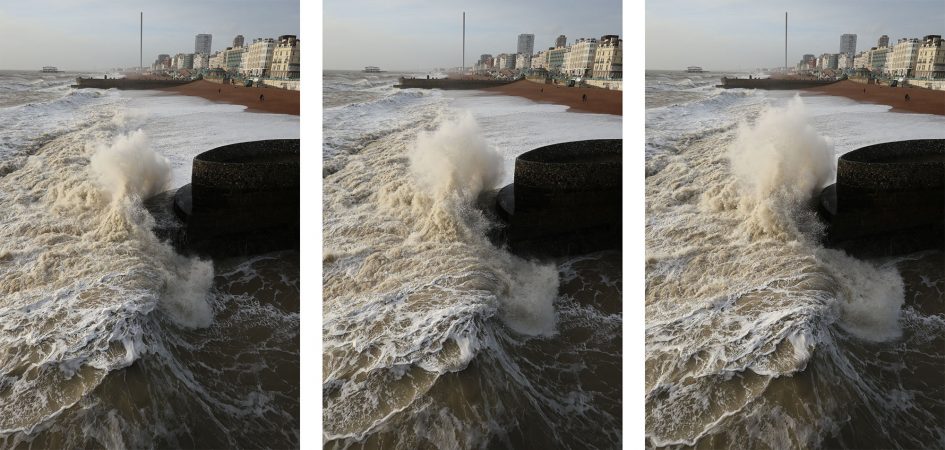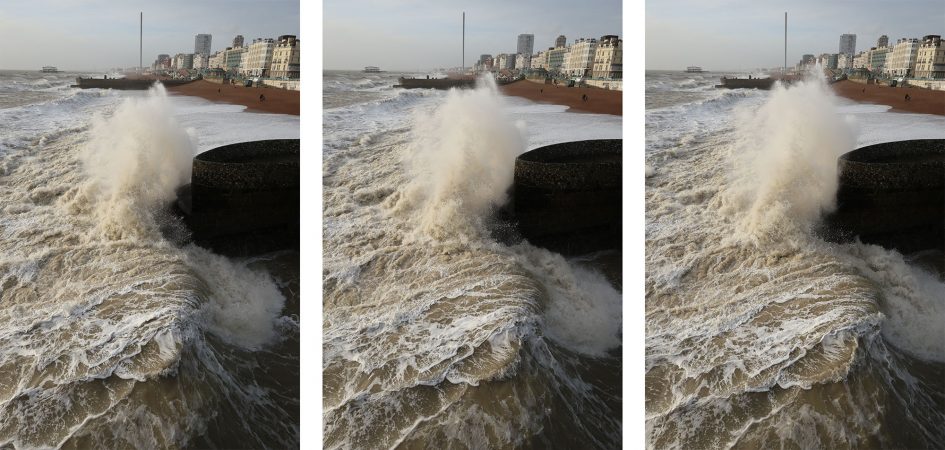 The G1X Mark III features Wifi with NFC and Bluetooth to aid negotiation. While it's possible to tap an NFC-capable phone to the side of the camera to initiate a connection, Bluetooth really is the preferred approach as it offers much more. Once the camera and your phone are paired over Bluetooth, it's possible to initiate a connection by simply switching the camera on and launching the free Canon Camera Connect app for iOS or Android devices.
From this point on, you can set the camera to automatically acquire and embed GPS positions from your phone without messing around with logs or synchronisation; this simply involves enabling a GPS menu on the camera itself rather than using the incompatible Location Information logging option in the phone app that's designed for non-Bluetooth models. Here's a photo I took in Hawaii with the option enabled and the position subsequently entered into Google maps; it really is a seamless process, so long as you remember to leave the app running on your phone. If the system is running and passing location details across, you'll see a GPS icon in the display.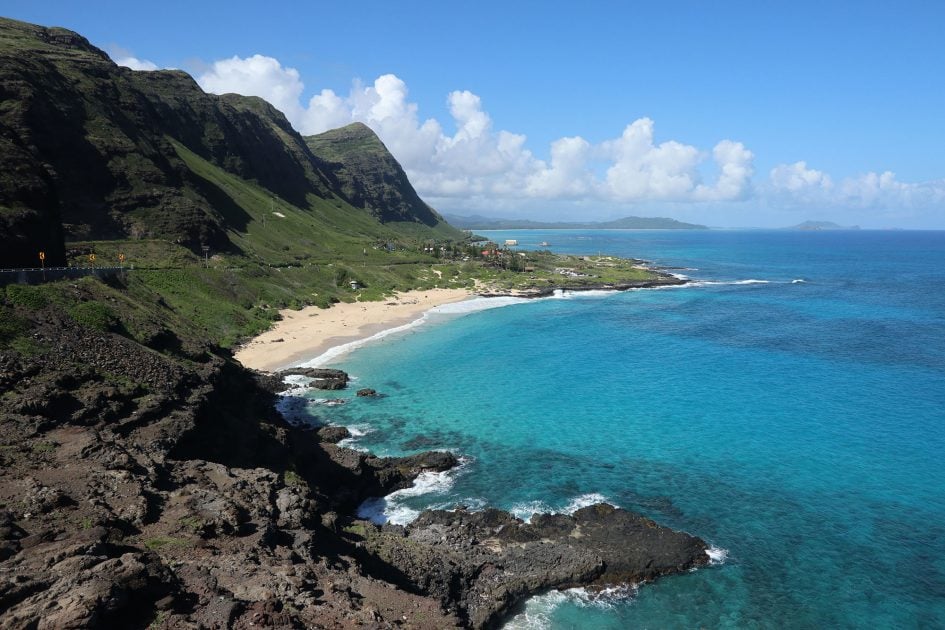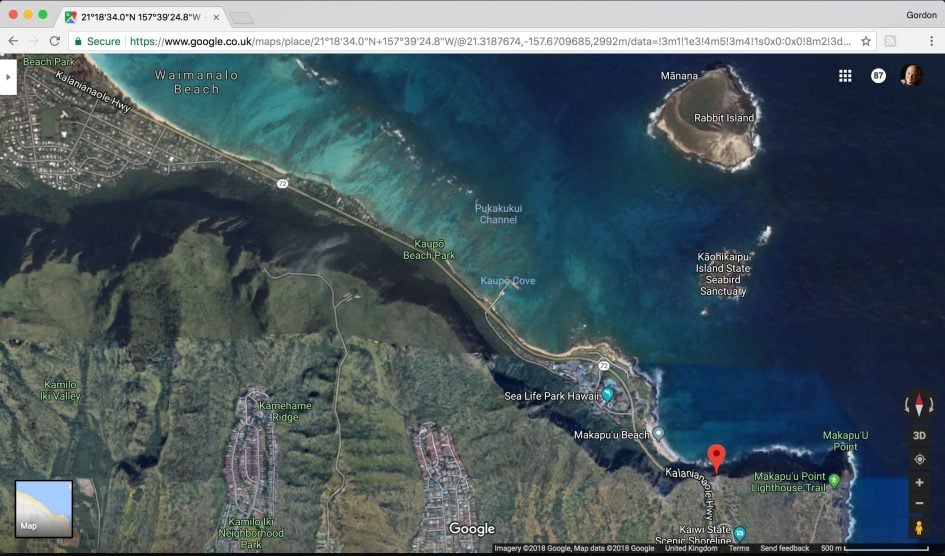 The Camera Connect app also offers a Bluetooth remote controller. This is a very simple function, presenting a large button on-screen that can remotely trigger the shutter.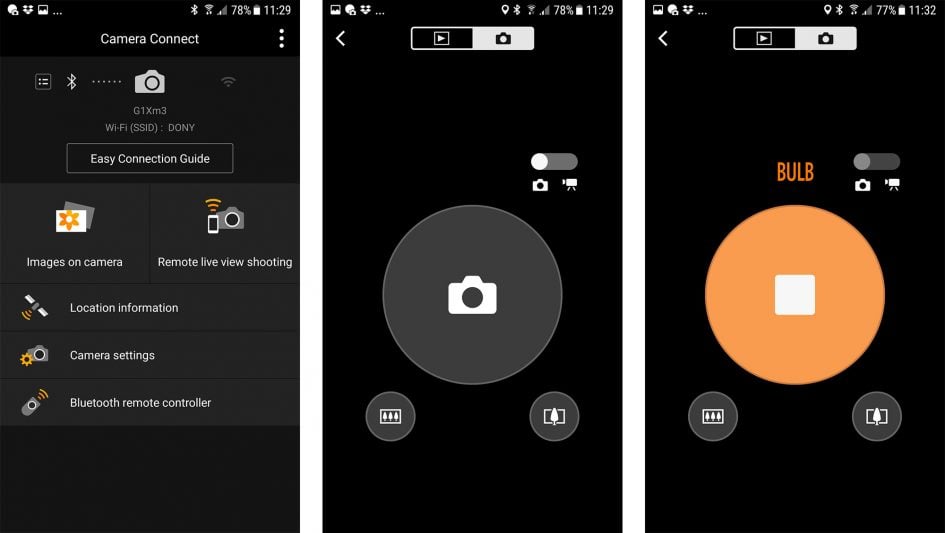 There's also sliders to switch between stills and movie mode or to operate the powered zoom lens, although no live image in this particular view – it's really just a simple remote trigger. The benefit of triggering the shutter over Bluetooth rather than the full Wifi control I'll mention in a moment is that it's more responsive and uses less power. If the camera's set to Bulb mode in Manual, it's also possible to start an exposure with one tap and stop it with another; I kept the shutter open for over half an hour using this function.
Returning to the Camera Connect app, you'll find two main functions: Images on Camera and Remote Live View Shooting. Tapping either will initiate a Wifi connection and if your camera and phone are already paired and connected over Bluetooth, they'll sort it all out for you. Selecting Images on Camera presents thumbnails of your JPEG photos and movies with basic EXIF data, after which you can tap the desired ones to transfer them to your phone; the app can be configured to send original JPEGs, shrunken versions, or prompt you to choose at the point of transfer; like most phone apps, there's no RAW transfer.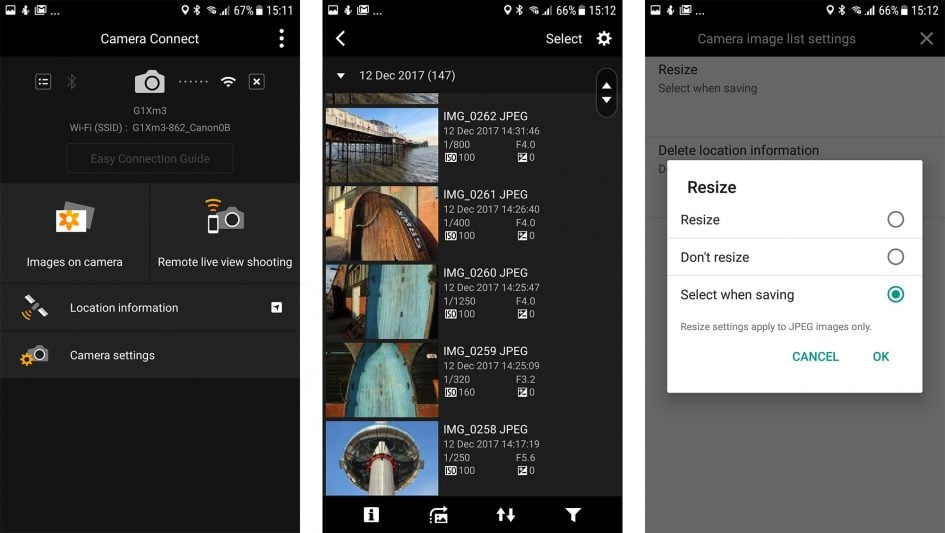 Choose Remote Live View Shooting and you'll be presented with a live image from the camera, with the chance to switch between stills and movie capture. You can tap anywhere on the live image to change the focusing area and also operate the zoom with a slider; it's also possible to remotely operate the zoom or refocus using the app while filming a movie.
You can't change the exposure mode from the app, but depending on the mode the camera's set to, you can adjust the shutter speed, aperture and ISO sensitivity, along with the AF and drive modes; white balance, metering and quality options were displayed, but locked when I tested the app.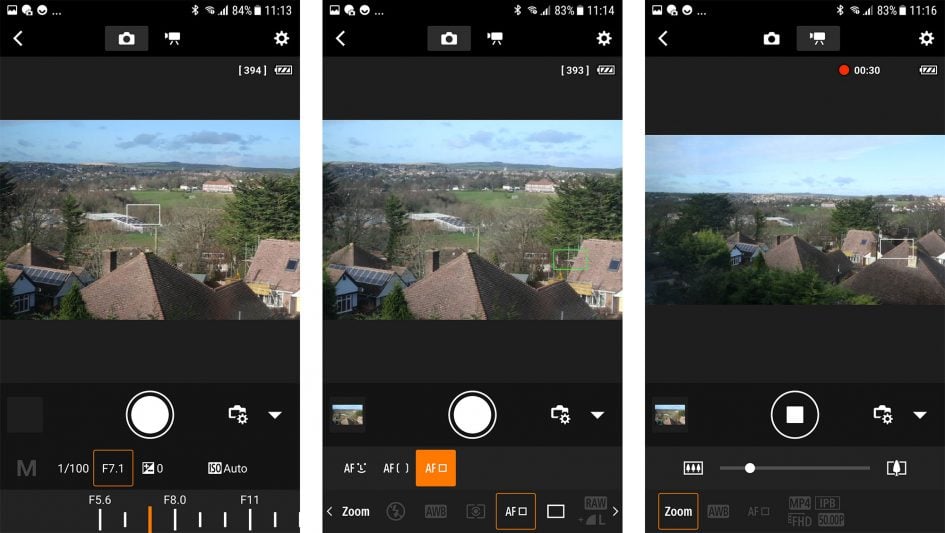 Overall the wireless capabilities of the G1X Mark III were among the best I've used, particularly when you connect the camera and phone over Bluetooth. This low-power always-on connection allows the app to not only take care of hands-free Wifi connections, but also seamless GPS location tagging while additionally offering a simple remote trigger option.

Canon PowerShot G1X Mark III movie mode

The Canon G1X Mark III can film 1080p video up to 60p with confident refocusing, touch focus-pulling, manual control over exposure if desired, and audio recorded by the built-in mics. There's no 4k video, no frame rate above 60p for serious slow motion, nor any input for an external mic, but the results still make it a respectable option. If you need 4k with decent AF or slow motion, I'd recommend the Sony RX100 V instead.

When filming in 1080p at 24, 25 or 30p, or 720p at 25 or 30p, the G1X Mark III's longest recording time is limited by whatever comes first: a 4GB file size or 29:59 length. In my tests filming 1080p at 24, 25 or 30p, I invariably hit the 4GB file limit first after around 25 minutes. Set the camera to 1080p at 50 or 60p and the camera stopped recording one second shy of ten minutes, even though the resulting file was well below 4GB at around 2.4GB. In terms of battery life, I managed just over 72 minutes worth of 1080p on a single charge.

Dual Pixel CMOS AF allows smooth and confident refocusing while filming, but if you prefer you can assign the lens ring to manually focus with peaking also available while filming.

Here's a compilation of video clips demonstrating the various modes on offer, including several demonstrations of Dual Pixel CMOS AF in action, along with the built-in ND filter, stabilisation modes, and timelapse options.

Check prices on the Canon G1 X Mark III at Amazon, B&H, Adorama, or Wex. Alternatively get yourself a copy of my In Camera book or treat me to a coffee! Thanks!

Canon PowerShot G1X Mark III sensor

The (literally) big news about the Canon PowerShot G1X Mark III is its sensor: the first model in the series to boast the same APSC sensor as many of its most popular EOS DSLRs and mirrorless cameras; indeed the 24 Megapixel APSC sensor in the G1X Mark III is almost certainly the same as found in the EOS 80D, with only minor unnamed modifications.

The use of an APSC sensor places the G1X Mark III in an exclusive group of compacts, including the Fujifilm X70 and X100 series, Ricoh's GR series and Nikon's long-departed COOLPIX A. Canon's G1X III is the only one to couple the large sensor with a zoom lens, and the only one to also offer phase-detect autofocus across most of the imaging area.

In the fixed-lens premium compact market, the smaller 1in-type sensor rules, but it's revealing to compare the relative sensor sizes. The 1in-type used in Sony's RX100 series, the Lumix LX10 / LX15 or Canon's other current PowerShot G cameras measures 13.2×8.8mm. This gives the 1in sensor roughly four times the surface area of the 1/2.3in sensors commonly used in smartphones and more basic compact or super-zoom cameras. But in contrast, Canon's APSC sensors measure 22.3×14.9mm, giving them almost three times the surface area of 1in-type sensors. APSC is also comfortably larger than the 1.5in-type sensor used in the earlier G1X Mark II which measured 18.7×12.5mm. It's also worth remembering Sony's RX100 Mark V is the only 1in model to feature embedded phase-detect AF on its sensor, leaving all the other 1in models to rely on contrast-based AF only. So in terms of sensor size and broad coverage phase-detect autofocus, the Canon G1X Mark III is pretty unique.

How does the sensor translate into quality though when coupled with the lens? Find out in my quality comparison and sample images pages, or if you've seen enough, head straight to my verdict, all using the tabs at the top of this page!

Check prices on the Canon G1 X Mark III at Amazon, B&H, Adorama, or Wex. Alternatively get yourself a copy of my In Camera book or treat me to a coffee! Thanks!